VISIT TO MARIA ISLAND©
TONY & MATTHEW WATTON
4/8/08 to 7/8/08
The Plan
Matthew, my son, arranged for us to travel to Maria Island on Monday 4/8/08 by Island Ocean Charters' dive boat as this suited our plans to stay until Thursday 7/8/08. (The other operators only travel Monday, Wednesday and Friday.)
We intended to base ourselves at the Darlington camping ground and take our mountain bikes as far as we could up the tracks to both Bishop & Clerk and Mt Maria before leaving them to continue the climbs by the walking tracks. We also planned to stay one night down at Frenchs Farm and visit the Isthmus area and convict ruins but not to go on to South Maria on this occasion.
Day 1 - Monday 4/8/08
We left the Louisville Resort at Orford at about 9.45am and by 10.10am we were unloading our gear at the Darlington jetty. P & WS staff were readily on hand to remind us about washing off our bikes to guard against Phytophthera disease and to let us know that the only camping near Darlington was going to cost us $12 per tent per night for the privilege. Fortunately we had only one tent, Matthew's Macpac Olympus, but it still hurt as the amenities provided were minimal. I thought perhaps Federal Hotels had taken over running the Island! I think we were the only visitors to Maria at that time.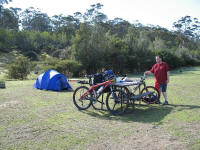 After setting up the tent and packing our day packs with emergency supplies for the climb we headed off along the grassy track towards Bishop & Clerk. At Skipping Ridge there was an exhilarating bike rush down a steep bank, reaching 45kms/h, right next to a cliff edge 160m above sea level, followed by a very slow plod up an equally steep hill. The riding track then entered a forest area which was very rough and made for some careful riding in low gear.
Eventually we reached a No Riding sign so left our bikes against a tree and prepared to walk the remaining distance to the peak. The walking track probably started at about 200m and ended on top at 599m. The climb was reasonably uneventful, with some rock-hopping and boulder-scrambling towards our goal. The views were spectacular, with a very steep drop-off on the eastern side to forest below. It was well worth the effort.
On the descent I have to admit I was a bit nervous about letting the bike run free as my experience of pure mountain bike riding could literally have been described on the back of a postage stamp. However, I made very good use of the disc brakes on my Giant XTC2 and reached level ground without a mishap. As Matthew was in front of me - and prepared to take more "calculated" risks than I was - I was able to see clouds of smoke rising from his back brake disc and hoped it was just dust and debris burning and not his actual bike. When I caught up with him I mentioned this and there did not appear to be any problem at all. Just like a dad to worry unnecessarily!
On the way back to our campsite we detoured to check out some of the ruins of the old cement works and tried to imagine what it was like working there in the 1920s.
Where we were camped there were many Cape Barren geese, wombats, pademelons, wallabies, kangaroos and native hens. We discovered that only the pademelons, brush-tailed possums and geese were around at night. We saw a wombat with a youngster - Matthew thought it looked a bit like a big slipper - beautiful to see. It stayed very close to its mother.
While Matthew started our dinner of Continental pasta with added chili salmon I prepared some Vitawheat biscuits with cheese slices and Vegemite - our favourite snack food (entrée). I then got a fire going in the approved fireplace to take the chill off the air that was caused by a strong breeze coming down from the hills. When combined with a cup of hot tea we had a very satisfying meal. As darkness fell we stood around trying to identify star groups (somewhat inexpertly we thought) and saw some "shooting stars" (meteorites). Matthew saw a satellite passing but somehow it evaded my intense gaze.
At around 8.15pm we decided the tent and sleeping bags were beckoning so put out the fire, packed away our gear and climbed into the comfort of our down bags for a fairly long night, well pleased with what we had accomplished for the day.
Day 2 - Tuesday 5/8/08
I was up first, at about 7.00am and started thinking about making a hot drink to kickstart the day. The sun was just beginning to peep over the trees and warm the top of a nearby hill and within 30 minutes had reached our grassy campground area. There was still a cool breeze coming down from the hills.
The plan for today was to pack up our day packs with enough gear to enable us to stay the night down at Frenchs Farm and then climb Mt Maria via the inland route back to Darlington on Wednesday.
Matthew had attached his Macpac modules to his rear pannier rack so was able to reduce the amount he carried in his day pack. I used a 20 litre dry bag for some of my gear on my small rear rack and the remainder went into my Macpac Rocketeer pack.
The ride down to Frenchs Farm took us about 1 hour. We remarked on how dry everything was and that it must have been quite a while since any decent rain had fallen. At the farm we both thought it was very pleasant sitting on the back balcony while we had our snack lunch with hot drinks. The state of the inside of the farmhouse disappointed us and if there had been a broom available we would have swept the floors to leave the place a bit tidier. I made a note to that effect in the Visitors' Book.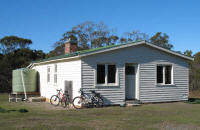 After looking around we decided to leave our overnight gear here and head down to Encampment Cove to do a sightseeing loop that included the convict ruins. At the Encampment Cove campsite we checked out the emergency hut and were impressed with its cleanliness, raised sleeping platforms, cooking bench, table and chair. We decided we would stay at the hut for the night instead of at Frenchs Farm.
The convict ruins commanded a wonderful 270o plus view of Mercury Passage and the local bays and we said the convicts would have enjoyed the outlook when their cell doors were opened. There were many kangaroos on the open paddocks and the occasional wombat trundling around.
It was an easy ride back to the farmhouse, where we collected our overnight gear and then rode the short distance back to the hut at Encampment Cove. As it was still early afternoon we decided to ride down to McRaes Isthmus. This proved to be quite an arduous ride as the sand track was very dry. The aim while riding was to keep the front wheel of the bike as straight as possible, otherwise it dug into the soft sand and forward progress rapidly came to a halt.
We eventually reached the mid-point of the Isthmus, much to my surprise as we had been riding for quite a while without seeing any sign of water on either side because of the high scrub. We walked the short distance along the side track to Riedle Bay. What a beautiful sight - a clean, deserted, long, curving beach with gently breaking waves. Next stop to the east would be New Zealand.
Back up the track and down to the opposite side (Shoal Bay) and the beach was strewn with seaweed, being exposed to south-west weather. As the beach was totally deserted and at low tide, we decided to ride back to Chinamans Bay at water's edge where the sand was hard and no nesting birds to disturb. (We found out later that we should not have been riding on the beach.)
At the hut we made ourselves a hot drink, cheese and biscuit snacks and Matthew set about making our pasta and salmon meal for the evening. I made a fire in the fireplace near the hut and we enjoyed a peaceful evening before heading inside to our sleeping bags at around 9.00pm, by which time the fire was out.
Day 3 - Wednesday 6/8/08
We were up a bit later than we had intended, at 8.00am, and talked about the possible state of the inland track to Mt Maria. According to the information sheet for cyclists that was provided by Parks staff the riding track was steep, rough, boggy in parts and very sandy in other parts. We decided we had had enough of very sandy tracks and Matthew suggested we should head back to Darlington with our overnight gear, leave that at the tent and take our light packs with emergency supplies to Mt Maria via the better track from Darlington.
Breakfast was a hot drink, muesli bar and small fruit tub. It took us just over an hour to get back to Darlington, after leaving the hut about 9.00am. We noticed that three more visitors had arrived on the Island - more than doubling the number of tourists! They were apparently intending to stay until Friday.
We dumped our excess gear in the tent and set off on the track to Mt Maria, hoping to get a fair way along before leaving the bikes and walking. We were a bit surprised to find that the No Bikes sign came soon after leaving the main north/south road so we prepared ourselves for a lengthy hike. Apart from Matthew almost treading on a large tiger snake, the terrain was fairly easy going, with a wide, clear track but it became rocky and steeper as we approached the Mt Maria climb.
Some scrambling and rock-hopping with a bit of care and we were soon standing on the peak, enjoying magnificent views of the entire south Maria Island and wonderful sea views along the coast of mainland Tasmania.

It was good to arrive back at the bikes on the homeward walk and we coasted down to the main road, well-pleased with our efforts for the day.
Our normal hot drink, cheese and biscuits and pasta meal followed and then we sorted out our gear, which by now was a bit of a jumble in the tent.
I had a fairly early night while Matthew went walkabout, checking on what animals/birds were around the campsite. It was a comfortable night, not as cold as Monday, probably because of the partial cloud cover helping to retain the warmer air.
Day 4 - Thursday 7/8/08
Not an early start as we were not intending to do any major walks or rides but rather have a closer look at the various ruins in the Darlington vicinity before returning to civilisation via the dive charter boat in the afternoon.
Matthew discovered that the hot showers were actually working and enjoyed the luxury of washing off the dirt and sweat of the past three days. (When we had checked out the shower situation on Monday there was a sign on the door to the effect that the showers were closed.) He recommended that I would probably enjoy a shower as well so, armed with my 2 x $1 coins for a 4-minute shower, I rode over to the toilet block. He was right - it was well worth the money.
We packed up all our gear and took everything down to the jetty to wait for the boat while we wandered up the hill behind the cement silos, took a few photos and had a look at the old farm machinery in the barn and the house that Diego Bernacchi lived in while he was on the Island.
At 3.00pm our sea transport had arrived. We were soon zipping along, leaving Darlington as a rapidly-shrinking image in the distance.
Matthew pointed out two young shy albatross to me - the first I had ever seen. Not an unusual sight for Matthew, though, as he has frequently encountered them on his various coastal sea kayaking adventures.
I think that if I return to Maria Island after this very pleasant visit it is quite possible that it may be by sea kayak, direct to the southern area for a look at what I missed on this occasion.