OVERLAND TRACK WALK©
20/7/06 – 25/7/06
TONY AND MATTHEW WATTON
---
This report is written by Tony Watton. Matthew's report of his perspective of this trip is on his website.
Day 0 – 20/706 – Hobart to Cradle Mountain
We left home at about 6.30am to drive to Lake St Clair, where we intended to leave the car and get a bus up to Cradle Mt for the walk. We would then have transport back home at the end. It was an uneventful, but long (5 hours) trip by bus that arrived at Cradle Mt Cosy Cabins at 3.00 pm. We booked into a 4-bunk 'share' room and spent a quiet night after walking to the local tavern for a meal and a couple of beers.
Two other people, one from Victoria, one Tassie, were in the room, carrying swags and travelling in an old Landcruiser with a fold-up boat on top. It was a pity we had been in the bus most of the day because the weather was absolutely beautiful and we wished we had been able to start the walk and take advantage of the good conditions.
Day 1 – 21/7/06 – Ronny Creek to Scott/Kilvert Hut
We were up at 6.30am, packed our gear and were prepared to wait for the bus to take us to the start of the walk when we were offered a lift by our room-mates. We jumped at the offer and Matthew travelled in the covered-in rear of the vehicle. He was surprised to find that we had been dropped off at Ronny Creek, with still 2 km to walk along the road to start. However, the lift was very welcome.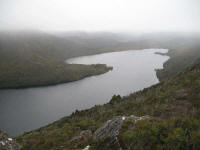 We decided to take the route via Mt Campbell and Hanson's Peak to Lake Rodway and stay at Scott/Kilvert Hut for the night. Although the peaks were shrouded in mist it did not stop us from walking up Mt Campbell. We left our 25kg packs at the start of this side-trip and took light day packs up with emergency supplies. Why this track had a Track Closed sign remains a mystery. It was quite OK. There were no 'revegetation' signs around.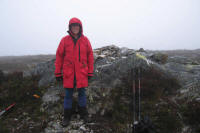 Hanson's Peak involved a steep scramble up to the top, with a fixed chain to help on the more challenging sections. Not really easy with a heavy pack each, but manageable.
We reached the Emergency Shelter (near Little Horn & the Face Track) at midday, stopped for about five minutes, then kept going to reach Scott/Kilvert Hut at about 1.15pm. We were the only people at the hut (as at 4.30 pm). We made a fire in the coal stove and made ourselves a snack lunch of a mug of tea, 'mountain bread' wrap with Nutella, two Vitawheat biscuits with cheese and Vegemite and a currant (squashed-fly) biscuit.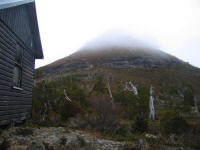 During the afternoon we walked down to Lake Rodway to take some photos and remarked how strange it was to be walking so easily without packs to weigh us down.
On our walk this day we passed around the eastern side of Cradle Mt and saw magnificent frozen waterfalls on both Little Horn and Cradle itself. There was not much sun to enjoy but calm weather, although low mist/cloud obscured Cradle Mt and other peaks. Many frozen sections of the track required much care, even though we were both wearing boot chains and using trekking poles.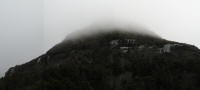 As it turned out we were the only occupants of the hut that day and had a very pleasant stay.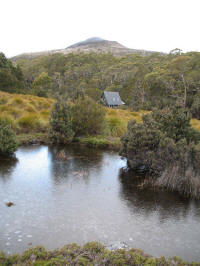 Day 2 – 22/7/06 – Scott/Kilvert Hut to Windermere Hut
We woke at 7.30am and had a bit of a slow start. Breakfast consisted of a cup of tea with porridge and sultanas. We didn't make a habit of having a "cooked" breakfast because we prefer to pack up and get moving, particularly during the very cold mornings we experienced – roughly 3oC to 6oC.
After cleaning up we eventually got going at 9.45am and were immediately faced with a 250m climb up a very steep track to the ridge at Cradle Cirque, where we joined the Overland Track proper between Kitchen Hut and the Barn Bluff turn-off. There were beautiful views back down to Lake Rodway, which was half-frozen over.

We had previously decided that, if the view of Barn Bluff was reasonable, we would leave our main packs and take light packs to the top. As it was clear on Barn Bluff we headed off along the side track, with me becoming a bit anxious as I saw the steep climb that was confronting us. It looked awesome with its huge bulk directly in front of us.
The way up was well marked, although obviously very steep and the views from the top were stunning. We stayed a few minutes then started back down.
As we approached our packs, Matthew said, "There's a crow on your pack". (It was actually a forest raven we found out later.) The raven flew off and we discovered some of our exterior pack pocket zips had been opened and the contents had been strewn around. The bird must have thought it was Christmas. Snickers bars and other snacks were simply gone. Clearly, a lesson for the future for us when other side trips are done.
We continued on to Waterfall Valley Hut, but had decided not to stay there as it would have meant that we were still less than a day's walk from Dove Lake, so we continued on to Windermere Hut, passing many frozen waterfalls that would have been cascading into the valley off the plateau that we walked around.
We passed a group of four German people travelling in the opposite direction and saw another man who was apparently staying at Waterfall Valley Hut that night. We reckoned that if we kept up a reasonable pace we would get to Windermere just before dark. As it turned out it was 5.30pm (almost dark) when we arrived.
As we passed Lake Windermere, a few minutes before the hut, there were beautiful views of the lake with perfect reflections of the surrounding hills and trees across a mirror-smooth surface. At the hut Matthew discovered that one of his boot chains was missing. It must have been dragged off by a tree root or a jam between rocks on the way.
There is a gas heater in the hut – it needs to be reset and re-started every 45 minutes. The hut is very comfortable and, by 8.00pm, we were the only occupants. Matthew cooked a very nice dinner of freeze-dried mince and vegetables with pasta. We finished off with a cup of tea and Vitawheat biscuits, cheese and Vegemite. Later we enjoyed a drink of hot orange Tang with a currant biscuit.
There was no wind but it was clear and cold outside.
Day 3 – 23/7/06 – Windermere Hut to New Pelion Hut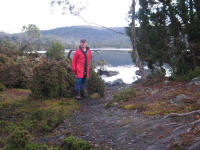 An early start – up at 6.30am – to get ready for a long day walk. No side trips were planned but we expected to be walking for between five and six hours for this leg of the walk. We started out at 9.05am and were soon engulfed in fog/mist until we reached a high enough level to look down on the valley from where we had come.
We saw some of the magnificent peaks but they all had mist covering their upper levels. We decided the best approach to the day was to walk for about an hour then have a quick snack break for a rest, then keep going. We enjoyed a break at the lookout at Forth Valley and had some good views of other mountains in the area.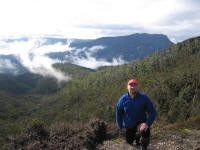 About two hours from the end of the day's walk we saw a hut away in the distance (we guessed about 5kms as the crow - or forest raven! - flies). It was probably New Pelion Hut. We reached the hut at about 2.45pm and were looking forward to starting up the gas heater that is in the hut.
When we tried to light the gas heater it would not start. Another occupant of the hut soon arrived after having walked up Mt Oakleigh and he told us that the battery that controlled the gas flow was flat. So, 3oC in the hut (and a lot colder outside) and no heat. It was going to be a long, cold night.
The other person was Brendan Maggs, from Canberra, who worked in an outdoor store in the suburbs there. So, we were in what was quite a cold hut, but enjoyed the fact that we had finished walking for the day.
Once again Matthew did the cooking. He prepared a good freeze-dried meal of Thai curry for him and lamb fettuccini for me. For dessert we had apricot crumble with chocolate custard, then a cup of tea to finish. We felt quite spoilt.
During the evening we had a very interesting couple of hours talking to Brendan about bushwalking expeditions, kayaking and bike riding. At one point he asked if our last name was Walton. We were both stunned by this question and answered that it was close – and asked how he knew this. He replied that he recognized my face from my website and put one and one together with our names being Matthew and Tony. It sure is a small world! We were impressed by his memory.
Day 4 – 24/7/06 – New Pelion Hut to Kia Ora Hut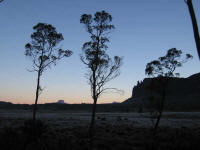 After a very cold night (but warm in our sleeping bags) we were up at 6.30am and had a cup of tea and a 'mountain bread' roll-up with Nutella each.
It was a beautiful, clear day, without a cloud in the sky so we decided to head up Mt Ossa on the way to Kia Ora Hut. We were on the track at 8.30am and arrived at Pelion Gap at 9.50am, marvelling at the sights surrounding us.
We unpacked our exterior pockets of the packs and put everything inside the main compartment in an effort to thwart the forest ravens' attempts to steal more of our property.
We put our packs near a scoparia bush and started our walk up Mt Ossa. According to our Cradle Mt/Lake St Clair book this side trip should have taken about 2 hrs 30 mins. In fact it actually took more like 4 hours. It would be faster in less icy conditions.
As we made our way up the track and around Mt Doris there were many frozen pools and steps so extra care was needed all the time. Mt Ossa looked awesome at close range as we started up the steep approaches and zigzagged towards the top.
At one point we reached an area on the Southern part of Mt Ossa with a steep snow bank of about 40o that disappeared over a very high drop-off. We carefully followed the older footsteps and made sure of every step before taking the next one. We both realized that any slip or over-balancing would have resulted in a fatal slide and drop over the edge. The climb continued up steep slopes and it was necessary to dig our toes in hard at every step to make sure of our footing.
After this exposed traverse we headed up a narrow gully. While going up a very steep part I lost my footing and slid down a few metres to where Matthew was standing – fortunately for me with his feet braced in holes for his boots – and he stopped my descent further. As I slid down he said my face showed a look of terror and that's how it felt for me!
We reached the top without any further dramas and were rewarded with truly stunning 360o views without the slightest sign of any human activity. We stayed on the top just long enough to get a few photos, then started down again.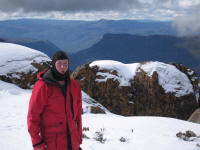 Matthew managed to slide down a few sections and persuaded me to have a go as well. However, instead of a gentle, controlled descent, I careered down about 20 metres, launched myself off a sloping snow-covered rock and came to a halt face down, but not injured. We had a laugh about that.
We continued down very carefully, especially over the sloping snow bank and part of the way down we met Brendan Maggs coming up, carrying his large pack. He told us he intended to camp on top of Mt Ossa and had already climbed Mt Pelion East on the way from New Pelion Hut. As we left him we wondered what would happen to him if it snowed (covering tracks) or froze over even more overnight.
Our packs were OK when we got back to them and the walk continued downhill for another hour until we reached Kia Ora Hut. Just after we arrived Brendan also turned up, having decided against staying up on Mt Ossa overnight. We were relieved that he was safe and well.
The hut was in an untidy state – coal stove full of ash, dirty floor and rubbish lying around. This was not a credit to the previous occupants. We cleaned up a bit, I made a fire so the stove glowed and Matthew cooked up a tasty dish of pasta and salmon, followed by vanilla custard. We had a warm, pleasant night ahead of us.
Day 5 – 25/7/06 – Kia Ora Hut to Cynthia Bay
Once again we were up at 6.30am and, once again, our breakfast consisted of a cup of tea with 'mountain bread' and Nutella spread that was then warmed/toasted on the Trangia plate. Our plan was to have an early start (by 8.30am) and walk past Du Cane Hut, over Du Cane Gap and stay at Windy Ridge Hut for the night before walking to Narcissus Hut the next day.
We stayed at Du Cane Hut for only a short while – marvelling at the resourcefulness and toughness of people like Paddy Hardnett, who spent long periods in the bush, trapping in the early part of the 20th Century. We were disgusted by the amount of graffiti scrawled on the walls and wondered what sort of moron would deface a historic building like that after having taken the trouble to walk there.
On the way to Windy Ridge Hut we found a pair of Scarpa boots at the side of the track and wondered how they came to be there. At first sight they looked OK but on closer examination one of the soles had come adrift. We also wondered what the owner had worn instead of the boots. We did not think this was a good advertisement for Scarpa!
The walk over Du Cane Gap was uneventful. We passed two Victorians who were going the other way. When we reached Windy Ridge Hut at noon, we had a snack of currant biscuits and discussed that the ferry would be at Narcissus Hut at 2.30pm and that the walk would take about 3 hrs and we only had 2.5 hrs. As a result we decided to walk to Narcissus Hut so that we could catch the boat down the lake on Wednesday (26/7/06). [WE LATER FOUND THAT THE BOAT DOESN'T COME UP THE LAKE UNLESS THERE IS A BOOKING.]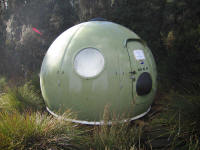 When we reached the junction with the track to Pine Valley at 2.30pm we still had about 4kms to go. Matthew had previously saved the ferry operator's phone number in his CDMA phone and was able to get a signal at this point. They said that the ferry wasn't coming up today because they hadn't received any bookings or calls on the radio in Narcissus Hut. Matthew asked if it was possible for the ferry to come up to Narcissus Hut jetty at 3.30pm. The ferryman said they weren't planning any trips as there were no bookings, but the latest that they would come to get us was 3.30pm. So we had 4kms to travel in an hour, with heavy packs. The upside was that from there the track was pretty good and headed downhill or was flat for most of the way.
Matthew, being the younger and faster of the two of us, went on ahead. He arrived at the jetty at 3.20pm. The boat was already there and the ferryman wanted to leave straight away. However, Matthew explained that I was still to come and, besides, it wasn't yet 3.30pm.
After an extremely tough forced march I reached the ferry at 3.25pm and we then caught the ferry back to Cynthia Bay, tired but happy with what we had achieved in five memorable days. We had been very lucky with the weather – no rain, very little snow on the Overland Track (some on the mountains), no wind but cold, clear days when we had been able to do exactly what we wanted to do. Most of all, having travelled at that time of the year, there were no crowded tracks or huts.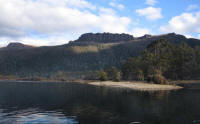 Thanks to Matthew for his patience with my relatively slow pace and for being a considerate, kind son.