PANDANI SHELF VIA SANDFLY CREEK TRACK©
TONY & MATTHEW WATTON
22/2/11 - 23/2/11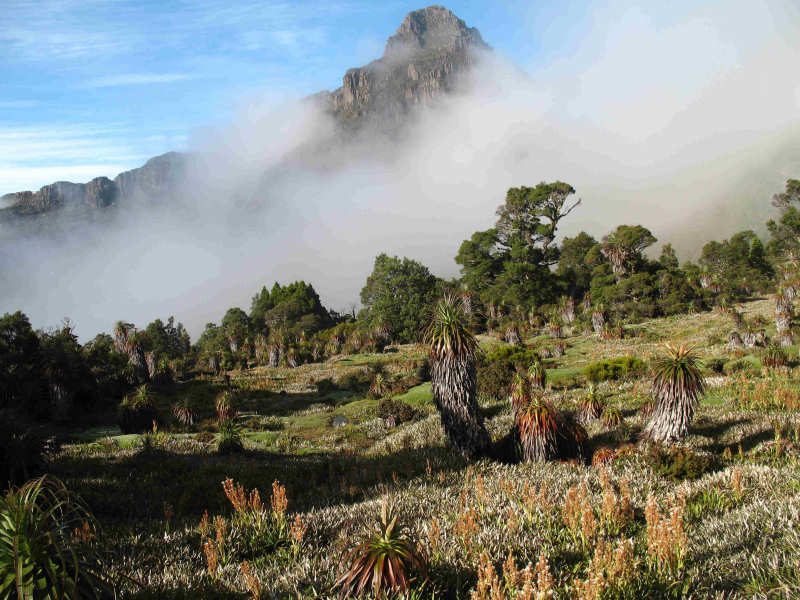 Pandani Shelf and Mt Anne
BACKGROUND
Matthew and I had both walked to Mt Anne via the "normal" route via Mt Eliza and the Eliza Plateau as a day walk a few years ago (no report). Before that, I walked to Mt Anne as a day walk by myself towards the end of July 1998 but turned back before the final climb because of cloud around the summit and icy rock. Not the place for a lone walker in the middle of Winter. [My notes about this walk are at Solo Day Walk to Mt Anne which were presumed lost but found recently.] Matthew has also walked to Mt Anne the same way twice by himself and once on a successful trip with me. However, neither of us had visited Pandani Shelf to see for ourselves the wonderland of ancient plant-life that thrives in this alpine environment and we were very keen to do the trip.
Matthew has written some notes from his perspective. They are at http://mwatton.customer.netspace.net.au/ne_ridge.html
The decision to start the walk from the plain leading to Sandfly Creek was that we had heard there was a track that headed that way but no such track was shown on any of the available maps of the area. About 20 years ago I was travelling by car to Scotts Peak Dam and I mentioned to the person who was driving that it would be good if there was a route up to Mt Anne via the plains. He said there was a route across the plain originally made by an H.E.C. Bombardier tracked vehicle during the late 1960s but that it was probably overgrown in the time that had passed. Apparently, the vehicle was used in the search for a New South Wales caver who had become lost and who, unfortunately, was never found.
The major reference to this route (apart from one other bushwalker's notes) was found in Ken Collins' 1990 book "South-West Tasmania A Natural History & Visitor's Guide" pp236-238. He mentions crossing the sedgeland plain on a "well-defined double footpad". This reinforces my belief that the route was established by the Bombardier years ago as the double footpad runs in two parallel tracks about 2 metres apart. [See an example of such a vehicle at http://nla.gov.au/nla.pic-vn3991445-s53 and tracks at http://nla.gov.au/nla.pic-vn3991445-s55.] We used his notes and the 1:25,000 maps plus Matthew's GPS as the main guides on this walk.
Initially our intention was to do a three-day walk of the Anne Circuit but time constraints dictated that two days were the maximum on this occasion, so we decided on this walk instead.
As we drove to the start point we changed our minds about the actual route we wanted to take and decided to leave the bike Matthew had brought hidden in the bush near Condominium Creek so that we would have easy access to the car more than 10 kms away after visiting Pandani Shelf and continuing on past Mt Anne to Mt Eliza and down to Condominium Creek.
DAY 1 - TUESDAY 22/2/11
We had a fairly relaxed start - at 7.00 am - and turned into Scotts Peak Road sometime after 9.00 am. We kept a lookout for a track off to the right that would lead to a disused quarry. Having found that we knew we were not far from the start. Matthew spotted a cairn at the left side of the road near a creek - Gelignite Creek - and we knew we had found our starting point. Matthew reset the trip meter and we continued on to drop off the bike in the bush. We said "Hi" to two walkers at the start of the normal route. They were heading up to camp at Pandani Shelf, via Mt Anne. We said we might see them up there and then made our way back to Gelignite Creek to start our walk.
At 10.30 am we were ready - a bit later than usual for us but still enough time to get up on to North-East Ridge and find a camp site.
As soon as we had climbed over the berm at the side of the road and struggled through the close head-high scrub we found ourselves on the open plain in rather boggy conditions - not unlike the track across the South Cape Range. We encountered several very deep boggy areas but were forewarned about them by prodding with our trekking poles before committing to stepping into them. There were only five entries during 2011 in the Remote Area Logbook for Sandfly Creek Track, which gives some idea of the small number of people who are prepared to use this particular route.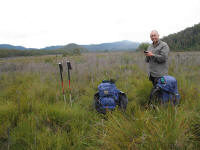 On reaching the forest close to 12.00 midday we were immediately confronted with many fallen trees and dead branches littering our way ahead. Fortunately, there were plenty of tapes to guide us but many of them were attached to broken, fallen branches and we proceeded with care, watching for the next tape before leaving the one we were at. On many occasions we needed to clamber over or under large tree trunks, sometimes three or four within a distance of less than 10 m. Matthew convinced me to take off the pack modules that were attached to the sides of my pack and put them inside as they were making forward progress difficult through the tight squeezes we encountered.
For what seemed like many kilometres (but not) we plodded along with numerous twists and turns, at our starting height of roughly 350 m above sea level according to Matthew's GPS altimeter, wondering when the actual climb through the forest would arrive. We stopped for a drink and rest at Sandfly Creek and filled our drink bottles. Matthew had brought a 6 litre MSR Dromedary water bag and completely filled that. I was horrified to think he was just about to add 6 kgs to his pack that already would have weighed about 22 kgs.
When we got into the climb I found the constant clambering over and under with my 20 kgs pack almost too much to cope with. However, the thought of retracing our steps was a worse alternative so, with more than the average number of rest breaks with Gatorade to drink and stops to stretch, I plodded on. Matthew, being much fitter, accepted my slow pace and we stayed together. It must have been frustrating for him. On several occasions I remarked that, because the route (not track) was so indistinct, if it were not for the tapes it would be very easy to become lost. This, even though the route might be only a couple of metres away.
At around 6.00 pm we finally turned left at a huge, overhanging rock wall, dripping with water and, shortly after, emerged onto the scrubby top of North-East Ridge. Here we found the cairn indicating the route towards the north-east and the cave/sinkhole region. Previously, we had been protected from the howling wind by the forest but now we experienced the wind, with only head-high scrub sheltering us. On top of the Ridge we were in thick mist and drizzle and only had about 100 m visibility. After meandering around in cold, misty rain following the easy track, at 7.00 pm we decided to look for an acceptable site to pitch our bivvy bags and a lightweight tarp as a makeshift shelter. We found a good spot on the Ridge, at about 1,100 m, and soon had the tarp overhead to keep the rain off. The wind was not bothering us, coming from the south-west as it was.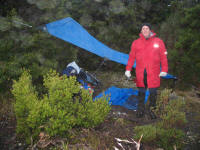 It would be easy to think logically about changing into dry clothes, erecting the bivvy bags, cooking a meal and hot drink and relaxing after a hard day's work. However, I was now feeling quite cold and found it a struggle to concentrate on getting myself organised. Matthew jerked me back to reality by saying, "Just get out of the wet clothes and put your down jacket on; you'll feel much better". Maybe this was what the onset of hypothermia is like, when everything is an effort. He was right, of course, and when I was more comfortable I was able to enjoy the freeze-dried Thai Chicken Curry that he prepared.
As soon as we had eaten we set up our bivvy bags and by 8.00 pm we were tucked up inside our cocoons. My toes are a nuisance for staying cold for an extended time and this occasion was no exception. I would definitely be unable to cope with an Antarctic expedition, so it's a good thing I am not planning one!! During the night the wind changed direction, buffeted our bivvy bags and blew into the tarp but, by 6.30 am the next day there was no damage and the wind had abated a bit. Also, my toes had warmed up.
DAY 2 - WEDNESDAY 23/2/11
At 6.30 am I clambered out of my bivvy bag to find an appropriate toilet spot then got back into the bag for a few minutes more. By 6.45 am Matthew was up and about. I got out for a second time at 7.10 am. We decided against having a cooked breakfast or hot drink, and I did not feel like eating a muesli bar so just had a Gatorade drink. Probably not nutritionally beneficial but all I could cope with.
Whilst packing our gear away we were rewarded with clearing sky and the first views of Mt Anne, Mt Lot and Lots Wife. They presented a spectacular scene and we took the opportunity to take a couple of photos. However, the views did not last and mist soon poured across in front of us. We finished our packing and started off at 8.35 am. As we packed the mist was clearing and we had some terrific views towards Mt Lot and Mt Anne.
We were both looking forward to visiting Pandani Shelf. Immediately we turned a corner I saw a cairn indicating to me the route down to Pandani Shelf. We followed the clear track down towards the Shelf and were soon rewarded with the beauty of the pandani, cushion plants, and other delicate plants spread out in a panorama before us with the enormous bulk of Mt Anne in the background. We carefully trod along the obvious track and spotted an open flat rock area that was clearly a tent site - being the only dry area on the Shelf. After taking photos we continued through the Shelf, passing a cairn that indicated our route. We followed a poor pad for maybe 20 m then it petered out. We retraced our steps back to the cairn and thought about our next move. There was no other obvious way forward. There was a lower shelf down a small gully about 30 m lower than where we were- about 100 m further down the slope. Up and to our right as we looked at Mt Anne was a gully that led to a saddle on North-East Ridge. It seemed clear that the route would go that way but we did not want to be involved in bush-bashing with the prospect of reduced visibility and the likelihood of having to return to the Shelf anyway. The Collins notes also indicated that this would be the way to go, but his book is now 21 years old and doubtless track conditions have changed. Matthew followed many false leads into the scrub without finding any clear route up to the Ridge top.
After about 15 minutes we decided to retrace our path checking for a route up onto the Ridge top. Eventually, we made our way back towards our campsite and found the cairn next to it. There was also a track leading up the slope, right at the end of a slope up the ridgeline. Matthew offered to check out the track while I waited and after 10 minutes he appeared again to say there was definitely a cairned route along the Ridge. The only problem was that there was a very steep climb about 200 m along the track that tested his abilities, even without his pack. He returned, saying he thought I would not be comfortable climbing with my pack as he did not like the climb. It did look steep and reminded me of Moss Ridge on the way to Federation Peak but it was the only way along the knife-edge of the Ridge. This then was the route we needed to take to be able to complete the circuit around Mt Anne and on to Mt Eliza. We thought the walk might even stretch into a third day (which we could not afford) if we were able to continue along an unfamiliar track possibly with poor visibility . I have no doubt that Matthew would have been able to tackle the climb and the remainder of the walk in one day if I had not been with him. But commonsense prevailed and we decided that the only route we had confidence in was to go back the way we had come - down through the forest and across the plain.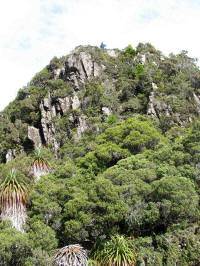 It was a relief to have made that decision and I felt much happier now I knew where I was going. By the time we started the walk back from our bivvy site it was 10.30 am. We felt good about this as we had gravity to help us down through the forest and plenty of time to finish the walk in daylight, even though we both carried head torches.
We stopped for a lunch break at 12.30 pm in a small clearing, surrounded by dense forest. Matthew produced a hot chocolate drink - very welcome - and I prepared some Vita Wheat biscuits with cheese slices and Vegemite. I could only manage to eat a single bite of mine. I ate a muesli bar and found it very difficult to swallow. The drink helped but I did not enjoy the bar.
Continuing our slow plod over, under and around we eventually arrived at Sandfly Creek, still at least two hours away from the finish but another landmark to check off the list. By this time we were back in the boggy conditions, making good use of the poles now we were out of the forest and on flat terrain. Here we took the opportunity to take off our thermal tops and proceeded with just bush shirts on upper bodies. At this time Matthew must have knelt in an area where sandflies dwelt as he then suffered from numerous tiny bites that have since nearly driven him to distraction. Apparently, later at home he found a bush remedy on the web - smear Vegemite on the bites. It seemed to work because of the Vitamin B content.
During the last kilometre Matthew proceeded on a fair way ahead on the open plain. I made the mistake of treading on the curved side of a boggy area of the trench (track) and fell over to my left. I landed over a small mound at the side of the track on my back, with my pack under me. I know how a tortoise feels when it turns turtle (so to speak). I undid my pack, struggled back to my feet and started off again, trying to take a bit more care than I had up to then.
A few hundred metres before we reached the logbook we saw an old, rusty 44-gallon drum off the track on the left hand side. I remarked to Matthew that it might have been a fuel drum left over from the days of the Bombardier's working life. Not a good sight after our experiences on Pandani Shelf and I wondered why it had not been cleared away.
At 6.15 pm we finally burst through the last of the undergrowth at the side of the road - the end of the track. Both of us were relieved to find the car intact and able to be started! We casually got out of our stinking, wet walking gear and into our normal clothes, headed back up the road to collect the bike and paused briefly at Condominium Creek for a bit of a wash.
It was at this time, listening to the car radio, that we first became aware of the tragic events in Christchurch, New Zealand, with the latest earthquake and devastation that it caused.
As we drove back along Scotts Peak Road hunger pangs were starting to make their presence felt and I was looking forward to getting a toasted sandwich and hot drink but this did not happen until we reached New Norfolk. As it was getting late we had a couple of potato cakes and chocolate milk drink instead - they tasted wonderful.
So ended our first trip to Pandani Shelf. It was a great experience and for me two of the hardest days of my life - even considering Frenchmans Cap and Precipitous Bluff walks done previously. This was undoubtedly because the route is not maintained by P & WS and very few people use it.
MEDICAL ISSUES
As I have recorded on my other walk notes, my suprapubic catheter is a permanent nuisance and a hindrance but it has not stopped me from doing the things I want to do. One of the problems is that the end of the catheter irritates the lining of my bladder and causes bladder spasms, making me stop in my tracks until the sensation has passed. I take medication to help to control the spasms but it is only partially effective. I also needed to stop frequently to empty my bladder via the catheter and valve (tap) at the end because my bladder capacity has shrunk to only about 60 mls to 70 mls.
In addition, the catheter has resulted in a continuing urinary tract infection that the urologist is reluctant to treat. This is because the antibiotics may lose their effectiveness with continued use. Fortunately, I seem not to have any significant problems arising from the infection. Apart from those concerns I consider I'm coping reasonably well with the after-effects of my radiation therapy seven years ago.