South-West Tasmania - Melaleuca to Cockle Creek©
4/11/02 TO 12/11/02
MATTHEW WATTON AND TONY WATTON
---
Day 1 - Melaleuca to New Harbour
Day 2 - New Harbour to Freney Lagoon, Cox Bight
Day 3 - Freney Lagoon, western Cox Bight to Buoy Creek, eastern Cox Bight
Day 4 - Buoy Creek, eastern Cox Bight to Louisa River
Day 5 - Louisa River to Deadmans Cove
Day 6 - Day off at Deadmans Cove
Day 7 - Deadmans Cove to Osmiridium Beach
Day 8 - Osmiridium Beach to Granite Beach
Day 9 - Granite Beach to Cockle Creek
Gear list
DAY 1 - 4/11/02 (HOBART TO MELALEUCA) MELALEUCA TO NEW HARBOUR
11kms walking from 10.30am to 3.00pm
Total distance 11kms
Total time walking 4hrs 30mins
Overall average walking speed 2.4kms/hr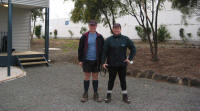 It was a fairly overcast flight to Melaleuca, with low cloud and a westerly wind. The pilot chose to travel via the coast with a maximum height of 2,500ft. At Southport he asked us if we wanted to keep going as the visibility was getting worse. We said if he thought it was safe to go on we wanted to, so he pressed on. There was no real view of Precipitous Bluff but Matthew pointed out some of the other features, including bays and beaches he had encountered on previous kayaking trips along the South Coast.
The airstrip looked very small on approach and the cross wind made for what I thought was a difficult landing. It seemed as though we might pull up short of the airstrip and we crabbed in to a pretty good landing, all things considered.
After filling up our metho bottles the plane took off and we were on our own. Not for long, though, as one of two volunteers with the Orange Bellied Budgie project came along to say hello. They were at Melaleuca for two weeks and were due to leave on 6/11/02. We had a look around the bird-watching area and visited one of the walkers' huts.
As we left Melaleuca the sun was shining, wind still from the west and very pleasant conditions. There were intermittent rain showers so we put on our waterproof jackets. We kept them on until we reached the New Harbour campsite - sheltered and very pleasant.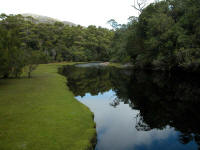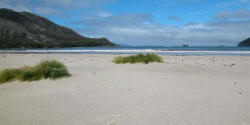 Soon after we got to the campsite the two volunteers turned up. They were doing a day walk and said they were going up the hill maybe Smoke Signal Hill.
It seemed to take me a long time to warm up so, after having had a cup of hot chocolate and several biscuits and cheese I wrote up the log in the tent at about 6.00pm.
Tomorrow we may take a day pack and head over to Ketchem Bay before retracing our steps and continuing on our trip east.
---
DAY 2 - 5/11/02 NEW HARBOUR TO FRENEY LAGOON
13kms walking from 9.45am to 2.15pm
Average walking speed 2.9kms/hr
Total distance to date 24kms
Total time walking 9hrs
Overall average walking speed 2.7kms/hr
A pleasant night and very comfortable in the Macpac Olympus that Matthew had brought. The Olympus was roomy enough for our packs to be stored out of the weather in the vestibules at each end of the tent. This meant that we could get at our packs for any items we had forgotten to unload without getting out of the tent. It rained on and off during the night.
Matthew said I snored. Probably he was right - it has been known. I will try to sleep only on my side in future but no guarantees.
Breakfast consisted of water and we hurried to pack up before there was any more rain.
We decided against going to Ketchem Bay. It was not a pleasant day and psychologically I was keen to be making some headway east, with still a lot of walking ahead.
It was a fairly dreary walk along slushy tracks until we reached the South Coast Track junction after about two hours. The boards here made travelling a lot easier. We had considered trying to go across the New Harbour Range but missed the turn-off after leaving the campsite. It was probably a good "decision".
Freney Lagoon and Cox Bight looked very attractive from a distance and the wind blew strongly from the north west. It was better for it to be helping rather than hindering us.

At the coast we met up with a group of four walkers at the first campsite (west Cox Bight). They had done a couple of circuit trips and were flying out on Thursday 7/11/02.
We walked on to the Freney Lagoon campsite on Cox Bight. It is up off the beach, near the lagoon exit and is very sheltered and quite pleasant. We made ourselves a cup of hot chocolate and had some biscuits and cheese and had a cooked meal (Continental pasta x 2) later.
There are no major health problems just a bit sore after the unusual exercise. Another early night.
---
DAY 3 - 6/11/02 FRENEY LAGOON EASTERN END OF COX BIGHT (BUOY CREEK)
5kms walking from 10.05am to 12.00 noon
Average walking speed 2.5kms/hr
Total distance to date 29kms
Total time walking 10hrs 55mins
Overall average walking speed 2.7kms/hr
We spent a very peaceful night and slept in until 8.00am because today we intended to go only as far as the end of the beach on Cox Bight.
We forded a couple of creeks and snuck around a headland (that could be difficult in heavy seas or high tide conditions) and soon arrived at this campsite. Beautiful, sheltered spot with tea trees around us.
After putting up the tent and changing into non-walking clothes we explored the beach and collected a lot of fishing junk that we added to an already large heap just up from the beach. It is not a good sight. It seems to us that fishing boat crews just don't care what happens with the rubbish they either throw overboard or allow to fall into the sea.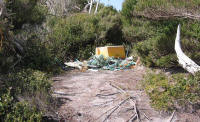 Dinner tonight consisted of satay rice with mashed potato; curious combination but very filling.
It did not rain today just a beautiful blue sky and sun. We will probably not be as lucky in the next few days.
---
DAY 4 - 7/11/02 EASTERN END OF COX BIGHT TO LOUISA RIVER
12kms walking from 7.05am to 1.35pm
Average walking speed 1.8kms/hr
Total distance to date 41kms
Total time walking 17hrs 35mins
Overall average walking speed 2.4kms/hr
We had an early start because of the long distance expected to be covered. This leg took us to the start of the climb over the Ironbound Range. We could see the route of the track from quite a distance away as it steeply climbed a ridge. It promises not to be an easy day tomorrow.
Fortunately, today there was a lot of duck-boarding, which makes life a lot easier than it could be. Still, there was a fair share of bog. Gale force winds from the north west sometimes almost knocked us over. Having the walking poles is certainly a big plus. The creek crossings and even Louisa River were no problem. It also helped that it hasn't rained for a couple of days as well.
At Louisa River we met a nice couple from Sydney (Matt and Penny) who seemed to have come here just to do the South Coast Track.
Apparently, the woman we gave a lift to from Huonville to Hobart last Saturday (2/11/02) when we delivered the car down to Cockle Creek was Stephanie from Survivor Thailand. Just shows how much we know!
We had a pleasant pasta meal tonight. Another early start tomorrow facing the Ironbounds.
---
DAY 5 - 8/11/02 LOUISA RIVER TO DEADMANS COVE
13kms walking from 7.05am to 3.00pm
Average walking speed 1.6kms/hr
Total distance to date 54kms
Total time walking 25hrs 30mins
Overall average walking speed 2.1kms/hr
It was another early start today because of the awesome task of crossing the Ironbound Range.
We left about 15 minutes before Matt and Penny and within 1km we were starting the steep climb.
Fortunately, Parks and Wildlife Service have done a lot of work with benching and boards so the climb was not as wet as I expected it would be. Even so, the climb was extremely draining physically for me. I think Matthew handled it better but as he thought it was important for us to stay together he did not go on ahead as he usually did on hills.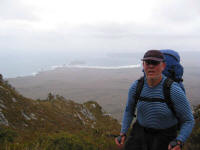 Somewhere on the climb up it started to rain and the wind blew very hard. On the radio that morning they referred to storm force winds in the south west. At times it was very difficult to stay on the raised boards and twice I was actually blown over, even though I was using the walking poles for stability.
Every so often we looked behind us and sometimes saw Matt and Penny off in the distance.
At one point the boards formed a bridge about four metres long that crossed a deep v-shaped creek about three metres down. Fortunately, the wind allowed us to cross unhindered.
Our hands became very cold. So cold that I could only grip the pole handles but could not feel them. Matthew put on his gloves but as they were multi-layered they would not go on properly. Still, they probably helped him to be reasonably comfortable. Matthew offered me his gloves later but it would not have been possible for me to put them on, even if I had wanted to. Actually, it was my own fault because I had packed my gloves near the bottom of my pack. At least Matthew had the sense to keep his gloves near the top of his pack!
We decided it was best to shuffle / jog along the 3kms traverse to get off the top plateau as quickly as possible.
The descent seemed to take for ever. Matt and Penny passed us as we were having a rest part of the way down the eastern side of the Range in deep forest.
We eventually reached the campsite, still raining. We quickly set up the tent and got changed into dry clothes. We stayed in the tent.
No cooked meal or hot drink tonight. This is one of the few areas where a camp fire is allowed so, if the weather is kind to us tomorrow, we intend to make a fire and dry our clothes.
Rest day Saturday and listen to the 1st Ashes Test (3rd day).
---
DAY 6 - 9/11/02 NO WALKING TODAY - REST DAY
After the previous day's gruelling walk, with no hot meal at the end of it, today was a day to relax, dry out, wash clothes and ourselves, and generally recover.
To add to our enjoyment, Deadmans Cove has an authorised fireplace, so we wasted no time in getting one started. We then cooked our rice meal (last night's) and went (separately) on several dead wood hunting expeditions.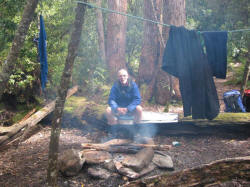 We spent most of the day listening to Day 3 of the 1st Ashes Test. Other duties included supervising the drying of our washed clothes on improvised washing lines strung between handy trees.
Fortunately, the rain stayed away, the sun shone and it was, overall, a very welcome day off.
We continued to hear news reports about the 35-year-old Queenslander who had apparently set off an EPIRB near Federation Peak. We wondered if it was Don Hudspeth, who we had not seen but earlier in our walk had read his track report. We could not remember what his destination was but we assumed he was heading for Melaleuca. [He was eventually found walking by a ground party. He apparently became disoriented in bad weather and set off the beacon. All ended well.]
Matt and Penny continued their walk today. As we all intend to finish our walk on Wednesday we may see them again.
This was a very good day.
---
DAY 7 - 10/11/02 DEADMANS COVE TO OSMIRIDIUM BEACH
21kms walking from 7.30am to 3.30pm
Average walking speed 2.6kms/hr
Total distance to date 75kms
Total time walking 33hrs 30mins
Overall average walking speed 2.5kms/hr
We left the pleasant campsite and immediately we were into boggy buttongrass plains to Deadmans Bay. At the coast at Deadmans Bay we had to scamper around rocks to avoid incoming seas. Nothing too dangerous here. After that we skirted along the coast but in forest, with a slippery, steep descent to Prion Beach.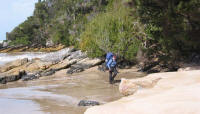 The walk along Prion Beach was about 5kms. At the end of the dunes, near the Lagoon, we had a view of impressive Precipitous Bluff.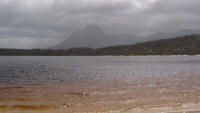 Matthew did the honours with the boat crossings and got a good workout on his arms. Half way over with two boats Matthew thought it would have been a good idea for us both to have rowed one boat each. I should have been more considerate, but did not give it a thought at the time. Sorry, Matthew.
After the Lagoon crossing we struggled through 2.5kms of bracken ferns behind and along the top of the dunes, with occasional views of the Lagoon outlet to the sea.
We then emerged at the top of a steep set of steps that led uncertainly direct down to Milford Creek. It looked as though it could be very deep if the slope of the dunes continued into the creek at the same angle. We could not see the bottom because of the tannin colour of the water.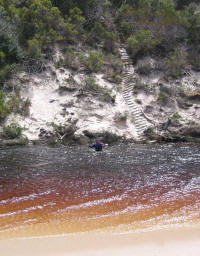 Matthew checked for about 50m upstream but there was no obvious crossing point.
Back at the steps we decided that wading would be the way to go. Matthew checked with his poles and found that the water never came above waist depth. He carried his pack over his head but I kept mine on my back as I had a good waterproof inner in my pack. Only the bottom 75mm or so of my pack became wet at the deepest point.
As we reached the other side of Milford Creek we could read the small words on a sign - "Follow foreshore for next 500m". The foreshore consisted of 500m of wading in waist-deep, stagnant water. There were many submerged branches that were successfully negotiated using our poles.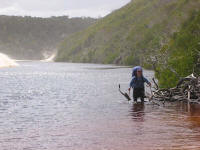 Finally, at the eastern end of Prion Beach we climbed the wooden steps up to leave the beach and continued through light bush on an open track.
As we passed behind Rocky Boat Inlet the track turned inland and we were back to some boggy buttongrass.
There were good views of Precipitous Bluff as we reached the eastern end of Rocky Boat Inlet.
The track continued over another buttongrass hill and on the way down the other side there was a yellow arrow pointing to the main track that turned left. There was also a faint track to the right. Matthew thought this may lead to the campsite at Osmiridium Beach so after going down this track for about 50m he left his pack and continued on for another few hundred metres. It turned out that this was the way to the campsite so I followed on down this track. We left the buttongrass and pushed through some thick scrub and emerged at a sandy, dark creek.
There was a large campsite on the other side of the creek with fishing crates for seats. This was quite a comfortable place to stay.
We walked down the creek and found huge surf rolling in to the beach 3m to 4m high. We watched in awe.
Tea consisted of a cooked rice meal, hot chocolate and later a cup of tea.
---
DAY 8 - 11/11/02 OSMIRIDIUM BEACH TO GRANITE BEACH
8kms walking from 8.15am to 2.00pm
Average walking speed 1.4kms/hr
Total distance to date 83kms
Total time walking 39hrs 15mins
Overall average walking speed 2.3kms/hr
Today promised to be an easier day (shorter distance than normal) so we delayed leaving Osmiridium Beach.
We woke to a brilliant blue, clear sky with no wind. Precipitous Bluff stood out prominently and we could also see Pindars Peak along to the east.
When we left the campsite we followed an obvious track back to the South Coast Track but soon, with many boggy patches and detours round them, we lost sight of the proper route. So we continued up a rise across low vegetation until we eventually (after about 15 minutes of scrub) came onto the wide, boggy track east.
We then faced a steep, dry climb through forest, followed by a more gradual, but wet, descent towards Surprise Bay. The final climb down to the beach was by a ladder/step arrangement. We were rewarded by magic views out over the Bay.
The walk continued along the beach for about 1km, at which point, near the exit of Surprise Rivulet, Matthew climbed a hill and took a set of panorama photos of the beautiful views.
We crossed a creek (shallow) then climbed steeply to pass through Surprise campsite.
There was a steep uphill section, followed by a gradual walk downhill to Granite Beach. We then continued partly along sand, partly granite boulders until we reached a steep clamber up a cliff to the campsite at Granite Beach. There was a lovely waterfall where a creek tumbled over the cliff.
The campsite was on a bit of a slope but we found a flattish spot, even though there was a large bull ants' nest not far from the tent. We treated the ants with the respect they deserved.
We washed ourselves and clothes at the edge of the creek, just before it went over the edge of the cliff.
We spent an interesting hour or two with Penny and Matt before pasta, Deb potato and hot chocolate and another early night.
Big day tomorrow over the South Cape Range.
---
DAY 9 - 12/11/02 GRANITE BEACH TO COCKLE CREEK
19kms walking from 7.00am to 7.00pm
Average walking speed 1.6kms/hr
Total distance to date 102kms
Total time walking 51hrs 15mins
Overall average walking speed 2.4kms/hr
This was a pleasant campsite, up a steep cliff-face and on a rather sloping camp area.
It was another early start today. Not long after leaving the campsite the upward climb started up over the South Cape Range, rising eventually to about 450m ASL.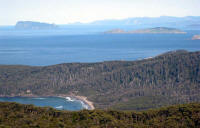 Somewhere up this track Matthew got about 200m ahead and on going around a fallen tree I failed to pick up the track again. Rather than try to struggle back and get further disoriented, I called to Matthew to find out which way he had headed. No reply. Again I called him. After about four calls I decided the best approach was to use the whistle to attract his attention. When he got closer he called out, much to my relief. He had apparently heard two of my calls and the whistle and he hurried back, not knowing what to expect.
My problem, apart from not concentrating properly on where I was going, was that at that time I did not have map, GPS or compass, because Matthew had these items. I reminded myself to take more care in future.
The climb continued in sometimes muddy, sometimes steep (or both) conditions until we emerged onto buttongrass plains, still continuing generally upwards. The views were truly stunning. We could see all the main South Coast islands Maatsuyker, de Witt, Isle de Golfe, Hen and, best of all, South West Cape with its distinctive sudden drop-off near the end.
As well, across to the north, Pindars Peak and Mount La Perouse stood out strikingly against the clear, blue sky. It was a wonderful sight on a perfect day.
We continued over buttongrass plains with plenty of boggy sections and some ups and downs over minor peaks. There were several areas where an emergency camp could be made, but we were heading initially for South Cape Rivulet.
On the way there were magnificent views of South East Cape.
We had previously talked about the possibility of not stopping at South Cape Rivulet but had decided to see how we felt as there was still a 3-4 hour walk from there. The Rivulet itself presented no problems at all. This was mainly because the wind was from the north and had flattened out the sea. It was also low tide.
South Cape Rivulet campsite was a bit disappointing - scruffy and not very welcoming. We ate the last of our chocolate, had a drink of water and decided to continue on to Cockle Creek.
As we were leaving we saw Matt and Penny emerge from the bush near the Rivulet and stopped to make sure they got across OK. We said our goodbyes, wished them a good trip (what was left of it) and got going. From here it was just a long, slow slog back along the good track, with frequent rest stops. We eventually reached the car (which was fortunately still there, OK and able to be started) at about 7.00pm.
By the time we changed it was too late for anything to eat at either Southport or Dover so we had to wait for a very welcome food stop at our favourite takeaway at Geeveston.
This was a really memorable trip, thanks to our preparation, the gear we took and, not least of all, to Matthew's patience with my slower progress.
---
GEAR TAKEN - Tony
Macpac Cascade Pack (sprayed with Silicon Waterproofing Spray)
Spare Large Waist Clip for Backpack
Paddy Pallin 2-Season Quallofill 7 Synthetic Sleeping Bag
Silk Sleeping Bag Liner
Inflatable Pillow
Full length Ultralite Thermarest Sleeping Mat
Reflective Space Blanket
Whistle
EPIRB
Compass
South Coast Walks Map
4 x 1:25,000 Maps of the South Coast area
First Aid Kit
Note Book
Pen
Small Torch with 2 x AA Batteries
Princeton Tec Headtorch
Plastic Bag with Waterproof Matches, Candles, Spare Lighter
Pentax P280 Date Automatic Camera
4 x Spare Films
Field Binoculars
Toilet Hole Digger
Toilet Paper
Soap
Toothbrush, Toothpaste
Leatherman
Car Keys
Various cards, Parks Pass, Drivers Licence
Cash
Reading Glasses and Case
Magnifying Glass
Small Radio
One Planet Goretex Jacket
Wilderness Equipment Windstopper Jacket
Macpac Cap
Riggers Gloves
Blundstone Boots with Sorbothane inserts
Spare Laces
Teva Sandals
Swimmers towel
Thermal Longjohns (2)
Thermal Tops (2)
Shorts (2)
Socks (1 pair thick, 1 pair thin)
Socks (for sleeping bag use)
Gaiters
Handkerchiefs (5)
Balaclava
Mont Waterproof Overtrousers
Trangia 1-person stove
Billycan
Water bladder
1 litre Bottle of Methylated Spirits
Lighter
Cup
Knife, Fork & Spoon Set
Teaspoon
Pasta Meals (12)
Bag of Mixed Nuts with Sultanas
Muesli Bars (14)
Fruit Bars (18)
1 litre Water Bottle
Water Purifying Tablets