KAYAK TRIP FROM CORINNA TO PIEMAN HEADS
FRIDAY 16/1/04 – SUNDAY 18/1/04©
MATTHEW AND TONY WATTON
Friday 16/1/04
Before this trip my kayak paddling experience had been limited to one short trip in Frederick Henry Bay and a slightly longer trip in Pipe Clay Lagoon – both in Matthew's Mirage Double sea kayak. The Pipe Clay Lagoon trip involved some practice capsizes and climb back in and a paddle in Frederick Henry Bay with some limited use of 2 of the 3 sails.
So when Matthew suggested a trip in the double from Corinna to Pieman Heads and return I was, I think, understandably somewhat hesitant about my abilities as a kayak 'adventurer'.
However, Matthew assured me I would be able to cope as the Pieman River is a wide, slow moving river.
Matthew had worked night-shift on Thursday night so we packed his car early on Friday morning with his kayak on top and left home from Lauderdale at 8.00am. We stopped at New Norfolk for a pack of 6 x 1.5 litre water bottles and at Hamilton for a snack and a drink.
The overall distance to Corinna was about 450kms so it was about 2.30pm by the time we reached the barge across the Pieman.
Matthew checked whether it would be possible or not to launch the kayak from the southern side, to avoid paying $20 to the barge man but it would have been very difficult to pack and then get into the kayak without doing some damage to it. We paid the $20 and had a very easy preparation, loading and launching the kayak. We were on the water at 3.00 pm, Matthew in front doing the steering, with me trying to copy, in an amateurish way, his stroke technique.
At the start of the 20kms paddle we headed in a westerly direction in a large clockwise curve to take us to Wilsons Point, where Savage River joined the Pieman from the right. There was then a 1.5kms straight heading NW (Yanns Reach). This took us to Donaldson Landing. All this time we seemed to be heading into the wind and Matthew explained that the wind tended to follow the river course as it was its easiest direction. There was no opportunity to use the sails.
I felt a blister developing between my right thumb and index finger where I must have been holding the paddle incorrectly or allowing it to drag against that point. I found that, to relieve the discomfort, I had to grasp the paddle with my thumb on the same side as my fingers, like a claw. Probably not a recommended grip!
As well as that problem, an old upper left arm injury made it difficult for me to recover my left arm with a high enough outwards lift to provide a good entry for the paddle on the right side. As a result I was compromising on both sides and Matthew was probably doing about 75% of the work.
He explained how I should be holding the paddle with loose hands but it was difficult for me to put it into practice.
After Donaldson Landing the river curved in a horseshoe bend then headed WNW to the junction on the right of the Donaldson River. We had a break for a stretch at a grassy bank among reeds and sunken tree branches. A very pleasant rest break with a chance to stretch legs. From there it was due west for 2.5kms, a kink to the left then right then generally SW for 6kms to Pieman Heads.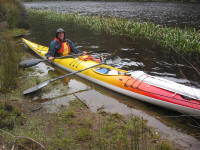 Overall, this was a reasonably comfortable paddle – slightly choppy and a head wind of about 10kms/hr.
During this trip Matthew suggested frequent rests along the way and was generally very considerate of my shortcomings and lack of paddling ability.
We arrived at Pieman Heads at about 5.30pm and talked to a shack owner who was doing a bit of fishing for cocky salmon from the beach. He suggested a camp site just beyond a bit of bush where there was a toilet and a water tank.
The camp site was a disgrace. Broken glass, litter everywhere and no view of either the river or the coast. Parks and Wildlife certainly did not over-extend themselves here!
We found a reasonably level space among the ferns and unpacked the kayak. We then carried it above the river water line amongst hundreds of huge tree trunks that had been washed down river.
Our evening meal consisted on cheese and Vitawheats to start, followed by macaroni cheese, chilli salmon and cashew nuts. We then had hot chocolate with condensed milk to finish off. We left all food and cooking gear in sealed hatches at the kayak.
At about 8.30pm we pushed through the bush from the tent area to the beach to have a look at the sea conditions (rough and continuous roar of surf) and walked around the shore in a loop back to the kayak. We saw more huge tree trunks strewn along the beach. Also, there was much evidence of a recent bushfire with at least two burnt out vehicles across the river at Misery Point.
We had a reasonably peaceful night, apart from a rogue mozzie that found Matthew. It rained occasionally.
Saturday 17/1/04
Up at about 8.00am to a cool start to the day. I made a cup of hot chocolate for us down by the river and Matthew soon appeared. We ate a few peach slices and that was breakfast.
The plan for the day was to take day packs and walk along the beach and 4WD tracks to Conical Rocks Point, about 4kms away. As we went we were shocked by the erosion damage caused by careless 4WD owners who, when one set of tracks became boggy, simply drove over the adjacent button grass and made a fresh set of tracks. After rain these then became boggy etc etc. At more than one point the track looked like a 6–lane highway with multiple side tracks going around the original track. It will take a long time, if ever, to rehabilitate these areas.
We had a break at Conical Rocks Point and Matthew took a few photos. We then walked on a bit further to look down on Conical Harbour. Matthew had pulled in at this spot on one of his round-Tasmania kayak trips.

We walked back to the kayak, left our packs at the tent and walked further, up river a bit, to the shack area about 1km away.
There seemed to be no reason why we couldn't have camped in a much nicer area, with level grass and still not close to the shacks. Pressure from the shack owners I suppose on Parks and Wildlife not to allow that to happen.
We wandered back to the tent, Matthew read Friday's paper and I started my notes. Soon fell asleep and woke about 5.00pm, ready to think about an evening meal.
We cooked Continental pasta with sour cream and chives, tuna and cashew nuts. We also had our share of cheese and biscuits, followed by hot chocolate, as usual.
We closely examined some "buzzies"- weed seed pods with a central ball and many spikes all over. They look like miniature sputniks. If brushed against they break off into many small cones, each with its own barbed tail. These were what caused our dog problems back at Lauderdale when I inadvertently made her walk through an area of bush without realizing what I was doing. They are a masterpiece of nature's engineering skills.
An early night – about 8.00pm – as we had exhausted the activities that Pieman Heads had to offer (apart that is from taking the kayak out through the Heads !!!).
No, that's not quite true. We didn't bring a fishing rod so we missed out on the chance to catch cocky salmon – the target of several fishermen over the past two days.
Sunday 18/1/04
It rained again overnight but fortunately dawned bright and clear. The wind still blew mainly from the west – good news for us as we hoped to be able to use the 2 kayak sails on the way back to Corinna.
After packing up and having some peaches and Tang to drink for breakfast we were on the water by 8.15am. Immediately we were able to put up both sails with one out to each side and sped along at about 10kms/hr (as per Matthew's GPS).
By careful placement of the sails we were able to travel about 10kms up-river without using the paddles very much. Eventually the wind was not able to help us and we packed up the sails.
I found my arms were reasonably OK after the day's rest and I was able to use my left arm to better effect. I tried to copy Matthew's stroke style, somewhat poorly I thought.
I had previously taped up my right thumb and Matthew had suggested I use his neoprene gloves. They made a huge difference and I was able to hold the paddle correctly on this part of the trip.
We made a stop for a leg stretch. It was at a very muddy bank and oozed almost to knee depth as we got out of and into the kayak.
We turned up Savage River as an old-timer back at Pieman Heads had told us about an old boat that had been scuttled with a load of wood years earlier a short way up the river. Matthew had heard about this previously but when he was here the river level was about 1m higher and the boat superstructure was not visible. We saw the remaining rusting hulk.
We arrived uneventfully at the barge crossing by about 11.30am after a very pleasant trip.
Fortunately Matthew's car was intact, no damage, and a very welcome sight. After changing our clothes and unpacking the kayak we loaded it all into and onto the car and headed north through Waratah and Mole Creek back home.
After a gruelling 5 hour drive we arrived home at Lauderdale at about 5.30pm, tired but happy.
This was a great experience for me, as it was my first trip by kayak. It was made easier by Matthew's care in preparation, the equipment he had brought and by his skill as a kayak paddler. He has obviously learned a lot from his trips around Tasmania. I never felt uneasy and will certainly do more trips (if asked to by Matthew).