DAY WALK TO MT MURCHISON, WEST COAST, TASMANIA©
TONY AND MATTHEW WATTON
22/12/2012
The chance to do this particular walk came about because we hadn't done many walks in this area and the weather forecast seemed to be pretty good around this time, although we realised there were no guarantees with weather on the West Coast.
On checking the usual sources of information we were somewhat surprised that this walk did not appear in any of the bushwalking books at our disposal. However, there were some useful track notes on the Bushwalk Australia website, so we used these notes as our main guide for the walk. [Back at home, I found a good description of Mt Murchison and the walk in Bill Wilkinson's "The Abels - Volume Two" (pages 98-99).]
Day 0 - Friday 21/12/12 - Lauderdale to Anthony Link Road (by car)
As we both live near to Hobart we decided to drive to the West Coast on Friday 21/12/12 and find a campsite close to the start of the walk.
We allowed ourselves the relative luxury of individual tents, pillows and roomy sleeping bags as we were "car-camping" for the night and taking only a day pack each on the actual walk.
After a leisurely drive during the afternoon and a snack in Queenstown we found an acceptable campsite amongst the trees near the boat ramp at Lake Plimsoll, about 10kms from the start of the Mt Murchison Track.
The notes we had indicated that the walk itself should take about 2hrs 30mins to reach the summit and about 2hrs to return to the Anthony Link Road. However, we intended to allow more time as we had no idea of the age or fitness level of the note-maker (assumed younger than I am at 68!).
After setting up camp and wandering around for an hour or so we were tucked up in our sleeping bags by just after 9.00pm for a very comfortable night.
Day 1 - Saturday 22/12/12 - Mt Murchison and Return to Lauderdale
I was up at 5.30am and Matthew at 6.00am. We packed our overnight gear untidily in the car and Matthew made us a hot Milo drink for breakfast. As we hadn't been on this walk before, we both wore gaiters. I had on thermal longjohns under shorts and a thermal top under my bush shirt. Matthew did not wear thermal longjohns or a thermal top but carried them in his day pack. We both wore rigger's gloves and had trekking poles to assist with the climb. We also had our normal safety gear including satellite phone, PLB with GPS, GPS with altimeter, first aid kit, snacks, drinks, warm gloves etc.
At 7.30am we were at the start of the walk, immediately heading uphill on a good, dry track. The weather was warm and dry, although there was cloud cover at higher altitudes. We hoped it would clear by the time we reached our goal at 1,275m.
The track was steep but in very good condition. It followed a ridge line up from the start at about 500m to nearly 800m, through forest for the first 30mins then amongst more open shrubs as we gained height. The fog/mist/low cloud was not clearing and as we climbed higher distant views were completely obscured. We passed an unnamed lake, far down to our left, looking dark and mysterious as it was surrounded by steep hillsides, except for the creek entering higher up from Shaded Lake and the creek exiting to lower levels. When we found we were climbing, rather than walking we left our poles at the side of the track, Matthew at 730m and I left mine at 765m, to be collected on the way back down.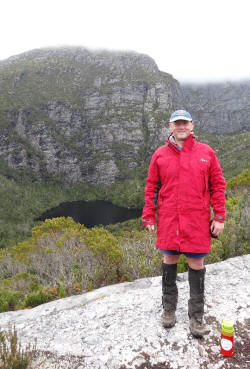 From the time we reached the area that involved some rock scrambling we had no views apart from our immediate vicinity. However, we had no difficulty following the frequent rock cairns, yellow paint marks or tapes.
As we scrambled up, Matthew pointed out small, stunted deciduous beech trees, with their characteristic small, crinkly leaves. There were also masses of wildflowers in bloom when we emerged from the forest.
We successfully traversed some narrow rock ledges, with very steep drop-offs but, as conditions were dry, there were no dramas. We skirted around the huge crater-like depression (presumably caused by glacial action aeons ago). It was quite a surprise when we eventually saw the summit trig point, not more than 50m away, up in front of us. On reaching the summit there were no views to be seen. It reminded me of my first visit to Frenchmans Cap, when all we could see was each other, the trig point and the ground where we stood ( Frenchmans Cap Walk - December 2003 ). The top was reached at 10.00am, having taken 2hrs 30mins from the road.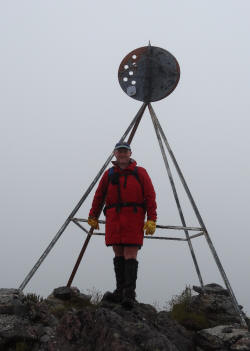 We stayed on the summit for only a few minutes but, as we started to descend, views opened up all around us and we suddenly realised what we had been missing on the ascent. As we looked across towards the north-east we could make out Cradle Mountain, Barn Bluff and what seemed to be the extent of the Overland Track mountains stretching across the horizon. Closer to where we were walking the lakes looked beautiful, nestled among the peaks, as the sun made an appearance and cleared up the mist.
As we descended we met a group of three walkers who were heading up towards the summit. We found a sheltered rocky spot where we had a sandwich and a drink before continuing back down.
There were no dramas on the way back to the car, reached after leaving the summit 2hrs earlier. Fortunately, the car had not suffered from the experience of being left out on the road for the duration of our walk!
We bought some sandwiches and a drink in Queenstown and made several stops for rests and leg stretches on the way back to Hobart.
A very enjoyable walk on a very good track in spectacular surroundings. Although it was a long way to travel for a half-day walk it was well worth the effort.
Thanks, Matthew for being a great companion and a special son.