BICYCLE TOUR OF FLINDERS ISLAND, TASMANIA

TONY AND MATTHEW WATTON

5/3/2013 TO 19/3/13

The logistics for this bike tour were a bit complicated because, when Matthew attempted to book us and our bikes on the Matthew Flinders, from Bridport to Lady Barron, he found that there were no passenger seats available for when we needed to travel. This meant that the bikes would need to be delivered to the ship on Friday 1/3/13, before it made the journey on Monday 4/3/13, and we would fly from Launceston to Whitemark on Tuesday 5/3/13, in time to collect our bikes and start our holiday. However, he was able to book us on the return ship as passengers, with our bikes, at the end of our trip.

This account starts, therefore, four days before we actually arrived on Flinders Island.

Day -3 - Friday 1/3/13 - Lauderdale/Midway Point to Bridport and Return (by car)

Our plan was to each take our own cars to Bridport, leave Matthew's car there and drive back home in my car. I also had Topsy, our Maltese/Shi Tzu terrier-cross dog in my car as my wife, Suzanne was away on a Rotary visit to Nepal at the time. [The dog threw up on the way to Colebrook, fortunately outside the car, but was OK after that.]

We left our homes at about 8.15am and arranged to meet up at the end of the Mud Walls Road, at the junction of the Midland Highway, and travel close together to Bridport. It was an uneventful trip and we arrived at Bridport at about 1.30pm, in plenty of time to book the bikes in ready for the voyage the following Monday. At the office we were told to take the bikes round the back of the shed and talk to Peter about where to leave them. We were a bit concerned when he told us to leave them up against the forklift in the yard and wondered if they would be looked after in our absence. As a token precaution I suggested to Matthew it might be a good idea to take a few photos with his phone camera. He did that and, since there was nothing we could do about it, we left them where he said to and walked away.

Matthew left his car near the police station, in Mary Street, in relative safety for the two weeks plus that we would be gone.

To fill in time we watched as the Matthew Flinders left for that day's trip via the narrow channel and then started back home in my car, via Launceston. We arrived back at Lauderdale at about 7.30pm, happy with our day's work.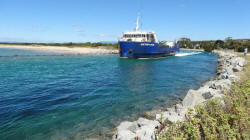 Day 1 - Tuesday 5/3/13 - Lauderdale to Launceston and Whitemark to Lady Barron (At Lady Barron 2hrs 5 mins, 14.6kms)
We made an early start from Lauderdale by 6.15am so that we would reach Launceston Airport by 8.30am, in plenty of time to catch the 10.00am 20-seat Sharp Airlines flight to Whitemark. The plane left at about 10.15am - an uneventful flight and landed at 10.45am at Whitemark Airport. We had only our casual clothes and day packs with us as we would be carrying everything we took on our bikes when we were reunited with them later that day. At the airport we paid $10 each for a hire car ride into Whitemark in a Mitsubishi i-MiEV electric car. My first experience in such a vehicle and I must say I was very impressed. It seemed to be the ideal vehicle for Flinders Island, with relatively short distances to travel, a range of about 150kms and very acceptable speed.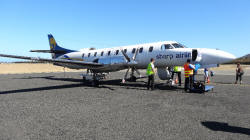 We bought some supplies in Whitemark and two salad rolls for later in the day, plus four litres of bottled water, just in case.
We were lucky to be offered a lift down to Lady Barron with a local police officer, where we collected our bikes from the wharf - pleasantly surprised to see them both intact, with no damage evident.
At the nearly picnic park next to the tennis court we thought we might put up our tents there but the local shopkeeper told us about Yellow Beaches campsite about 2kms along Pot Boil Road. We headed up there, feeling the drag of the weight of our loaded bikes for the first time on this trip. I wondered how I would cope with the next two weeks. At the campsite we set up our tents amongst some bushes in a sheltered spot, next to the beautifully clean barbeque and picnic tables. There was also an open-sided shed that could be useful in the event of bad weather.
During the afternoon we rode (mainly) and walked (a bit) up Vinegar Hill to check out the views across to Cape Barren Island and the smaller islands in Franklin Sound. Everything seemed to be very calm and peaceful.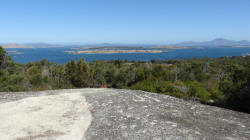 On our return to the campsite we made a cup of tea using Matthew's small wood-burning stove. Although this is good, providing heat using free fuel, it is a very messy method of cooking (wherever it is permitted) - smoke, flames, slow cooking and it tended to melt any plastic components on handles, for example. We thought we probably would not use it again on this trip as we both have Kovea Camp 3 stoves that use small gas cylinders and are very efficient.
Later we ate the salad rolls with another cup of tea then rode to the tavern to buy some stubbies and took them to Matt, the police officer who had given us a lift from Whitemark earlier in the day.
A very comfortable night, dead calm and warm - no need to close the tent door except for the fly screen and didn't get into the sleeping bag either.
Day 2 - Wednesday 6/3/13 - Lady Barron to Trousers Point (5hrs 2mins, 29.8kms)
I had set my watch alarm for 6.00am but was already awake at 5.30am so started packing my things away that needed to be pushed into stuff sacks.
It started to get light at around 6.30am so I made us a cup of tea and cooked breakfast of instant porridge with some extra sultanas thrown in for added nutrition.
After a leisurely pack we finally started our trip at about 9.30am, and decided to take the Coast Road towards Trousers Point. After about 6kms of good gravel road we joined the Badgers Corner Road - a lot narrower, with some deep sandy sections, rocks and roots to negotiate. I still had not become used to riding with a load on the bike and consequently came off twice on this road to Joe's Creek (but no water in the creek). Here we had some nuts for a snack and water with Gatorade powder. We both needed to push our bikes through extra sandy patches and up some of the steeper hills but generally Matthew was more competent at negotiating the rough terrain, due mainly to his mountain biking experience and better riding skills.
All along the coast here there were beautiful views, especially from the shack sites at some spots. People here are really spoilt with lovely scenery. We eventually turned on to Big River Road - a much better gravel surface that we both appreciated after the previous 4WD track conditions. The views of Mt Strzelecki and the range were absolutely magnificent, silhouetted against the clear blue sky. We would be getting much closer views on Thursday when we intended to climb Mt Strzelecki, using the Trousers Point camp ground as our base.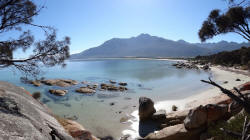 We turned left on to Trousers Point Road, a much better gravel road than Big River Road, and arrived at Trousers Point at about 2.30pm. We set up camp amongst the trees, overlooking beautiful Franklin Sound.
Dinner was a freeze-dried spaghetti bolognese meal - OK but a bit bland without, say, parmesan cheese to add some taste.
We took pity on a pademelon that hopped around us, obviously looking for a hand-out. Matthew filled one of his bowls with water and put it down some distance away from us. It hesitated at first but then spent a good 15 minutes lapping about one third of the contents. No food from us, however. Matthew refilled the bowl and left it out for any animals that needed water during the night. It was empty the next morning.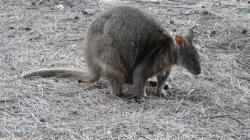 An early night after a very hard first day's work on the saddle. It was too hot to sleep in the sleeping bag again so I only had the fly screen closed and slept on top of the sleeping mat, with the sleeping bag only for when it cooled down a bit in the early hours.
[I wore the Garmin heart rate monitor on this ride, but on no other day. When I had uploaded the data on my return home I was shocked to see that my maximum heart rate was 245 for a short time, way above my theoretical maximum of 152! I don't think I have suffered any ill effects.]
Day 3 - Thursday 7/3/13 - Trousers Point to Mt Strzelecki and Return (5hrs, about 6kms)
We should have started our climb of Mt Strzelecki between 7.00am and 7.30am in order to avoid very hot conditions later in the day. But we didn't know that at the time. Despite being up and about at 6.30am we weren't quite organised enough, even though we had roughly packed our day packs the previous evening. We rode the 5kms or so to the start of the walk, chained our bikes to a post and started walking at 9.05am.
The sign read that it was about a 5hrs walk but I was a bit doubtful whether I would be able to do it in that time, mainly because of the tiring ride along from Lady Barron the previous day.
It certainly was a tiring climb, gaining 779m from just above sea level at the start in just over 2kms horizontal distance. There were many sections of rock scrambling and other steep track areas covered with she-oak needles that needed extra care.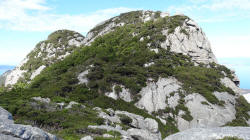 We reached the top in about 2hrs 45mins and wondered if the adjacent peak was the real summit or if we were actually on it. [We later discovered that the peak we were on was 3m higher than the next one, so were happy not to have visited both.] After taking a few photos and having a snack and a drink we made the descent in 1hr 30mins, so achieving the overall 5hrs on the sign, without having to hurry to meet the artificial deadline.
On the way back to the campsite we called in at Vistas Restaurant for cold drinks and booked a table for dinner later on. Back at the camp we had a dip/wallow in the sea to wash off the sweat and generally recover from the walk.
The dinner at Mt Chappell Vistas Restaurant was absolutely beautiful - Matthew ordered flathead with vegies and I had roast chicken with vegies. The presentation would not have looked out of place in a Masterchef program.
Later we refilled the bowl for the animals and had another early night after a second hard day's work. The bowl was empty by daylight.
Day 4 - Friday 8/3/13 - Trousers Point to Whitemark (1hr 37mins, 18.0kms)
A relaxing start to the day, as it was only a short ride to Whitemark - and some on a sealed road, a bonus. Just after leaving Trousers Point we detoured the 2kms or so into Fotheringate Beach area. Another beautiful, unspoilt beach and very picturesque.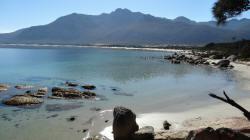 Then a ride along Trousers Point Road before joining the sealed road into Whitemark.
First stop was the bakery, where we enjoyed a turkey salad roll and a cold drink at a picnic table under the shade of a large beach umbrella. We then booked into the Whitemark Interstate Hotel for a comfortable night stay and a pub dinner later on.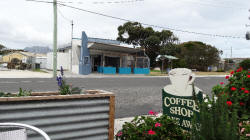 After having a shower, the first on Flinders Island, we wandered around the township, checked out the local supermarket for supplies to be bought on Saturday and arranged to wash some clothes, with the kind permission of the hotel management, in their laundry.
We then spent a couple of lazy hours relaxing in the pub's residents' lounge, drinking cups of tea and generally enjoying doing nothing.
Around 6.00pm we made our way down to the dining room and ordered our meals. Matthew - battered flake with chips and salad, Tony - wallaby and a cream sauce with chips and salad. Gigantic, multi-layered meals arrived and we certainly had our work cut out in eating them. We couldn't even think about desserts and made our way back to the lounge to relax while our room cooled down a bit.
Our room was directly above the public bar so we were able to hear every squabble and raised voice until well after midnight, when things did quieten down a bit. In the meantime we watched a re-run of Clint Eastwood's "Heartbreak Ridge" to pass the time.
A pleasant night's sleep in real beds - a bonus for both of us.
Day 5 - Saturday 9/3/13 - Whitemark to Allports Beach, Emita (3hrs 53mins, 25.0kms)
A welcome warm shower to start the day then down to the dining room for cooked breakfast (eggs on toast and cereals etc).
By the time we were ready to leave it was already nearly 10.45am and we headed first north then north-west in a strong north-easterly breeze. Having a large area of the bike and its load exposed to the cross-wind made life a bit more difficult than it could have been. We stopped briefly after about 4kms at a Lions Club market. However, we really didn't have room for any extra purchases so resumed our ride along Palana Road towards Blue Rock and Sawyers Bay. One thing we did learn at the market was that there are feral pigs in Strzelecki National Park. Quite a surprise!
The distance to Emita was only about 17kms in total but Wireless Hill caused both of us some pain as it wound up and around before the road dropped down to the Emita turn-off. We initially rode along to the Allports Beach BBQ area, only to discover it is a day-use area, and not a very attractive one at that. Certainly nowhere suitable for a couple of tents. We did, however, stop here to eat our turkey salad rolls we had bought in Whitemark.
We back-tracked to the turn-off to Castle Rock and found a peaceful area under a large she-oak and set up our tents there. After unloading our bikes we rode along to the Furneaux Museum and spent 30mins or so looking around at the exhibits. The lady in charge (Kat) told us about a camping area that used to be a tennis court - flat with BBQ tables and a fireplace (not to be used owing to very dry weather). So we packed up all our gear again and headed to the tennis court - it was nearer to a water tank and toilets as well. This proved to be a very comfortable spot indeed but there were no signs at the road indicating that it existed.
As we were cooling off, wallowing in the sea, two magnificent black swans glided in to a perfect landing only about 100m away from us. They stayed only a few minutes, maybe put off by our presence, and took off to continue their trip.
Dinner tonight consisted of a cup of Milo, followed by two bread rolls with butter, peanut butter and jam (from Whitemark Hotel) and a cup of tea. Very tasty and satisfying.
Matthew did a bit of exploring and found an access track to a west-facing beach. He came back to let me know and we took our cameras to get some unforgettable images of a beautiful sunset.
Another early night, in the tent by 9.00pm but, by 10.15pm I heard what I thought was a wallaby nibbling at the nobbles of my bike tyres. I rattled the tent and heard a wallaby hop away. This happened twice more before I poked my head out of the tent and shone my torch at my bike. Nothing. I eventually slept.
Day 6 - Sunday 10/3/13 - Allports Beach to Killiecrankie (2hrs 7mins, 26.2kms)
Up at about 6.30am and our normal breakfast of a cup of tea, followed by instant porridge with a handful of sultanas. I seemed to take forever packing away my gear but was eventually ready to leave by 10.00am for the 30kms ride to Killiecrankie. Matthew, on the other hand, seemed to be much more efficient in how he went about packing and was always ready before me. Before we had travelled more than 5kms we started on the gravel surface. At every bend or rise in the road there were corrugations that I hated, even with front suspension. Matthew must have felt them even more than I did as he was riding a Merida hybrid bike with no suspension and narrower tyres, but he never once complained.
We eventually rolled into Killiecrankie at just after midday; a short but tiring riding day, in very still weather but about 30oC as we rode. One of the problems we continually encountered throughout our holiday was the disgusting stench of rotting roadkill. Dead animals seemed to be everywhere. Other nasties we encountered throughout this trip were the ever-present march flies, bull ants, jack jumpers and, of course, mosquitoes. Rid spray helped to keep most of them at bay and this was the first thing we used in our tents at night to slow the mossies down while we destroyed them.
There is a café/restaurant/shop at Killiecrankie. Matthew had warned me that it is normally closed (after visiting it on previous kayak trips only to be disappointed).
Today was no exception. After walking up the hill, as we approached the building we saw two large dogs on the verandah. We tried the door. Locked. While Matthew rang the after hours number from the top of a rock at the rear of the building I refilled the dogs' water bowls as they were empty and the dogs were panting in the hot conditions. No food bowls. Matthew eventually got through to the owner (in Victoria) who said an apprentice was running the café and should be there with the café open. He must have contacted the apprentice because, after about 30mins, he reluctantly turned up to open the shop section. We didn't want a meal but Matthew bought us some cold drinks and a Heaven ice cream that were all consumed within a short time of returning to our campsite. There were unresolved industrial relations issues between the owner and the apprentice.
Four kayakers (Brian, Geoff, Barry and John) turned up in the late afternoon as we were taking our customary paddle in the bay and set up camp nearby, on their trip across Bass Strait from Wilsons Promontory. They arrived in two groups of two each. We later learned there were some tensions amongst them that had not been resolved.
Dinner tonight was tinned meat and vegies warmed up on the gas barbeque. We were able to get rid of the tins in a nearby rubbish bin. Another calm, peaceful, warm night.
Day 7 - Monday 11/3/13 - Killiecrankie to North-East River (3hrs 5mins, 31.1kms)
When I wrote the notes for this day I was sitting on a shaded red lichen-covered rock in afternoon sunshine, with a cool breeze fanning me, while I watched 10 pelicans, some cormorants and two juvenile pacific gulls at the mouth of the North-East River.
The road out of Killiecrankie was 6kms uphill to the Palana Road T-junction, where we saw the signpost that told us that it was 13kms to Palana and 16kms to North-East River. Piece of cake! We had the usual mixture of hot sunny conditions - maybe 27oC to 30oC - dusty road with a myriad of corrugations and some hills thrown in for good measure. After a couple of breaks for a drink and leg-stretch we reached the turn-off to Palana, some 5kms away and decided to go to have a look. We rode along and down to the picnic area, where we enjoyed some nuts and a cool drink before continuing our ride to North-East River. Back where we had turned off to Palana the sign showed us we had 8kms to our destination for the day. We were both pleasantly surprised at how good the gravel road surface was, with virtually no corrugations.
At the mouth of the river we checked out a couple of campsites but, just as we were making up our minds to stay at one of them, an Adventure Tours bus pulled up. We asked the driver if he was camping there and he told us that 10 guests were on their way, walking along the beach and rocks from Palana. With that news we decided to camp about 100m back along the road at a beach-side camping site, where we would have a more peaceful time. We had beautiful views across the mouth of the river, a toilet but nothing else. However, we've camped in much worse places so, after setting up our tents we made a cup of tea and had a freeze-dried meal with extra cashews, parmesan cheese, chilli flakes and pepper.
Another early night into the tents, around 8.00pm so I listened to the radio for a while as the PowerMonkey charged the bike GPS and then my phone.
Day 8 - Tuesday 12/3/13 - North-East River to Killiecrankie (2hrs 21mins, 29.3kms riding)
There was a very heavy dew overnight so the tent was wet and clothes we had hung on a line to dry were still wet. We had our normal breakfast, cup of tea followed by porridge and sultanas and were packed and ready to leave at 9.15am. We rode along to the water tank to replenish our supplies, then started south on the North-East River Road. I was surprised at the number of uphill sections there were on this 8kms stretch. They would have been a lot tougher if we hadn't had the benefit of a tail wind for most of the way.
At the start of today's ride we had packed our bushwalking day packs with gear to enable us to leave the bikes at a convenient place near the start of the Mt Killiecrankie climb so we had those on our backs whilst riding.
A few kilometres after rejoining Palana Road, heading south, we turned right into Quoin Road, towards the farmhouse, hoping to ask the property manager for permission to use the track through to the 4WD track on the mountain. When we arrived at the house, we checked but there was obviously nobody at home. We headed uphill to a shed but nobody there either. We decided to keep going, expecting to see somebody we could ask at any time.
I was totally amazed at how Matthew, who had climbed Mt Killiecrankie only once before and then from the beach approach, was able to find a way through the undergrowth and along narrow tracks to reach the 4WD track.
After parking our bikes under a tree we scouted around until Matthew found a deep sand pit with some fossilised tree stumps embedded in the sand.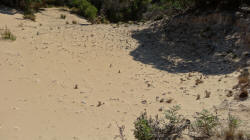 He knew then that we were on the right track. The 4WD track wound around and zigzagged until we found ourselves at the base of some humungous bare granite slabs that sloped up at an alarming angle I estimated was not less than 45o for maybe 200m. The slabs fell away to each side, no handholds. When I saw this sight I thought Matthew was joking about having to "walk" up the slabs and I was sure there was an easier way that he was about to tell me about. Not so!
We had a brief rest break and a drink then started up the slope. I don't mind admitting I was very nervous, despite wearing good quality Adidas jogging shoes with very good grip. Most of the time I was on all fours but my hands were not holding anything - they were solely to help me to keep my balance. We didn't slip, which was just as well because there was a strong north-easterly wind blowing and, with no hand holds, a slip could have proven to be fatal. Every now and then there were small water-worn indentations and one large bath tub size depression. It was a tremendous relief to reach the summit, even though we were only at 312m.There were magnificent views across Killiecrankie Bay and to the north as well.
But, then came the descent. I told Matthew I didn't feel confident about walking back down the slope and hoped there was an alternative way back down. He said that, on his kayak trip a few years earlier, it had rained while the group was on the summit and they had to find an alternative way down. That involved a lot of frustrating scrub-bashing and he was definitely not keen to repeat the experience.
I reluctantly said that I'd give it a go and tested myself on a small steep section first. As I seemed to be OK, with no evidence of slipping, I decided that maybe I could do it, so kept going with baby steps and bended knees. Much to my relief we reached the bush below without mishap and continued our walk down, back to the bikes.
Our ride continued uneventfully back to Killiecrankie. On this occasion Matthew discovered the café was actually open so we treated ourselves to ice creams, cold drinks and a toasted sandwich.
Later Matthew went fossicking for Killiecrankie diamonds (topaz). He returned just as it was getting dark with some nice photos of abandoned shacks (maybe occupied until recently and left when the fresh water ran out?) but no diamonds.
Another early night, about 8.15pm in the tent for a good night's sleep.
Day 9 - Wednesday 13/3/13 - Killiecrankie to Allports Beach (2hrs 4mins, 26.2kms)
Today was another short ride, maybe 20kms, but it started with a 6kms hill to the Palana Road junction. We started out at 9.15am and Matthew decided to call in at the shop/café as we left Killiecrankie. I continued steadily up the hill, expecting him to catch up with me at any moment. When he did not appear I began to get concerned. I eventually saw him coming in the distance. Apparently, the woman who was running the place was on the phone to her boss in Victoria for at least 10 minutes before serving him. That's customer service for you! While I was plugging away uphill, I suddenly heard a metallic twang and thought it was a twig or a stone hitting spokes as I rode.
When we reached Allports Beach campsite I mentioned this to Matthew and he said that maybe I should check to see if anything was broken. Imagine my surprise when he found not one, but two broken spokes. We noticed, when removing the broken spokes, that they were both in the same quarter of the back wheel. This was not a good sign for the remainder of our trip (mostly on sealed roads however). Whilst I was checking over the bike I partially released a binding back disc brake that had been annoying me - and probably reducing my speed and efficient riding up until that time.
Today's ride was all over within two hours (finished riding by about 11.15am). We were not keen to be riding into the afternoon as a front was forecast to arrive late morning (and it did) with 40 - 50kms/hr westerly winds. No rain though. We enjoyed an early lunch snack of cheese, VitaWeat biscuits and Vegemite. Matthew went for a swim later in the afternoon and reported the water to be like a bath. Although there was no rain, it looked as though it could have rained at any moment; dark clouds and a lot of wind.
Day 10 - Thursday 14/3/13 - Allports Beach to Whitemark (1hr 19mins, 20.0kms)
It was wonderful to be camping near a beach, but the downside was that, when leaving to continue our ride, we almost invariably needed to climb a hill at the start of the day. This was no exception.
As I packed to leave, after breakfast, I repacked my panniers so that all the heavy items were put into the front panniers, with only clothes and lighter items in the rear panniers. This was to reduce, as much as possible, the load over the back wheel. With two broken spokes I wanted to reduce the risk of further breakages.
This day's ride was another short one, so we started off at around 9.45am. The first 3kms were on gravel so I took extra care to attempt to avoid corrugations. However, with the heavier weight now over the front wheel it was a bit more difficult to maintain exactly my planned direction due to the slow response when steering. It was quite a relief to reach the bitumen at the Palana Road junction, even though the road continued to wind upwards for a further 1km to the top of Pickford Hill.
As a result of my rear brake adjustment by pushing the piston back into the caliper on Wednesday the rear brake lever had greater travel and (maybe unrelated) an intermittent rubbing noise had become apparent. I stopped to investigate but no solution. I was very careful about controlling my speed on the run into Whitemark and it was a great relief to finally coast in to the bakery where we had previously feasted on their turkey salad rolls.
At 11.15am it was a bit early for lunch but we still enjoyed a cold drink and a shared salad sandwich before heading around to find a quiet, beachside campsite that was also near to a toilet and picnic table.
We set up our tents close to where three kayaks were located. We wondered if the absent fourth kayak belonged to Brian, who may already have been somewhere between Whitemark and Little Musselroe Bay, his destination. We both thought the conditions weren't good to be out at sea - strong westerly wind. We then headed back to the bakery for more goodies.
As we were sitting outside the bakery eating lunch, Matthew's friend, Matt, turned up and asked us if we had any plans for the afternoon as he was available to take us sightseeing if we were interested. We jumped at the chance to see places we hadn't been able to get to, for example West End, Walkers Lookout, Mt Tanner.
He asked us where we were staying. When we said we were camped near the beach he offered us a flat for three nights at a very reduced rate. As soon as we had finished our lunch we packed up our tents and made ourselves very comfortable until we left on the last leg of our trip to Lady Barron on Sunday morning.
After spending a very enjoyable couple of hours visiting different sites by 4WD, we had another gigantic dinner at the Whitemark Interstate Hotel. We discovered that the three kayakers, John, Geoff and Barry were booked in at the hotel so we spent a very entertaining couple of hours over dinner with John and Geoff (Barry having decided not to have dinner that night). Apparently, Brian flew back to Melbourne leaving his kayak to be shipped back separately. Wise move.
Afterwards we had a very comfortable evening in the flat.
Day 11 - Friday 15/3/13 - Whitemark (3hrs 34mins, 8.6kms)
We were up at 6.30am so that we could help the kayakers lift their kayaks down to the water's edge when they had packed their gear away. We were pleased to see that the water conditions had eased overnight, which made us feel better about their paddle. They were intending to travel only about 11kms, down the coast to Trousers Point and camp there.
With my bike somewhat damaged and not wishing to subject it to more work than was really necessary we decided to use our time to do walking adventures instead.
After breakfast at the flat we made some sandwiches and walked along Lagoon Road then Thule Road to Hayes Hill, where Hydro Tasmania have erected two wind turbines. We ate our lunch on top and took some photos of the Whitemark township.
For dinner - I had wallaby pie and chips; Matthew enjoyed a chicken curry pie and chips, with a cup of tea to follow.
Day 12 - Saturday 16/3/13 - Whitemark (3hrs 37mins, 14.0kms walking)
It was a relaxing start to the day as we had no commitments. We bought a few supplies from the local supermarket and decided to go for another walk. I made us some sandwiches of cheese with Vegemite and we each took a cold drink. The route we chose to walk was south along the foreshore towards Fotheringate Beach to Lagoons Point, then to look for a track that would take us to the end of Butter Factory Road, Trousers Point Road and back to Whitemark.
However, the track we followed took us into a farm property. Fortunately, Matthew's GPS and map software helped to get us through several paddocks, each protected by an electric fence (live, as I discovered painfully) till we eventually reached Butter Factory Road.
While we were walking along Whitemark Beach we caught up with a male walker, with a full pack and trekking poles. During our conversation we discovered his name was Craig and he was on his way to Trousers Point, then to Lady Barron via the Coast Road. He told us he was from North Queensland and had spent 50 days walking from Mackay to Cape York by himself. Apparently, he had written a manuscript about his experiences and was looking for a publisher. What an awesome story he would have to tell.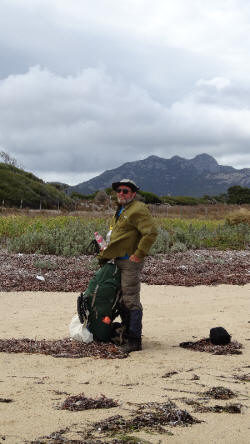 On the way back, when we were finally on Butter Factory Road, we stopped at a quiet roadside spot to eat our sandwiches. It had been a long walk.
No sooner had we returned to the flat than there was a knock at the door and Matthew's friend, Matt, was there, offering to take us to Patriarch Inlet to see the wildlife sanctuary. Once again, this was an offer too good to refuse, especially as we had decided it was too risky taking our bikes (read my bike) to a remote area with a chance of further breakdown. On the way we called in at Furneaux Lookout for more lovely scenic views.
The Patriarch Wildlife Sanctuary was an enchanting place, with dozens of pademelons and an injured Cape Barren goose that was wandering amongst the pademelons. The A-frame hut that had been erected had just about everything one could wish for, even lighting from a solar-powered battery. I would love to re-visit this place for an extended stay sometime.
We bought two bottles of wine for Matt who had kindly allowed us to use the flat and I lashed out on a set of Killiecrankie diamond (topaz) earrings for Suzanne, my wife, for her birthday on 20/4/13.
The evening was spent tidying up the flat, getting ready to leave on Sunday for the 25kms ride to Lady Barron and eventually home. Dinner was beef patties in bread - with two left over to make into sandwiches for lunch at Lady Barron.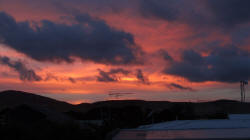 Day 13 - Sunday 17/3/13 - Whitemark to Lady Barron (2hrs 14mins, 28.7kms)
This was only a 25kms stretch of sealed road, so it should have been a relatively easy riding day. However, a strong southerly wind made our progress slow, to the extent that, because we were travelling in a generally south-easterly direction, we needed to pedal quite hard even on flat or downhill sections of the road.
The trip took us from about 9.30am to nearly 11.30am. We went first to the shop on the hill for a drink, then down to Yellow Beach camping ground. While we were enjoying sitting at the picnic table, a tour group arrived to set up for the guests' lunch. We chatted to some of the group members while eating our beef pattie sandwiches then rode our unencumbered bikes back to the shop for more goodies - tins of braised steak for dinner and a tin of two fruits plus custard for dessert, courtesy of Matthew. We set up our tents in a peaceful, sheltered spot where we had done the same early on in our trip and spent some time just relaxing, writing notes and enjoying doing nothing in particular.
We both seemed to be pretty tired so we were in our tents before 7.00pm for what turned out to be a long night, although with no dramas. I listened to my radio for a while, as my bike GPS charged from the PowerMonkey battery pack and eventually drifted off to sleep.
Day 14 - Monday 18/3/13 - Lady Barron (3hrs 21mins, 20.2kms)
Another leisurely start to the day - up and about at 7.00am for a cup of tea and porridge (no sultanas - finally finished).
We were deciding what to do to fill in the day, before a meal at the local pub later on, so we packed up a few supplies and headed out on our bikes along Pot Boil Road, aiming for the coast at Pot Boil Point, south of Logan Lagoon. The gravel road started out OK, for the first few kilometres then, at the turn-off to the local tip, as we passed it, the road deteriorated to a single vehicle 4WD sand track. We needed to get off and push our bikes numerous times as the wheels simply buried in the soft sand and stopped turning.
As we were pushing our bikes up a sandy rise Matthew, who was in front, suddenly saw a large snake, probably a copperhead, lying right across the track directly in front of us. It seemed to be at least 1.5m long but could easily have been 2m with a body about 50mm to 60mm thick at the middle. We stopped to let it move gracefully away to our right while we took some photos from a respectable distance.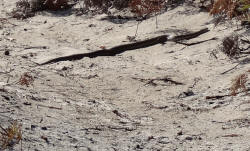 At the coast we left the bikes and walked north along the beach for a few kilometres, watching black swans, hooded plovers, sooty oystercatchers and other birds as we went. Theoretically, we could have walked possibly another 20kms north to Sellars Point, opposite Babel Island if we had wished to.
The return walk and ride were uneventful. We rewarded ourselves with a salad sandwich and a cold drink at the local shop up the hill when we were back in Lady Barron.
A lazy afternoon then dinner at the pub for our last meal on Flinders Island. While we were eating, at the bar, Craig (the Queensland walker) arrived and dropped his pack outside before booking in at the pub for a well-earned break from walking. He told us he had had a very tough time when walking the Coast Road from Trousers Point to Lady Barron as he had taken a short cut that turned out to be a solid bush bash for a few kilometres and not the short cut he had planned for.
Another pleasant night in the tents - our last on Flinders Island.
Day 15 - Tuesday 19/3/13 - Lady Barron to Lauderdale
Another relaxed start to the day. The water in Franklin Sound was glassy smooth. I thought that, if it was going to be like this when we set sail for Bridport, then we would have a very easy voyage indeed. Our boat trip to Bridport was originally scheduled to be a daytime voyage, leaving at 9.30am on Tuesday but a couple of days earlier the ship had run aground on a sandbar. This had the effect that the whole schedule had been put back by about 12 hours to enable future arrivals and departures at Bridport to be at times of a high tide.
After our usual breakfast we packed our gear onto our bikes, tidied up the campsite and rode down to the grassy area next to the tennis court. This was very close to the wharf so we were able to keep an eye on what was being loaded when the Matthew Flinders arrived later. As the boat was due to be loaded at about 5.30pm we had most of the day to fill in, relaxing and enjoying the day with no riding commitments. We unloaded our bikes, stored the pannier bags in a nearby empty shed and rode up to the shop for a drink and to read the newspapers at the tables outside. A tame magpie entertained us briefly, accepting morsels of food from Max, the shopkeeper who had reared the bird from a chick.
Back at the wharf I wandered down to take some photos and just after 1.00pm the boat appeared from around the islands as it approached the wharf at Lady Barron.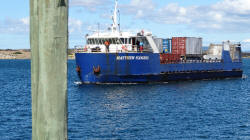 During the day there was a steady build-up of activity as truckloads of cattle were unloaded into the stockyards and various other vehicles arrived, in readiness for the journey. At 4.30pm, when I saw that some passengers had already made their way onboard, we took our bikes up the ramp to find a safe place for them under cover where they were unlikely to be damaged.
We walked around the upper deck of the boat, checking out the "passenger lounge" - a dingy, below-deck, dimly lit room, with stale air - a very unattractive place to spend upwards of nine hours overnight.
By 6.30pm everything was ready for a departure. The boat left the wharf and wound its way amongst the islands as it headed for the open sea. We were up at the bow and were treated to a wonderful sunset as we headed in a westerly direction before turning south-west. There was a gentle swell, virtually no wind and ideal conditions for the flat-bottomed boat. On the GPS Matthew noted the speed at about 15kms/hr.
When it was dark we went down to the room, where Matthew tried to sleep because he was due to go to work on Wednesday afternoon after we had driven back home from Bridport. He found a small, darkened area where he curled up and, I think, managed to get some hours of broken sleep.
There were four other people on the long bench seats, with the remaining four or five passengers sitting outside. I sat on a bench seat at the central table and tried to nap with my head resting on my arms. I think I may have dozed off for, at the most, one hour by the time we reached the mouth of the river at Bridport at 3.00am on Wednesday. The fact that we had left Lady Barron more than one hour ahead of schedule and the fine overnight weather meant that the ship had arrived at Bridport too early. Therefore, as it was a good two hours before a sufficiently high tide, the boat was anchored off the river mouth until 4.30am at the earliest, at which time the winding river mouth was negotiated successfully to the Bridport wharf.
By 5.30am, the cattle and containers having been offloaded, we were wheeling our bikes off the ship, sloshing through the cow manure that remained after the cattle had been taken off.
We quickly loaded up Matthew's car with our gear and bikes and headed for Launceston Airport, where we hoped my car was waiting. All was OK, the car started first time and we drove together to Campbell Town. I was in no particular hurry, especially in my tired state, so Matthew bought a snack and headed off down the highway in time to start work at 2.00pm later that day.
I bought a toasted sandwich and a cup of coffee and read the paper until I felt the need for a nap in the car. I woke somewhat refreshed and continued on but needed another rest break at Colebrook before arriving home at about 10.30am.
So ended a wonderful trip to a delightful area of Tasmania. We were absolutely amazed at the friendliness of everybody we met, both when walking and while riding. On many occasions people we met said things like, "Oh, you're the bike riders we passed earlier and waved to."
Thank you to Matthew for being a kind and considerate son. His previous experiences of kayaking around the Furneaux Group were of great value and made our trip much more meaningful than it otherwise would have been. We have already talked about a possible future bike tour of King Island. I can't wait!! Also, I now feel more confident about tackling a round-Tasmania trip, providing I first head up the East Coast before subjecting myself to the hills of the West Coast. Perhaps in October or November 2013.
Medical Issues
As with previous trips I had a permanent suprapubic catheter in place, following radiation treatment for prostate cancer that left my urethra damaged some years ago. I have previously experienced blood in my urine during bike riding trips but I was very pleased that there was no blood present at all during this trip. I was also very careful with hygiene at the site of the catheter, and made sure I changed the dressing every day, even though I was not able to shower as often as I would at home.