©
by TONY WATTON
2/2/02 to 16/2/02
---
Trip Summary
| | | | |
| --- | --- | --- | --- |
| Day | Date | Route | Distance |
| | | | kms |
| 1 | 2/2/02 | | 65.1 |
| 2 | 3/2/02 | | 64.1 |
| 3 | 4/2/02 | | 45.6 |
| 4 | 5/2/02 | | 51.7 |
| 5 | 6/2/02 | | 105.6 |
| 6 | 7/2/02 | | 75.2 |
| 7 | 8/2/02 | | 75.4 |
| 8 | 9/2/02 | | 55.0 |
| 9 | 10/2/02 | | 67.1 |
| 10 | 11/2/02 | | 55.1 |
| 11 | 12/2/02 | | 45.3 |
| 12 | 13/2/02 | | 55.4 |
| 13 | 14/2/02 | | 74.1 |
| 14 | 15/2/02 | | 91.0 |
| 15 | 16/2/02 | | 95.1 |
| | | | |
| | | Total distance (km) | 1,020.8 |
---
Day 1 – 2/2/02 – Lauderdale to Kempton (65.1kms)
Having spent Friday evening packing my gear and being alarmed at the total weight of the bike, I was pleasantly surprised that I got going reasonably easily on Saturday morning from Lauderdale at 7.45am.
My route was through Clarendon Vale, Lindisfarne, Old Beach and Gagebrook, and then on the Midland Highway through Brighton, Bagdad and to Kempton.
It was an uneventful ride, comfortable temperature and wind not too strong. I was expecting to have to push my bike up some of the hills but did not need to, which pleased me.
On arriving in Kempton at 12.40pm I set up the tent in a BBQ/picnic area with shelter, tables, free electric BBQ and bench seats. The previous Friday I had rung the Southern Midlands Council enquiring about camping in Kempton and was advised to use this spot, at no charge.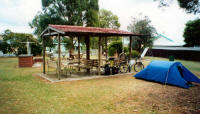 Unpacked gear and changed into shorts and T shirt. I took a small back pack and walked around Kempton. I had a nap during the afternoon (obviously not used to the hard work) then went for another walk – but colder than it was earlier. Went to the local pub for a counter tea – beef parmigiana – huge feed. Slept well.
| | |
| --- | --- |
| Distance for the day | 65.1 km |
| Elapsed time | 4 hrs 55 mins |
| Time riding | 3 hrs 52 mins |
| Average speed | 16.8 km/hr |
| Maximum speed | 52.0 km/hr |
| | |
---
Day 2 – 3/2/02 – Kempton to The Steppes (64.1kms)
Today's ride was harder than yesterday's.
Even though I did not get off and push the bike, I did have many stops.
I was saddened to see three dead Tasmanian devils within 1 km of each other between Melton Mowbray and Bothwell.
One particular hill stands out in my mind as tough, but I've no idea of its name. It went up through a deep cutting. The wind was funnelling down towards me and, even though I was only doing about 4 km/hr, a fully laden semi-trailer came hurtling down the hill. The ferocious gust that came with it just about brought me to a standstill. I managed to keep my balance and plugged on up the remainder of the hill.
Last night I made the mistake of not checking the map for today's journey before packing it away. Hence, because there are no distance signs to The Steppes, I did not realise where I was until I arrived. There is only one unoccupied house here.
I camped in a scruffy reserve away from the road, opposite the house. No facilities but I am comfortable. I ate my two sandwiches that I had bought at Bagdad, some shortbread biscuits and a cup of hot chocolate. I don't have spare water so no cooked meal tonight. If I had checked my map I would have seen that Lagoon of Islands was not far away from where my campsite was. It may have offered better camping (certainly fresh water) than where I had stayed.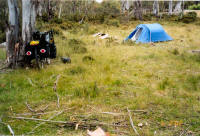 | | |
| --- | --- |
| Distance for the day | 64.1 km |
| Total distance to date | 129.2 km |
| Elapsed time | 6 hrs 5 mins |
| Time riding | 4 hrs 52 mins |
| Average speed | 13.1 km/hr |
| Maximum speed | 56.0 km/hr |
| Average distance per day | 64.6 km |
---

Day 3 – 4/2/02 – The Steppes to Reynolds Neck (45.6kms)
There were some steep sections leading up to Miena – but I expected that as I was riding up onto the Central Plateau.
I met four riders from Victoria heading south – 1 male and 3 females – all in their 40s I guessed. They had pre-booked accommodation along the way so were travelling light but, on the other hand, had to be at their stopping places (Bothwell on this leg) for the night's stay.
Closer to Miena I met a Scotsman, also going south. He had skinny wheels and drop handlebars. I guessed it would not have been very comfortable on the gravel, but he didn't complain.
I stopped at the Central Highlands Restaurant and had a coffee and toasted ham sandwich in front of an open fire. A nice way to warm up and the managers were interested in my proposed route, especially down the West Coast. They mentioned that Reynolds Neck was a reasonable place to camp as I wanted to go further than Liaweenee on this leg.
I decided to call in at the Liaweenee Parks & Wildlife office to say hello. I met Dave and Gail Geoghegan. I did not expect any special favours but they invited me up to their house and fed me coffee and buttered bun. Gail invited me to lunch and to stay the night with them – both of which I thanked them for but politely declined.
I'm hoping to get to Deloraine tomorrow, where I will be able to have my first shower in four days and maybe even wash some clothes. Then back to civilisation for the ride along the coast to Marrawah.
I detoured among shacks at Reynolds Neck and then asked the way when I saw an owner there. He directed me back to the main road, down the hill and towards a huge willow tree near Great Lake. The campsite was not ideal, being close to what was the communal toilet but, with unlimited fresh water and a level patch of grass, it was OK.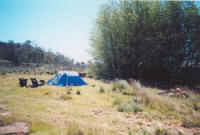 After I had set up the tent and organised my gear I walked along the connecting strip of rocks to Reynolds Island (not an island with the Great Lake level down) to get a bit of exercise and use my non-riding muscles.
| | |
| --- | --- |
| Distance for the day | 45.6 km |
| Total distance to date | 174.8 km |
| Elapsed time | 4 hrs 30 mins |
| Time riding | 2 hrs 56 mins |
| Average speed | 15.6 km/hr |
| Maximum speed | 59.0 km/hr |
| Average distance per day | 58.3 km |
---

Day 4 – 5/2/02 – Reynolds Neck to Deloraine (51.7kms)
I started off the day with a hot breakfast of porridge and sultanas with a cup of hot chocolate. Unfortunately, the pasta from last night (I think) gave me a dose of the runs but I eventually got going at 10.20am. The dirt road continued to be a bit of a nightmare – dodging between corrugations and the soft edges. The useable strip of road seemed to be about 20cm wide, if that.
I put on my windproof (Netti Entrant) jacket for the descent from the plateau because the air and wind were both cold. An exhilarating ride with speeds up to 66 km/hr down through Golden Valley, even allowing for the reductions to 40kms/hr to negotiate the 25kms/hr hairpin bends.
It was a welcome relief to reach Deloraine at 1.35pm. After organising my tent and gear I had a much needed shower at the caravan park. I also washed some clothes in the shower. I had a pie and chips at a takeaway and met a Pommie rider (Dave) in Deloraine who had already gone around the State and was heading back to Devonport to catch the Spirit of Tasmania to Melbourne.
At the caravan park I met Pat from Melbourne who was just starting his trip down to Hobart over the Lake Highway then up the East Coast. He is a serious road bike rider and had a trailer behind the bike. He expected to get to Miena the next day. Best of luck to him – it will be a hard climb.
I also met a Dutch rider called Thomas and the three of us camped in the same area under the shade of trees near the river. Beautiful spot, especially after the Plateau campsites.
The four of us spent an interesting couple of hours in a pub talking about the ride ahead of Pat and Thomas up through Golden Valley. Thomas had a bike straight out of the 1950s. He paid $10 for it from the Salvos and only one of the three gears worked. He carried virtually no gear. He was also expecting to get to Miena the next day and clearly had no idea of the climb that was involved.
Tomorrow I may get to Devonport, Penguin or Burnie, depending on the wind.
I was now off the South East Tasmania map and this gave me a psychological boost, even though my direction was still generally in a northerly direction.
| | |
| --- | --- |
| Distance for the day | 51.7 km |
| Total distance to date | 226.5km |
| Elapsed time | 3 hrs 15 mins |
| Time riding | 2 hrs 39 mins |
| Average speed | 19.4 km/hr |
| Maximum speed | 66.0 km/hr |
| Average distance per day | 56.6 km |
---

Day 5 – 6/2/02 – Deloraine to Cooee (105.5kms)
I left Deloraine at 9.00am after taking my time packing my gear.
The wind was kind to me today so I reached Devonport at 12.00 noon and decided to push on a bit further. While at Devonport I sent a card to Gail and Dave at Liaweenee to thank them for their hospitality.
Ulverstone was 16kms away, Penguin a further 9kms and Burnie an extra 20kms. In the end, after stopping at Ulverstone and taking the coast road to Penguin I reached Cooee by 4.15pm.
At Cooee I got a good campsite at the Ocean View Motel and Caravan Park up a steep hill but on a small plateau. On the next level up a couple from Brisbane had camped (Melissa and Carl). They were back-packing and travelling by bus to various places around Tasmania.
I wrote today's log while sitting on steps leading down to Cooee Beach, waiting for it to get dark enough (8.34pm) to see any penguins that may be returning to their artificial "burrows".
No penguins had turned up by 9.30pm so I abandoned that exercise. It was apparently a bit late in the season to expect to see them.
I need to repair the front pannier rack tomorrow with hose clips - I suppose dirt roads don't suit them.
| | |
| --- | --- |
| Distance for the day | 105.5 km |
| Total distance to date | 332.0 km |
| Elapsed time | 7 hrs 15 mins |
| Time riding | 5 hrs 17 mins |
| Average speed | 19.9 km/hr |
| Maximum speed | 56.5 km/hr |
| Average distance per day | 66.4 km |
---

Day 6 – 7/2/02 – Cooee to Stanley (75.2kms)
Up at 6.30am after a peaceful night, even though I heard possums or devils at various times. It's difficult to actually see them because whenever I open the zips of the tent they hear the noise and disappear (at least that's what I think happens).
2 bread rolls with cheese and vegemite and water for breakfast today.
I left at 8.45am and stopped at the first service station to get some hose clips as the front pannier rack has a broken weld – presumably from the treatment it received over the Plateau. This was not a good sign for the future.
I managed to get some that did the job very well, so I bought some spares and have since fitted them to the good side in case the same thing happens on the Western Explorer.
Today I had a very good run and arrived at Stanley Caravan Park at 1.45pm. The wind was fresh and mostly from the East or North East so it helped me a great deal.
The last 7 kms into Stanley was a bit of a slog but I was still reasonably fresh from the previous good run so this was not a problem.
$10 for a campsite was a bit steep but it had all facilities so not too bad a deal. Only problem is that when I put my tent up I was the only person in the little sheltered area, but now there are 2 campervans, a 4WD and assorted other tents.
After showering and washing some clothes I walked (stumbled) up the Nut and then bought a few supplies. My evening meal consisted of sandwiches and apple juice, eaten in a BBQ shelter while writing my log.
With a bit of luck I should get to Marrawah tomorrow. If the wind is like today it will be a good ride.
My sleeping mat has been deflating during the nights.
I've decided my technical explanation for the sleeping mat going down – that the air in it contracts when the temperature drops during the night – is crap. It has a leak, probably the valve, and it will continue to happen. Matthew may be able to buy me another one and bring it up here early next week as he is on holiday and seems keen to catch up with me on the West Coast somewhere. That will be good.
| | |
| --- | --- |
| Distance for the day | 75.2 km |
| Total distance to date | 407.2 km |
| Elapsed time | 5 hrs |
| Time riding | 3 hrs 33 mins |
| Average speed | 21.1 km/hr |
| Maximum speed | 63.0 km/hr |
| Average distance per day | 67.8 km |
---

Day 7 – 8/2/02 – Stanley to Marrawah (75.4kms)
My alarm went off at 6.30am after a wild night weatherwise. What started out as a sheltered site changed into an exposed position as the wind changed, strongly, and it also rained. It was still raining when I left at 8.20am. However, it stopped raining after about half an hour and was fine for the rest of the day.
The trip to Marrawah was a pleasant ride with some hills, but nothing like I expect next week. I had a very pleasant coffee and toasted cheese sandwich at Smithton. In the café I heard two people talking about an earthquake that happened last night. The earth didn't move for me, though. I later found out it measured 3.5 on the Richter scale and was centred some distance offshore. No tidal wave, though.
After several more rest breaks I arrived at the Redpa store at about 12.20pm and had a very nice chicken salad roll and malt milk while sitting on the cool concrete outside. Got to Marrawah at 1.50pm and found that the grass area at Green Point was completely occupied by huge caravans and 4WDs. I put my tent up on the hill. It is a bit more exposed but away from the others. I changed into my bathers and had a shower at the outside cold shower, changed into shorts and T shirt and walked up to the shop and then on to the pub.
I had a counter meal and a few beers while talking with the local Parks and Wildlife ranger, who gave me some tips about water availability on the Western Explorer. Lindsey River seemed to be worth remembering.
It will be a hard ride tomorrow, back up the hill.
| | |
| --- | --- |
| Distance for the day | 75.4 km |
| Total distance to date | 482.6 km |
| Elapsed time | 5 hrs 30 mins |
| Time riding | 4 hrs 5 mins |
| Average speed | 18.5 km/hr |
| Maximum speed | 55.5 km/hr |
| Average distance per day | 68.9 km |
---

Day 8 – 9/2/02 – Marrawah to 4 kms North of Balfour Turnoff (55.0kms)
I reluctantly left Green Point Picnic Ground at Marrawah at 8.50am and almost immediately had a struggle to ride up Green Point Road. I had mentally prepared myself for a hard ride while not really warmed up and it lived up to my expectations. I made it to the top without getting off the bike to push it but for most of the ascent my speed was no more than 4 – 5 kms/hr.
The trip to Arthur River was uneventful and I was pleasantly surprised to find a little shop there, so I bought a cup of coffee and got change to pay for two nights camping fees ($7.70) for the Arthur/Pieman Camping Grounds.
From Arthur River the ride continued slowly in the granny gear range until I rode into a patch of deep, fine dust, swerved and fell off into the middle of the road. No injuries but I cursed myself out loud for being so careless. The fall was caused by not being able to get my foot out of the clipless pedals in time to stop myself crashing to the ground.
Somewhere along the Western Explorer heading east after the Couta Rocks turnoff I heard a metallic bang and stopped to check what had happened. One of the stainless steel bolts holding the front pannier rack near the hub had snapped and the rack was hanging loose with no lower support. I extracted what was left of the bolt and found another one the right length that was holding the rear rack so swapped them over, using a different mounting hole in the front. I THINK I MAY HAVE FORGOTTEN TO BRING MY LEATHERMAN TOOL!!! This would be a disaster, even though I have a selection of spanners I have no separate pliers.
Two families in 4WDs stopped to offer help while I was doing the repair job but I thanked them and said I would be able to cope. It's nice to know they cared.
I fell off once more along a very dusty section of this road when I tried to find a better line and once again ended up on the road. Some scrapes on my right leg this time but nothing serious. It could be bad news if I fell off with a vehicle coming.
With visibility for miles I began to look around for a sheltered campsite out of the wind I was riding into and, about 4 km north of the Balfour turnoff, I spotted a clump of trees up off the road to the left. On investigating I found a relatively clear spot just big enough for my tent and found enough large rocks to tie my guy ropes to (rocky ground). There was a pleasant smell of boronia. No vehicles and a peaceful, if windy, night after a pasta meal and hot chocolate.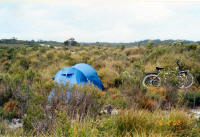 | | |
| --- | --- |
| Distance for the day | 55.0 km |
| Total distance to date | 537.6 km |
| Elapsed time | 6 hrs 25 mins |
| Time riding | 4 hrs 34 mins |
| Average speed | 12.0 km/hr |
| Maximum speed | 45.0 km/hr |
| Average distance per day | 67.2 km |
---
Day 9 – 10/2/02 – 4 kms North of Balfour Turnoff to Savage River Bridge (67.1kms)
This was a VERY, VERY hard and long day. I was on the road at 8.45 am and finished for the day at 7.15pm. Not all riding, though.
Lost and Found Announcements:-
I "found" the Leatherman – it had been stored in the billycan all the time. I had just forgotten where I had put it.
I lost the bike computer between the tent on the bank as I was packing up this morning and the bike which, by this time, I had parked down on the road at a guide post. On discovering the loss at the bike I carefully retraced my steps back to the tent and had given up all hope of finding it when I saw it lying face down right next to the tent. I thanked God sincerely for helping me. Apart from its normal uses I had worked out that I could get water at various distances and I did not want to miss any opportunities.
My Netti Entrant Waterproof jacket is gone for ever! When the wind had dropped enough for me to ride comfortably without it I had stowed it under a strap on the tent between the rear panniers. I thought it was secure. However, somewhere on the road before a hill called Longback it must have been bounced out by the roughness of the road. I hope someone makes good use of it. I subsequently asked a couple in a 4WD who passed by my campsite at the Savage River Bridge but they had not seen it.
Road conditions today were totally abysmal. The bike has been shaken like I didn't think was possible. Two more breaks in the front pannier rack contributed to about two hours delay. Several people stopped to ask if I was OK and I said, thanks, I'll be all right and thanked them for their concern. About 20 kms north of Savage River Bridge I nearly camped, waited for Matthew and quit the ride. There was nowhere to camp. Luckily my repairs held together and I think the worst of the road is past.
At various steep sections of the Western Explorer the road is sealed for safety and I invariably had to push the bike up these. I spoke to a couple of blokes in a Toyota Hilux while I got water at Lindsey River bridge and they said they had been down to first gear on some of the steepest hills. It was really difficult to push the bike up them and I had to have frequent rests with both brakes pulled on hard.
My campsite at the Savage River Bridge was almost perfect, with calm conditions, warm evening and the river gurgling in the background. Rice meal and hot chocolate for evening meal.
I'm looking forward to seeing Matthew (my son) maybe tomorrow, even if he does not bring a new Thermarest.
I FELL OFF TWICE TODAY. Both occasions I had come to a standstill and had nowhere to go. The first time my front and rear wheels hit large rocks at the same time, the rear wheel skidded and I fell. The second time I managed to get my right foot out of the pedal but my weight was on the left side of the bike and I fell over on the down camber of the road and ended up like I was trying to wrestle a deckchair, with the bike and me tangled together. Cursing myself seemed to help me to feel better when this happened.
| | |
| --- | --- |
| Distance for the day | 67.1 km |
| Total distance to date | 604.7 km |
| Elapsed time | 10 hrs 30 mins |
| Time riding | 7 hrs 1 min |
| Average speed | 9.5 km/hr |
| Maximum speed | 56.0 km/hr |
| Average distance per day | 67.2 km |
---

Day 10 – 11/2/02 – Savage River Bridge to Zeehan (55.1kms)
Today was a good day – no gear breakages, no gear losses and no diabolical goat-track roads, apart from the first 18 kms.
After 6 kms I reached Corinna and had a snack of a toasted cheese sandwich and a cup of coffee. I waited with a group of interstate visitors in a 4WD so only had to pay $5.50 instead of $11.00 if I had been by myself on the ferry.
After crossing the Pieman River there were still many hills to push the bike up. When I finally reached the end of the Western Explorer, 18 kms from today's start, I let out a huge WHOOP of joy because I had conquered the nightmare road. The sealed road that I joined goes from Reece Dam to Zeehan.
There was still another 38 kms to Zeehan so I just plodded on – not walking up hills any more. I met Matthew about 10 kms from Zeehan and it was good to see him. He made me a banana roll – beautiful.
We stayed – much to my surprise – at a cabin in Zeehan Caravan Park that Matthew had arranged. We had a chicken and coleslaw salad for dinner. I had a shower, washed some clothes and did a bit of work on the bike reorganising my Heath-Robinson repair jobs. I nearly felt human again!
Matthew had brought some supplies for me so I replenished my stores for the remainder of the trip. Tomorrow to Strahan and perhaps catch up with Dave and Alan at the Strahan Police Station, who I had met on a previous occasion when Matthew was paddling his sea kayak around the State.
| | |
| --- | --- |
| Distance for the day | 55.1 km |
| Total distance to date | 659.8 km |
| Elapsed time | 6 hrs 25 mins |
| Time riding | 4 hrs 33 mins |
| Average speed | 12.1 km/hr |
| Maximum speed | 67.0 km/hr |
| Average distance per day | 66.0km |
---

Day 11 – 12/2/02 – Zeehan to Strahan (45.3kms)
Today was a fairly easy day, from Zeehan to Strahan, with only a few uphill sections and some good long downhill runs. I think the road follows the route of an old railway line.
Another breakage in the front pannier rack!! Fixed with reversing a short broken section of aluminium rod and using hose clamps to fasten the broken ends that overlapped.
Matthew gave me three more clips and I also bought five more for any more breakages – plus some 5mm stainless steel nuts and bolts.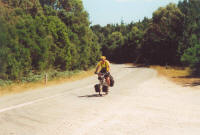 He escorted me some of the way to Strahan and came back to see me just finishing the repair.
At Strahan, although Matthew had organised a cabin, I didn't like the noisy neighbours so he got a refund and we camped in the caravan park. This ultimately proved to be a very noisy area so maybe I had made the wrong choice after all.
We tried out Matthew's new fishing rod at Macquarie Heads – no luck.
Later we had a counter tea at Hamers and I got an upset stomach, but maybe not related to our meal. He gave me some Imodium but I may need more when I get to Queenstown.
I had been concerned about the hill out of Queenstown (Mt Lyell?) for some time and decided to try to get beyond Queenstown at the end of tomorrow's ride before setting up camp rather than try to ride up first thing the following morning.
| | |
| --- | --- |
| Distance for the day | 45.3 km |
| Total distance to date | 705.1 km |
| Elapsed time | 4 hrs |
| Time riding | 2 hrs 24 mins |
| Average speed | 18.9 km/hr |
| Maximum speed | 68.0 km/hr |
| Average distance per day | 64.1km |
---

Day 12 – 13/2/02 – Strahan to Lake Burbury (55.4kms)
I recovered from my dose of the trots – mainly thanks to Matthew's Imodium, but I still did not fancy any breakfast. I had two fruit bars and water.
On the road at 8.10am and almost immediately had to contend with the hill out of Strahan. From then on for the next 40 kms or so it alternated between up and down sections – very wearing as I didn't have time to recover from one uphill before the next was upon me. Matthew waited every 10 kms or so but it was still a very tiring trip. I reached Queenstown at about 11.50am. When I later checked my mobile phone Matthew had said he was going along the Mt McCall Road, sightseeing so I sat in a shelter and ate a salad roll with Ribena. Very nice.
I had previously decided not to stay in Queenstown, which would mean a long haul up the hill first thing in the morning, so at 1 pm I made a move. I reached the top in 43 mins without a stop and without having to push the bike. But I was stuffed. I coasted down the other side, met up with Matthew and he directed me to a campsite at the edge of Lake Burbury, in the shadow of Mt Owen. If it wasn't for the march flies having a field day at our expense it would be a very pleasant spot.
I felt very lethargic – not knowing what to do with myself – while Matthew went for a kayak paddle on the lake. So I sat on a large rock at the water's edge, writing. Matthew didn't intend staying overnight but took his time and headed back to Lauderdale. I enjoyed his company and his help. He said it was nice not to be the one suffering. I can relate to that comment because up until now I have been the one to meet him on his various kayak trips around Tasmania when he was doing all the hard work and I was just the "domestique".
Just as I sat up on the rock a trout jumped out of the water right in front of me and travelled about two metres before flopping back into the water. What a treat.
Later on, about 8.00pm, when the sun had set behind Mt Owen and the march flies had departed to annoy other beasts, I decided to have a wash in the lake to feel more comfortable.
| | |
| --- | --- |
| Distance for the day | 55.4 km |
| Total distance to date | 760.6 km |
| Elapsed time | 6 hrs 5 mins |
| Time riding | 4 hrs 10 mins |
| Average speed | 13.3 km/hr |
| Maximum speed | 58.0 km/hr |
| Average distance per day | 63.4km |
---

Day 13 – 14/2/02 – Lake Burbury to Derwent Bridge (74.1kms)
Very peaceful night and no flies when I woke up, so I packed quickly and got under way by 7.55am.
I did not look forward to the hills. Even though I didn't get off to push the bike I did have a couple of rest breaks on the way. Mt Arrowsmith seemed to go on for ever. Not that it was really steep but the climb just twisted and turned endlessly.
I had originally intended to go past Derwent Bridge but by the time I got to the pub I abandoned any thoughts of that. I booked myself into one of their dog boxes, had a shower, washed some clothes and hung them up in my room. At the pub I had a meal with an American called Sandy, who is making his way around Australia looking for somewhere permanent to live.
Earlier I walked along to the shop to get bread for breakfast and to make some sandwiches for tomorrow's trip.
| | |
| --- | --- |
| Distance for the day | 74.1 km |
| Total distance to date | 834.7 km |
| Elapsed time | 6 hrs 35 mins |
| Time riding | 5 hrs 37 mins |
| Average speed | 13.2 km/hr |
| Maximum speed | 55.5 km/hr |
| Average distance per day | 64.2km |
---
Day 14 – 15/2/02 – Derwent Bridge to Hamilton (91.0kms)
At Derwent Bridge I had some sandwiches for breakfast and, after topping up with water at the shop, got under way at 8.20am. I did not feel good and it took me quite a while before my legs felt OK. It's the quads that hurt most.
With a bit of luck I may be able to make it home tomorrow.
There were a few long pulls uphill but nothing to compare with the previous days on the West Coast.
I had previously decided to give the Tarraleah experience a miss and take the gravel road, Fourteen Turn Road, instead. Some time ago I travelled along this road by car and thought it wasn't too bad.
Even though there were a few steep sections, I think that it was a better choice, being about 10 kms shorter as well as avoiding the hard pull up to Tarraleah.
The penalty is that the roughness of the road caused more looseness in the front pannier rack and more tightening up was needed.
Ouse came upon me with a pleasant surprise while I was trying to work out in my mind if Hamilton or Ouse came first. I had an ice cream and flavoured milk to celebrate a return to civilisation. There was mostly a tail wind to Hamilton that helped me a lot, as well as a few nice downhill runs.
The march flies that had caused me so much grief continued with me until I made my stop at the Tarraleah Canal for sandwiches at lunch time. When I next stopped, after a fast downhill run past Wayatinah, they had all gone. Amazing change that I can't explain.
I have booked into Room 5 at the Hamilton Inn and am very comfortable. It is costing me $30 B & B, which compares more than favourably with $25 for the dog box at Derwent Bridge (without breakfast). There is a TV room with lounge, tea and coffee facilities, shower and bedding on the bed. I lashed out on another counter meal.
As breakfast is being provided tomorrow it may not be a very early start. The hill out of Hamilton beckons!
| | |
| --- | --- |
| Distance for the day | 91.0 km |
| Total distance to date | 925.7 km |
| Elapsed time | 6 hrs 55 mins |
| Time riding | 4 hrs 59 mins |
| Average speed | 18.2 km/hr |
| Maximum speed | 69.0 km/hr |
| Average distance per day | 66.1km |
---

Day 15 – 16/2/02 – Hamilton to Lauderdale (95.1kms)
More temporary repairs before breakfast – this time using an Allen key with two hose clips to strengthen a weak part of the front pannier rack – what else?
After a leisurely Continental breakfast I set out at 8.55am and within five minutes I was pushing gently up the hill out of Hamilton. In total it took 35 minutes to reach level ground. From there it was an undulating ride, but mostly down, to New Norfolk, where I had a refreshing coffee from the takeaway shop and called home on my mobile phone.
On the road to Granton I stopped and chatted to a 30-something woman riding in the opposite direction, with not much bike gear. She said she was riding to National Park and friends were taking her gear. She said she had ridden around Australia. When I asked her about water supplies in remote areas she explained that she had arranged for car travellers to make drops of water containers 50, 100 or 200 kms ahead of her so she did not have to carry tons of water (impossible to carry enough anyway). As I left her I felt full of admiration for her and a bit inadequate with my two weeks trip but I couldn't resist the thought that it's the sort of trip I could do one day (one year more like).
I took the easy route via Granton, the Bowen Bridge and East Derwent Highway until Matthew met me on Rosny Hill. We travelled together for the last few k's and finished the trip at 3.10pm.
It's good to be back home after an interesting and challenging trip.
| | |
| --- | --- |
| Distance for the day | 95.1 km |
| Total distance to date | 1,020.8 km |
| Elapsed time | 6 hrs 15 mins |
| Time riding | 5 hrs 4 mins |
| Average speed | 18.8 km/hr |
| Maximum speed | 62.0 km/hr |
| Average distance per day | 68.1km |
| | |
| Total riding time | 65 hrs 37 mins |
| Average speed over the trip | 15.6 km/hr |
| | |
SUMMARY
Weight at start – 85 kg.
Weight at finish – 79 kg.
No injuries or medical problems apart from two episodes of the trots.
Specialized Hard Rock Sports mountain bike with 21 gears.
Sealed cartridge bottom bracket
Suspension stem
Suspension seat post
Shimano SPD clipless pedals
Steel rear pannier rack with Vaude waterproof panniers
2 x Cateye random flashing red lights
Aluminium Topeak front pannier rack with home-made top tray and Vaude waterproof panniers
Cateye Enduro 2 computer
Bike mounted Polar heart rate monitor
Continental "Town & Country" tyres with tyre liners (65 psi)
Serfas dual density seat
Zefal Switch lightweight pump.
Overall, considering I travelled over 250 kms of gravel and rock roads the bike performed very well indeed. No tyre problems or punctures even though I maintained pressures at about 65 psi. There were no gear change problems.
However, the front pannier rack was an unmitigated disaster. It is made of Easton E9 aluminium rod, bent into appropriate curves, welded and fastened to the bike with U-shaped clamps and stainless steel bolts and locknuts. The welds on both sides broke, the rod itself snapped in two places and it simply was not up to the task. I fixed all problems using small stainless steel hose clips, with an Allen key for bracing at one point. In retrospect I should have fitted a steel pannier rack. Maybe next time.
The weight on the front rack was not excessive – clothing weighing no more than 10 kg plus sleeping bag.
Macpac Minaret 2-person tent
Thermarest ultralight full length sleeping mat
Paddy Pallin 2 season synthetic sleeping bag
Silk sleeping bag inner
Inflatable pillow
Trangia single person stove
500 ml metho container
Cup, knife, fork, 2 spoons
Plastic plate
Small radio in plastic box
Headlamp (Petzl Duo)
Small torch and batteries
Small back pack
Sport tank Drinking System (2.2 litres)
3 x 750 ml drink bottles
Billy can
Selection of small tools
3 spare tubes
Leatherman Supertool
9" adjustable wrench
2 x Seal Line Dry Bags (10 litres and 20 litres)
Selection of straps with clips (8)
Bum bag
Oil and WD40
Compass
4 x 1:250,000 maps of Tasmania
Magnifying glass
Candles, waterproof matches, 2 lighters
Credit card, driver's licence, MBF and other cards
Bag of toiletries
Small battery shaver
Hand towel and swimmer's towel
First aid kit
2 x cycling books, notebook, pen
6' x 8' waterproof tarp
Bag of spare batteries
Mobile phone with 3 spare batteries
Battery charger
Sunglasses, reading glasses
1 packet of Snaplock bags
Camera and 2 films
Bag of soap powder
Sunblock cream.
Netti waterproof jacket (until it was lost)
Polarfleece jacket
2 yellow riding jerseys
3 pairs bike shorts
1 pair casual shorts
7 pairs underpants
2 pairs bathers
3 pairs socks
1 pair bike shoes
1 pair Teva sandals
3 T shirts
1 pair thermal longjohns
1 long-sleeved thermal top
Peaked cap
1 pair bike gloves
Balaclava
Bell Nemesis bike helmet
Reflective tape with bike light
1 pair tracksuit pants
6 handkerchiefs
Selection of Continental pasta and rice meals (8 at start)
Powdered milk
Hot chocolate powder
20 tea bags
375 g butter
20 assorted muesli and fruit bars
2 tubes condensed milk
8 packets instant porridge
Bag of sultanas and chopped apricots
Bag of mixed nuts
1 small jar peanut butter
1 small jar strawberry jam
1 small jar Vegemite
Equal tablets
1 tin Saline
At various times I bought bread rolls, loaves of bread etc.
Various counter teas, morning and afternoon tea stops.