BICYCLE RIDE FROM SMITHTON TO LAUDERDALE, TASMANIA
TONY WATTON AND MATTHEW WATTON
26/10/2018 to 10/11/2018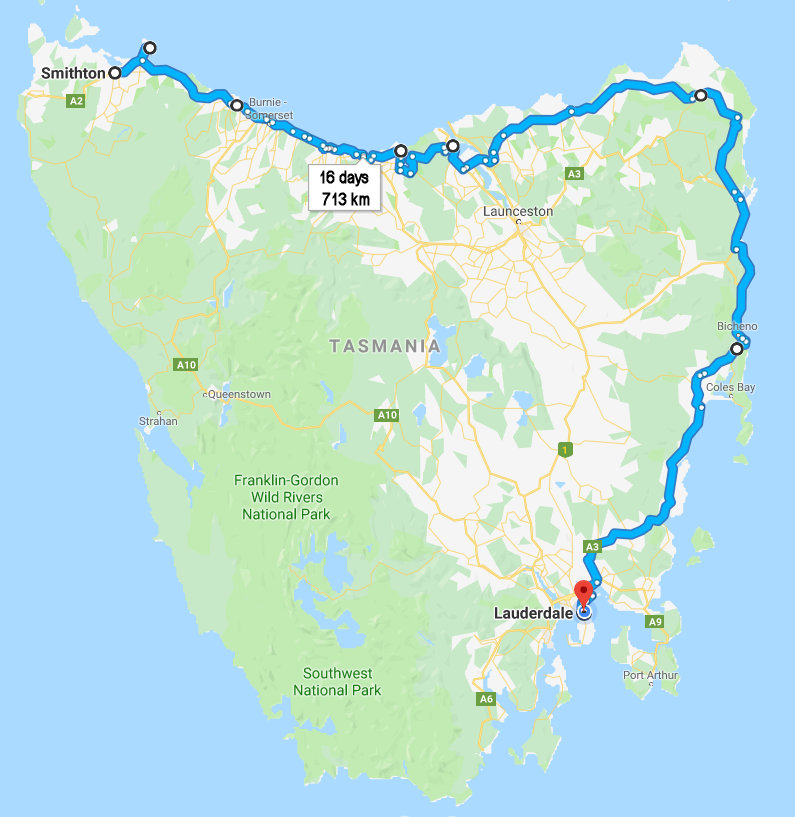 Google Maps track taken during the trip.
Lead-up to Our Ride
This ride came about after Matthew and I completed a bike ride from Lauderdale to Smithton back in January/February 2017 (Ride from Lauderdale to Smithton). When we had reached Smithton I said to Matthew: "Well, that's the first half done. We now need to finish it off by riding the North and East Coasts."
As a result, we initially planned this ride to take place in April 2018 but, following a bike fall in March 2018 in which I suffered a vertical split in my right patella and injured my right wrist and elbow, that ride never happened. The view on the left side of the xray image is from a vertical position. The surgeon said the gap was being filled by scar tissue and he did not operate.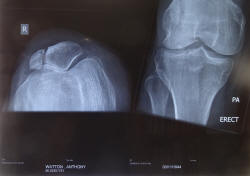 Additional complications arose. At the end of May 2018 my PSA soared to 74. The medical oncologist to whom I was referred started me on a 16-weeks course of chemotherapy, concurrently with androgen deprivation therapy (ADT - hormone therapy). The final session of chemotherapy took place on 11/10/18. The hormone therapy is continuing.
Contrary to what I had read about possible serious side effects of both treatments, I was fortunate in that I suffered very little and, as a result, I felt that I might be able to cope with a two to three weeks bike riding trip at the end of October 2018 when Matthew had managed to get 24 days leave.
My "preparation" for the ride consisted of some day rides of between 40 and 50kms, exercise bike sessions and a few rowing machine exercises. Matthew convinced me that I would gain fitness as we rode.
As far as Matthew's preparations for the ride were concerned he had, in September 2018, ridden from his home at Midway Point up the East Coast to Gladstone then, via Lilydale, to the Midland Highway at Perth, where I collected him in order that he could return to work soon after that.
We were ready to start our trip by driving to Smithton on Thursday 25/10/18, staying the night at the Bridge Hotel and riding on the morning of Friday 26/10/18. Matthew left his car close to the police station for some extra "security". In our planning for previous rides we had repeatedly talked about taking it easy on the first ride day. However, up until this ride it had never eventuated. Now, we deliberately made our first ride day a short one, about 22kms.
Nearly all the photos included in these notes were taken by Matthew. The photos that have a "Cycliq" imprint on them are stills from my bike's front camera videos. The maps and elevation charts are taken direct from my Garmin Edge 800 bike GPS, which performed flawlessly as long as I charged it each day.
Our Ride Stages
Day No
Date
From
To
Tony Distance (kms)
Matthew Distance (kms)
Tony Total Time
Matthew Total Time
Tony Moving Time
Matthew Moving Time
Tony Av Moving Speed (kms/hr)
Matthew Av Moving Speed (kms/hr)
Matthew Elevation Gain (m)
Tony Max Speed (kms/hr)
Matthew Max Speed (kms/hr)
1
26/10/18
Smithton
Stanley
22.4
22.7
1h 31m
1h 30m
1h 7m
1h 18m
17.4
17.3
68
29.1
30.9
2
27/10/18
Stanley
Wynyard
61.3
61.2
7h 55m
5h 45m
4h 22m
4h 11m
14.0
14.6
509
61.7
69.8
3
28/10/18
Wynyard
Ulverstone
47.0
46.9
4h 24m
4h 24m
3h 10m
3h 05m
14.8
15.3
211
38.4
42.9
4
29/10/18
Ulverstone
Port Sorell
38.7
38.9
6h 16m
4h 18m
3h 09m
2h 59m
12.2
13.0
354
49.2
48.6
5
30/10/18
Port Sorell
Beauty Point
48.2
48.4
5h 49m
5h 33
4h 21m
4h 04m
11.1
11.9
667
56.2
66.7
6
31/10/18
Beauty Point
Low Head
44.8
44.9
5h 20m
4h 22m
3h 29m
3h 22m
12.8
13.3
427
51.2
55.9
7
1/11/18
Low Head
Bridport
59.2
59.4
6h 31m
5h 51m
4h 51m
4h 20m
12.2
13.7
541
46.7
55.6
8
2/11/18
Rest Day at Bridport
-
-
-
-
-
-
-
-
-
-
-
9
3/11/18
Bridport
Gladstone
60.4
60.6
4h 15m
4h 03m
3h 35m
3h 29m
16.8
17.3
501
56.1
58.8
10
4/11/18
Gladstone
St Helens
69.1
69.5
8h 02m
7h 18m
5h 48m
5h 22m
11.9
12.9
736
59.7
62.4
11
5/11/18
Rest Day at St Helens
-
-
-
-
-
-
-
-
-
-
-
12
6/11/18
St Helens
Bicheno
77.2
77.3
7h 36m
5h 24m
5h 17m
5h 04m
14.7
15.3
534
52.2
57.3
13
7/11/18
Bicheno
Swansea
47.0
47.0
6h 47m
5h 30m
4h 00m
3h 11m
11.7
14.3
378
38.7
50.0
14
8/11/18
Swansea
Little Swanport
33.9
33.7
4h 51m
4h 21m
3h 01m
2h 29m
11.3
13.5
358
45.7
50.3
15
9/11/18
Little Swanport
Buckland
47.0
47.0
4h 44m
4h 36m
3h 27m
3h 16m
13.6
14.4
399
56.7
65.7
16
10/11/18
Buckland
Lauderdale
57.3
57.1
5h 08m
5h 32m
4h 34m
3h 59m
12.5
14.3
540
59.9
80.8
Total
713.5
714.6
The average distance travelled each riding day was about 51.0kms.
Day 1 - Friday 26/10/18 Smithton to Stanley (22.4kms)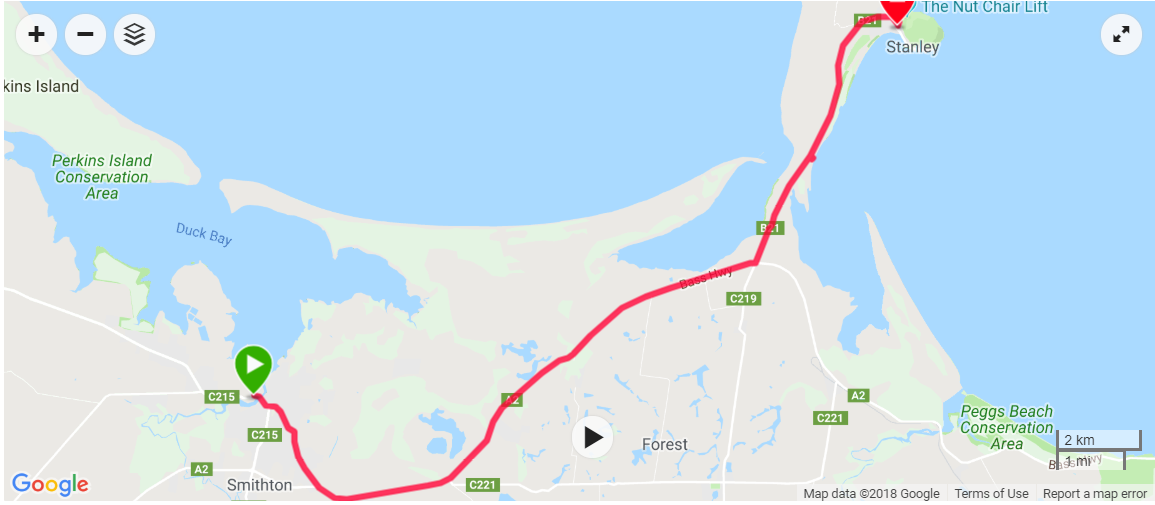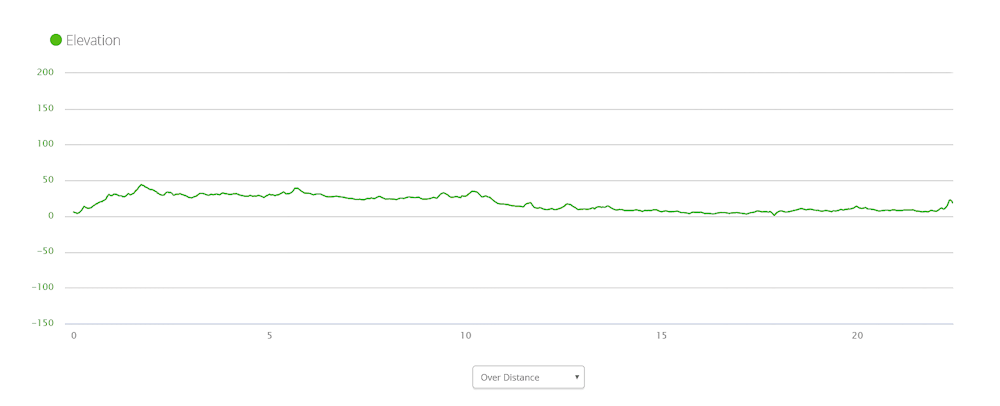 After a comfortable stay at the Bridge Hotel we left Smithton at about 9.40am, in cool sunny conditions, with fully laden bikes. For me, the hill away from Smithton was an early test but I knew we were going to face much tougher hills later.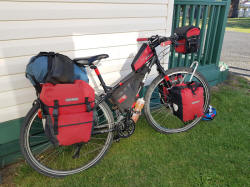 It didn't take us long to become accustomed to the peculiar motion of our bikes as we plodded up the hill towards the Bass Highway. We turned left (east) and immediately felt the benefit of a 20kms/hr tail wind. This made for a very pleasant ride, even though the hard shoulder - our bike lane - was no wider than about 500mm for most of the time.
There were no anxious moments because drivers gave us plenty of room in light traffic conditions. We arrived at Stanley just before 11.00am and headed for a café where we enjoyed a toasted sandwich for breakfast before booking into the caravan park for a grassy tent site. We set up our tents and changed into non-riding clothes. We then headed slowly up the steep track of the Nut and walked around the 2kms track on top. Matthew took some photos and explained where he had camped at various bays and beaches on his round-Tasmania kayak expeditions when in this area a few years previously.
Back at the caravan park we made use of the very well appointed camp kitchen before our dinner of hamburger and chips. During the evening we relaxed and talked about the next day's travel - about 60kms to Wynyard.
Overnight there was some light rain but we were comfortable in our Macpac Minaret tents.
Day 2 - Saturday 27/10/18 Stanley to Wynyard (61.3kms)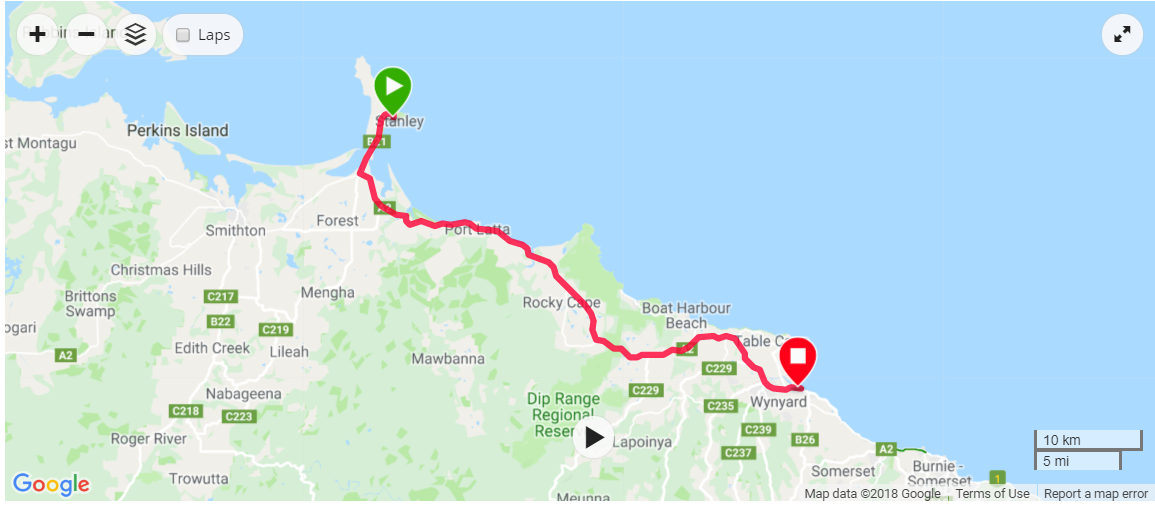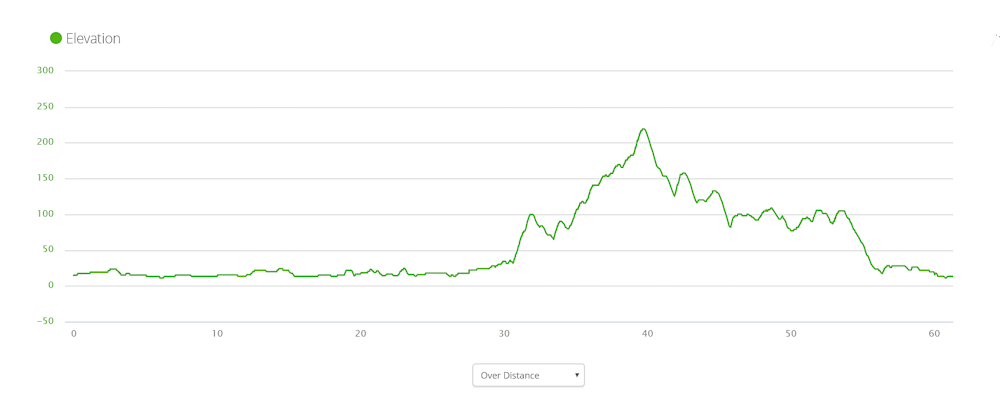 By the time I woke at 5.30am the rain had stopped and most of the tent flysheet had dried in the breeze. The reason for my waking at 5.30am was to enable me to do most of my packing before Matthew surfaced, as I always seemed to take longer with my packing than Matthew. I did, however, still find time to make a cup of tea. Matthew declined my offer on this occasion.
It was a very cool start to our ride at 8.20am, so we both wore our rain jackets as we rode away from Stanley towards the Bass Highway. Turning to the east at the junction brought immediate relief. The tail wind did not last long, however, before turning to a side wind from the right side, with a southerly component to it.
This, for me, presented a very challenging situation. My upper body strength compared poorly with Matthew's and I had a constant battle trying to maintain a reasonably straight line in the very narrow hard shoulder where we were riding, with the added complication of the side wind.
On several (OK it was four) occasions I needed to push my bike up steep hills, whereas Matthew seemed to cope without any undue stress. Truck and other vehicle drivers almost invariably moved over or slowed to wait behind us in heavy traffic. We waved to show our appreciation whenever a driver slowed down behind us.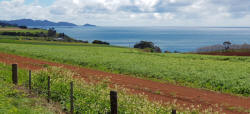 When we reached the Detention River shop we stopped for a drink and a toasted sandwich for breakfast. The ride continued with annoyingly strong cross winds until we finally reached the turnoff to Wynyard and, eventually, the caravan park near the coast. We considered paying for a cabin but, at $120 for the night, we opted for tent spaces in a sheltered, grassy area near the toilet/shower block at $35. Thank you Matthew.
We had the use of an adequate camp kitchen and enjoyed a fish and chips dinner from the shop a bit further along the wharf area where, in years gone by, a seal could often be seen close to the wharf as it waited for the scraps that people would drop for it. During the evening we relaxed, watched a bit of the first Dirty Harry movie and wrote some notes before getting into our tents just before 10.00pm, satisfied with our first reasonably long riding day.
Day 3 - Sunday 28/10/18 Wynyard to Ulverstone (47.0kms)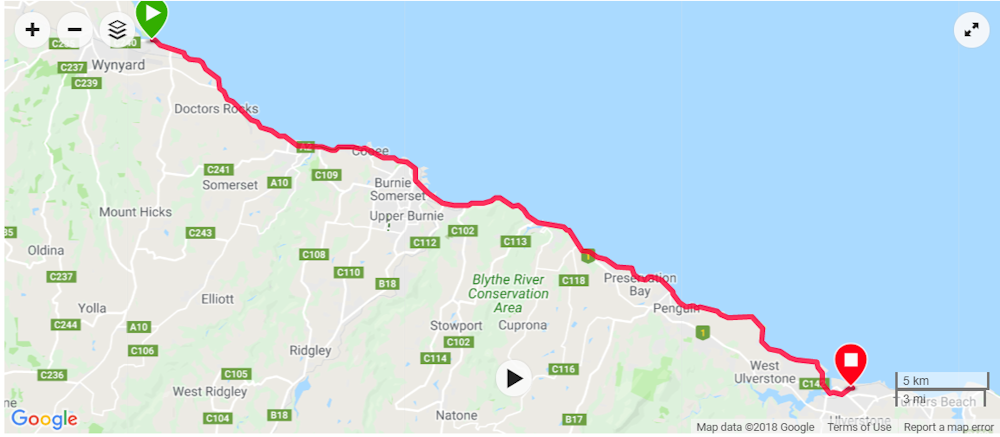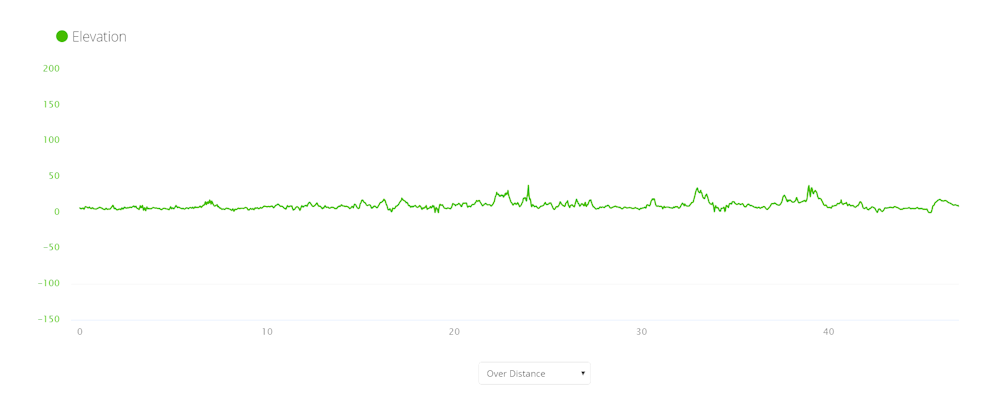 The night had been very cold. We later found out that the overnight temperature in Wynyard had dropped to 0.6oC. In my 4-season tent I had been slightly uncomfortable in my 2-season sleeping bag but I was too lazy to find and use my thermal liner as well as my silk liner. I did wear my beanie though. Fortunately, by the time we had removed our gear from our tents in the morning to pack on spread out tarps, the sun was shining in a perfectly clear blue sky. We made a cup of tea and were ready to leave just after 9.10am.
Matthew stopped on the way out of Wynyard to take some photos looking back towards Table Cape in the background. Beautiful scenery.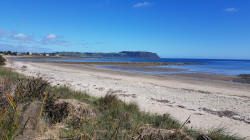 While we were in Burnie Matthew needed to stop at the Kathmandu shop to buy a new drinking mug. This was necessary because when he was making a cup of tea at Wynyard he poured boiling water into his old plastic mug and the mug exploded with a loud bang. Fortunately, he was not scalded by the hot water. We tried to understand why this had happened. Matthew thought that there might have been a tiny crack in the inside of the mug and, as the hot water was poured into the mug, a small amount of air in the crack suddenly expanded and the mug literally blew itself apart. I didn't have a better explanation.
At Kathmandu Matthew bought two new insulated mugs, with lids, that he wasn't really happy with. However, that was all they had. He also bought a new Nalgene drink bottle. He bought some muffins, two of which we ate at a pleasant roadside stop on the way out of Burnie.
Earlier, the sunny morning had persuaded me to ride with just my riding top, without my rain jacket on. Despite this having been a mistake, I ignored my discomfort until we had a rest stop at the Penguin Surf Life Saving Club and I eventually put on my rain jacket to get some relief from the cool sea breeze that had accompanied us from Wynyard.
The scenic route through Penguin had its share of hilly sections but it was a relief to be off the 110kms/hr Bass Highway and on a quieter coastal road with beautiful scenery out over Bass Strait. We eventually reached Ulverstone and threaded our way through town towards the Big 4 Caravan Park. We booked into a very comfortable family cabin as a treat after our previous cold night. The cost was covered by a small Tattslotto win that I had.
Matthew kindly offered to ride into town later and bought us a Subway roll with lots of fillings. Very pleasant and a bit different for me. We enjoyed a comfortable evening, relaxing and watching TV.
Our next day's ride was to be through Devonport to Port Sorell.
Day 4 - Monday 29/10/18 Ulverstone to Port Sorell (38.7kms)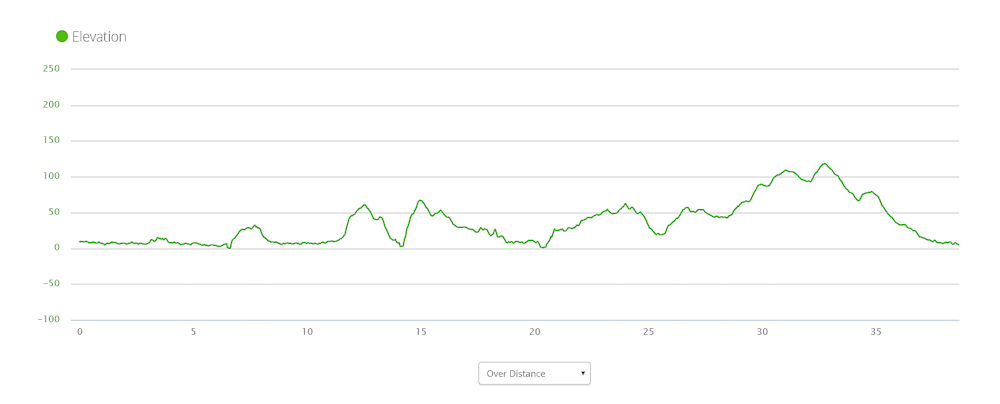 After a very comfortable night we were ready to ride away from our cabin at about 8.12am. Just before leaving, and having loaded all my gear onto my bike, I noticed my back wheel appeared to be slightly out of alignment. As I touched the tyre I saw that it was flat. This surprised me as I had fitted kevlar tyre liners to both tyres to help prevent punctures.
Matthew immediately began to help me to get the rear panniers off my bike while I found a new tube and my bike pump. Within 30 minutes the tube had been changed and we were ready to leave again.
We were fortunate to have a bike track for the first few kilometres but we inevitably needed to join the Bass Highway on the hard shoulder, with much traffic passing us closely at speeds up to 110kms/hr.
The highway hills were not overly steep but one in particular (at Lillico I think) gave me some trouble and I needed to stop three times to get my breath back before plodding on again.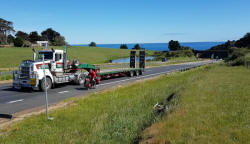 Eventually we turned off the highway and rode a few kilometres along country roads then followed the track of an old tramway before crossing the Don River at a footbridge .
This route then led us to an incredibly steep walking track where I was forced to push my bike, with several stops on the way up to the Devonport Swimming Pool and on to the start of Steele Street. Matthew kindly came back to help me push my bike up some of these hills.
From there we made our way down to Devonport shops, where Matthew bought us some sandwiches for breakfast and I was able to buy another spare inner tube. We then made our way down to the wharf area where we rode along a bike track until we rejoined the Bass Highway.
Our next target was the turnoff to Port Sorell. Here the road undulated regularly but no need for me to walk the bike. The B74 was a very busy road indeed, with much traffic but fortunately no anxious moments. We had a 15-minute rest break outside the shop in Wesley Vale before continuing on our ride.
The ride into Port Sorell was a delightful downhill run on a wide road. I thought about the possibly tough ride back up the hill on the next leg of our trip.
We reached the Lions Club Caravan Park at Port Sorell at about 2.15pm, where Matthew paid for a cabin. This was very welcome accommodation and very comfortable. We had a relaxing afternoon including a walk along the beach to Shearwater then back to the caravan park for fish and chips dinner.
I repaired the puncture during the evening while we enjoyed biscuits and cheese with cups of tea.
Next destination Beauty Point about 48kms away.
Day 5 - Tuesday 30/10/18 Port Sorell to Beauty Point (48.2kms)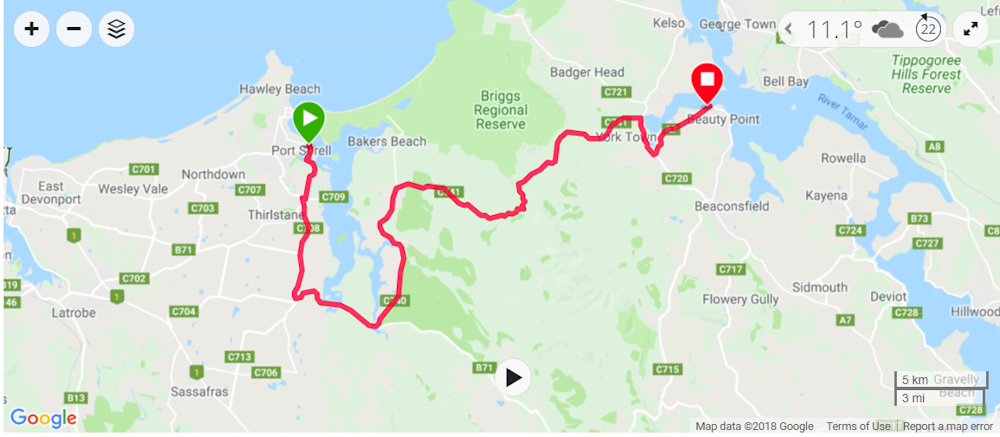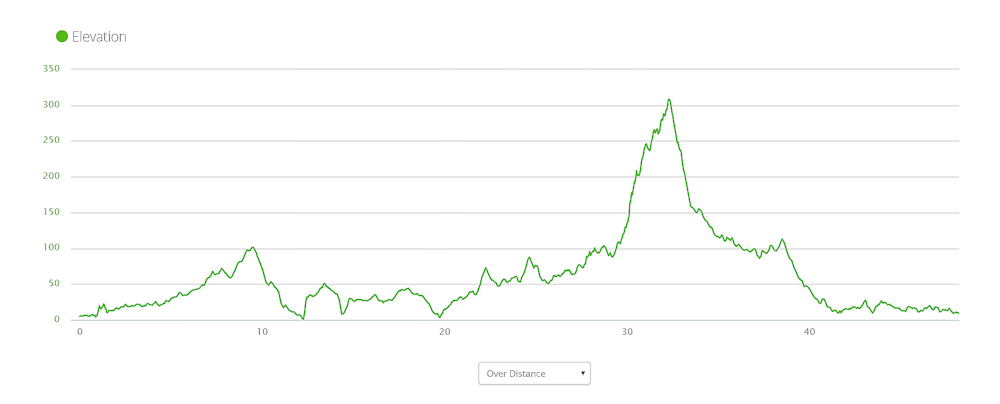 We had a reasonably comfortable night but I thought Matthew's sleeping area was a bit cramped. However, he said it was OK. After a cup of tea for breakfast we left at about 8.20am.
Matthew had done a bit of map research during the previous evening and found that using a bike track would mean we could avoid a long, steady climb away from Port Sorell. This proved to be an easy, pleasant route. There was a short uphill section of narrow, bush gravel track but this presented no problems.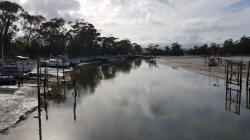 We soon reached Frankford Road (B71) and rode along this busy route for about 11kms. At several narrow, steep areas we actually pulled off the road to allow trucks to pass us from behind.
We then turned onto the gravel road (C740) towards Narawntapu National Park and, after about 9kms, we took a right turn onto the C741 (Bowens Road). This gravel road led us up over the Dazzler Range for a distance of 18kms towards the Yorktown junction with the West Tamar Highway.
The Dazzler Range certainly presented me with some challenges. There were quite a few occasions when I simply could not ride on the steep, loose gravel and I was obliged to get off and push my bike up. Matthew managed the entire ascent without needing to push his bike. Well done, Matthew!
Which brings me to another point. Matthew showed infinite patience with me on just about every hill we encountered on this trip. His faster pace meant that he was waiting for me at the tops of hills but he never made an issue of it. He used his spare time taking photos or checking maps or, sometimes, taking a video of me as I struggled up towards him and conducting a video interview to ask how I felt.
At the top of the Dazzler Range our reward for reaching the top of the climb was a banana and a Gatorade drink, before tackling the descent on the loose gravel surface. This, for me at least, required extreme care and meant that I couldn't allow my bike to run free but had to keep brakes applied (about 70% back and 30% front) to limit my speed. The maximum speed on this descent was just over 52kms/hr - quite fast enough for me on loose gravel.
Near the base of the Range I suddenly discovered that I could not change the front chainring from the smallest to the middle. Matthew thought a small stone may have become lodged in the gear change mechanism. We both had a careful inspection of the likely cause but, not wishing to do any dismantling just then, I decided to keep going in the lowest gear range until we reached Beauty Point, where we could conduct a thorough examination of the bike. As I continued riding in low gears - lo and behold - whatever had caused the problem had cleared and everything was back to normal.
It was a great relief to finally reach the highway at Yorktown and to be back on a bitumen road. From there it was a short ride until we turned off towards Beauty Point. At the caravan park Matthew insisted on paying for a very comfortable cabin. Thank you again, Matthew.
Once we had organised ourselves and had our showers we rode the short distance on unencumbered bikes to buy our evening meals. The evening was spent relaxing with cups of tea, watching TV.
Next day's destination would be Low Head for a camping stay.
Day 6 - Wednesday 31/10/18 Beauty Point to Low Head (44.8kms)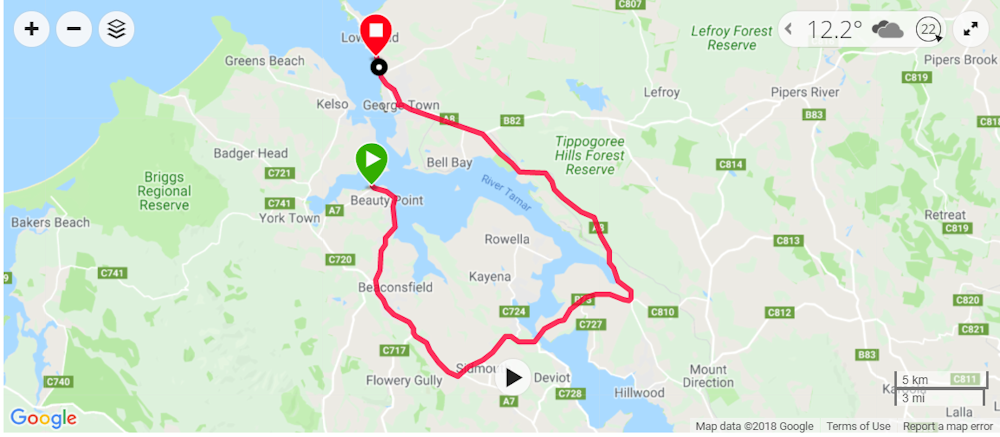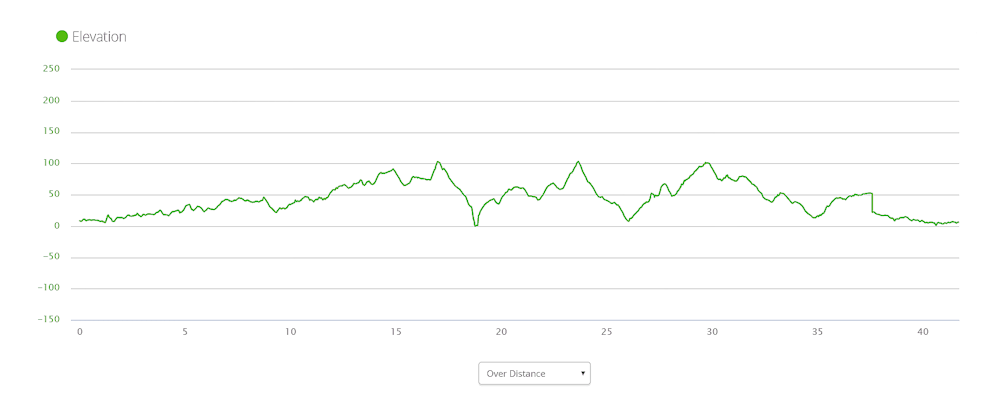 Another comfortable night in cabin accommodation - kitchen chairs but no cosy couch for us to relax on while we watched TV. I supposed we were getting spoilt with some of the cabin comparisons.
We were on the road by 9.00am and wound our way around the foreshore before joining the West Tamar Highway to Beaconsfield. Whilst planning for this day's ride we decided not to stop at Beaconsfield but, as we had not eaten breakfast, we changed our minds and had a snack and a drink there before continuing our ride.
When we reached the Sidmouth general store, just prior to crossing the Batman Bridge, we stopped for a few minutes at an outside table for me to get my breath back but we didn't need any more supplies at that stage.
We stopped on the Batman Bridge while Matthew took some photos. This obviously did not please one truck driver who threw up his hands in exasperation as he passed. We had moved our bikes well over to the side so he had plenty of room, with no oncoming traffic from the other direction at that time.
Once we were on the East Tamar Highway we had many log trucks and other assorted heavy vehicles to contend with. In all fairness, drivers gave us enough space, especially when our "pit lane" was very narrow or non-existent.
At the junction with the road to Bridport we stopped for a few minutes and bought cold drinks at a coffee van. The run into George Town was uneventful. We stocked up with salad rolls for our evening meal then continued on to the Low Head Tourist Park. We set up our tents on a soft grassy area close to the camp kitchen and toilet block. It was a sunny afternoon with a slight northerly breeze.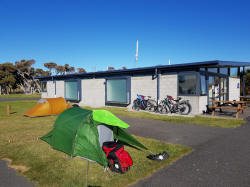 We were surprised to see that in the camp kitchen the toaster and electric jug had been hard-wired into the wall, just like an off-peak heater would be. This was clearly an effort to dissuade campers from using the power points to recharge mobile phones and other electronic devices. This seemed to us to be a rather petty penny-pinching plan and might eventually come back to bite the management and be expensive when a toaster or jug needed to be replaced. We were able to use our fully-charged battery packs to recharge our phones and my Fly6 camera, Fly12 camera and both of our Garmin GPS units.
Next day's ride to Bridport.
Day 7 - Thursday 1/11/18 Low Head to Bridport (59.2kms)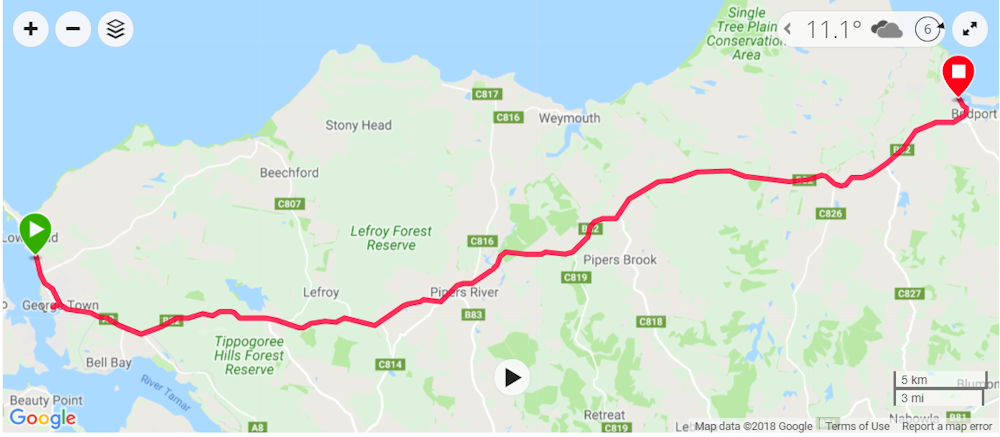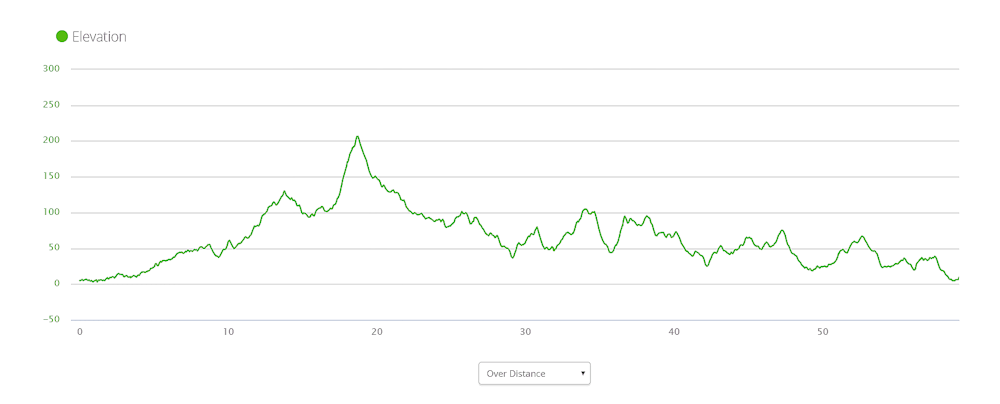 We were up and about early and, once packed, needed to shake out our tents to remove the moisture from the overnight heavy dew. We made a cup of tea in the camp kitchen and were on the move by 8.30am.
The first destination was the Woolworths shop in George Town, where Matthew bought a replacement head torch for the one that he had left at Port Sorell a couple of days earlier. We then visited the nearby bakery where Matthew bought us some party pies and some sandwiches for later on.
When we turned off the East Tamar Highway (A8) to Bridport Road (B82) I thought there might be fewer trucks, but I was sadly mistaken. Matthew began keeping count of semi-trailers/B-doubles that passed us in both directions and, by the time he stopped counting just over half way along this road, he had reach 60 trucks. We took extreme care and swung off the road to avoid potential conflict with trucks whenever there was no hard shoulder, even though this meant frequently riding into loose gravel.
At the Pipers River shop we bought drinks and enjoyed our sandwiches. The ride continued with many uphill slogs; for me this meant using the lowest of my 30 gears. I did not, however, need to get off and push my bike up any of these hills.
With about 20kms to go to Bridport we were surprised when a petrol driven mountain bike sped past us while we laboured uphill. The rider did not acknowledge us. A few kilometres further on Matthew had opened up a gap of about 300m in front of me. I noticed that while Matthew was waiting for me to rejoin him he was apparently talking to the "bike" rider. As I reached them it seemed the 20-something man did not know what he was doing or where he was going because he thought he was on the road to Launceston. When we told him that Launceston was in the opposite direction, about 60kms away, he said he was running out of fuel. He explained that a man had told him to go this way to Launceston. We had absolutely no sympathy for him as he appeared to be a total idiot. No helmet, dark clothing, no spare fuel, no map, no idea. We wished him the best of luck and left him as we continued on to Bridport. He might still be walking.
What a relief to reach the Backpackers' accommodation at Bridport. Matthew had previously phoned the owner (who he had met on his September 2018 ride) but he said he would not be in Bridport as he was still on his honeymoon, having recently been married. However, he said we could stay and left a key for us. The cost was $25 each per night that we paid to a neighbour. Perfect. There was thunder and lightning during the evening, with a forecast of storm conditions the next day. We had made the decision to have a rest day in Bridport and sit out the expected bad weather.
We had our showers, bought a few supplies from the shops up the hill and relaxed during the evening watching TV in comfortable lounge chairs. We were the only occupants as the hostel was officially closed until the next day.
Day 8 - Friday 2/11/18 Rest Day at Bridport
No need to get up early this day. The thunder and lightning that started on Thursday evening continued with torrential rain all morning. During a brief break in the storm Matthew decided to ride up the hill into town to buy some soap powder and supplies for lunch.
In the afternoon the weather improved, with some sunshine. Matthew ventured out again, this time to take some photos near the foreshore. The wind remained strong and we thought it might be favourable for our ride to Gladstone on Saturday if it remained westerly.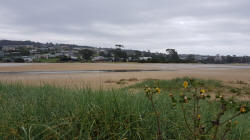 A few other guests arrived as the hostel was officially open for business. We shared the kitchen and lounge areas but were still very comfortable.
Day 9 - Saturday 3/11/18 Bridport to Gladstone (60.4kms)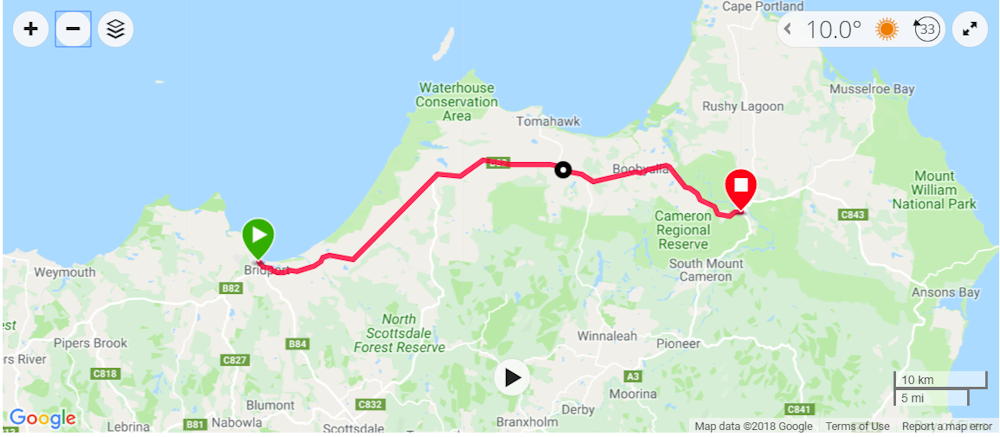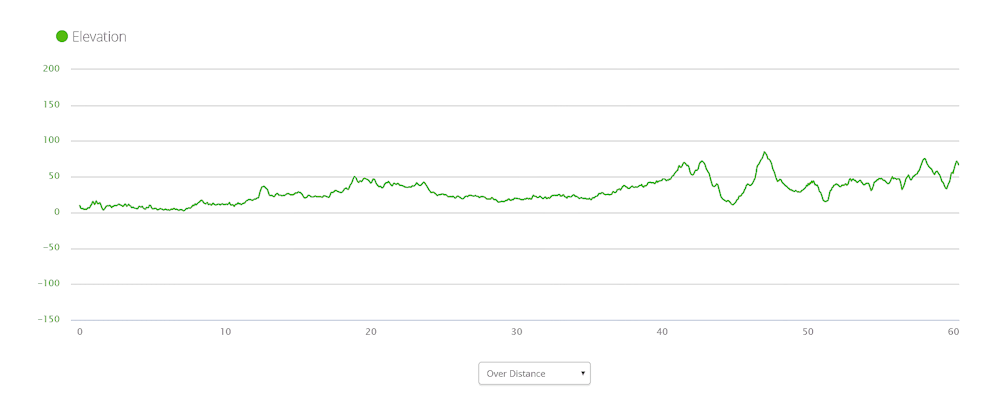 We were very pleased that we had a rest day on Friday. After a very comfortable stay at the Backpackers' hostel we were ready for the next leg of our journey.
We had discovered that Northern Tasmania people were having a long weekend - I think it was Recreation Day - to make up for the lack of a corresponding Regatta Day in Southern Tasmania.
The wind was blowing an absolute gale as we prepared to leave Bridport, but fortunately for us the wind was coming from the west and we were heading in a mainly easterly direction.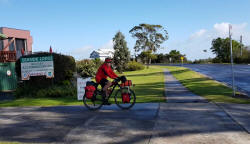 We left at 8.30am and immediately felt the positive effects of the tail wind. It was a real treat to be able to coast along in the high gear range, even on uphill slopes.
Somewhere along the road near the Barnbougle Golf Course we were making the most of the tail wind when, suddenly, I heard a loud screeching noise. I immediately stopped and discovered that the entire rear pannier rack and the attached gear had pivoted back on the lower bolts and was disconnected from the horizontal support bars.
After taking off my spare tyre and tent I was able, with Matthew's help, to re-secure the rods into their mountings. Fortunately, I had the correct spanner for the job.
When we reached the gravel road we were still able to maintain a reasonable speed. At one point along this section I swerved across a mound of soft gravel on the left side of the road. As I attempted to get back onto the hard surface the bike's front wheel dug in and I fell, with the bike on top of me, at zero speed onto my right knee. There were a few cuts and grazes, nothing serious, but I was concerned that I might have re-injured my patella that had been broken in a March 2018 fall on a rock track near Lauderdale.
Apart from some soreness there were no significant ongoing problems.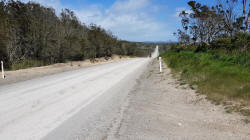 During the entirety of this part of the ride there were literally dozens of 4WD vehicles, campervans, caravans and assorted trucks all heading for holiday destinations in the far north-east. We needed to be constantly aware as they approached from behind and showered us with dust and gravel they threw up as they passed.
We eventually reached the sealed road a few kilometres from Gladstone. As we approached the town there were several steep hills and the road twisted and turned. However, the strong wind continued to be of some assistance to us. At Gladstone we booked into the Gladstone Hotel, had our showers and wandered along to the corner shop for a few supplies.
Matthew bought us a very nice dinner to celebrate my 74th birthday - thank you Matthew - and we relaxed in the lounge during the evening watching TV in front of a cosy wood heater.

Next day's plan to get to Eddystone Point for a camping night.
Day 10 - Sunday 4/11/18 Gladstone to St Helens (69.1kms)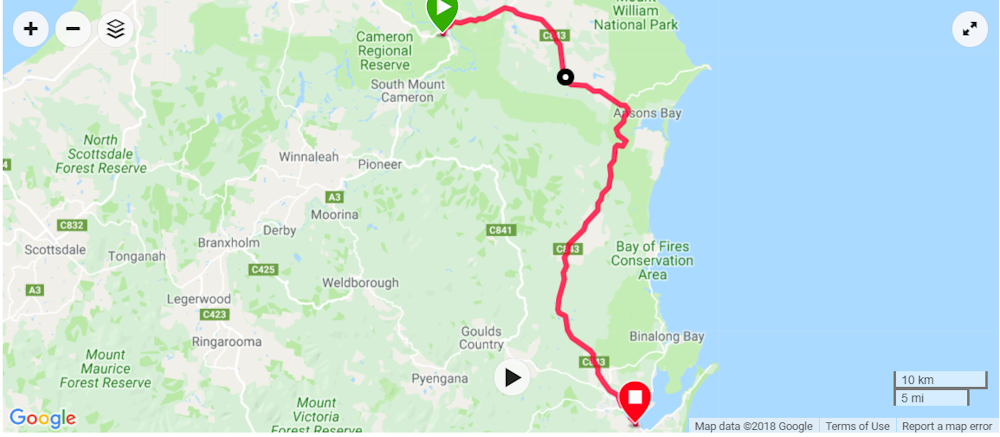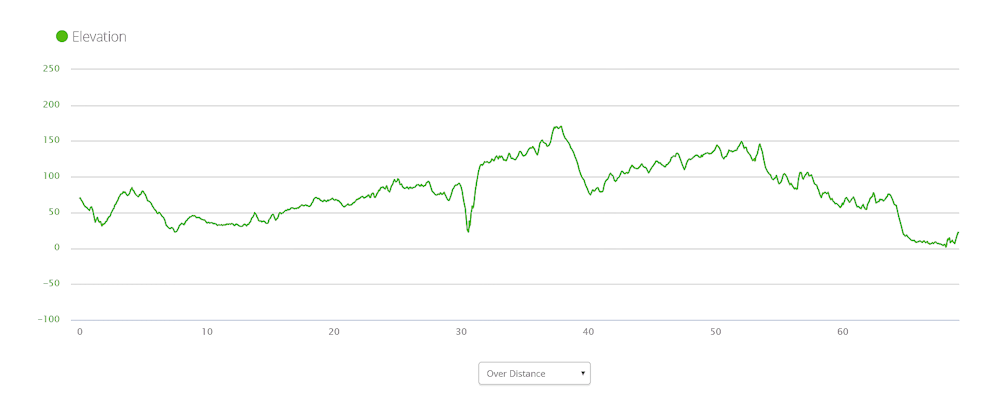 We left Gladstone at about 8.30am after having a toasted sandwich for breakfast at the corner store. The weather was overcast and there was a strong NW wind blowing, which was of some help to us. Initially, our plan was to ride to Eddystone Point (actually Deep Creek) and camp there for the night. However, this option would have probably meant sharing a very crowded camping area with holiday-makers who had passed us on Saturday. When we reached the junction of the road to Ansons Bay we talked about the alternatives, including the possibility that, if we rode to Ansons Bay we might be told by a Parks ranger not to camp at Ansons Bay but to go instead to Policemans Point (as there was no official camping allowed at Ansons Bay).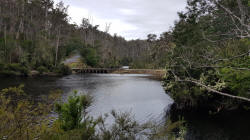 While we were talking about the alternatives, Matthew said he would be able to ride to St Helens but if I needed to then we could camp in the bush close to the road. If we needed to camp then we would have had sufficient supplies to enable us to do that. I decided that I could give it a go and said that we should head for St Helens but I might need more rest stops on the way.
The decision was made to turn south on the road to St Helens and ride the extra 43kms, almost all of which was on a gravel road. I must admit I was a bit apprehensive about whether I could make that distance.
Whilst on this leg of the trip Matthew showed great patience with my need to have extra rests and my generally slow progress.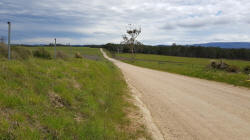 I was constantly working out the distance until the bitumen road started, about 10kms out from St Helens and how long it would be until the road finally descended after Priory for the final approaches to St Helens.
Needless to say, it was a great relief to arrive at the Big 4 Caravan Park, which was a short distance through St Helens. We booked in for two nights at the unpowered tent site area, up the hill from Reception, and close to the magnificent camp kitchen.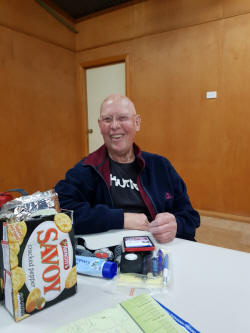 We spent a pleasant couple of hours in the camp kitchen where we ate our "emergency" supply of tins of spaghetti, in the expectation that we would be close to civilisation through to the end of our ride and wouldn't be needing them. This was followed by cheese and biscuits with cups of tea.
Day 11 - Monday 5/11/18 Rest Day at St Helens
The reason for having a rest day was to enable me to go to St Helens Hospital and ask if it would be possible to have my suprapubic catheter (SPC) changed. I considered this to be necessary because, on two previous multi-day bike rides, the catheter had become blocked and my urine flow had stopped.
At around 9.15am we walked along to the hospital with my replacement catheter and on/off valve and as soon as I asked a nurse she said that she would be able to do the catheter change, and did so immediately. I was very impressed and couldn't help mentally comparing this situation with what I might expect if I turned up at the Royal Hobart Hospital A & E Department as a non-resident with a similar request.
With my new catheter in place we went to a nearby bakery for breakfast and then called in at the IGA supermarket for some supplies for the day.
Back at the caravan park Matthew volunteered to do a load of washing while I cleaned up my bike after the two days on gravel roads and readjusted the mount for the front camera. On his return we discovered the clothes were still a bit damp so I took them back and put them through another drying cycle.
We spent most of the rest of the day in the camp kitchen and had tinned vegies/beans on toast for dinner. It was much quieter in the camp kitchen in particular and in the caravan park generally because most people had returned to their homes after the long weekend.
For some strange reason, probably just general wear and tear, both my inflatable mattress and inflatable pillow had deflated during the night with slow punctures. I made a mental note to check and repair them in Bicheno at the end of Tuesday's ride.
Day 12 - Tuesday 6/11/18 St Helens to Bicheno (77.2kms)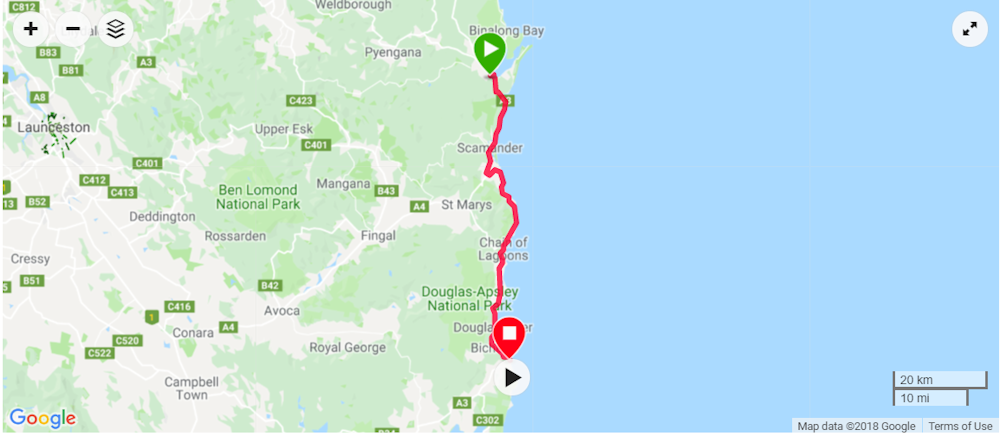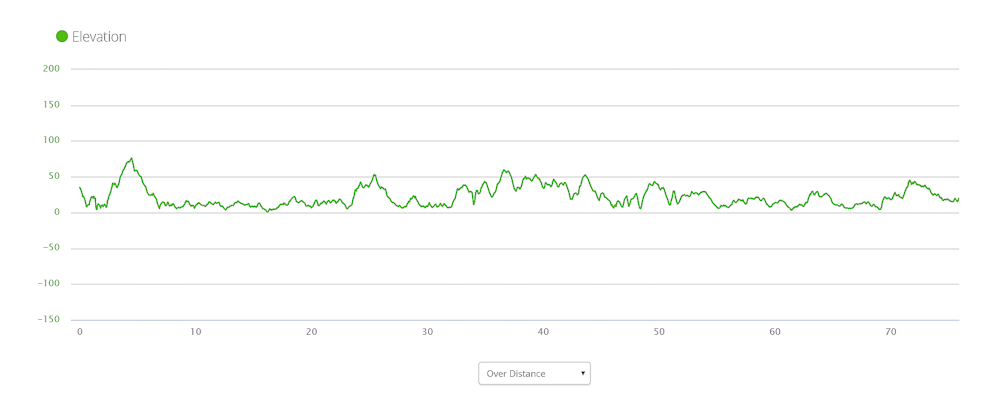 As we left St Helens we initially followed the foreshore track before rejoining the highway as it wound upwards away from St Helens. At various places along our ride Matthew stopped to take photos of the incredible coastal scenery. This usually occurred while I struggled up the frequent short, steep hills. Matthew remarked on one occasion that it seemed as though I was in survival mode as I laboured up hills in the granny gear. I couldn't disagree with him.
Our stop at the Scamander takeaway shop was something of a disappointment. As a structure it seemed as though it was on its last legs and could have benefited from a major overhaul. My coffee, I thought, might have reacted in my stomach because I had bowel troubles for most of the time and needed to find a bush toilet when not far from Bicheno. [Probably too much information!]
My progress continued to be slow, due to the hard riding conditions courtesy of a strong cross wind and my injured right knee that was still tender, even after four days. Matthew showed his usual patience and encouraged me along the road. We had earlier split the day's ride into 3 x 25kms legs and marked them off with a longer rest break and a snack as we went.
At one of Matthew's photo opportunity beach detours (Shelly Beach) he spotted a blue bottle - a 25mm long wingless female blue wasp and took some photos of it. Later, at Bicheno, he remarked that it was possible to see our reflections in its highly reflective body. We had left it in peace to enjoy its walk near the beach.
Another remarkable feature on this leg of the trip was that on several occasions we passed close to trees with white flowers that had a delightfully strong honey smell.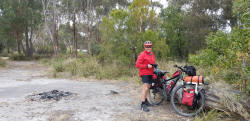 By the time we reached Bicheno it was approaching 4.45pm. On a previous ride Matthew had stayed at the Bicheno East Coast Holiday Park and, as there was a unit available, we opted for that.
It was too late to attempt to buy an appropriate glue to fix my sleeping mat. Using the kitchen sink we manhandled the partially inflated sleeping mat until Matthew located the offending puncture. After carefully marking the leak and drying that area I managed to seal the hole using a good quality inner tube repair patch. The hole in the pillow was also identified but would need to wait for some glue as the pillow had a soft fabric surface. The pillow had given me good service from 1996, if not earlier. Its use-by date had arrived.
We enjoyed dinner at the local pub. As it was Melbourne Cup day the pub was still brimming with customers but we eventually managed to get a table and our meals - chicken parmi for Matthew and chicken schnitzel for me. Lovely meals with an accompanying beer. A very relaxing evening in the unit after our longest distance ridden so far.
Day 13 - Wednesday 7/11/18 Bicheno to Swansea (47.0kms)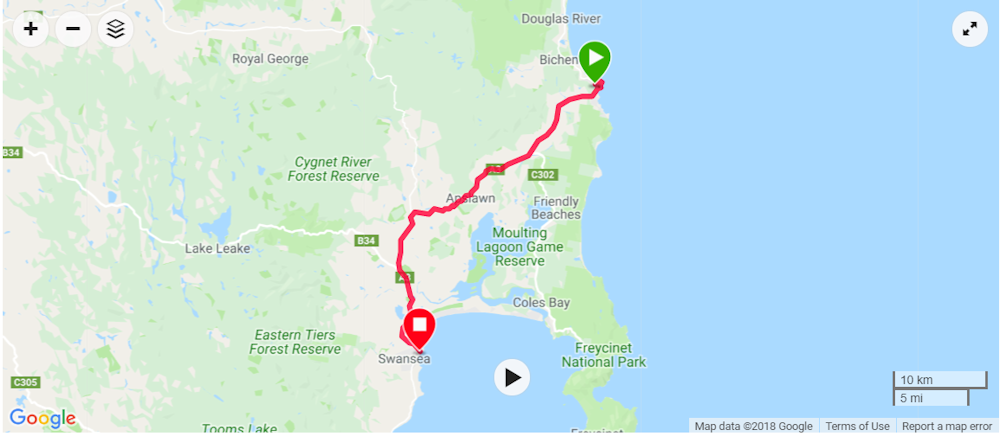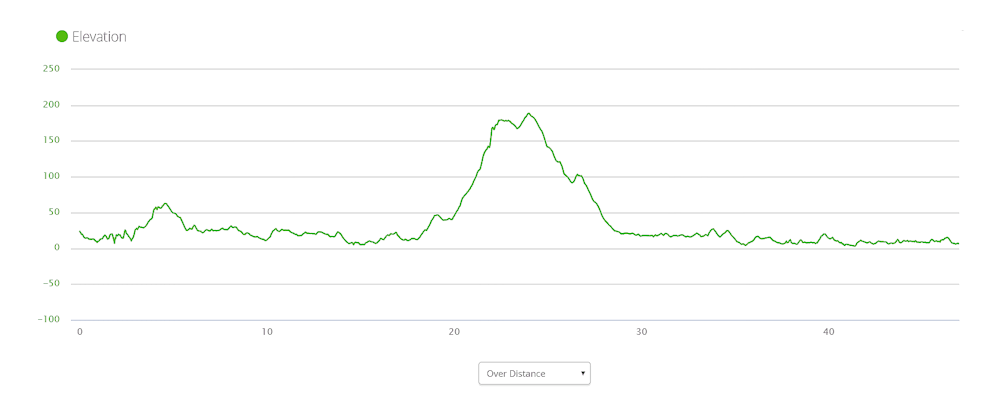 We were on the road at 9.00am with an initial detour around the foreshore area and the Gulch to enjoy some photo opportunities.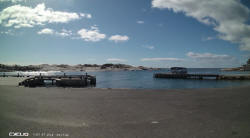 As we joined the Tasman Highway we experienced south-westerly to westerly strong winds that made riding very uncomfortable indeed. We had the usual mix of cars, campervans, caravans, 4WDs and trucks to contend with, without the benefit of the relative safety that a hard shoulder would provide. This situation remained until we were within about 10kms of Swansea.
Just south of the Coles Bay Road junction we stopped at the Pondering Frog café for a toasted sandwich and drink (breakfast). I can thoroughly recommend this as a delightful place to stop for a snack. There was also an intriguing beehive set into the wall of the building with a transparent tube through which the bees passed in order to reach their nesting area. I had not seen anything like it previously.
As we rode along there were stunning views out to sea of Freycinet Peninsula in the distance.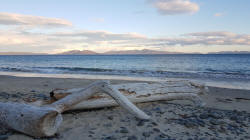 We continued our ride south and eventually reached Cherry Tree Hill where, because of the adverse wind and the steepness of the hill, I needed to push my bike almost the entire ascent.
When we finally reached the top I was looking forward to a fast descent but I was disappointed because the wind hampered our efforts to benefit from the downhill run. There were, however, a few occasions as we approached Swansea where we were able to enjoy a very welcome tail wind as the road changed direction.
At the general store Matthew bought some supplies for the evening. We then rode along to the Swansea Holiday Park in rain and talked about accommodation alternatives, such as tents in cold rainy conditions or a cabin at $144 for the night. I opted to pay for a cabin so that we could enjoy another good night's rest.
During the evening the subject of the final few days was discussed. We had originally planned to ride down the Wielangta Road from Orford to the Arthur Highway and spend a few days on the Tasman Peninsula before heading for home. However, in view of the weather that evening and the forecast for the following few days we decided not to do that side trip but to leave Port Arthur for another separate trip later. The decision was to spend Thursday night at Gumleaves (Little Swanport), Friday night at Buckland and ride home on Saturday 10/11/18.
Day 14 - Thursday 8/11/18 Swansea to Little Swanport (33.9kms)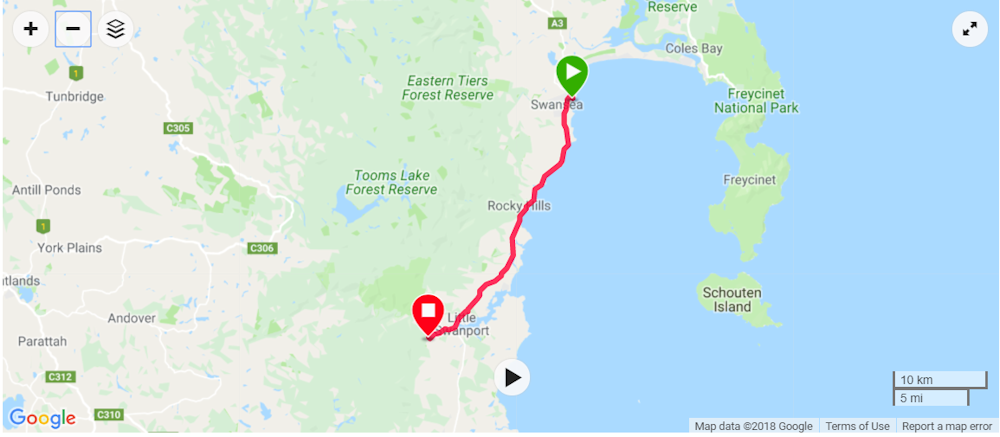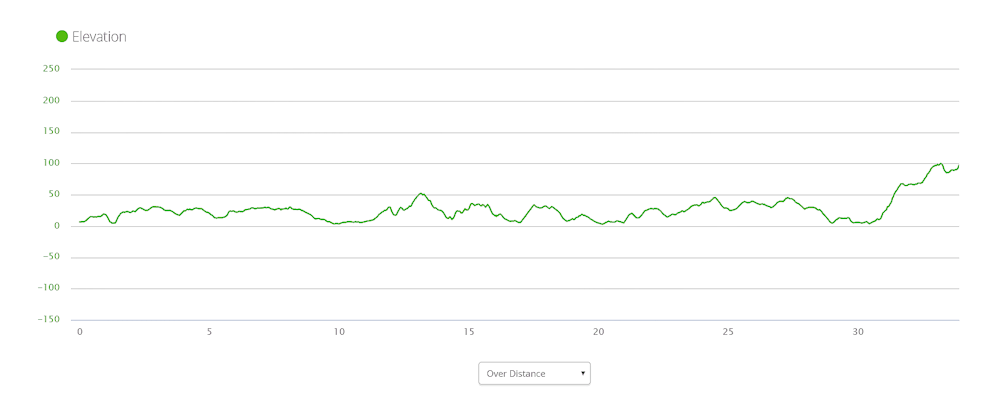 We started this day's ride with a visit to the IGA supermarket to get some supplies for our evening meal - some sausages and coleslaw and a small loaf of bread.
The wind continued to play its normal games with us, coming as it did from the south-west while we were travelling south. This was a fairly short riding day but there were many hilly parts to the trip, particularly at Rocky Hills. As was common for most of the Tasman Highway there was very little hard shoulder for us to ride on. As a result, whenever we heard trucks approaching from behind we moved off the road into varying types of gravel.
The views along this stretch of coastal highway were absolutely magnificent, especially when looking back towards Freycinet Peninsula.
We stopped for a breather at the Mayfield camping ground and Matthew showed me where the three tunnels were, under the highway, that I was previously unaware of.
We turned off the highway at Little Swanport after about 30kms of riding and headed along and up the 2kms of gravel road to the Gumleaves Bush Holidays development. I found great difficulty riding on the steep, loose gravel and, once again, I was forced to push my bike on several occasions. The accommodation cost us only $35 each for separate tiny rooms just like the dog boxes at Derwent Bridge.
It would have been a very cold night if the manager had not brought small fan heaters for us to use. The toilet/shower block was close by and the small kitchen was in another small building.
We cooked our sausages and had a very nice meal with the coleslaw and slices of bread and butter. We spent the afternoon walking around the bushland and saw some deer, wallabies, kookaburras and rosellas being fed. I thought it would have been better not to feed the wildlife but I supposed children and tourists like to see them at close range.
We were fortunate to be able to have the use of a large classroom type of building during the evening where we "chatted" with a Frenchman who was travelling in Tasmania and on the Mainland for a year away from work. His English was a whole lot better than our French!
Friday's plan was to ride to Buckland and camp in a grassy area behind the pub, near to the Council toilet block.
Day 15 - Friday 9/11/18 Little Swanport to Buckland (47.0kms)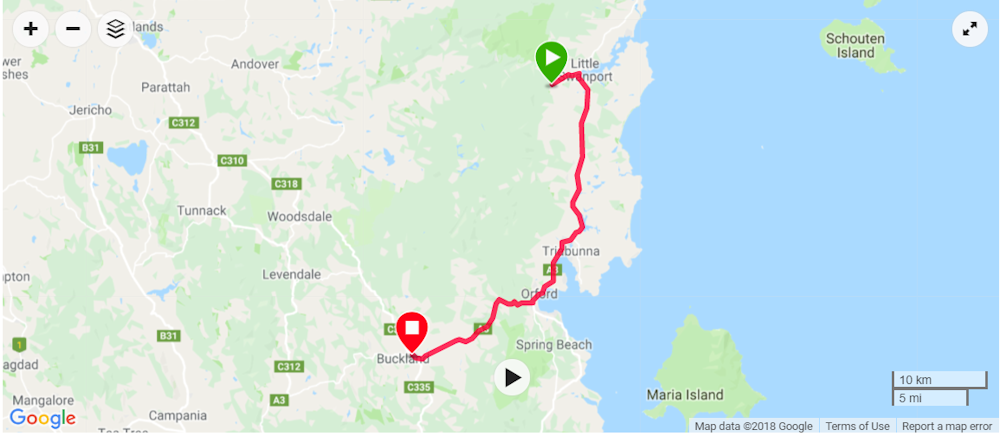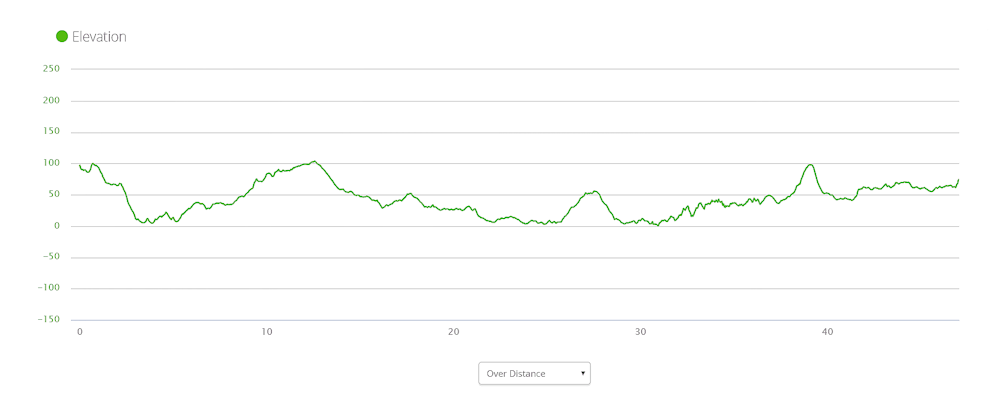 We left at 9.05am after a peaceful night in our single-person accommodation and having had a cup of tea for breakfast. The first 2kms of the journey was on a gravel road (Swanston Rd) before rejoining the Tasman Highway. Coasting down to the highway was considerably easier than the previous day's uphill struggle.
Despite quite a few hilly sections the wind was kind to us and we made good progress through Triabunna. As we approached Orford Matthew stopped to take photos at Raspins Beach and the dredging work that was being undertaken.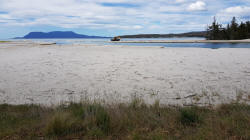 We then took the foreshore track until we reached the bridge over the Prosser River. At the IGA store we bought a few more supplies then enjoyed a lunch snack at the café on the corner.
All the while I was thinking nervously about the narrow, winding hill out of Orford but when we began actually riding up alongside the river the road seemed to be a bit less steep and a bit wider than I had been expecting. Nevertheless, I still needed to push my bike up the steepest 200m or so, around a sharp bend, before being able to ride the remaining ascent.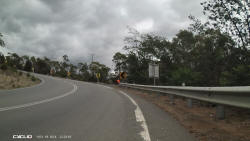 There were still several hills to contend with, but the weather stayed calm enough for us to not have to struggle. At Buckland we first called in at the shop then checked with the pub manager if it would be OK to put up our tents in the paddock near the toilets. With this being okayed we set up our tents and changed into our non-riding clothes.
We had intended to have a meal at the pub but as the cook/chef had a broken ankle there were no meals available. We went back to the shop to pre-order our dinners then back to the pub for a couple of beers. We had a very nice meal at the shop then, following a very cold rain shower, decided to get into our tents at about 5.15pm. It took me a good hour to sort out my gear as it had been literally thrown into the tent prior to going to the shop and pub. A very cosy night in the tent despite more rain.
Saturday should see us back home during the afternoon.
Day 16 - Saturday 10/11/18 Buckland to Lauderdale (57.3kms)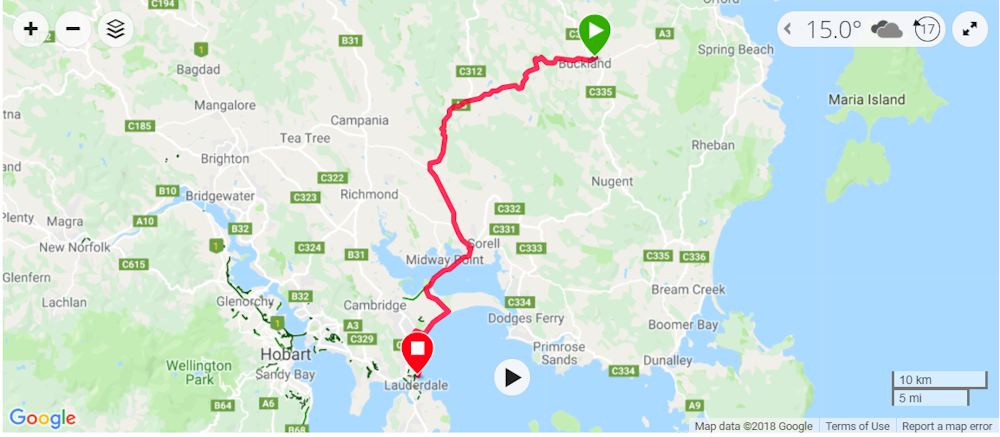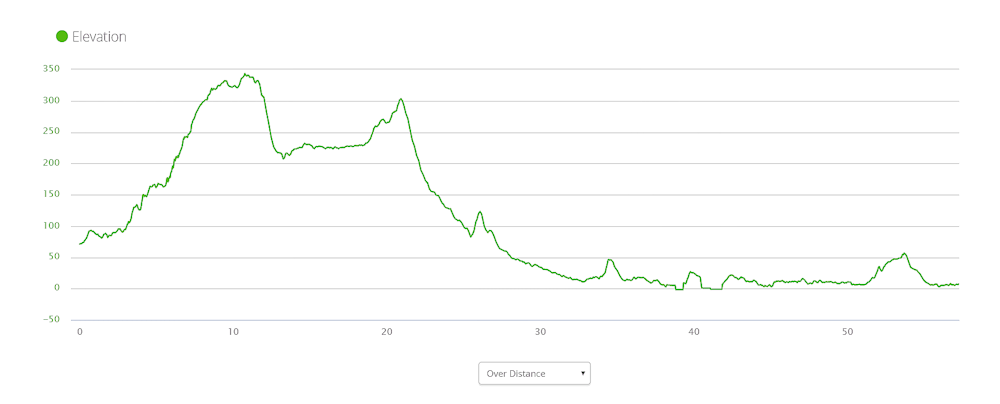 Our tents were thoroughly wet following the overnight rain. Where we had erected them the previous afternoon they had no chance of drying out because they were in the shadow of bushes. As soon as we had emptied the tents we moved them to where they had a chance of drying, in full sun.
If I had been worried about the hill out of Orford on Friday then I was more concerned about Break-Me-Neck Hill that beckoned within 3kms of leaving Buckland. I was not surprised that I needed to resort to Shanks's Pony on the steeper bits and, on those, tried very hard to hug the edge of the road facing oncoming traffic. My inability to ride steep hills must have been very frustrating for Matthew, who rode all the way to the top. However, he was the usual calm and considerate son while he waited for me to rejoin him. The same thing happened a couple of kilometres further on with the ascent of Black Charlies Opening.
The descents from both of these hills was truly exhilarating - fortunately no vehicles following me as I checked my mirror frequently - and I was able to use the full width of the down lane. My maximum speeds on each of these hills were close to 60kms/hr whereas Matthew reached 80kms/hr using a more aerodynamic position on his bike, plus his need for speed.
While at Sorell we stopped for a break and a snack at a park before continuing on for the final 25kms. I was very impressed that Matthew was prepared to ride with me to my home in Lauderdale, despite having passed within 300m of his home in Midway Point. He simply said he wanted to finish the ride properly.
It was a tremendous relief to arrive back home after what was, for me at least, a testing ride. I knew it was not on the same scale as our ride from Lauderdale to Smithton via the Florentine Road and the Western Explorer at the beginning of 2017 but it had its moments of difficulty nonetheless, partly perhaps because of my recent chemotherapy and hormone therapy.
There were no medical issues associated with the suprapubic catheter, mainly because I had the catheter changed at St Helens. Also, no other medical problems apart from general soreness and tiredness. So ended a challenging and most rewarding 16-days bike trip.
Thanks to Matthew for his patience with my slow progress and for being a great son and a considerate riding companion.