TRIP TO NEW ZEALAND
TONY WATTON AND MATTHEW WATTON
11/11/2019 to 8/12/2019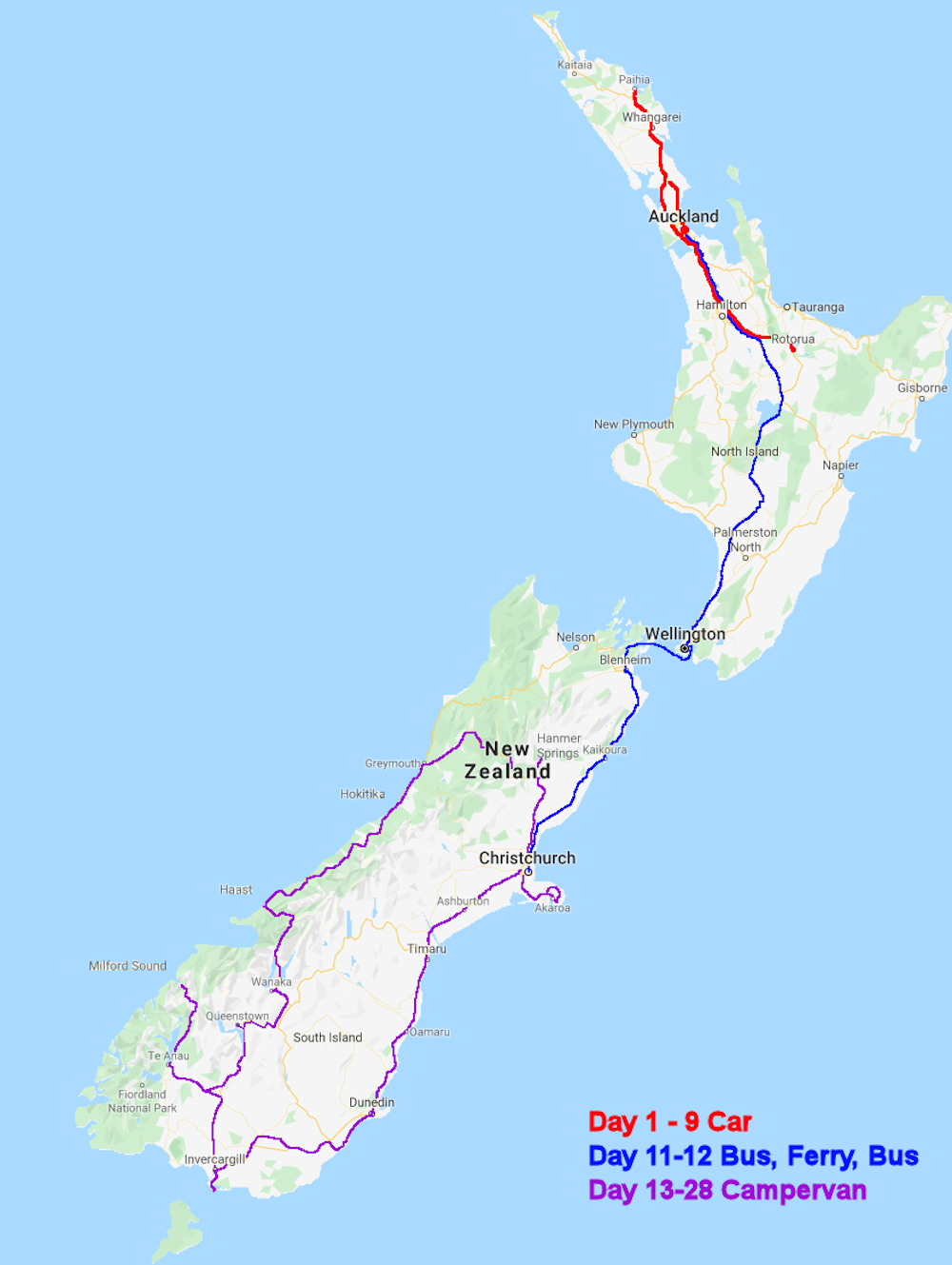 Google Maps route taken during the trip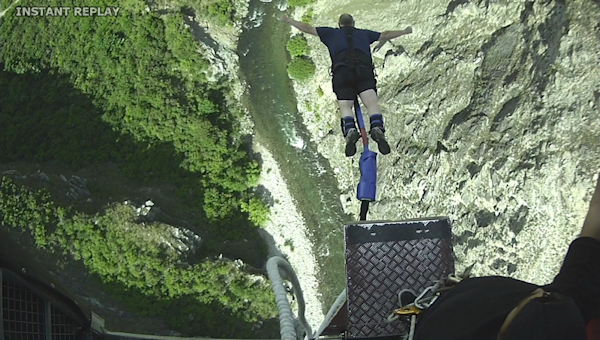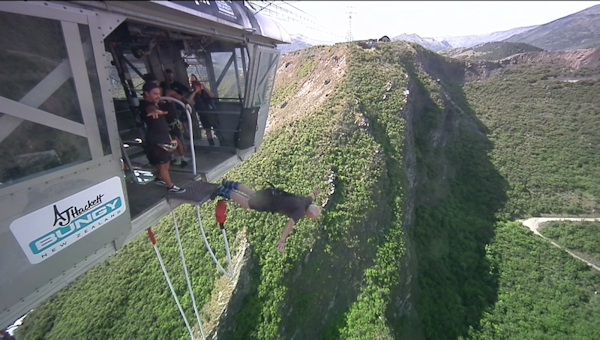 Matthew Leaving Nevis Bungy Tony Leaving Nevis Bungy
Lead-up to Our Holiday
Our original plan was to do a bike tour of New Zealand but, with my health being somewhat less than perfect and not being covered by travel insurance for medical pre-existing conditions, I suggested to Matthew that a bike trip might not be the best plan for me. Matthew agreed and we then began our research into where we might go and what vehicle might be most appropriate for what we thought we wanted to do.
As Matthew had four weeks available, we decided to divide the trip roughly into two weeks on each of the North and South Islands. We realised that we would not be able to see everything but we hoped we would experience a good cross-section of what New Zealand had to offer.
In order to attempt to keep costs under control we thought that if we took our camping equipment we could use camping grounds or freedom camping rather than hotels and other accommodation on most nights. Therefore, included in our baggage was a full kit of camping gear each, making for me at least, a very heavy suitcase.
Day 1 - Monday 11/11/19 - Hobart to Auckland
After a very early start to our holiday, and a five hour wait in Melbourne for our flight to New Zealand, we eventually arrived at Auckland Airport at about 5.40pm. During the flight we had marked our Immigration Cards with a tick to indicate we were carrying tents in our baggage. This meant we were directed to the Biosecurity Area for further checking for, amongst other things, the possible presence of so-called stink bugs that apparently are a huge problem in New Zealand, and any soil contamination. [We both knew our gear was clean but there was no point mentioning this to the officers at the inspection area.]
This, in addition to the fact that six flights had recently arrived from China, added another 2½ hours to our wait. Matthew rang the car hire company to ensure that there would be somebody at the office when we were eventually able to catch the shuttle service to collect the car that had been pre-booked.
The tents having been inspected, sprayed and returned to us for re-packing into our cases, Matthew became convinced that his single tent pole had somehow gone missing. He checked with the Biosecurity officers and some other nearby passengers but to no avail. He decided he would send his tent back home at the first opportunity and buy a cheap tent for our holiday.
We were eventually "released" from the airport and caught the shuttle bus to collect the Holden Captiva - even though a Toyota RAV4 (or similar!) had been booked. Matthew recorded a video around the car for possible insurance evidence and we set off for our first night in New Zealand to stay at a nearby caravan park in a cabin that had already been arranged. It was here that Matthew discovered the "missing" tent pole that was hiding in his case. A huge relief and one less complication to worry about.
The plan for the next few days was to drive north, eventually to the Bay of Islands, before driving south to Rotorua and then returning to Auckland after seven or eight days.
Day 2 - Tuesday 12/11/19 - Auckland to Whāngarei
We decided to avoid the toll road as much as possible as at that stage we had not made any plans to pay the tolls and we therefore made a more rural drive north before eventually rejoining the main State Highway 1. About 40kms south of Whāngarei we stopped at a roadside lookout to admire the view over distant Bream Bay to Taranga and other islands.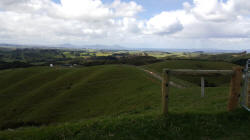 We walked up a gravel track to take a photo then set off back to the car. Near our car there was a coffee van. I must have been distracted because my right foot went into a depression in the track and I tumbled forward onto my right side, with my face hitting the gravel and various parts of me, including my right upper cheekbone, lips, right elbow and right knee all making contact with the gravel. I sat up, feeling very dazed. A lady from the coffee van and a lady who was another tourist immediately came to my aid with a first aid kit and cleaned up my wounds and put on dressings. They both thought the cheekbone injury needed stitches and suggested calling into a medical centre in Whāngarei to get my injuries looked at. I had thick-rimmed sunglasses on as well as my normal glasses and the thick rim caused the cut. The double glasses may have contributed to my fall.
At the medical centre I was seen by a doctor after a short wait. She thought the skin was too thin for stitches to hold and instead put Steri-Strips across the wound and told me to keep them in place and dry for about a week. Great start to our holiday! The injured ribs took about three weeks to heal and I was convinced there had been some breaks somewhere.
As I was too sore to consider camping we once again booked into a cabin for the night. Is it possible a pattern was starting to emerge here?
Day 3 - Wednesday 13/11/19 - Whāngarei to Paihia
After a restless night for me we set out for Paihia, which is the main access point for tours of the Bay of Islands. On the way we stopped at beautiful Matapouri Bay for a snack and reached Paihia by mid-afternoon. We booked into a comfortable room at a local campsite and wandered around the town, taking some photos as we went. We booked a half-day cruise for the following day.
Day 4 - Thursday 14/11/19 - Bay of Islands then to Rotorua
Our cruise around the Bay of Islands did not start in ideal conditions, with choppy seas and gusty winds - a complete contrast to the previous afternoon's weather.
It was considered by the skipper to be too rough to attempt to go through the hole in the rock but he did take us out of the sheltered bay into the open ocean to give us a taste of the rough conditions that would be experienced. He pointed out various island homes that were owned by the rich and famous. People who apparently value the isolation but are exposed to the endless procession of cruise boats whose passengers are keen to see how they live.
Following the half-day cruise we left Paihia and started the drive south, through Auckland to Rotorua. On this occasion we decided to use the toll road on State Highway 1. Matthew later decided to purchase some toll credits and paid NZD 25 in the hope that it would cover our commitment earlier in the day. The drive to Rotorua was uneventful and we booked into the Bella Vista Motel for four nights.
Day 5 - Friday 15/11/19 - Rotorua
We did the mandatory tour of the thermal areas close to the motel. We could only imagine the forces that, we hoped, would remain peaceful as the mud bubbled in the fenced-off areas. There was a distinct smell of sulphur in the air and we wondered what else might have been in the mist/steam that rose from the water.
Day 6 - Saturday 16/11/19 - Rotorua
A visit to Rainbow Springs Bird Sanctuary was high on the list of priorities this day, including a visit to the National Kiwi Hatchery. Unfortunately, we were not allowed to take photos but we did see one or two of the birds in semi-darkened enclosures. We also saw how kiwi eggs are cared for in a temperature-controlled environment and I was amazed at the large size of the eggs compared with the size of the birds that had laid them.
The next activity on our list for the day was to attend the Maori cultural performance at Te Puia.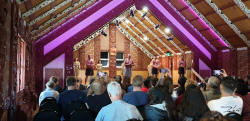 Following the cultural performance we walked the short distance to the Pohutu Geyser area (the Whakarewarewa Thermal Valley), where we hoped to see a major spouting of the geyser - sometimes happening and sometimes not. It appeared we were to be lucky as, within 30 minutes, we were treated to an awesome display of the power of the Earth. Just a short distance from the geyser were the partly demolished remains of the Silver Oaks Hotel Geyserland which, no doubt, will eventually be totally demolished since it was abandoned in 2017.
Day 7 - Sunday 17/11/19 - Rotorua
A day of adventure! We took the Skyline cable car up to where the Rotorua Skyswing and Luge activities awaited us.
First on the agenda was the Skyswing. Before our turn we watched and recorded a couple of other people on the swing. We were strapped into seats and pulled up backwards to the top of a tower, 50m above ground level, then Matthew pulled a rope and we fell into a huge arc towards the ground. After about three or four swings we were pulled back towards the starting point. When we had got our breath back we then took a smaller cable car to where the Luge was located. At first I was reluctant to have a go but Matthew persuaded me to at least try the easiest level ride to see if I liked it. I did. And after using two of Matthew's five tickets I bought some more to share and then tried the second level luge, which was a bit more demanding but great fun. Owing to my advanced age (!) I needed Matthew's help in extracting me from the luge at the end of a run as we were virtually lying near the ground. It did not make a very elegant exit from the cart.
During the afternoon we took a short bushwalk along a good gravel track to visit Okere Falls Scenic Reserve. Stunning scenery and we were able to appreciate the enormous power of the river at the rapids.
Day 8 - Monday 18/11/19 - Rotorua
Not much of a day for outdoor activities so we drove around Lake Rotorua, calling at Sulphur Bay - aptly named as it is highly sulphurous but still a Wildlife Refuge. We also visited the Redwoods Forest but decided not to do the Redwoods Treewalk, a high level walk amongst the tree canopy. We then called in to Motion Entertainment activities centre for a round of mini-golf. Matthew won.
Day 9 - Tuesday 19/11/19 - Rotorua to Auckland
We headed back north to Auckland so that we could return the car to the hirers before taking a bus from Auckland to Wellington.
On the way we passed through Tirau and couldn't miss the Big Merino and the Big Sheepdog made from corrugated iron. I can't say they were the highlight of my visit to New Zealand, but as they are in my notes they must have made some impact.
We passed by the beautiful Waikato River and called in to see the historical site of a battle at the Rangiriri Cemetery.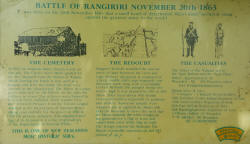 When we were back in Auckland we booked in to a backpackers' hostel for two nights.
Prior to handing the car back we put it through a car wash and filled it with diesel at a service station that was close to the motel where we stayed on our first night in New Zealand. We then drove to the car hirers and handed it back without any inspection dramas. From there we hired a taxi to take us to the backpackers' hostel.
After booking in we walked the short distance to Sky Tower and watched as several people made the controlled jump/fall from the 192m high deck at Sky Tower. We didn't do the jump. For dinner we went to the Empire Tavern for a meal.
Day 10 - Wednesday 20/11/19 - Auckland
At the backpackers' hostel we had been allocated a 4-person room. All night long people seemed to be coming and going and by morning only one of the other two beds was still occupied. We locked our cases and quietly made our exit to spend the day sightseeing around the Auckland area.
Our activities for the day included a tourist bus tour of the area, including Eden Park, Auckland Domain Eden Gardens - where we enjoyed a late breakfast - Mt Eden crater and the spectacular Museum of Transport and Technology. Back in the city we paid to go up to the observation deck of Sky Tower and marvelled at the sights in every direction - including down. We had dinner at the same pub as we had visited on Tuesday. Very good meals.
Day 11 - Thursday 21/11/19 - Auckland to Wellington
It was a dull, overcast morning as we left the backpackers' hostel and trudged uphill with heavy cases to the departure terminal for the Intercity coach that would take us to Wellington, 11 hours away.
We were in plenty of time for the 9.00am coach. Matthew had thoughtfully paid an extra NZD20 each so that we could enjoy a bit more comfort near the front of the coach. Thank you Matthew.
As we made our way south it wasn't until we passed the turnoff to Rotorua that we were finally on "new" roads. The driver was considerate of our comfort and allowed for plenty of rest stops as well as taking his compulsory break about half way through the drive.
The drive took us close to Lake Taupo, looking beautiful in the afternoon sunshine.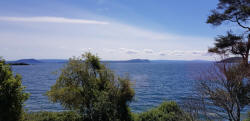 Another highlight for us was to see the snow-capped peaks of Mt Taranaki and Mt Ruapehu in the distance.
Around 8.15pm we arrived at the Wellington bus/rail terminal, which was where we needed to be the following day to take the shuttle service to catch the Interislander ferry that would take us to Picton. From there our South Island adventure awaited us.
Having arrived in Wellington we collected our cases and trundled them along to the Waterloo Hotel (backpackers' accommodation) for the night. There was only one single room available plus dormitory accommodation so Matthew generously offered to take the dormitory option. However, when he looked for his allotted bed in the semi-darkness of the large room no beds were available. On checking with the receptionist she found an empty bed for him. The downside at this stage was that the entire room gave the appearance of a drug den with a distinctive smell and with some bottom bunk beds entirely screened off with bedsheets. This was not a satisfactory environment so I suggested to Matthew that he should share my room and use his sleeping mat and sleeping bag instead. Snack meal at McDonalds.
Day 12 - Friday 22/11/19 - Wellington to Christchurch
Up early and we reversed the walk along to the bus/rail terminal where we waited for the ferry shuttle bus to arrive. The boarding process at the dock took a fair while to accomplish, with maybe 800 or more passengers waiting to board. The 3½ hours crossing of Cook Strait was uneventful although a bit windy at times. Matthew's memory of the crossing was that it was blowing a gale most of the time.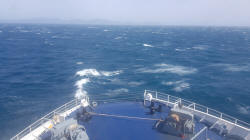 By contrast, the approaches to Picton in the inlet were absolutely beautiful.

On arriving at Picton we walked along to where our coach would stop for the 6+ hours trip to Christchurch. When the bus arrived and we had boarded it the driver informed us that, because of various road works and consequent delays, there would be only one stop on the route, at Kaikoura. This was of great concern to me as I need to use a toilet frequently following radiation treatment in 2004 that left me with a small capacity bladder. Clearly, drinking anything was out of the question for me. With this problem constantly in mind it was not a pleasant road trip and I was relieved - quite literally - when we arrived first at Kaikoura and then at Christchurch.
To add to my, and I am sure other passengers', discomfort the driver was very aggressive. At various times he would tailgate slowly-moving vehicles and on more than one occasion almost ran into the back of a vehicle in front.
Eventually we reached Christchurch where we walked along to the YHA accommodation. The twin-bed room was very clean, as were the bathroom facilities. We ate at Burgerfuel, feeling very pleased with the past couple of days' intensive travel and looking forward to more relaxed days when we collected the pre-booked campervan on Saturday.
Day 13 - Saturday 23/11/19 - Christchurch
No time for breakfast as we prepared to make our way to the Britz Campervan Hire office near the airport. As an innovation, Matthew suggested trying an Uber ride and soon after we were on our way. We were impressed with the efficient process and I would certainly be prepared to use the service again.
At the hire depot, after booking in, we were shown a comprehensive video that explained in detail what we should expect with our campervan experience. In addition to watching the video we were required to answer a written road rules test.
While we had booked a 4-berth vehicle, we were provided with a 6-berth model with some additional features at no extra cost. However, there were extras that we decided to pay for; such as insurance against the campervan blowing over, hire of a camping table and chairs and a charge for waiving the need to pay the diesel tax (a new one on me!), cleaning the vehicle, filling with diesel, filling the gas bottle and emptying the toilet waste tank. Having paid we were finally taken outside to meet our "new" campervan. As we walked around the vehicle Matthew took a video and pointed out to the assistant the various items of damage that she wrote on her copy of the contract. Finally we had the key. I noticed that there was a bag of snow chains lying in the grass nearby so I put them in the gear hold, just in case we might need them on our travels.
It was almost automatic that Matthew became the driver, as he had previous experience handling reasonably large vans. I was happy with that arrangement.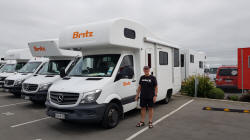 Our first priority on leaving the hire company was to find a supermarket where we stocked up on basic food supplies then headed for a close-by caravan park for our first night sleeping in the campervan.
Day 14 - Sunday 24/11/19 - Christchurch to Oamaru
One of my main concerns on this trip is that my suprapubic catheter (SPC) might become blocked due to a build-up of sediment in the catheter. With that in mind I had brought spares with me in the hope that I would be able to have a catheter change done half-way through our trip. In other words on Day 14. Although there were no signs that my catheter had become blocked I thought it would be prudent to go to Christchurch Hospital to have the change done there.
We parked the van near South Hagley Park and walked to the hospital. At the A & E Department we were horrified at the number of people waiting to be seen and estimated that I could be there for up to eight or ten hours before being seen. I decided I would try a private clinic instead. We found there was an after hours clinic at Riccarton. Meanwhile, while I waited outside the hospital, Matthew had found a Lime electric scooter and rode back to the van to come and collect me. At this stage I was a bit reluctant to try one myself. That would change later.
We parked the van again and went for a short walk around the area of the Avon River, admiring the tourist sites as we went. We were amazed at the earthquake damage that was still evident. Clearly it will take years to fix everything, if it is at all possible.
At the clinic they were reluctant to do the catheter change and wanted me to go to the hospital but eventually decided that a doctor would do the change for me. One hour later and NZD145 lighter in my wallet I was ready to continue our journey. I considered it to be money well spent.
We still had half a day left so we decided to head south and try to get to Oamaru. On the way we stopped in the rain for a snack at Ashburton before continuing on.
The caravan park we stopped at was the Riverside Haven. It really was a beautiful setting, with lush green grass against a backdrop of the North Branch Waianakarua River and sheer cliffs on the other side. A very pleasant stay.
Day 15 - Monday 25/11/19 - Oamaru to Invercargill
We were beginning to settle into life in a campervan. Although there was no TV it did not seem to matter as the radio was reasonably entertaining during the evenings. As far as our morning routine was concerned, I made an early visit to the toilet block (not wishing to use the on-board facilities), had a shower then a light breakfast of toast and tea before Matthew followed suit. We were usually ready to set out on the next leg of our tour by 8.30 to 9.00am.
This day, after a drive of about 40kms, we came to Moeraki Boulders Beach - an area of amazing globe-shaped rocks strewn about the beach.
According to Wikipedia:
"The Moeraki Boulders are unusually large and spherical boulders lying along a stretch of Koekohe Beach on the wave-cut Otago coast of New Zealand between Moeraki and Hampden. They occur scattered either as isolated or clusters of boulders within a stretch of beach where they have been protected in a scientific reserve. The erosion by wave action of mudstone, comprising local bedrock and landslides, frequently exposes embedded isolated boulders. These boulders are grey-coloured septarian (containing angular cavities) concretions, which have been exhumed from the mudstone enclosing them and concentrated on the beach by coastal erosion."
As we headed south we reached Dunedin just after 11.00am for a brief stop and to see the magnificent Dunedin Railway Station which was built between 1903 and 1906.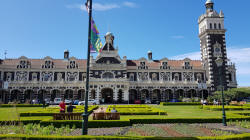 We continued on, following the coast, with stretches of beautiful, unspoiled beaches, until we eventually turned inland and headed to Invercargill.
Invercargill - land of the legendary Bert Munro, rider of "The Fastest Indian in the World" fame.
We were somewhat surprised to learn that the actual motorcycle that Bert rode was housed in a hardware store. But what a hardware store! It was more of a museum, combined with a shrine-like area devoted solely to Bert Munro and his exploits on the Bonneville Salt Flats in Utah, USA.
We were both in awe at the low profile of his converted 1920 Indian Scout and the home-made appearance of his fantastic machine. We spent at least two hours wandering around the exhibits.
We had made a booking at the Central City Camping Park so we headed there for the night, very satisfied with the day's activities
Day 16 - Tuesday 26/11/19 - Invercargill to Te Anau Lakeview Kiwi Holiday Park
Before leaving the Invercargill area we made the short detour to Bluff, the most southerly area of New Zealand apart from Stewart Island.
We made the almost obligatory drive up Bluff Hill, walking the last 500m or so, and decided the best view of Bluff was from the summit - some distance away from the somewhat rundown town.
One last place to visit before we left Invercargill - a tour of the motorcycle museum - the Classic Motorcycle Mecca. This was a truly stunning display of 300 veteran, vintage and modern motorcycles from around the world.
My particular interest in Ducatis stems from my past ownership of a 1983 Ducati Pantah SL 600cc (pictured on RHS above, at home in Lauderdale, Tasmania).
I also owned a 1956 BSA A10 Golden Flash (a precursor to the 1960 model 2nd from RHS above.
We filled up with diesel and headed north along State Highway (SH) 6. As we travelled we saw a lot of red tussock grass, waving gently in the breeze. We then turned off to head in a generally north-westerly direction along SH94 (or the Milford Road) towards Te Anau. For quite a long time we were driving in Eglinton Valley, close to the Eglinton River, with towering mountains lining our way on each side.
Our cruise on Milford Sound was scheduled for the next day so we expected to be on the roads fairly early, around 7.00am.
Day 17 - Wednesday 27/11/19 - Te Anau Area to Milford Sound then Te Anau
It was a dreary, overcast, rainy day as we left for Milford Sound along Milford Road at 7.00am. The forecast for the day was not promising but we thought the rain would add to the dramatic effect of waterfalls on the cruise. We did not imagine that the rain would make for such spectacular viewing as we passed mountains with cascading waterfalls at almost every turn in the road.
We parked the van a few kilometres from Milford Sound and waited until a shuttle bus turned up. In the melee Matthew somehow lost his expensive new glasses but did not realise it at the time. [When we returned after our cruise they were nowhere to be seen in the car park.]
When we eventually started our cruise, the views of the mountains with cascading waterfalls were everything we could have wished for.
While we were close to Te Anau the previous afternoon we should have made sure we had a full tank of diesel. However, because we bypassed the town and headed direct for our overnight stop we did not fill up. Therefore, at Milford Sound we needed to fill up at the only pump that was available. The complication was that only cards were accepted and reception for a signal at the pump was very sketchy. Matthew tried many times before finally being successful in having his card read and fuel being delivered. A close call indeed as we were running short of fuel.
Day 18 - Thursday 28/11/19 - Te Anau to Queenstown
Leaving Te Anau we retraced our route along SH94 before joining SH6 heading ENE for a short distance and meeting SH97. That route eventually took us to Queenstown. Along the way we travelled close to the shores of Lake Wakatipu, a beautifully calm lake with a backdrop of mountains beyond the far shore.
We arrived in Queenstown at about 12.00 noon and found our way to the Queenstown Lakeview Holiday Park, where we had booked a site for the next three nights. As soon as we had organised ourselves we made our way to the Skyline Gondola. As we ascended the view over Queenstown was stunning. I tried only one trip on the Luge but Matthew had paid for a few more. I bought a coffee and admired the views while he raced down the track.
During the afternoon we wandered around the streets of Queenstown and booked ourselves in for the Shotover Canyon Fox and the Canyon Swing on 29/11/19. We also booked the A J Hackett Nevis Swing and Nevis Bungy for 30/11/19.
Day 19 - Friday 29/11/19 - Queenstown
So this was the day! A shuttle bus took us to the car park part way to the launch site, with a steepish walk up the remaining part of the access route.
From memory there were five or six people doing the leaps, the first of which was the Canyon Fox. This started with the cable travelling about 15m hooked over a steel arm (to clear rocks beneath) then a 60m drop off the end of the arm and swinging 240m across the canyon. Towards the opposite side the cable from which we were suspended was caught and we were hauled in to a platform to await a return trip to a slightly lower destination.
As soon as we had returned to the side from which we started, we were heading to the next activity - the Shotover Canyon Swing.
This is the advertising blurb from their website:
"The Shotover Canyon Swing is the world's highest cliff jump. Located in the heart of the adventure capital of the world, Canyon Swing is the most adventurous thing you'll do in this adrenaline-filled place. First, you jump off a cliff 109m high (the length of nearly 2.5 commercial aeroplanes!), experience a 60m free fall, then swing over 200 meters out into the stunning Shotover Canyon. The adrenaline rush is unlike any other. Gravity is a toy - play with it!"
That just about sums it up!
Both of these experiences were initially terrifying, just before the launch, but the professionalism of the staff was reassuring and we just did it.
Having had our allowance of adrenaline-junky-ism for the day we wandered along the docks and soaked up the pleasant afternoon sunshine before going back uphill to our van and a quiet evening at home.
Day 20 - Saturday 30/11/19 - Queenstown
Our time schedule for the Nevis Swing and Nevis Bungy wasn't until 3.00pm so we filled in the morning and early afternoon by walking around to the other side of Lake Wakatipu for another view of Queenstown and to enjoy the peace and serenity of Queenstown Gardens.
At 3.00pm we reported to the shopfront, ready to be weighed and signed-in for our main events - the A J Hackett Nevis Bungy and Nevis Swing.
When we had registered we were asked to wait for the bus to arrive and be taken to the launch site. One of the assistants said to me: "Are you actually 75?" When I replied that I was, she said: "Well, you go free on both the bungy and the swing."
This was a total shock to me. The next thing I knew she was crediting my card with NZD400. What a bonus!
In the bus that would take us there were about eight people and the driver. When we left the main road and started the climb up the side of the canyon on a narrow, loose gravel track we wondered if we would actually make it to the top. The van bounced all over the road, almost out of control. It was a relief to arrive at the terminal building.
According to Wikipedia:
"The Nevis Bungy is a bungee jumping platform in the Southern Alps near Queenstown in New Zealand's South Island. It is the third highest bungee jumping platform in the world at a height of 134 metres. It is suspended by high-tension cords, which are fixed at both ends on either side of the Nevis River valley. Its glass floor allows spectators to watch others jump. This makes it a main tourist attraction for those visiting Queenstown."
First for us was the Bungy jump. To get to the launch cabin we were taken in a 5-person gondola suspended by a cable across open air. On arriving at the launch site our legs were strapped together and the bungy cable/rope was attached while we sat on a metal chair in the cabin. When it was Matthew's turn to go he shuffled forwards onto a tiny platform, just big enough for his feet, that jutted out from the cabin. On a countdown from 5 to 1 he then launched himself into thin air. Later he said he had his eyes shut the whole time he fell.
When it was my turn I was roped up and sat down in the chair. Just after I was told I was ready to jump and was shuffling forward, a message came to the staff that it was too windy for a jump to take place. I was sat down again and waited until there was a lull (although I couldn't detect any change). I was then told it was OK to go so I shuffled forward again to the tiny ledge outside the cabin. This, for me, was the most terrifying few moments when you are face-to-face with open air and the gigantic drop. What made it even worse was when I was asked to smile and wave for the cameras before the action happened. When the countdown came from 5 to 1 I launched myself off the platform and dived forwards.
"Everything New Zealand" has this to say about the Nevis Swing:
"The Nevis Swing, also known as the Nevis Arc, measures a whopping 120 metres and is Queenstown's latest innovation aimed at bringing daredevils a whole new level of excitement, courtesy of expert bungy purveyors AJ Hackett Bungy.

"Cross a massive 70 metre suspension bridge, weak-kneed, towards the Launch Pad which hangs high above the floor of the valley. You get to choose whether you'd like to swing backwards, forwards, on your own or together with a friend. You also decide whether you'd prefer to have the crew release you or do the honours yourself. You'll find yourself hanging above the valley floor at a terrifying height, securely harnessed to the swing, before being dropped at an unbelievable speed. You'll be hard pressed to suppress a scream as you barrel towards a rocky cliff face.

"The Nevis Swing is the fastest and biggest swing the world has ever seen. Only true daredevils need apply."
Following the exhilarating rides of the past couple of days, we were once again subjected to the maniacal drive back down the steep, gravel goat track that passed for a road before returning to the relative safety of the main road back to Queenstown.
When we were back at the A J Hackett store I bought a hoody jacket and we were given a cap and a tee shirt, plus certificates of achievement for completing the jumps. We were also given (by that I mean we paid for) instructions on how to download videos and stills of our activities.
We headed back to our van, still on a high, to relive the experiences and slowly calm down again.
Day 21 - Sunday 1/12/19 - Queenstown to Wanaka
Before we picked up the campervan in Christchurch we were informed that there were two roads in New Zealand that were specifically banned, one of which was the Crown Range Road between Queenstown and Wanaka. This is a high level road with many tight twists and turns that would make driving a large vehicle dangerous.
The road from Queenstown passed by the Kawarau Bridge, the site of the first of A J Hackett's bungy jumps. It is maybe worth noting that this bungy jump of 43m is one third the height of the Nevis Bungy that we completed on Saturday! However, it was still an impressive sight and in a location where spectators are able to witness the jumpers as they launch themselves from the bridge.
We continued on our way, through a valley past Lake Dunstan before arriving at Wanaka by about 12.30pm in dreary, wet weather. It was too early to go to the Wanaka Lakeview Caravan Park so we called in at Puzzling World. This contained a fascinating array of optical illusions, manual puzzles at many tables in the café and rooms where we seemed to grow and shrink.
Were we really standing on sloping steps or was the whole room tilted? Were we looking at a slowly rotating cube or looking into the corner of a hollow shape? There were many other exhibits that photos could not do justice to. A mind-boggling display to fill in a couple of hours.
Day 22 - Monday 2/12/19 - Wanaka to Haast
Leaving Wanaka we passed through Albert Town then travelled north alongside the western shore of beautiful Lake Hawea.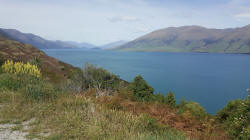 We then crossed "The Neck" and continued north alongside the eastern shore of Lake Wanaka. As we left the lake we were following the Makaroa River, which led us to the remarkable Blue Pools.
Thunder Creek Falls were a definite highlight along the Haast Pass-Makaroa Road but for sheer desolation the mouth of the Haast River was the most striking.
Accommodation for us this night was at the Haast River Motels & Holiday Park at a powered site. We enjoyed a very tasty dinner at the Heartland Hotel.
During the night it rained incessantly and the wind howled and I, at least, was convinced on more than one occasion that the campervan was going to be blown over. I seriously thought we should consider taking our sleeping bags and sleeping mats and using the backpackers' camp kitchen rather than risk injury where we were. It was on this occasion that I understood the reason for the insurance waiver against such an event occurring. However, the night passed without anything untoward happening.
Day 23 - Tuesday 3/12/19 - Haast to Hokitika
We left Haast on a very grey morning, crossed the Haast River and followed the coast in a north-westerly direction for about 20kms before turning inland.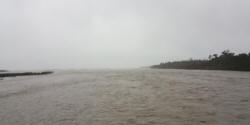 Not long after entering a forest area we came across a road gang clearing the road after a falling tree had brought down power lines close to the road. A delay of about 45mins before we were allowed to proceed along a single lane.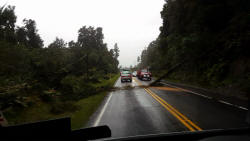 As we approached the bridge over the Fox River we noticed that vehicles heading in the opposite direction were being turned round, obviously not permitted to proceed along the stretch of road that we had previously negotiated. We thought the fallen tree and damaged power lines might be the reason for this.
We had originally intended to spend some time in the township of Fox Glacier but the weather was so unpleasant that we simply drove through. We did the same at the township of Franz Josef Glacier, with no views due to the presence of low cloud that obscured whatever there was to see.
At about 1.00pm we arrived at the Links View Holiday Park, only about five minutes drive south of Hokitika. A very comfortable campers' lounge, with apparently new toilet facilities.
After booking in we drove into Hokitika to have a look around. Matthew's grandmother was born in Hokitika and was, we believe, a direct descendant of John Hudson. He was one of the earliest white settlers in the area and, with James Price, set up the first store in the fledgling township in October 1864. We checked out the memorial to John Hudson, at the corner of Revell Street and Gibson Quay.
In the hope that we might be able to find out a bit more about John Hudson we arranged to meet two museum staff people who maintain a history room adjacent to the Carnegie Building. This building has been declared unsafe, due to its being earthquake-prone and will at some stage undergo a massive renovation project. In the meantime it remains empty.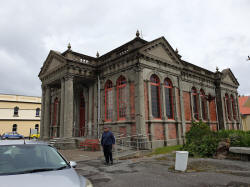 While walking around the streets we were surprised at the large number of greenstone (jade) stores and workshops and we wondered how they all succeed in making a living. At a local café we were advised that the owners probably don't need to make a living from greenstone but have other sources of income.
Day 24 - Wednesday 4/12/19 - Hokitika to Reefton
Before leaving Hokitika we met with the museum staff, who provided us with a lot of archival material that we could study at our leisure, as we were being charged for their time while doing our research.
We stopped for a while to look at the old lifeboat "Countess" - still in working order.
Heading north-east, we followed the Tasman Sea coast to Greymouth, then turned inland for about 11kms until we reached the site of the Brunner coalmine. This was a huge operation but there was a major industrial accident in 1896 resulting in the deaths of 65 miners.
At around 2.30pm we reached the small town of Reefton; our destination for the day being at the Reefton Motor Camp.
We did a bit of shopping at a local supermarket and wandered along the main street before returning to the motor camp. We both thought Reefton was a bit run-down, with its best days behind it.
The main claim to fame is described thus, according to Wikipedia:
"In 1888 Reefton became the first town in New Zealand and the Southern Hemisphere to receive electricity, the work of Walter Prince, and its streets were lit by commercial electricity generated by the Reefton Power Station."
Gold was discovered in the 1860s and there was a major discovery in 1870. However, those days of glory are long gone.
Day 25 - Thursday 5/12/19 - Reefton to Hanmer Springs
Before we left Reefton we walked alongside the Inangahua River to see the site of the first electric power station in the Southern Hemisphere.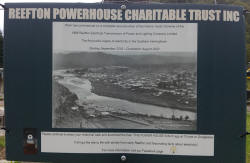 We were both impressed when we saw a preserved steam engine, a Fairlie R28. This is the sole remaining original Single Fairlie locomotive in the world. It was built by the Avonside Engine Company, Bristol, England c.1878-79.
We left Reefton just before 11.00am and drove along State Highway 7 and along the Waiau River valley, arriving at Hanmer Springs by around 2.00pm. We had time to fill in so we paid for a round of Pitch N Putt - an 18-hole course in very picturesque surroundings. Hole distances were between 27 and 80m. After a disastrous start in which I carded a mammoth 15 on Hole 1 I began to improve but could never hope to eliminate that poor starting result. Obviously, Matthew won the day! I can't remember the scores but not memorable (for me, at least).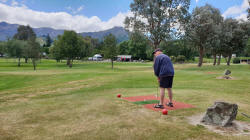 At one of the holes near the end, Matthew hit a ball straight at the front of our campervan. As he ran towards the van to check where the ball was and if it had struck the van he ran into a large boulder at the edge of the course and got a corked thigh for his trouble.
Plan for the next day was to complete the South Island circuit by heading back to Christchurch to prepare for the return of the campervan and then to depart for Australia on 8/12/19.
Day 26 - Friday 6/12/19 - Hanmer Springs to Christchurch
Returning to Christchurch we decided we had enough time to take a side trip to Akaroa. As this was something of a snap decision we had not considered the road conditions. If we had we may have decided not to make the visit in a large campervan. Matthew did an excellent job of negotiating the hundreds of tight bends on very steep roads, with large drops off to the side on many occasions. Akaroa itself was what I considered to be a typical coastal tourist town, with a heavy French influence that reflected its historical roots.
When we returned to Christchurch we booked in to a caravan park that was reasonably close to the Campervan Hire Centre.
Matthew finally convinced me that I should try a Lime electric scooter as a fast, easy way to get around the local area. So I signed up. After getting some instructions from Matthew I was hooked. We used them to go to a close-by shopping centre for a meal then returned to the caravan park by the same method. It seemed to me that people have accepted them as part of the transport system. Obviously, there needs to be some discipline about how they are used, whether on or off footpaths etc, but they work. Whether or not they would be suitable for a city such as Hobart is debatable, with the hilly terrain and unpredictable weather. Perhaps they should be given a chance.
Day 27 - Saturday 7/12/19 - Christchurch
This was a relatively uneventful day that was spent going through our gear and sorting out things that we would leave in the "free box" at the camp kitchen and doing a practice pack of our cases.
As I was lifting my case onto the bed the handle support on one side snapped. The case was very heavy. I worked out that with a nut and bolt, with some washers, I could fix it up so that it would still function as a handle, although not a very pretty solution. We made the trip to a local Bunnings store and bought the necessary bits. Back at the campervan I made the repair. [Later, at Christchurch Airport, the other side of the handle broke. Presumably, baggage handlers "repaired" it by wrapping tape around the loose end to make it easier to handle.]
Despite having paid to be exempt from the need to refill the water containers, empty the toilet waste etc, we did those things because we wanted everything to be just right when we returned the campervan on Sunday.
Day 28 - Sunday 8/12/19 - Christchurch to Hobart
Working back from the flight departure time of 1.45pm, and needing to be at the airport at least two hours before that, we drove to the campervan hire depot just after 9.00am and presented the vehicle for inspection. Everything was clear and we were able to make our departure to get the shuttle bus that would take us to Christchurch Airport in plenty of time.
This time there were no problems going through the formalities and the flight back to Melbourne was incident-free, just as we had hoped it would be. In fact, there were many spare seats both in front of and behind us.
There was a six-hour wait in Melbourne for our connecting flight back to Hobart. Time passed and we eventually made it back home.
In retrospect, this was a wonderful experience for me, made more enjoyable by Matthew's cheerful company and his excellent driving abilities over the entire four weeks we were away.
It was a holiday I will never forget. Thank you Matthew.