DAY WALK TO FIVE MILE BEACH
TONY WATTON
MONDAY 8/6/2020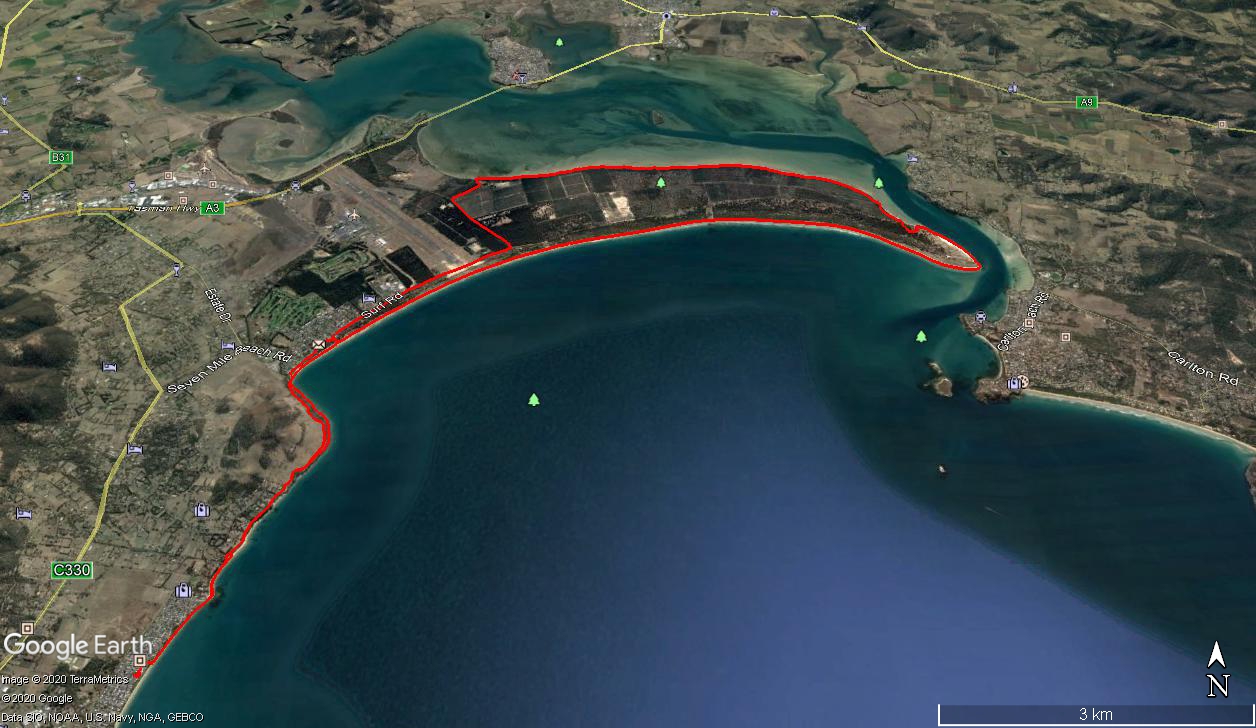 Google Map of route taken
"I think I'll walk to Five Mile Beach tomorrow". That was the announcement I made to my wife on the afternoon of Sunday 7/6/20.
Realising this would be a fairly long day I started walking along the beach from my home at Lauderdale at 8.45am. Cool temperature of 5oC without any hint of the sun. The forecast said: "Partly cloudy".
Under my windcheater I was wearing a thermal top, with my rain jacket in my day pack. Also in my day pack were a stainless steel Thermos flask with coffee, a cheese sandwich, a couple of bandages, a 1-litre bottle of water and a toilet pack. I also had a Petzl headtorch. Just as I was leaving I said to Suzanne: "I'd better take a headtorch, just in case".
There were several people on the coastal track to Seven Mile Beach (7MB), which prompted me to take the low-level single track down to the foreshore near to 7MB. I called in at the store for a cup of coffee and continued walking along Surf Road, then along the closed road past the end of the airport runway. Turning left onto Pittwater Road I made my way along to Five Mile Beach Road then headed to the picnic shelter and bench table near the beach. So far 11kms covered. I guessed the total for the walk might be about 22kms, maybe a bit more. Eventually, it turned out to be a 35.5kms hike, albeit on virtually flat ground.
At the picnic shelter I poured myself a cup of coffee and ate one of my sandwiches. A strong NW breeze was blowing directly at my back. Even with my rain jacket on it was not a pleasant stop with no sun at the bench seat. Within about 10 minutes I was up and making my way along the beach that was wide enough for comfortable walking. However, within less than 1km I was encountering fallen trees across the beach, necessitating a clamber amongst the dead branches.
I decided to leave the beach, even though my intention had been to walk the entire length of it. I climbed up to level ground and was surprised to see a wide horse trail that seemed to run parallel to the beach. Just what I needed. A slight drawback was that, being a horse trail, I was walking in soft, uneven sand with myriads of horse hoof divots. A small price to pay as the pleasant trail took me among pines that were close to the actual plantation on my right.
I have no idea what the purpose was of the bright yellow square fastened to the tree stump near the beach.
From time to time I walked to the edge of the drop-off to check the state of the beach, being careful to avoid going too close to what seemed to be the undercut sandy edge. I didn't need a 3m drop to the beach. Still too many fallen trees so I continued making progress inland towards Sandy Point.
As I approached the Point I saw the township of Lewisham, in the distance, across the narrows of Pittwater.
Eventually my shadow's position moved from a 2 to 3 o'clock area to more 12 o'clock, indicating (allowing for some movement due to the sun) that I was starting to turn the corner. The track then seemed to join a 4-wheel drive sandy track that followed a steep path among hills and gullies. It was clear that this track would take me away from the beach so I turned off it and headed towards the beach through marram grass tufts and steep hills and gullies. It was a relief to step down onto the beach, no fallen trees and having avoided stepping on any snakes that might have been resting among the tufts. [Yes, I believe they can be active during Wintertime, but not normally.]
After walking a few hundred metres I commenced a long right-hand bend that eventually began to evolve into a huge, sweeping left-hand arc - Seven Mile Beach.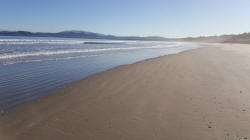 As far as monotonous beach walking goes, this was right up there, with only low shrub-covered dunes on my right and uninterrupted beach ahead of me. As I progressed, flocks of yellow-tailed black cockatoos flew parallel to the beach in the same direction as I was walking. They seemed to be heading for a group of dead trees some distance away. No other signs of life.
At around 4.30pm I began to meet small groups of people who were out walking their dogs or just enjoying being out in the open. I reached the picnic area at Lewis Park at about 4.45pm, thankful to be able to rest at a bench and table. Here I ate the other sandwich that I had brought, had a drink of water and finished my flask of coffee.
There was a chill in the air so I put on my rain jacket and was on the move again by 5.00pm. I continued to plod the remaining 1km until I reached the steps onto the coastal track back to Lauderdale.
By this time the sun had set and I was glad I had thought to bring my headtorch. On this stretch I stayed on the main track, not wanting to trust my reduced vision on the steeper, side track that I had used eight hours earlier.
I finally arrived back home at 6.30pm, having walked a total of 35.5kms in an elapsed time of 9hrs 45mins (8hrs 25mins of actual walking).
This was not a walk that I ever want to do again!