DAY WALK TO BROWN MOUNTAIN
RUNNYMEDE, TASMANIA©
(and the Aftermath)
TONY & MATTHEW WATTON & CANDY
TUESDAY 18/5/2021
Warning: This account contains possibly confronting medical images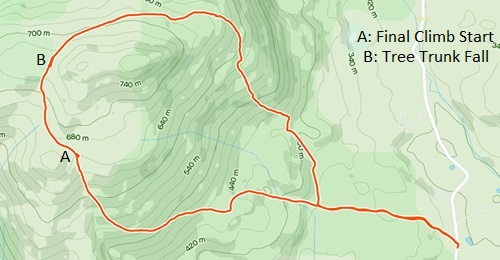 Walk to Brown Mountain (9.5kms)
The Walk
Matthew knew I would be keen to go for an easy bushwalk on one of his days off and he found on a Tasmanian bushwalking blog a walk that neither of us had any experience of - near Runnymede - on an old Forestry road, around Brown Mountain.
This appealed to me because we would be able to take my Blue-Tzu-Heeler dog, Candy, with us on the walk.
As we drove along Woodsdale Road towards the start of the track Brown Mountain did not appear to be a particularly imposing peak, being somewhat rounded against the surrounding countryside. The height to the summit was 780m and, starting from a roadside level of 310m, it was still a moderate, constant climb.
The track itself was covered in loose rock and dead branches and other debris and, being an old Forestry road, was at least 4WD width.
After climbing over an old gate the climb was uneventful, leading us to a large tree stump with a rock cairn on top of it. At this point the track had levelled out and was beginning to trend downwards. Here we found a tape that indicated the steep route up to the summit through the undergrowth and rocks.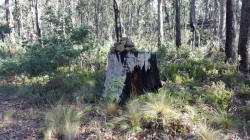 I decided not to climb this final section with Candy so we waited on the track while Matthew climbed to the top. These are his images taken on the summit.
On his return he mentioned that I might have had some trouble with the rock hopping and scrambling that was necessary as I am not as sure-footed as I thought I might have been on previous occasions. This made me feel a bit better about not tackling the final 120m scramble.
We continued our walk, heading around Brown Mountain in a clockwise, downward direction until we reached a huge fallen tree that blocked our progress. Matthew clambered over first, taking Candy with him as he went. I followed him and, when I was climbing down the far side, my left foot struck a dead branch in a tangle of dead branches and I tumbled forwards and down onto some large, rounded rocks. I remember thinking it might have been a good idea to remove my 10kgs day pack before climbing over the tree trunk.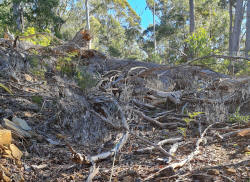 As I turned over Matthew retrieved my tarp from my pack, sat me down and looked at the damage the fall had caused. He noticed a half-egg size lump on my lower right leg and a moderately bad cut on my lower left leg. What I should have done next was to wash out any debris from the right leg wound before applying a dressing but we did not have any saline in our first aid kits.
Between us we found some gauze pads, a crepe bandage and some large band aids.
After I had recovered my composure we continued our walk, very slowly, with Matthew supervising Candy as she sniffed her way back to the car. I estimated the walk back was about 5kms and took us nearly 2hrs.
Back at Matthew's home he made us a cup of tea and we ate the sandwiches I had made earlier for our "summit" lunch.
The Aftermath
When I had driven back to my home I relaxed for the remainder of the day, but did not take off the crepe bandage until Matthew visited me the next day, Wednesday 19/5/21, bringing with him a bag full of dressings, ointments, bandages and other useful items.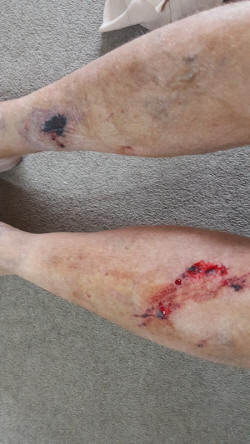 The large bruise had gone down somewhat but the wound had an unpleasant, hard shell-like appearance to it. The left leg injury did not appear to be too bad.
I wiped the wounds with gauze and applied some Betadine ointment before covering the right leg wound and binding it with the gauze bandage. The left leg wound was similarly treated and a large band aid dressing was applied.
As the days passed I changed the dressings each morning and on Monday 24/5/21 I decided to contact a local doctor. No appointments were available that week so I instead asked to see a registered nurse for a medical opinion as I was becoming concerned about the injuries.
Almost immediately I saw an RN she called a doctor into the Treatment Room and together they decided to apply some Solisite gel in an attempt to soften the large scab that had formed on my right leg. I was prescribed some antibiotics to help deal with any infection there might have been.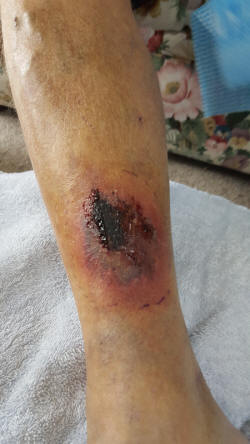 I was advised to return on Wednesday 26/5/21 to assess what progress had been made.
At that appointment it was obvious that the wound was badly infected and I would need a hospital stay in order for a surgeon to debride (excise) all the infected dead tissue from the wound. That afternoon a referral was faxed to a local surgeon and I left with a fresh dressing covering a layer of Iodosorb cream.
On Thursday 27/5/21 I took the dressing off the wound and was appalled at what I saw. The wound was a multi-coloured mess of rotting flesh, about 50mm in diameter. Suzanne, my wife, was also very worried about this development.
I immediately rang the surgeon's receptionist and described the wound and its disgusting, rotting condition. She advised me that the surgeon had an appointment vacancy available at 12.00 noon and I kept that appointment.
While the surgeon examined the wound I showed him the photo I had taken earlier in the day. He said he would be able to clean out the dead tissue under general anaesthetic and booked me into the Hobart Private Hospital from 2.00pm that same day.
After completing the documentation I was shown to a room and patiently waited for my turn on the surgeon's list. I was taken to the operating theatre at 9.30pm and by 10.30pm I was back in my room, eating a meal that I had missed earlier, while intravenous antibiotics were being fed into my system.
On Friday 28/5/21 the dressing was changed and I saw the result of the surgeon's work. It certainly was a lot cleaner than before the operation. When he visited me on his rounds during that morning he said he was happy with the result and that it was a nasty wound. I remained on intravenous antibiotics for another day.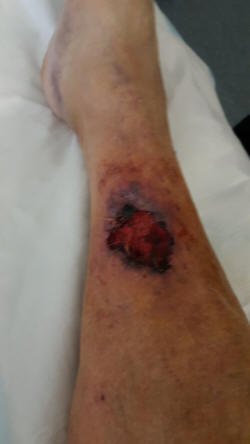 When he did his rounds on Saturday 29/5/21 he sent me home with a supply of oral antibiotics and a schedule of home visits by a community nurse to change the dressings twice a week until there is no further need for such visits.
This image shows the wound during the first home visit by the community nurse. I think it appears to be in the process of healing.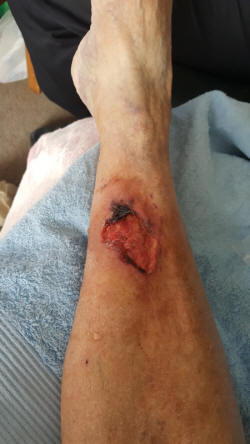 I am very grateful for the speed with which I was treated by the surgeon and for the care shown by the Hobart Private Hospital nursing staff.
Lessons learnt: take more care on walks; clean out any injuries immediately, if not sooner.
Thank you to Matthew for his kindness and first aid care when I needed it most.