WALK TO SOUTH-WEST CAPE©
TONY & MATTHEW WATTON
5/3/2012 to 11/3/2012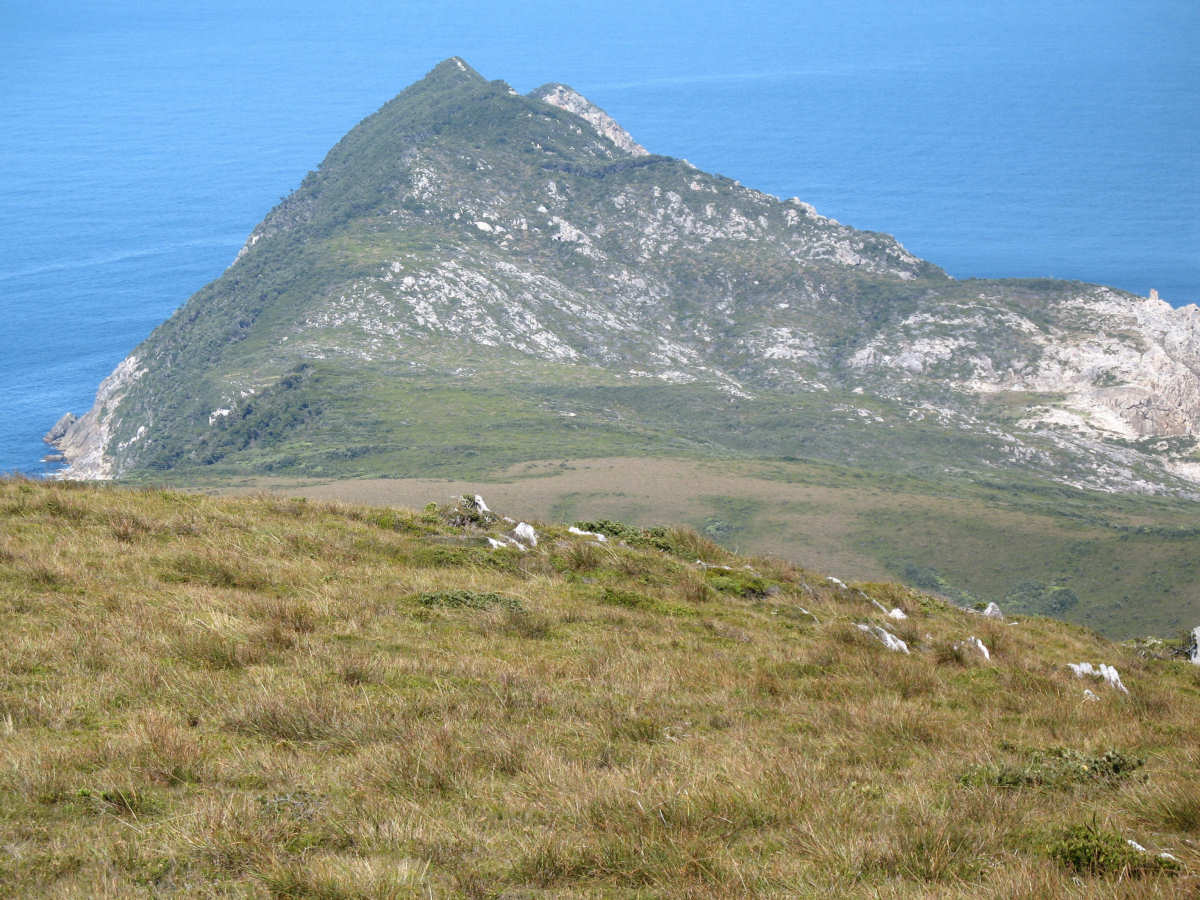 South-West Cape
We always seem to be looking at what walks we would like to do and one that has loomed large on the horizon is the South-West Circuit, starting from Melaleuca and travelling in a clockwise direction out to South-West Cape then up the coast to Noyhener Beach, then in a roughly easterly direction back to Melaleuca. As we would also wish to do side trips to Mt Melaleuca and South-West Cape itself we would need at least 12 days. As we were not sure we could spare that amount of time we opted for a walk from Melaleuca down to South-West Cape and return the same way - maybe 9 or 10 days, including a couple of side trips on the way.
Day 1 - Monday 5/3/12 - Melaleuca to New Harbour (12kms, 4hrs 30mins)
After a bit of a delay at Cambridge Airstrip (9.30am instead of 9.00am) we left in a 2-engine Britten-Norman Islander to head down the D'Entrecasteaux Channel and along the coast to Melaleuca. Uneventful flight - some low cloud and a good landing.
By the time we had collected a couple of gas cylinders, stored some clothes and end-of-walk snacks in a hut and filled our water bottles it was 11.15am and time to head off to New Harbour.
I started walking with my rain jacket packed away but we both soon had them on because of intermittent rain. The track was easy to follow, with much duck-boarding along the way towards the turn-off that would take us around the northern end of the New Harbour Range, eventually to the campsite near the beach.
The turn-off was reach at 1.15pm and we immediately found ourselves on a somewhat wet track, no boards and still raining. Some sections of the track were turned into mini-creeks but there were no dramas. We had one brief stop for a few nuts and a drink before pressing on.
We arrived at the eastern end of New Harbour Beach, thought about setting up camp amongst the trees, but decided to keep going for the extra few hundred metres to the campsite at the side of an unnamed creek, halfway along the beach. We reached it at 3.45pm.
This was a beautiful camping spot, just up a few steps from the creek, with magical views out to Maatsuyker Island and other islands in front of us.
After organising our gear Matthew set up the tent and made us a cup of tea.
There were a few light showers as we ate our main meal - Thai chicken curry with some added cashews and peanuts.
We were very disappointed to see garbage lying around. We did our best to gather it into one disgusting heap, but it shouldn't have been necessary. Is this how some people treat their homes?
Day 2 - Tuesday 6/3/12 - New Harbour to Ketchem Bay (8.5kms, 5hrs 30mins)
After a night of rain and strong southerly winds it was a relief to be able to have a cup of tea and porridge with sultanas for breakfast in fairly calm conditions, with no rain.
As today's walk was classified as an "easy half day walk" by John Chapman in his book "South West Tasmania" we started out at about 10.00am, heading initially for Hidden Bay. There was a fair amount of forest walking on this leg and a few hills to either skirt around or climb over. Several small peaks along the ridge line that avoided the lower level wet plains was like walking along the back of a huge dinosaur. By 12.15pm we had reached Hidden Bay and were surprised to see three tents and assorted gear on ropes and under tarps for a group that had obviously gone on a day trip. I called out, "Anybody home?" and, having received no answer, concluded the walkers were not there.
We wondered if they were some of the people who had signed out at Melaleuca on 28/2/12 to head for SW Cape and were on their way back again. [We later discovered, when we met a group of about six or eight adults, that they had gone for a day trip to Wilson Bight.]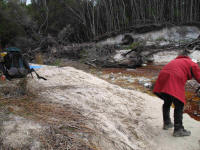 I made us some biscuits and cheese (Vita Wheats with half a cheese slice and Vegemite) for lunch, washed down with a Gatorade orange drink.
The track over and around the hills to Ketchem Bay was in very good condition, quite dry when the recent rain was taken into account. There was a detour away from the old, direct route and it seemed as though we were being deliberately led away from our destination.
We reached Ketchem Bay campsite at about 3.30pm - nice and level and reasonably sheltered from south and south-westerly winds.
It was a bit of a surprise when we found many leeches, mostly on our gaiters but a few resourceful specimens had found their way onto our legs to drink their fill. We removed them with a small squirt of RID insect spray. We also each found a tick that we removed in the same way. However, they seemed to want to stay around a bit longer and I needed to carefully pull mine out of my leg. We set up camp, made a cup of tea and wandered along the beach, checking out caves and the massive storm erosion at the side of the creek.
Dinner tonight was beef mince and vegetarian pasta with a hot chocolate drink later. Not that impressed with the beef - it needed something to spice it up a bit maybe. We hope to have a quiet evening - maybe listen to the 2nd 1-day international match between Australia and Sri Lanka if radio reception allows.
Day 3 - Wednesday 7/3/12 - Ketchem Bay to Wilson Bight (4.5kms, 2hrs 50mins)
First - cricket update. Australia were totally outplayed and made a not very impressive 6 for 260. In reply, Sri Lanka batted brilliantly, making 170 before their first wicket fell. By the end of play Sri Lanka had won by 8 wickets, with about 35 balls to spare. So we now look forward to the decider on Thursday.
It was a leisurely start to the day as we just needed to get over the Amy Range, on the way to Wilson Bight.
We had our normal breakfast of a mug of tea, followed by porridge with sultanas and were packed up and on our way by 9.55am. The track climbed through the forest, with occasional views out to sea. Much tea tree to push through at head height and above. We used the boot washing station at a creek after 45 minutes or so and met a couple of men who were having a brew at the top of the range after another 45 minutes. They were on their way back to Melaleuca after starting the SW Circuit on 2/3/12. Pretty good effort we thought. We continued on down the track, pausing to take a photo of Wilson Bight on the way.
At 12.45pm we reached the first of the campsites - quite OK, with a small creek nearby. Continuing on around the point - carefully picking our way through the shoreline rocks (low tide so no problems) - we saw a set of steps towards the western end of the beach, past the creek we had read about. We clambered up the steps (large gap at the foot of them due to erosion) and found a lovely camping area with room for, say, six tents. Very comfortable.
I made us some Vita Wheat biscuits, cheese and Vegemite for lunch. Matthew set up the tent and he then went for a swim in the surf.
I did some much-needed washing - myself and walking clothes in the creek near where it met the sea. Feeling much better after that. We went in search of water and found a small waterfall after scrambling up through driftwood and other debris that had been pushed up by a violent storm in the past.
At around 3.00pm we were surprised when a youngish (30-something) Japanese woman arrived at the campsite. Matthew had previously cleared a small fallen tree out of the way to make access easier, so it made her arrival a bit less of a struggle.
We discovered she was by herself and had walked from New Harbour during the day. Quite an achievement. She told us she was a parks ranger in Japan, on a 1-year holiday in Australia to do as many bushwalks as she could in that time. I asked her name - T. Chihu. Apparently, her plan was to walk to SW Cape, back to Melaleuca to replenish her food supplies and then to continue on the South Coast Track to Cockle Creek.
Dinner today was Thai chicken curry with salmon and peanuts - very tasty.
Another very pleasant evening - into the tent by about 8.30pm for a good night's sleep.
Day 4 - Thursday 8/3/12 - Day Walk to SW Cape (7kms return, 8hrs 20mins)
Breakfast, normal porridge with sultanas and a mug of tea. Not an early start today as this is the day we planned to walk/climb Mt Karamu and walk out to SW Cape. We packed light day packs with 2 litres of water each, EPIRB, compass, maps and notes, snacks, rain jackets, basic first aid kit, marking tape and trekking poles.
We started the walk at about 9.40am and were faced with a steady, steep climb up to a lookout point before continuing on to the first of the non-Mt Karamu peaks - 3 in all - and only about 5m difference in height. It was here, on the first of the peaks, that we saw T. Chihu, who was about to set out on the side track to SW Cape itself. We saw her head off along the track as we made our way more slowly to the actual Mt Karamu. We started our walk along the track to SW Cape at about 12 noon.
Very soon we began to regret our decision to wear shorts and not long pants on this walk. Apart from the track being very narrow - less than 30cms wide - the banksia marginata sub-species (stunted, very old shrubs) were totally unforgiving, continuously scratching our bare knees and thighs. To add to our discomfort, the wiry bauera shrubs (Bauera rubioides), with their whippy, intertwining stems and sharp leaves, made progress very difficult indeed. [A description I found refers to the Bauera rubioides as follows: "It is almost as notorious as the horizontal scrub. It is a shrub with a sprawling habit, that grows as long wiry stems that intertwine with itself as well as other species of scrambling plant, often forming impenetrable tangled masses."] We knew all about it!
By 1.30pm Matthew asked me how much longer did I think we should keep walking before turning around, if we had not reached the Cape. I suggested another two hours. Progress continued to be very slow. On many occasions we needed to push strongly through what seemed to be an impenetrable wall of foliage, unable to see where our feet were being placed.
Finally, Matthew had had enough. With a few choice descriptions, it was clear he did not want to continue to the Cape. The problem was that every step we took we knew we would have to repeat it in the opposite direction. The turnaround occurred at about 3.00pm, when we were still roughly 1 to 1.5kms from the final vertical rock face before the Cape itself. Whilst it was a pity not to have actually reached our goal, it was a good decision.
It seemed to take a very long time just to get back to "South" Karamu and by the time we reached the beach at Wilson Bight it was around 6.00pm. As we walked along the huge pebble rocks I looked back and was surprised and relieved to see T. Chihu striding along behind us. We waited for her to catch up and discovered she had made it out to the Cape and still caught up with us. What a legend!! Even allowing for the fact that she wore long pants, her achievement was remarkable.
Matthew estimated that, even if we had been able to reach the end of the Cape, it would have been at least 8.00pm (or maybe even later) before returning to our campsite. [Prior to seeing T. Chihu on the Wilson Bight beach we had become worried that we had not seen any sign of her since she left us at "South" Karamu to begin her walk to the Cape. Fortunately, my imagined worst-case scenarios did not eventuate.]
SOUTH-WEST CAPE - 1, WATTONS - 0
After having had virtually no food since breakfast, we enjoyed chicken marsala with rice, followed by our normal hot chocolate drink before listening to the end of the cricket - Australia won in a tight finish - and getting into the tent by about 9.30pm.
Day 5 - Friday 9/3/12 - Wilson Bight to Ketchem Bay (4.5kms, 3hrs)
Up at 7.45am for a leisurely breakfast and a mug of tea. Had our photos taken with T. Chihu, gave her our email and web addresses and she was gone before 9.00am.
We took our time, left at just on 10.00am and negotiated the rocky point on the beach by carefully timing our steps as waves came and went. Soon we were climbing steeply through sometimes dense undergrowth. I immediately regretted not wearing long pants (again!). Matthew did and benefitted from their protection.
No lunch stops on the way today as we only needed to negotiate the Amy Range and then arrive at Ketchem Bay. Plenty of drink breaks, more leg scrapes and we arrive at the campsite just after 1.00pm.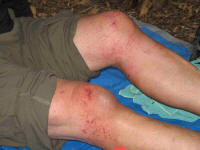 Lunch today - normal Vita Wheat biscuits, cheese and Vegemite, followed by a mug of tea. We enjoyed watching a small bird, that I later identified as a brown scrubwren, foraging for its afternoon feed.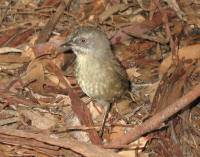 During the afternoon we took the opportunity to wash some of our walking clothes. The forecast weather change came through at about 5.15pm, cooling the air temperature down by a few degrees and sending the mosquitoes on their way, fortunately.
Dinner tonight was honey soy chicken with added vegetables - very satisfying and tasty. We climbed into the tent just before 7.00pm - threatening rain due to south-westerly change approaching. Listened to various mainland radio stations before eventually sleeping.
Day 6 - Saturday 10/3/12 - Ketchem Bay to New Harbour (8.5kms, 4hrs 40mins)
We were up reasonably early today, even though it promises to be a fairly short walking day.
It had rained on and off all through the night so we were somewhat relieved that there was no sign of rain as we prepared to leave. [Camelot weather.]
Normal breakfast again, then we packed up and left Ketchem Bay at about 9.40am. We headed up through the forest before levelling out on a good, rocky track that eventually wound down through the forest to Hidden Bay.
We decided to have an early lunch (only 11.15am) at the campsite near the creek. Once again, our normal lunch snack, washed down with a Gatorade drink.
We were back on the track, up through the forest initially, then a good, hard rock track that skirted around minor peaks and knolls on the way. As we walked over the "dinosaur's back" we met a group of four adults and maybe four or five teenagers, heading for Wilson Bight today. The boys and girls did not seem to be adequately dressed for close scrub encounters but I suppose they coped.
The descent to New Harbour beach took us through wet forest with many fallen trees to clamber over or under as we went. Not an easy task with upwards of 25kgs on our backs.
It was a relief to reach the beach at about 2.00pm. We set up our camp at the same, mid-beach campsite as we had when we walked this way at the end of Day 1. We wandered along the creek to get the water bladder and drink bottles filled with water. It was a bit muddy at the creek edge.
We made our afternoon mug of tea and munched on some cashews and peanuts as we relaxed, listening to the surf on the beach in front of us. Experiences like this make all the walking worthwhile.
Around 3.30pm a group of four men from Victoria arrived, on their way to walking the SW Circuit. They told us that there were two sea kayakers along at the eastern campsite. They had apparently paddled their kayaks from Apollo Bay to King Island, down the West Coast and were on their way back up to re-cross Bass Strait to Port Welshpool then home. As I was writing these notes Matthew had walked along the beach to meet them, presumably swapping sea kayaking yarns of their various adventures.
Matthew returned at 6.00pm after an involuntary dunking to his waist in the creek near the beach when he misjudged the water depth (tannin-stained and impossible to easily gauge the depth).
Dinner tonight was a Chefsway creation - Moroccan chicken and vegetables plus some added freeze-dried peas, corn and capsicum. Generally, we prefer to use Back Country meals as they are easier to prepare than Chefsway and still taste pretty good, without the long, drawn-out cooking process that uses up precious fuel too quickly.
The Victorians visited us during the evening and offered a drink of their cask wine - very welcome. In return we gave them our "TasAdam" Holbrook notes of the SW Circuit in case they might find them useful.
Day 7 - Sunday 11/3/12 - New Harbour to Melaleuca (12kms, 4hrs 10mins)
A peaceful night, despite intermittent showers - only light and no problems for the Macpac Minaret tent. We were up and about by 7.30am, had our normal breakfast and were packed and ready to leave by 9.20am. The track back to the South Coast Track was a bit muddy but there was no deep bog. This is in contrast to the South Coast Track, which is churned up by the constant stream of walkers who have created an unpleasant quagmire. We stopped for a Gatorade drink after about one hour. Apart from a few stops for a stretch, we just kept following the boards back to the Melaleuca Airstrip. Seeing it glistening white from so far away it seemed to make the trip back there even longer than it actually was. We arrived at about 1.30pm, changed out of our stinking walking clothes into the spare clothes we had left at the start of the walk and relaxed.
Much to my surprise Matthew produced two small bottles of Coke and several small packs of biscuits and cheese from the spare clothes bag. What a treat!
There were many people milling around - some kayak trippers, yachting day-trippers and people waiting to be flown out. There were two planes already on the ground and a third arrived while we waited to find out if we would be able to leave today or if we needed to wait for a later flight out (Monday maybe).
We visited the orange-bellied parrot feeding tent and platform and also saw the beautiful firetails at the same time.

It transpired that all planes were choc-a-block so we settled in at the older Charles King Hut for a comfortable night, not in the tent and able to spread ourselves out. No other occupants at the hut, not even the alleged resident pygmy possum this time.
We eventually flew back to Cambridge at 1.00pm on Monday, flying via Federation Peak for a close-up view of the magnificent peak.
Thanks to Matthew for his patience with my slow pace. Great son and a very considerate walking companion.
Medical Issues
As with other recent trips (walking and cycling) I have had to deal with having a suprapubic catheter following radiation therapy for prostate cancer. In order to avoid possible infection problems, such as might be caused by not being able to shower regularly while on a walk, I ensure that the entry site of the catheter is thoroughly cleaned with alcohol swabs each day and covered with a non-stick dressing. Other than the inconvenience of having the catheter in place I think I cope fairly well and it has not prevented me from doing whatever I want to do.