WALK TO FEDERATION PEAK©
TONY & MATTHEW WATTON
2/8/1998 to 5/8/1998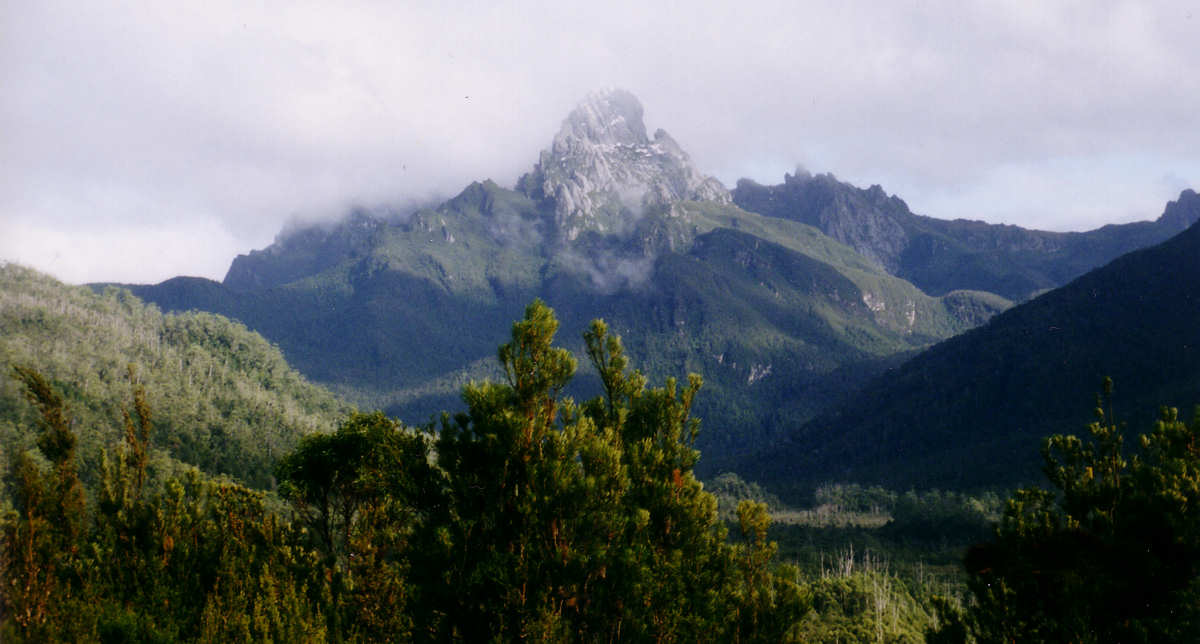 Federation Peak from Cracroft Valley
The Plan for the Walk
This was my first major overnight walk, having previously undertaken only several walks on the Wellington Range from 1995 and a solo day walk to Mt Anne in July 1998 (see my notes at Solo Day Walk to Mt Anne).
As the walk took place in the middle of Tasmania's winter, there was never an intention to actually climb Federation Peak. [Matthew had previously climbed the Peak - his notes are at www.mwatton.blogspot.com.au.] It was meant for me to familiarise myself with real bushwalking and at the same time allow me to see an iconic peak in true wilderness.
These notes have been prepared from the point of view of 14 years retrospectivity - the walk having taken place at a time before I kept notes of walking activities. However, the main issues encountered are indelibly imprinted on my memory of a not-entirely-pleasant experience.
Day 1 - Sunday 2/8/98 - Farmhouse Creek to South Picton Saddle (6.2kms)
We drove down to Farmhouse Creek and started the walk in very cold conditions, heading through thick scrub and forest to South Picton Saddle. On the way we also traversed buttongrass plains that enabled me to get my first ever view of magnificent Federation Peak - a sight that will stay with me for ever.
When we arrived at the very small campsite it was only after setting up the tent that we realised the tent was close to a large leaning dead tree that was supported near its top by another tree, creaking in the wind. We decided to take the risk and not move the tent. Not that there really was a lot of choice for position anyway.
Day 2 - Monday 3/8/98 - South Picton Saddle to Cutting Camp (10.2kms)
We passed Mt Hopetoun as we trudged through knee-deep bog in very cold conditions and encountered plenty of cutting grass to trap and trip the unwary walker. I remember thinking to myself that it would be a good challenge to come back this way just to climb Mt Hopetoun at some time in the future.
It was a relief to get to Cutting Camp, with the thought that the next day I would be getting a close-up view of Federation Peak at last.
Day 3 - Tuesday 4/8/98 - Cutting Camp to Federation Peak to Paperbark Camp (7kms)
We packed our light day packs with a few essentials, stored our main packs in the tent and headed off to tackle Moss Ridge. This involved climbing vertically up loose, mossy banks, grabbing handholds of projecting roots as we went. Eventually made it without any mishaps.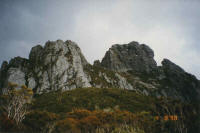 From there we climbed steeply up to the Lower Béchervaise Plateau and then to Upper Béchervaise Plateau. Here the track hugs the rock face and was treacherously slippery with old ice, requiring more than the usual amount of care as we went. From here we made our way to the gully near the main ascent. We then found ourselves standing before the massive bulk of Federation Peak itself, at the start of the Southern Traverse.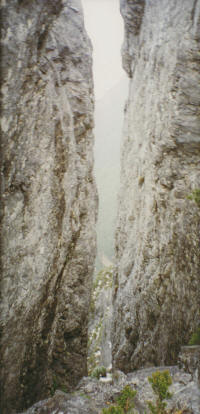 As we looked around we could see a front of adverse weather approaching the gully area from the west. We did not wish to be caught out in such an exposed location and so took the opportunity to have a last look at the peak then carefully worked our way back down to safer ground.
Returning to the tent, we packed our gear and prepared for the walk back to civilisation. Matthew suggested that it would be a good idea to attempt to get back to the car in one continuous walk, in order to avoid the need to camp another night in very unpleasant conditions.
I agreed but was a bit concerned whether I could actually do what we intended to. We started in daylight but, because we were walking in the middle of winter, by about 5.00pm we had to use our headtorches. I rapidly became very cold because my Goretex jacket was thoroughly soaked and so offered very little protection. In addition, I found it increasingly difficult to stay upright in the narrow, bog-filled channel that was the track. My boots were scraping down the sides to what I imagined was the curved base of the track, with the result that I frequently fell over. This was physically draining, to the extent that I said to Matthew that I really needed to stop as soon as we could reasonably do so. [This trip took place at a time before I regularly used trekking poles. I am sure they would have been a great help to me in the boggy conditions on this walk.] I think the stop came at Paperbark Camp at about 9.00pm. We quickly erected the tent and made ourselves a hot drink. In retrospect, we should have also had a hot meal. By the time I climbed into my sleeping bag I was shivering uncontrollably and, with the benefit of hindsight, I was probably in the early stages of hypothermia. It took a very long time before the shivering stopped.
Day 4 - Wednesday 5/8/98 - Paperbark Camp to Farmhouse Creek (14kms)
By morning I was feeling much better and ready to tackle the walk out to our car. Breakfast consisted of a muesli bar and water, then we continued the slow plod in very poor weather conditions.
When we reached Crest Camp I suggested to Matthew that we needed to stop for a hot meal, even though we were on the home leg of the trip. We cooked up a Continental pasta meal (Matthew reminded me that it was chicken curry) and were soon on our way to finish what was a challenging trip for me and one that I will remember for many years to come.