WALK IN FREYCINET NATIONAL PARK©
TONY AND MATTHEW WATTON
SATURDAY 30/6/07 TO MONDAY 2/7/07
---
The Plan
My son, Matthew, and I planned to do a 4-day circuit, broken up as follows:
Day 1 From the Car Park to Hazards Beach campsite.
Day 2 From Hazards Beach campsite to Cooks Corner campsite. Set up tent, leave main packs and take day packs to Bryans Beach and return.
Day 3 From Cooks Corner campsite to Wineglass Bay campsite via Mt Freycinet.
Day 4 From Wineglass Bay campsite to Car Park.
The trip turned out almost as planned:
Day 1 Car Park to Hazards Beach
Day 2 Hazards Beach to Cooks Corner
Day 3 Cooks Corner to Car Park.
--- 0 ---
Day 1 - Saturday 30/6/07
After a leisurely shop for supplies in Sorell we drove to the Freycinet NP car park and changed into our bushwalking clothes.
We realised that water might have been scarce so we each carried about 3 litres of water, making our packs weigh about 23kg - a bit heavier than we would have liked.
We set of in fine conditions at 2.15pm. On the way around the Hazards Beach Track we passed several day walkers and by the time we reached Hazards Beach we were on our own.
The next 4kms along Hazards Beach were a slow trudge in soft sand but this was compensated for with beautiful views and lovely weather.
Arriving at Hazards Beach campsite at about 4pm, we set up the tent in a perfect setting, close to the beach, a level site with a sandy base and cooked an easy curry meal with a hot chocolate drink.
Being Winter-time, it was dark by 5.15pm so we were soon tucked up in our sleeping bags for the long night. We listened to the football for a while but were soon asleep.
Day 2 - Sunday 1/7/07
Not a particularly early start today as we were only carrying our heavy packs to Cooks Corner campsite (about 6kms). Hot chocolate and a muesli bar for breakfast and under way by about 9.45am.
It was another excellent campsite at Cooks Corner, where we set up the tent, packed our day packs and stowed our large packs in the tent.
We checked out Cooks Hut and found it was a works-in-progress, with stonework still being completed. When finished it will rival some of the Overland Track huts in size but at present it is not in a habitable condition.
However, one of the two water tanks had some water (not connected to the roof) so we were able to replenish our water supply, which was a bit depleted. We weren't sure of the quality so we only used it for cooking our meals and hot drinks. Matthew used his Pura-tabs in the water in our bottles, just in case.
It was an easy walk to Bryans Beach, less than one hour each way, with our light packs.
We explored over the dunes to see Bryans Lagoon. Initially we thought there wasn't much water but as we walked along the edge there was a lot more in sight. I would be very hesitant about drinking the water but in an emergency I suppose it would be better than none at all.
We inadvertently disturbed two black swans on the opposite shore - they had a bit of trouble getting airborne but they eventually managed and looked quite magnificent in flight.
The lagoon was closed off near the beach - it would take a lot of rain or an exceptional tide to cause any flow.
When we returned to our tent we made ourselves a snack of Vitawheat biscuits, cheese slices and Vegemite while dinner was cooking - carbonarra for Matthew and chicken curry for me.
Just as we were finishing dinner Matthew noticed that two other people had arrived and were setting up their tent a short distance away. A quick chat, because they were getting their things sorted out before it got dark.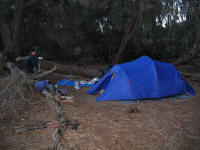 They reckoned it would be about 10 hours walking to get to Wineglass Bay campsite (theirs and our destination for Monday) so we decided to make an early start and see how things turned out. As they were also heading for the same spot we expected to see them at some point in the next day's walk.
Another early night, in our sleeping bags by about 6.00pm.
Day 3 - Monday 2/7/07
Having had about 10 hours sleep I was up at 5.00am, a bit too keen to get packed up. I delayed until just before 6.00am then we got ourselves organised, ready to set out by 7.40am. Breakfast of only water and muesli bar to save time.
I must admit I was a bit uncertain about how realistic our plans were for the day as I had not done much bushwalking since Matthew and I walked in the Walls of Jerusalem NP at the end of March 2007.
Matthew had prepared Tang (powdered orange juice) drinks for us for the day. We find this makes a welcome change from plain water and helps us to drink more. We still needed to be careful about how much we drank as water sources were a bit unreliable.
The walk was reasonably easy going for the first 2.5kms - 3kms, then the track became steeper, all the way up to the Mt Freycinet/Mt Graham Saddle (approx 5kms). However, despite a very tiring climb, we reached the saddle by 10.00am, packed our day packs and stowed our main packs amongst some bushes, away from inquisitive birds - maybe clever forest ravens as on the Overland Track. [see separate report about this trip in July 2006 Overland Track 2006.]
The walk/clamber to the top of Mt Freycinet was uneventful and we were rewarded with some magnificent views to both sides of the peninsula. It made all the hard work worthwhile.
During today's walk there were many beautiful banksias and grass trees, she-oaks and needle-bushes. The smells were delightful. It would be nice to be able to grow some of these grass trees back home but I believe they are very slow growing.
On returning to the saddle after 1hr 45m we repacked our gear into our main packs and started the climb over Mt Graham, which was close by, and en route to our destination.
This was another steep, unpleasant climb that necessitated several drinks breaks and rest stops before reaching the top. Matthew galloped on ahead and made sure my pain was recorded for posterity with photos of me struggling up the hill.
Once again, great views, from a slightly different angle and good views across to Schouten Island.
From Mt Graham the track dropped steeply at first then travelled along a ridge-line for about 2kms. The track then meandered downwards until it eventually emerged at the Wineglass Bay campsite. Part way along this section we had a lunch break of biscuits, cheese and Vegemite and some fruit slice biscuits, washed down with Tang drink. Very refreshing.
As we had made it to the coast by 3.15pm we decided to have a rest break before tackling Wineglass Bay beach and the Hazards Saddle track.
The beach walk was a slow plod in soft, quartzite/granite gravel and took us 35 minutes. At the northern end of the beach we stopped for a few minutes rest to get our breath before tackling the next climb. Matthew saw what he thought was a large seal feeding about 200m offshore but, when it moved closer to us, we realised it was a whale. We couldn't identify it but thought it might be either a humpback or a southern right whale. It was between 10m and 15m long and gently broke the surface from time to time. What a special treat. [Subsequent checking with Parks and Wildlife indicated that it was probably a humpback whale because it had a small dorsal fin and southern right whales do not have such a fin.]
The walk over the Hazards Saddle seemed to take for ever - actually about 1 hour - but it was a tremendous relief to reach the car park, just on dark at 5.15pm. What a day! About 9 hours 30 mins on the track and a distance, difficult to estimate accurately, but could be about 20kms.
It seemed to us that most people who just walk over the Hazards Saddle to the beach, or just to the lookout, are missing out on a truly memorable experience and a magnificent part of Tasmania, different from most other remote areas.
No injuries to report, apart from a general soreness and very weary from the unaccustomed exercise.