PORT DAVEY TRACK -
MELALEUCA TO SCOTTS PEAK©
TONY & MATTHEW WATTON
16/12/09 to 21/12/09
Day 1 - Wednesday 16/12/09 - Melaleuca to Farrell Point (12kms, 7hrs 30mins)
This trip really started the previous day, when Matthew and I drove both our vehicles to the Scotts Peak Camping Ground to leave his car at the car park to await our return by foot.
At around 9.00am on Wednesday we flew in to Melaleuca with two other bushwalkers (who were heading east back to Cockle Creek). Par Avion had cancelled a sightseeing trip for three other visitors until Saturday as conditions were not expected to be favourable in the south-west - hot northerly wind then rain for three days.
The flight was a bit hair-raising - literally - as at one point in the flight the Cessna 206 dropped like a stone a number of metres and we all left our seats - some hit the roof.
At Melaleuca we collected two gas canisters for fuel on the trip and were soon on our way at 11.00am. The forecast for hot northerly winds (about 32oC) was spot on, with gusts to about 30kts in our faces.
The track was undulating, with some steep sections and a lot of bog, to about calf depth. This was not a problem in itself, but an indication of what we might expect in the days ahead.
At one of the creek crossings about 3kms from the boat crossing we met two 20-something men heading from north to south who were cooking and having a bit of a rest break before finishing their walk.
As we neared Joan Point the wind turned westerly and a light drizzle started. This had been forecast so was no big surprise for us.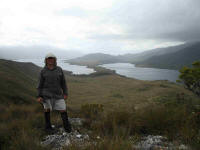 The boat crossing at Joan Point was in a poor state as the ramp on one side was broken, with only one rail from about two thirds of the way to the water, instead of the normal two rails. The boat was damaged where a large, protruding bolt on the broken slip had gouged along the bottom of the boat. In truth, this needs to be urgently assessed and fixed by Parks and Wildlife Service (P & WS) as it is a potentially dangerous situation. We have since contacted P & WS about this.
The boat crossings were uneventful, thanks mainly to Matthew's skill at reading water conditions and the fact that the wind had abated to a great extent. We reached our destination at about 6.30pm, happy with our day's achievement. The campsite at Farrell Point was comfortable, with very nice views out across the southern part of Joe Page Bay and the sound of lapping water as we drifted off to sleep in Matthew's Olympus tent. Prior to that our evening meal consisted of a cup of tea and a packet rice meal - a bit bland even with the addition of some cashew nuts to improve the texture.
Day 2 - Thursday 17/12/09 - Farrell Point to Spring River Camp (10kms, 7hrs 45mins)
After a hot drink for breakfast we left Farrell Point at 9.15am and encountered many boggy areas plus ridge-top ascents and descents. Nothing too dramatic as this is not alpine country, but still a bit draining with our 21kg packs.
As we climbed a hill overlooking Spring River we saw two kayak paddlers who appeared to be heading up-river, Matthew thought to the site of a ruin, about 1km to 1.5kms along Spring River. Also, at the same time a male and female couple passed us, heading south. We exchanged greetings and continued on our way north.
One creek crossing in particular caused me some concern as the creek was about 6m wide and flowing quite strongly. Matthew first crossed with no pack to test the depth and flow rate, then came back to take his pack across. I was very grateful to Matthew for ferrying my pack across in difficult circumstances, while assisting me at the same time to brace against the flow. I don't think the water reached our packs but was very close to it.
When it came to crossing Spring River we found to our relief that the large log across the river had a thick rope for a hand hold about 1.5m above the log. At the start Matthew had a bit of a slip and was saved from a swim by a submerged log that he landed on feet first. It demonstrated to us just how careful we needed to be with all water crossings. At these crossings we always undid our pack straps just in case we needed to get them off in an emergency.
This proved to be quite a trying day and it was a great relief when we arrived at the campsite, about 1km before Spring River itself. We were careful to avoid the tent location that would have been a bit too close for comfort to an active jack jumper nest that was about 500mm in diameter and the same height at the top of the dome. Who knows how many millions of the little beasts might inhabit such a structure?
Matthew's large fly sheet kept our eating and packing area dry, even though it rained continuously. We spent a comfortable night.
Day 3 - Friday 18/12/09 - Spring River Camp to Watershed Area (14kms, 10hrs 45mins)
We started off slightly earlier this day, at 8.45am, and whilst the track conditions on higher ground were hard and rocky, at lower levels there was much bog to push through and several creeks to cross. We also encountered bog uphill and downhill, which was a bit of a surprise, to me at least.
At one point along the quartzite track we saw a rather startled freshwater crayfish. It stayed in its position of claws raised in a threatening pose long enough for us to get some good photos of it. It was about 150mm across the claws and about the same length overall. [I found out later that this was a member of the giant freshwater crayfish family - Astacopsis tricornis and did not live in a burrow, but rather in freshwater streams. It might eventually grow to a size of about 2kg.] Totally protected, of course.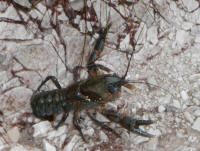 Also on this leg of the trip Matthew pointed out a spectacular red wildflower with several hanging, bell-shaped flowers at the end of a long bare stem, no obvious leaves (Christmas bells or Blandfordia punicea). There were many other beautiful, delicate wildflowers on this walk.
About 1km before Watershed Camp (our intended destination for the night) we came across a creek that was in flood owing to the last two days and nights of steady rain. Even though it was only about 3m wide the water was flowing very fast. There were two thin (50mm diam) branches about 300mm below the surface that normally people might be able to balance on to cross the creek when it was not in flood. Matthew pushed through the scrub about 10m downstream to see if an alternative crossing might be possible, managed to cross without his pack with some difficulty but then had to swim desperately to make it back to the side I was on. [I only found out that this had happened two days later!]
We decided to give it a go where the submerged branches were so Matthew first crossed without a pack by grabbing a branch after bracing himself against the submerged branches and hauling himself onto the other bank. Having achieved that he came back and said that, although his feet did not touch bottom, it was possible to cross. He then proceeded to repeat the performance with his pack and made another crossing with mine. As I launched into the water my feet were swept from under me but the branches held me and I was able to cross by doing the same as Matthew had. Except that he grabbed my hand and helped me up the bank. Thanks Matthew.
As we clambered up along the track I said to Matthew, "I wonder what Bear Grylls would have done!" Whatever it was, he would have made it more spectacular than it needed to be. Just then on the left I spotted our intended campsite but to my surprise the small site was already occupied by a rather large dome tent. On asking if there was anybody home we established that there was a male/female couple from Victoria who had walked in from Birch's Inlet, across the Lost World Plateau and up the Port Davey Track to this camp. Apparently, they had been walking for 24 days and we were the first people they had made contact with in that time.
We briefly considered moving on to the next campsite but as it was already 7.30pm and we were pretty much stuffed from the day's activities we decided to make the most of what was there. This was a patch of sodden ground that resembled a running creek and barely enough room for the tent, even without guy ropes extended. However, first we erected the fly and then put up the tent under reasonably dry conditions, having scraped away some small drainage channels. We were then able to quickly get out of our walking clothes, scramble into the tent, get into our night gear and continue to unpack from inside the vestibules. We then did our standard leech check, found several and 'eliminated' them with a brief squirt of Aeroguard.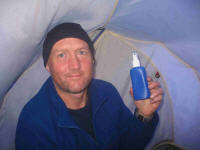 There was to be no hot meal this night but Matthew heated up enough water to make hot Tang. This, combined with my Vitawheat biscuits, sliced cheese and Vegemite made quite a reasonable snack. We were soon warm and cosy and very relieved we had decided to camp rather than push on.
Day 4 - Saturday 19/12/09 - Watershed Area to Crossing River Camp (10kms, 8hrs 30mins)
A slow start this day (11.00am) as we allowed the other people to pack up their gear in the very restricted space of our tents without getting in their way.
On leaving the area we immediately plunged back into bog territory but fortunately the rain stayed away and some of our outer clothes and packs even began to dry out.
There was a lot of undulating ground and about 3kms north of Watershed Camp we encountered a very wet gully around the side of a hill. Here the track was very overgrown and progress was painfully slow, having to push through cutting grass, tea tree, banksia and bauera branches that all encroached onto the boggy track and either tried to trip us or push us away from the track.
On higher, exposed areas generally the track was pretty good, with a quartzite base about 30cm wide. At most times, however, we had boggy tracks that we prodded with our poles before committing ourselves to them. There were many occasions when mistakes were made, with the inevitable plunge over knee depth and being knocked off balance (me especially!).
It was a great relief when we arrived at Crossing River Camp at 7.30pm. We immediately walked to the bank to check out the flow and height of the river. There was a group of three walkers on the opposite bank, one of whom said the level had dropped 30cm during the day. However, when Matthew experimentally waded part of the way across and came back he said he thought the current was too strong for an attempt to cross just then. I said I thought that was a very good decision as, quite honestly, I was very concerned that one or both of us might end up down the river (or up s--t creek without a paddle!). My immediate thought was that we could be here for a few days. Our food supply would have just allowed for that, with careful rationing.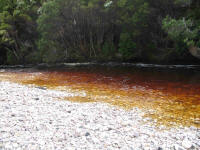 Obviously, the other people we had seen earlier thought the same as they were camped close to the crossing point and were prepared to wait for the river level to drop.
We set up camp and enjoyed a very comfortable night in the large camping area on the western side of the river.
Matthew cooked up a very tasty pasta meal with sweet chili salmon. A cup of tea finished the dinner nicely.
Day 5 - Sunday 20/12/09 - Crossing River Camp to Junction Creek Camp (10kms, 7hrs)
We were up at 7.00am and a discussion followed along the lines of:
Matthew: "If we don't cross today, there might be more rain to bring the level up again. That would mean a further delay of who knows how long."
Tony: "Yes, but if we attempt it and the conditions are similar to yesterday's, one of us might end up down the river with no help available."
We walked along to the crossing point to see that the river level really had come down quite considerably. However, there was still a substantial flow and the river seemed to be quite deep close to the opposite bank. Impossible to judge though because of the tannin in the water.
When we had returned to the tent I had to agree that the water level had subsided and it seemed a crossing might be possible. Just then we heard noises that indicated that someone from across the river had actually crossed (in bathers, thermal top and boots as it turned out).
This made me feel much better about our chances of crossing safely so, by 9.00am we were ready at the bank to cross.
My thanks, once again, to Matthew for ferrying my pack across, helping me with a pole each, at the same time. It was a tremendous relief to have crossed the river safely and I am very proud of my son, Matthew, and his care and concern for me.
The remainder of the day consisted of much the same track conditions - much bog, some hard track and even some boards to walk on at odd times.
A chopper provided some alternative entertainment as it passed several times, presumably ferrying work gear to Melaleuca from a road access point by cable slung beneath the chopper.
During this section of the walk Matthew saw what was probably a ground parrot. It seemed to flutter across a button grass clump and hide, motionless, out of sight. We were always accompanied by a variety of birds with their attractive whistling calls but we could rarely see them and do not know what they were. Occasionally, black cockatoos complained loudly against our presence whenever we inadvertently invaded their territory.
We made it to Junction Creek Camp by 4.00pm and found a perfect camping spot, away from the creek, amongst the trees. We cooked pasta and salmon for our main course after an entree of cashew nuts. Dessert was our standard cup of tea. Totally satisfying.
A southern brown bandicoot provided the evening's entertainment as it hopped through the campsite, maybe checking for food scraps (but none was available from us).
A beautiful, sunny evening with sunlight, filtered through the tree canopy, against a backdrop of a clear blue sky.
Overall, this was a most satisfying day, even though I needed many rest stops to get my breath back (as I did each day) in order to keep going. Matthew had made life a bit more comfortable for me by insisting on carrying a couple of kilos of my gear. [When he returned home he said he weighed his pack and it was still 21kgs so I'm not sure how that all worked.]
Day 6 - Monday 21/12/09 - Junction Creek Camp to Scotts Peak (7kms, 4hrs 45mins)
After a pleasant warm, rain-free night we woke at about 5.00am to have a leisurely breakfast of a cup of tea and a muesli bar.
Even though this promised to be a relatively easy day we still managed to be packed up and ready to head off by 8.00am.
Matthew had, once again, packed a couple of kilos of my gear into his pack and his kindness certainly made it a bit easier for me to manage.
About 1 hour into the day's walking Matthew, who was maybe 20m ahead of me, noticed an echidna at the side of the track - the first seen on this walk. As I reached it I just saw its back as it disappeared into the undergrowth.
Despite John Chapman's comment on this section of the track in his book 'South West Tasmania' that, "This section of track is gradually improving - much work has been done to the track." we found that the the first 5kms from Junction Creek to be very similar to much of the previous 56kms - eroded, narrow channels, knee-deep bog and overgrown track. Still, we both accepted that this is what walking in south west Tasmania is all about really - being prepared for the worst and hoping for the best. The comment that I referred to above first appeared in the 1990, 3rd edition of 'South West Tasmania' and has not been updated in nearly 20 years. However, generally we find his books to be very useful reference material indeed.
Overall, we did find this day's walking a bit easier. Maybe it was because we knew we were approaching the end of the walk and maybe not. No, it was because we were near the end! Much relatively new boardwalk in the final 2kms made walking very pleasant. In the final 2kms we encountered a group of one male and two females (all apparently in their 20s) who were heading to Junction Creek then up on to the Western Arthurs and Cracroft Crossing. We wished them luck.
A little while later we passed a 20-something male who was walking alone, first to Melaleuca, then on to Cockle Creek. I asked him if he had arranged a food drop at Melaleuca but he said he had everything he needed with him. We wished him the best of luck and he wished us a Merry Christmas. We both suddenly realised how close we were to Christmas.
As we left, Matthew mentioned that the walker was not wearing gaiters and his footwear seemed to be only bushwalking shoes, rather than boots. We thought, if this were correct, that he would have an interesting time in the bogs if a shoe happened to be sucked off his foot at the bottom of a deep hole. We envisaged him lying down in the bog with an arm outstretched, searching by feel for the lost shoe.
Our final encounter with wildlife was a Bennetts wallaby, just to the left of the track in the final forest area. It did not seem to mind our presence but did not respond to my "Skippy" imitations. Clearly, it only spoke wallaby, not kangaroo. Still, a very attractive animal.
We reached the car park, happy but very tired at about 12.50pm and were very relieved to find Matthew's car intact, with no damage or other problems. Our personal injuries amounted to sore feet, a few blisters, rubbing wounds on shoulder blades (mine) but nothing serious. It is worth noting that throughout this trip Matthew endured a head cold, which made his achievement an even better one than otherwise. I was very pleased and lucky to have had him for a walking companion.
Medical Issues [You might not want to bother with this section.]
From my point of view this was a particularly important challenge ever since Matthew told me about his previous experiences whilst doing the same walk from north to south two years ago (Port Davey Track - December 2007).
As may be seen from my other account (Trip Down the Prostate Cancer Highway) I have had a suprapubic catheter since September 2009 and have been forced to wear a urine leg bag. This is because I have a urethral stricture, caused by the cancer treatment, and cannot urinate normally. To help reduce the pain of bladder spasms I have been taking three tablets of Ditropan each day. They help to some extent. Matthew regularly asked me if I had taken my latest tablet.
As I could not see myself walking the Port Davey Track with a leg bag attached I rigged up a small tube with a slide tap near the end (similar to a Bard flip-flo valve but this has not yet been provided to me because I have only had the catheter in since September). I used this short tube with a tap to enable me to urinate more easily. As my bladder has shrunk to a capacity of no more than 80ml to 100ml this entailed frequent stops.
Each morning I needed to clean the catheter insertion site in my lower abdomen and make sure a clean dressing was used to protect the tender area. Fortunately, my pack waist strap closed together higher up and it did not interfere with the catheter.
At night I used an overnight urine collection bag in my sleeping bag to avoid having to clamber out of my sleeping bag and out of the tent at very short notice.
With these medical issues and generally slower pace Matthew has been, and continues to be, a wonderful son - considerate, witty and very kind. Thanks once again Matthew.