SOUTH CAPE RIVULET WALK©
14-15 SEPTEMBER 2002
TONY WATTON
I wanted to do this trip because it had been quite some time since I carried a heavy pack and I needed some practice and training before my son, Matthew, and I undertake the South Coast Track walk in November this year.
The Plan
I planned to walk from Cockle Creek to South Cape Rivulet on Saturday 14/9/02, camp the night at the camp site there and walk back to Cockle Creek on Sunday 15/9/02.
I deliberately did not try to limit what I took because the pack needed to roughly duplicate what I would be carrying for up to 10 days in November (apart from the extra food, of course). Also, with two people we would be able to share the weight to some extent. Therefore, when I had packed everything on Saturday morning it weighed 25kgs, including 2 litres of water. I thought, "Yep, that should be heavy enough!"
Day 1 - 14/9/02
The drive down to Cockle Creek took me about 2 hours and, by the time I had changed into walking gear and stretched, I started the walk at 11.30am.
At the Registration Shelter I recorded my intentions in the book and noticed that 2 people had earlier written that they intended running to Shoemaker Bay and back. I was convinced they would be on their way back before I had finished my walking for the day and kept in mind they could come upon me suddenly.
The walk itself was very pleasant, gently undulating and a good surface for walking. There is quite a lot of duck-boarding that takes the pressure off the vegetation but the temptation for me was to travel a bit more quickly than I perhaps should have.
The weather was very kind, no wind, sunny and temperature about 18oC (I guessed). I was amused to hear a bird calling a wolf-whistle and looked round to see what the fuss was about. Unfortunately, I did not see the bird even though I passed very close to it and therefore don't know what it was.
I met several young blokes heading back away from the coast with surfboards. I asked them if there was much surf – but the answer was obvious because of the direction they were travelling. They all had very light clothing and no supplies.
At Lion Rock a decision normally needs to be made whether to clamber along the rocks at sea level or to take the inland route that takes you over several headlands and can be quite boggy in parts. The downside to the shore route is that in heavy seas or at times of high tide the danger of being swept out to sea is always present. As low tide (in Hobart on 14/9) was at about 9.45am the tide was on the way in so I did not need any convincing to take the inland route.
Walking along towards Lion Rock I met the two runners, who by this stage were walking towards me. We stopped to have a chat. They had not crossed South Cape Rivulet as the water level was too high and they asked me if I was going to cross it. When I said I was only going as far as South Cape Rivulet to stay the night the female said it would be very nice as there was nobody else there when they turned back.
On the inland route only in a few places was the mud thick enough to cover my boots. However, extra care was needed to avoid slipping over on the steeper muddy parts of the track.
On the final downward slope to South Cape Bay I noticed a black snake (probably a tiger snake) coiled about dinner plate size at the left side of the track.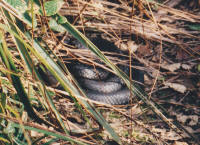 The body I guessed was about 40 – 50mm thick. It was in a patch of sunlight, soaking up the warmth. Detouring around was not an option as the track was narrow, with thick undergrowth so I put my pack down about 3m away, got out the camera and took a photo of it. Stamping on the ground did not encourage it to move so I decided to walk past it and hope not to disturb it unduly. However, to my surprise, as I drew level with it the snake rapidly moved away into the bush. Its movement gave me a bit of a start but with the heavy pack I was not very agile. I had theorised about the "strike height" of the snake, as it would have had to reach up above my boots and gaiters to find soft flesh.
Before I arrived at South Cape Rivulet I saw the sign warning of the unpredictability of the water flows at the rivulet, with the sea washing up the beach and then the rush of water back out to sea, combined with the natural flow of the rivulet. The sign also warned of the possibility of drowning and recommended waiting at least 15 minutes to observe the water flow pattern.
On arriving at the rivulet at about 3.15pm I made straight for the camp site to get my pack off and set up my tent, just in case it should rain. However, the weather remained pleasantly warm, with no wind and a clear blue sky. Perfect. I found a flat, sandy spot near the bank overlooking the rivulet and noticed some rubbish lying around, including an old, dirty, wet towel. Not a good advertisement for bushwalkers.
When I had organised my tent I went down to the rivulet to have a look at water conditions. I was particularly interested as Matthew and I will be walking from west to east (the other direction) in November. Somebody had planted a long pole each side of the rivulet, presumably indicating where a successful crossing had previously been made. I thought it would not be a pleasant experience to cross anywhere at that time. The water was dark with tannin and it was obviously not possible to establish how deep the channel was. Even though a slight breeze was coming roughly from the north or north west, water was surging up the rivulet then draining rapidly back out to sea between breaking waves. I was glad I did not have to make a decision on if, when and where to cross.
[I think the plan for November will be to take a rope with us so that we will be able to drag our packs across after us as we wade (or swim) the rivulet while holding the rope. Conditions may very well be different by the time we reach that point in our proposed walk back from Melaleuca. Just a thought.]
As I was walking alongside the rivulet I noticed a low, flat rock near the edge of the water that was frequently covered as the flow came and went. I saw what I thought was a carved groove in a circular shape on the top surface, about 100mm across. The groove was about 20mm wide. It looked as though it had been carved by human activity rather than being the effect of water washing stones or gravel in a circular motion. I took a photo and looked around for any more like that. None was visible, but this particular rock may have been uncovered completely at some time in the past. It may have some Aboriginal cultural significance.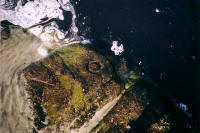 I tasted the water about 50m from the mouth of the rivulet and was pleasantly surprised to discover no salty taste. Just to be safe I only used the rivulet water to cook my pasta meal, not for my hot chocolate. After a pleasant feed I got into my sleeping bag at about 6.30pm intending to listen to the football on the small radio I had brought. Very crackly reception of 3BG (I think) so gave that idea away. I was asleep before 7.00pm and had a very pleasant night, only waking twice at noises (unknown) outside. I obviously needed the sleep.
Day 2 - 15/9/02
Woke at about 6.30am to the sound of birds calling. When I dressed and left the tent it was still quite cold so I put on my balaclava and Windstopper jacket to go for a walk and get my muscles working again. I found a length of rope near some bushes so coiled it up and hung it over a short branch of a tree, in view of the rivulet, in case it is needed by a walker at a later date.
I saw more rubbish that had clearly been washed up on the beach from fishing boats – broken buoy, netting, rope, plastic bottles. I decided to carry out as much of this as I could when I left later on Sunday. I gathered up the rubbish I found and put it into a spare plastic bag, ready to be carried out.
Breakfast consisted of 1½ packets of instant porridge with a chopped banana, washed down with hot chocolate. I cleaned up the Trangia with salt water and sand and thought about packing up to leave.
I visited the toilet which was up a slight hill on a flat area. To my surprise it consisted of a wooden board about 1m square, set into the ground over a pit, with a 30cm long keyhole-shaped hinged flap in the middle. It did not matter to me that it was a very exposed position as I was alone but I could not help thinking how a large group would cope with the inevitable shyness that surrounds using a bush toilet in the open. There was no smell, no flies, no mosquitoes. A good toilet.
Just as I was dismantling the tent I heard what I thought sounded like geese honking in the distance. As I was not expecting to see geese in a tree I scanned the foreshore, half expecting to see Cape Barren Geese (fat chance anyway). When I heard the noise again I looked up into trees across the rivulet and high on a hill and saw what I then thought were two white cockatoos. But they don't honk. Grabbing my field binoculars I discovered to my amazement that there were two beautiful sea eagles on the same branch, far away.
I stood watching them for a while, took a photo (which probably will look like two white dots) and eventually saw what looked like a courtship dance on the branch. The male (although both looked identical) then tried to land on the back of the female but he was probably just fooling around! Perhaps she was playing hard to get. I was hoping to get a photo of them in flight but when they hadn't flown by the time 15 minutes had elapsed I decided to get on with my packing. Next time I looked up they had gone.
I reluctantly left South Cape Rivulet, having thoroughly enjoyed my stay, at 10.15am and took with me two supermarket-type bags of rubbish I had gathered at the camp site and along the beach. I suppose they added between 4 and 5kgs to the overall weight and made for a very ungainly, uncomfortable walking style. I wondered how I was going to cope in the muddy, steep track conditions before Lion Rock.
Progress back to Lion Rock was slow as I took extra care in the slippery conditions. At Lion Rock I met more surfers and rested while admiring the view of Lion Rock, a fishing boat in the area and the warm weather. [I later learned that the temperature at Geeveston was about 26oC so it would have been near to that where I was.]
The walk back to Cockle Creek was uneventful except for being passed by two groups of five people each who were all heading for Melaleuca. They seemed to be in a tearing hurry to get there as they were almost running. I suppose they were enjoying themselves. I felt rather self-conscious as they passed because of my supermarket bags of "equipment" that would have amused the other walkers.
I reached Cockle Creek at about 3.10pm (5 hours for the return trip), rang Suzanne to let her know I was OK, changed into sensible clothes, ate my Snickers Bar and drank a Coke stored in the car and headed back to Lauderdale.
No injuries apart from normal soreness around my shoulders and knees and a small blister near the ball of my left foot. I'll need to wear different socks for the real trip I think.
Paddy Pallin 2-Season Quallofill 7 Synthetic Sleeping Bag (in separate plastic bag)