We immediately had a steady, rather steep, climb of about 500m to reach Trappers Hut just below the level of the Plateau. We had a lunch break at the Hut – just a snack and a drink.
When we left the Hut we took the Walls of Jerusalem Track (the other leads eventually to Junction Lake), past Solomons Jewels lakes, and reached the Wild Dog Creek campsite at about 1.15pm. We set up camp on the boards, packed our day packs with drinks, snacks, Goretex jacket, EPIRB, GPS, map and compass and started up King Davids Peak at about 2.40pm. There seemed to be several routes and was a fairly steep climb on a rough track with some cairns. At the top we were rewarded with stunning views to Cradle Mountain, from an unusual angle, and Barn Bluff in perfect sunny conditions.
On climbing down we used the Tasmanian Expeditions' "kitchen area" to prepare our evening meal. Matthew cooked freeze-dried meals – very satisfying, especially with added salmon. As it was getting dark (being in the middle of Winter) we had an early night and listened to the Swans/Eagles footy match that the Eagles won by 1 point – again!!!
A comfortable night – no wind or rain – even though we were at about 1,250m.
Day 2 – 1/4/07
April Fools Day – beware of pranksters. There's only one that I know of so I'd better take care with track directions and hints from Matthew.
Leisurely start (9.30am) with hot choc and hot mountain bread coated with Nutella for breakfast.
Yummy!!
We were both impressed with the quality of the work done by P & WS on the constructed board walks. It certainly makes travel much easier and helps to protect the delicate plant life.
We decided to climb Solomons Throne (1,450m) after we had passed through Herods Gate on the way to Dixons Kingdom Hut and left our packs under a bush near the main track while we took day packs with emergency supplies up the hill.
These included water, snacks, GPS, EPIRB, Goretex jacket, phone.
On the way through the valley we passed through several patches of ancient pencil pines
.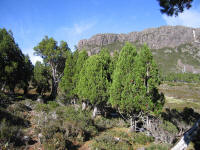 From where we started on the side track it looked an awesome climb but many rock steps and track markers made it an easy to follow, if tiring, climb.

Matthew managed to record for posterity my pain whilst I was struggling up the narrow, steep gully towards the summit of Solomons Throne.

The views from the top were fantastic, with the whole of the Walls area laid out in front of us like a gigantic garden.

Luckily, there was no damage to the packs when we rejoined the track (no forest ravens to ransack our packs as there were near Barns Bluff on the Overland Track in July 2006).

An easy boarded walk brought us to Dixons Kingdom Hut at 12.00 noon and, as the hut was unoccupied, we decided to use that rather than camp on the surrounding grass areas (which was apparently not favoured by P & WS we found out later).

We made ourselves some lunch of Vitawheat biscuits, cheese slices and Vegemite with a Tang drink before setting off to Mount Jerusalem (1,459m).

This was a longish, easy walk on an excellent track, with boards and many rock slabs and steps. Views across to Great Lake and the myriad lakes and ponds below made a beautiful sight.

Evening meal was macaroni cheese and cashews for me and beef teriyaki for Matthew, followed by a welcome cup of tea.

We saw several groups during the day and a few walkers made camp in grassy areas around the hut.

Goodness only knows how large numbers of people would cope at more popular times of the year. P & WS discourage camping around the hut but they have made no effort to make the surrounding area more suitable for campers, not even a toilet or hardened camping platforms among the trees. As a result, people will still camp there as it is a logical camp area and it will therefore become more degraded over time.

Day 3 – 2/4/07

Early-ish start today (8.15am) as we planned to walk down to Lake Ball, then along Junction Lake Track and back to Trappers Hut and the car park. Hot chocolate only for breakfast today.

Once again, it's a pity P & WS have chosen not to create a reasonable track to Lake Ball, as this is a natural link to Junction Lake Track and hence would complete a tidy circuit. People will continue to use this link and so over time more degradation of the fragile vegetation will occur.

The going was easy enough and we kept to the higher ground as we approached Lake Ball in order to avoid the low-lying wet areas around the creek along Jaffa Vale.

We had originally planned to climb Mt Moriah (1,362m) but, as we were walking in a misty drizzle, we did not see the peak so gave it a miss.

We stopped briefly at Lake Ball Hut for a drink.

This is an emergency shelter only and would be fairly uncomfortable accommodation if it was needed.

The misty conditions persisted until we reached the junction with Walls of Jerusalem Track but by then we were in the forest so views were not so important.

After a fairly quick descent to the car park Matthew arrived at 1.00pm and I followed at a more leisurely pace about 20 minutes later.

We were enthralled with the beauty of the Walls of Jerusalem National Park and can quite understand why walkers come from all over the world to visit and re-visit this area time after time.

A short but memorable visit to a remarkable place.