SECOND VISIT TO MARIA ISLAND©
TONY & MATTHEW WATTON
9/9/11 to 13/9/11
A few weeks before this trip I had read Kathy Gatenby's book "Viv and Hilda - Meeting the Robeys of Maria Island". I was so enthralled by the story of their 40-years life on Maria Island's 'South End' that, when Matthew mentioned to me that he had five days available to go on a walk, I immediately suggested a walking trip that would include Robeys Farm, where Viv and Hilda made their home and lived their lives. Fortunately, Matthew was keen to go, although he did suggest going over by sea kayak !!
Day 1 - Friday 9/9/11 - Darlington Jetty to Encampment Cove (13kms, 4hrs)
We left Triabunna at 10.30am with maybe 10 - 12 other passengers, mostly day-trippers with young children and a couple of cyclists. It was an uneventful crossing and by 11.30am we had started walking, first along the beach at Darlington, then the wide road, away from "civilization". Nobody else was travelling in our direction. We kept up a steady pace, spotting and counting wallabies and wombats as we went.
While we were walking Matthew spied a small black beetle, about the size of a cockchafer (12mm long), laboriously pushing a cube of wombat's poo across the track. Not an actual dung-beetle but doing a very convincing impression. We guessed at the weight differential and supposed it was like a human pushing a Mack truck around. Matthew felt compelled to give the poo a shove, to help the beetle, but it seemed confused as to what had happened and remained motionless for a few minutes before resuming its task. We continued our walk.
We reached Frenchs Farm at about 2pm following an earlier lunch stop for vegemite and peanut butter rolls by the roadside. We had a brief look in the woolshed and checked the diary entry in the Visitors' Book for our previous August 2008 visit. [See my report at Trip to Maria Island - August 2008.] On that occasion I had written that if there was a broom I would have swept the house out. I was pleased to see a broom and dustpan had been provided. Maybe other people agreed with me. It was tidy enough not to need sweeping.
Encampment Cove hut was reached at about 3.30pm - no other visitors at the hut. There were a few showers during the afternoon, just enough to dissuade us from lighting the campfire. It seemed a bit pointless to light a fire and then retreat to the hut while it rained. The hut is very comfortable by hut standards; no obvious gaping holes for rodent invaders, a long bench table and room for four people on two sleeping platforms. By this time we had lost count of the number of wallabies (with variations) and wombats we had seen.
Our (by now) usual pre-dinner snack of a cup of tea with some Vita Wheat biscuits, cheese slices and Vegemite was very welcome. We noted, with unrestrained annoyance, the policy of manufacturers (Arnott's) of reducing the size of their products but leaving the container the old size. Obviously, no price reduction to compensate. We were able to easily push a finger down the pack between the biscuits and the box.
Dinner at about 5.15pm consisted of Back Country freeze-dried honey soy chicken, followed by a cup of tea. We both felt very contented and well-fed. I lit a couple of candles that I had brought along and we listened to the radio for a while before climbing into our sleeping bags by 8.15pm or so.
Day 2 - Saturday 10/9/11 - Encampment Cove to Robeys Farm (10.5kms, 3.5hrs)
Up reasonably early, 7am, for a leisurely cup of tea and a bowl of porridge with sultanas. We packed up, Matthew swept the hut out and we were on our way at 9.20am, hoping to reach Robeys Farm by 12.30pm or thereabouts.
At the first opportunity we started walking along the beach in blustery, south-westerly rain conditions. The beach seemed to stretch away from us for ever - in reality between 4 and 5kms. Round about half way along the beach we decided it would be more comfortable walking on the track so we pushed up through the scrub until we reached the track and continued on our way.
At 11am or so we stopped for a muesli bar and a cheese stick and had another short break at 12.30pm. We had been looking for a shortcut across to the Haunted Bay Track for Sunday's walk but did not find any evidence of one, apart from a solitary tape on a tree branch that might have indicated a route years ago. We reached the broken bridge over Robeys Creek at 12.45pm and a few minutes later, up a slight rise and around a bend, we saw Robeys Farmhouse itself.
We were amazed to see arum lilies and jonquils/daffodils growing amongst the bracken ferns and long grasses and wondered if they had survived since the Robeys' time (1960s). I realise that arum lilies are noxious weeds and wonder if they should be eradicated. In reality, I could not imagine the Robeys encouraging the lilies as they are toxic to both humans and stock, however, they probably have survived since that time. We dropped our packs and walked around the house and to me it seemed as though I had been transported back in time. It was also obvious that the property has not been looked after and I suppose over the years time and vandals have both contributed to the run-down appearance of the house and surrounds.
On going into the house I was saddened to see the walls and ceilings had been almost entirely stripped of their baltic pine linings and it was difficult to imagine how cosy the house might have been with wood fires at each end of the house and the solid fuel stove in the kitchen. It was good to see that a new roof and rafters had been installed but there is still a lot of work to be done if the house is ever to be restored to any reasonable extent. A working bee to clear some of the encroaching vegetation at the rear of the house would not be out of order as well.
We set up the tent in front of the house on the most level spot we could find and used the front verandah as our unpacking area and where we could enjoy a cup of tea and reflect on the past. Dinner was another freeze-dried feast with a hot chocolate drink later in the evening. Although it rained gently during the night we were snug and warm in the tent and happy to be at Robeys.
Day 3 - Sunday 11/9/11 - Robeys Farm to Haunted Bay to Robeys Farm (21kms, 6.5hrs)
I was up at 6am and made us both a cup of tea to encourage Matthew to surface. He cooked us a pot of porridge with sultanas for breakfast and by 8.30am we were ready to leave. We had packed emergency supplies in our light day packs and roughly stuffed the remaining gear not needed for the day, to be stored in the house. Our plan was to walk back to the junction with the Haunted Bay Track, walk to Haunted Bay and back to the farmhouse again. We estimated the distance to be a bit over 20kms - could have been a bit more with a hilly section towards Haunted Bay. Matthew told me that the bay used to be called Crayfish Bay. I suppose when all the crays were fished out their ghosts remained to haunt the people who later went to catch the non-existent crayfish!
Soon after starting out we detoured down a short track to have a look at Robeys Shore and were pleasantly surprised to see a small sandy beach that Matthew thought would be a good place to land a sea kayak at some future time.
We were at the track junction by about 9.40am and turned right (SSE direction) on to the Haunted Bay Track.
The track passed close to the beach at Riedle Bay and we turned off to see the beautiful sweep of the beach - totally unspoilt and deserted.
At 11.30am we arrived at the top of the steep descent to the rock shore. We made our way down to the final rocks near the sea to experience the wild sea with many white caps. We took a few photos but did not stay long in the windy conditions.
On climbing back up we followed a taped route for 200m or so to what we concluded would be to the head of the bay. On the way back along the main track we paused again for a few minutes at Riedle Bay beach and when we were close to the junction we cut across the open scrub to rejoin Robeys Track. At about 3pm we arrived back at the house, very happy with our day's walking along the excellent track (well, road really).
We had a cup of soup for afternoon snack and around 5pm a Continental pasta meal with added cashews and a sachet of salmon. We listened to the football (Carlton vs Essendon) for a while and were tucked up in our sleeping bags by 8.30pm. No rain and a comfortable night in the Macpac Olympus tent.
Day 4 - Monday 12/9/11 - Robeys Farm to Encampment Cove (10.5kms, 3.5hrs)
Awake and out of the tent at about 6am, as usual, to make a cup of tea and start to think about the walk ahead. Leisurely breakfast of porridge and sultanas, as usual. A bit of a tidy up of the hut and we were on our way by 9.35am. Thank you Mr and Mrs Robey for the use of your house.
We reached the beach (McRaes Isthmus) after 65 minutes and began the trek along the 4.5kms stretch of sand. We amused ourselves by watching the pairs of pied oystercatchers running along the beach in front of us before eventually taking off and flying out over the water and around us, back to their own territory. We also saw several pairs of hooded plovers, delightful small birds that left delicate claw prints in the sand. About half way along the beach we had a break, a Gatorade drink and muesli bar, then spied the sand flies gathering around us so continued on our way.
As the tide was out, we waded across the exit of the creek at Chinamans Bay and were soon walking up the gentle slope to Encampment Cove hut in bright sunshine. We heard a 'ding' behind us and were passed by a bike rider, out for the day. The first person we had seen in three days. He soon came back down the road and headed back from where he came.
This time at the hut we decided to used the fireplace for cooking and hot drinks as fuel was starting to get a bit low and the weather was good enough to allow us to sit outside to enjoy the campfire atmosphere.
A mega-$ cruiser that had shadowed us as we walked along the beach was now anchored near us and a family of four came ashore and walked past, with a wave, presumably on their way to the convict cells on Long Point.
Our plan for the final day on the island was to walk along the Inland Track - a bit less often used and one we had not walked along before (apart from the section from the Darlington end to the start of the Mt Maria track).
With an early finish to this day's walking (about 1pm) we relaxed at the hut, made ourselves a snack of biscuits, cheese and Vegemite with a cup of tea and gathered some wood for our campfire later.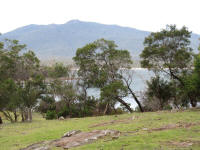 We wandered up the hill behind the hut and were surprised to find the remains of at least one house and its garden amongst the trees but we had no idea of its history or owners. [I have since been told it is the remains of the property 'Kintail', the residence of Diego Bernacchi's daughter, Vega and her husband, James Alexander McRae.]
Our dinner was another freeze-dried meal - beef teriyaki with vegetables, while relaxing on a tarp spread out on the grass near the campfire. Later, as the fire died down, we made sure it posed no threat before retiring to the comfort of the hut and by 8.30pm we were tucked up in our sleeping bags.
Day 5 - Tuesday 13/9/11 - Encampment Cove to Darlington (14.5kms 4.75hrs)
Up early again - must be a habit! Cup of tea to start the day on a bright, sunny morning. Our usual breakfast of porridge and sultanas and we then set about packing our gear ready for the walk back to Darlington and civilization. Matthew swept out the hut again and by 8.30am we were on our way after a most enjoyable stay at Encampment Cove.
Looking at the map it seemed as though the Inland Track mainly followed the contour lines as it meandered among the inland hills. However, with contour lines at 20m intervals, the track could rise 39m and only cross one line! Although we had enough water with us we were pleased to see what appeared to be clean, drinkable water in both Four Mile Creek and Counsel Creek as we crossed them. The track did rise and fall regularly, but it was a very pleasant walk on a good, clear track.
We arrived back at Darlington by about 1.15pm, in plenty of time for a shower and a rest before catching the ferry back to Triabunna at 4pm. The showers this time cost $1 for two minutes of hot water, rather than the 2008 deal of $2 for four minutes. I know the rate is the same, but very inconvenient to have to go outside the shower to put extra money in the slot. We didn't. Unfortunately for him, Matthew went first and had to wait 30 seconds before the hot water began to come through, which meant he finished with cold water to rinse himself off. Not the end of the world but a bit uncomfortable.
After cleaning ourselves up and getting into our cleanest clothes we relaxed in front of the Commissariat Building and had a look inside at the various exhibits. Disappointing is not too strong a word to describe the dilapidated carcasses and feathers that were on display. In my opinion it would have been better to have good photos rather than, for example, the feathers of two wings of a green rosella.
Overall, this was a most enlightening and interesting trip for me - totally different from our normal bushwalking on narrow, boggy, cold, uncomfortable, steep tracks with cutting grass and close vegetation, to which we are accustomed. Even though we were carrying full packs at no time were we over-stretched despite walking the 70kms in just over four days elapsed time. Also, I was able to cope well with my suprapubic catheter - able to change the dressings in the relative comfort of being inside a building on each of the four mornings that it was necessary to do it.
Thanks to Matthew for being a great companion and a considerate son.