VISIT TO KING ISLAND, TASMANIA
TONY AND MATTHEW WATTON
1/4/14 to 9/4/14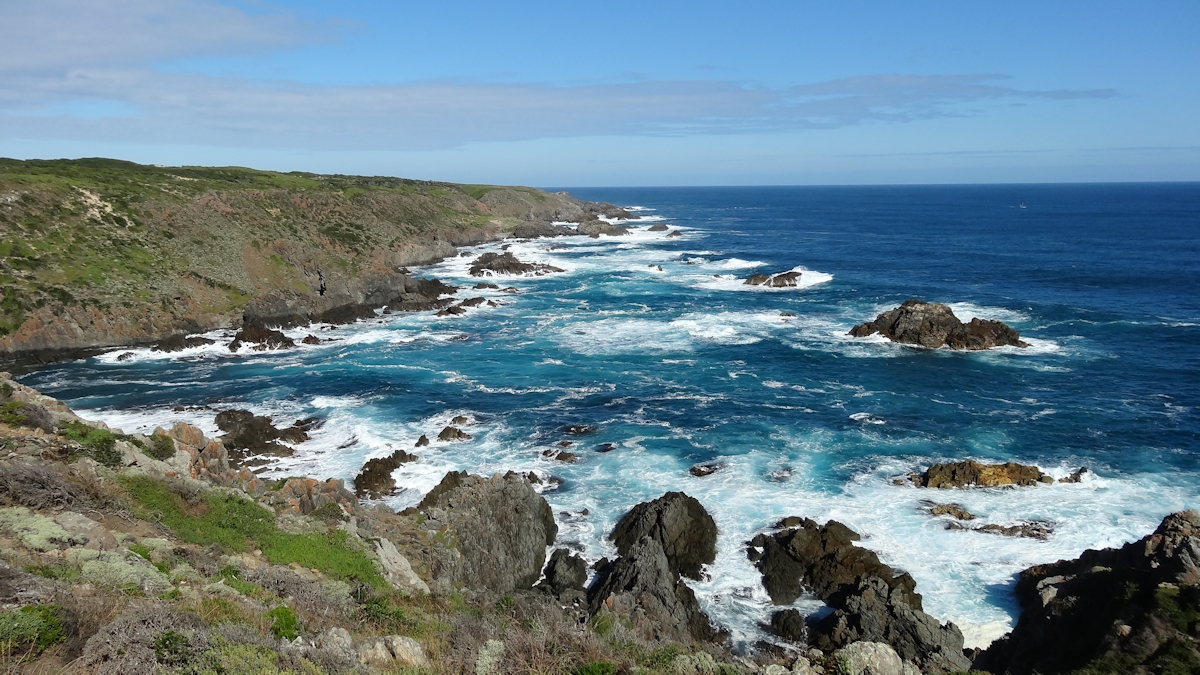 Seal Rocks, West Coast, King Island
Day 0 - Monday 31/3/14 - Lauderdale/Midway Point to Wynyard
Originally (well, from March 2013 at least) we had planned to take our bikes to King Island for a bike tour, taking all our gear, as for our March 2013 Bike Tour of Flinders Island. However, when we looked up the sailing schedule for the Searoad Mersey and the Searoad Tamar we discovered that only one visit to King Island was made each week, on a Sunday. Also, no passengers were permitted on these ships. Added to these complications was the fact that Matthew had his two weeks of leave approved only a short time before so we weren't able to make any long-range plans. In order to reduce the problems of coordinating everything we decided to make this a 10-day walking tour of King Island, taking all our gear for a camping holiday.
Instead of a ship, we booked flights with Sharp Airlines, leaving Devonport at 7.45am on 1/4/14 and returning at 5.15pm on 10/4/14.
I left Lauderdale to head for Matthew's home at Midway Point and together we drove up the Midland Highway at about 12 noon in Matthew's Subaru Forester, taking a leisurely drive through back roads to Cressy and Deloraine and then on the Bass Highway to Wynyard.
We booked ourselves into the Wynyard Wharf Hotel for the night and, after a very pleasant counter meal, did some repacking ready for an early start the next day.
Day 1 - Tuesday 1/4/14 - Wynyard to Currie
My alarm woke me at 4.15am for a shower and to sort out my suprapubic catheter situation. Matthew saw the light of day at about 5.45am. We dressed in the clothes we would be walking in after the plane trip and packed everything else, leaving a few items in the car we decided we really could do without. Matthew parked his car in the Long-Term Car Park (free of charge) while I took our packs in to be weighed.
We expected the packs to be over the weight limit of 15kgs for hold baggage plus 6kgs for carry-on baggage so we weren't surprised to learn that the extra 4kgs each were going to cost us a total of $32. We (well, Matthew) paid. We were on board the plane at 7.30am and took off at 7.45am for Currie. The flight itself was uneventful but the same can't be said for the actual landing, which was a hard thump. During the flight we weren't able to hear a single word of the pilot's announcements. As far as we were concerned he might have been warning us to prepare for an Indian Ocean landing (being April Fools Day)! Once on the ground and in the terminal we fetched our packs and packed away the gear a bit better than it had been (including the contents of our carry-on bags).
As this was to be a walking trip we decided that, rather than hire a car, we would walk the 10kms to the township of Currie to get our legs used to walking with packs again. The only problem we found on the way was that we had forgotten to fill our empty water bottles so we left for the two hours walk without anything to drink. Not an ideal way to start a walking holiday really, was it?
At Currie we headed straight for the local bakery, feeling quite stuffed from the unusual exertions of the previous two hours. Over a cold drink we talked about our plans for the next few days - whether to head north to Cape Wickham or south to the Seal Rocks area, both of which we intended to visit during the coming days. We also did some shopping for three days away from civilisation as we had not brought any food with us.
We had been told about an attractive grassy park down near the wharf area so we shouldered our packs once more and walked down to Lions Park, where we found a picnic shelter, BBQs, tables, seats and a toilet. Perfect. We set up our tents and changed into non-walking gear - shorts, tee shirt and sandals. While we were relaxing Steve, a local policeman friend of Matthew's, arrived in a 4WD and offered to take us on a quick tour of the area, including Porky Beach and the Boatshed - "Restaurant With No Food" along the foreshore. We were both amazed at how it exists - obviously with a lot of hard work by volunteers that is clearly respected by people who visit it and enjoy its wonderful atmosphere.
Shortly after we returned to the campsite Paul, the second of three police officers, arrived with a cooked, frozen cray in a sealed pack that only needed a soaking to thaw it out. Imagine our impatience, waiting for the cray to thaw. We enjoyed pieces of cray meat in a bread roll that we had bought from the bakery earlier.
As evening approached Matthew found it too difficult to contemplate sleeping with the incessant noise of cicadas (we thought) and moved his tent up onto a grassy bank a short distance away. I said to him that I thought the noise would stop as darkness approached (not really believing what I was saying) but in fact that is exactly what happened. We both had a very peaceful night in our 2-person Macpac Minaret tents.
Day 2 - Wednesday 2/4/14 - Currie to Pennys Lagoon
Rain overnight meant that, when combined with a SW breeze, packing wasn't a very pleasant undertaking this morning. We decided to make do with a cup of tea only, even though we had bought packs of oats for our breakfast. We shook our tents to get as much as possible of the moisture off before packing them away but, despite our efforts, the overall weight of our packs seemed to have climbed from about 24kgs on Tuesday to more than 30kgs (estimated) - including our newly-purchased food, methylated spirits and water.
We struggled back up the road to the town centre and called in at the bakery again to buy toasted sandwiches and a drink. Just then we saw Paul, preparing to go north for work. He offered to take us up to Cape Wickham and the lighthouse as he went about his duties. On the way he took us to Counsel Hill, overlooking the east coast marsh area, Victoria Cove and to see the developing golf course at Cape Wickham. This development will bring much needed income to King Island but we wondered about the mutton birds (short-tailed shearwaters) having to find new burrows. I suppose they do find new burrows. While at Cape Wickham we were fortunate to be able to climb the lighthouse (229 steps to the top) and enjoyed the magnificent views right along the coast. At one of the outside window ledges we saw an eagle's nest - empty at that time unfortunately.
By early afternoon we were at Pennys Lagoon where Paul left us to spend the following three days exploring the coastal tracks before we returned to Currie for the next part of our trip. Almost immediately two inquisitive Bennetts wallabies appeared, hoping for food handouts. We did not feed them.
We set up camp near the shore of the Lagoon, under some trees. Once again, a very well maintained picnic shelter, wood-fired BBQs, tables, seats, toilet and a fresh water supply. What more could anyone ask for? Dinner was tinned spaghetti and meatballs with our remaining bakery bread roll. We don't normally take tinned food on our trips but as we were being dropped off and (we hoped) picked up later our pack weight was not a major concern. During the afternoon we walked around Pennys Lagoon. For the most part it was on the foreshore, with a short section where we needed to take off our shoes and socks to wade along the edge. The alternative would have been to bush-bash through the undergrowth, with cuts to our arms and legs the inevitable result.
At around 7.30pm, just on dusk, I suggested going for a walk along the gravel road to Lavinia Beach - just for a bit of exercise. We took our head torches but only needed to use them to read an information sign near the beach. On the way we saw a dead tiger or copperhead snake, about 1m long, probably run over at the edge of the road.
There were a few sprinkles of rain overnight but nothing to become too alarmed about.
Day 3 - Thursday 3/4/14 - Pennys Lagoon to Boulder Point and Return
Not an early start this day as we were leaving our tents set up and planning a day walk with light day packs. Breakfast consisted of Uncle Toby's honey porridge with a slurp of condensed milk, followed by a cup of tea.
The plan for the day was to walk to Boulder Point via the inland route, have lunch at Boulder Point, then walk along the beach to the start of the road back to Pennys Lagoon. Matthew estimated the distance at about 12kms. When checking our map before leaving it seemed to be possible to walk around Lake Martha Lavinia, then branch off to join the road to Boulder Point. The walks book ("Walks of King Island" by Ken Martin) noted that it was an easy walk around the lake but the book was written at a time of severe drought. Consequently, the lake level was very low at that time, with much foreshore exposed.
We started off by walking along the gravel road, then turned off at the sign for the short walk down to the lake and proceeded along the sandy shore. This did seem to be easy walking. However, after about 500m we were finding the tea tree undergrowth very difficult to negotiate so we decided to go back and use the road instead. It was a fair bit longer in distance but in terms of time I think much quicker.
The road (track really) took us on a winding route through delightful forest areas until we reached the coast, about 1km SE of Boulder Point. At the end of the track, at the dunes on the beach itself, there was an old dilapidated shack with a variety of run-down, worn-out rubbish that once would have been a 4WD vehicle and a campervan, together with an aluminium dinghy nearby. The shifting sands were in the process of reclaiming the entire shack - possibly almost half way up the walls. Poetic justice we thought, because it looked totally out of place in what would otherwise have been an unspoilt stretch of the coast.
We started the walk on the beach towards Boulder Point and immediately commented that, because of the soft sand, it would have been a very difficult task to walk the entire length of Lavinia Beach, then Nine Mile Beach towards Sea Elephant River with packs weighing upwards of 25kgs each. (This was going to be one of our walks on the East Coast.) It was an uneventful plod up the coast - remote and unspoilt. On the way we saw what looked like a seal on the beach, until we got a bit closer, that is. Lunch was to have been at Boulder Point but the strong wind dissuaded us from staying too long with no obvious sheltered place to sit. Instead, we took a few photos and walked back to a rocky outcrop where we enjoyed our lunch of VitaWeat biscuits, cheese and Vegemite. A drink of water to wash it all down.
On the way back we saw two hooded plovers - we always see them in pairs. We were surprised at the steepness of the beach and wondered how much more dramatic it would be with rough conditions and a big sea.
After clambering over an unnamed small rocky headland we were relieved to finally reach the spot where we left the beach at the road back to Pennys Lagoon. The two resident wallabies welcomed us back soon after we returned.
Dinner was a Continental pasta meal with an added pack of tuna pieces to improve the taste a bit, followed by the normal cup of tea. It was a perfectly still evening with a clear sky so I took a few minutes to sit on the beach at the lagoon, admiring the reflections and the new moon. The photos I took probably don't do the actual scene justice. Being a clear sky, it was a cooler night than we had experienced previously so I climbed into my sleeping bag instead of using just the silk liner. I also needed to zip shut the main flap as well as the fly screen flap. It was a very calm, peaceful night.
Day 4 - Friday 4/4/14 - Pennys Lagoon to Currie
This was the day when Paul would call for us as part of his patrolling duties up north so we had no particular plans for an extended walk. Instead, we took our time having our porridge and tea breakfast.
Matthew has a more recent edition of a Macpac Minaret tent (made in Vietnam) than mine, which was made in New Zealand during the 1990s. He said the floor was more flimsy, I suppose to cut down on the weight at the expense of floor strength. He noticed some small holes in the floor of his tent so we spent some time inspecting both tents for signs of holes and marked them with a permanent marker, to be patched up with duct tape when we were back in civilisation.
We took our time packing and had a biscuits and cheese snack at around 10.30am. As is our usual practice when we leave any campsite, we did a bit of a clean-up campaign, using our bread roll bag to store rubbish for later disposal that other careless people had left behind.
Paul arrived just before 1pm to take us back to Currie and, in an act of great generosity, offered us the use of his own 4WD ute while we explored King Island. So, even though this was intended to be a walking holiday, the offer was too good to refuse and we readily accepted. When back at Currie we booked into Parers Hotel for one night then called in at the bakery for a salad roll and a drink.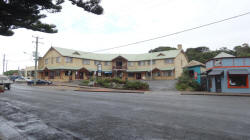 Later in the afternoon we decided to use Paul's ute to go to the Cataraqui Point Conservation Area, where we expected to see the memorial to the victims of the shipwreck. However, as we reached the beach area it became obvious that the memorial was not at that spot. When we later checked the walks book (which we should have done before setting out) we learned that the memorial was about 10kms further south than we had been. Better luck next time!
On returning to Currie we enjoyed a large fish dinner with a cold Boags beer to wash it down. Later we relaxed in the room, watching TV and munching on King Island cheese and biscuits. What a life!
It was my brother Peter's birthday on 4/4 so at around 9pm I rang him in England. Time there might have been 10am or 11am, depending on whether the UK were still on GMT or had gone to summer time. With ideal conditions in our hotel room (no wind, rain, mossies, jack jumpers, bull ants, march flies or sand to be concerned about) we made duct tape repairs to the small holes in our tent floors that we had previously marked.
Day 5 - Saturday 5/4/14 - Currie to Calcified Forest Picnic Area
A very relaxed start to the day, with Continental breakfast in the dining room. We both steered clear of the wholemeal bread (for toast) as there were large areas of a dark-coloured mould on the bread. I told the manager, who said he had bought the bread "only yesterday". I also noticed that the tray on which the tea mugs were stored upside down was very dirty. The mugs had lines of dirt around the top edges. I told the lady in charge, who agreed the tray needed to be cleaned.
We packed our gear and bought a few more supplies. Plans for the following four days included: one night at Seal Rocks/Calcified Forest, two nights at Grassy and one night at Naracoopa before heading back to Currie for our last night in the pub again.
I bought diesel for the ute - $63 for about 30l (over $2 per litre). As we were travelling by car, Matthew bought two salad rolls for lunch and two cans of Harvest meat and vegetables for that night's dinner.
We drove down the King Island west coast to Surprise Bay, parked the ute near a closed gate, took our day packs and walked the last 6kms or so to the very last point - Stokes Point - of King Island. On the way we saw several groups of people harvesting bull kelp. They tied ropes to the bell-ended stalks of the kelp then winched a load of maybe 20 lengths onto the back of a truck using an old truck-mounted car engine with some winching modifications. From there to the kelp factory for drying and processing before being shipped out for a multitude of uses.
Our walk took us through open paddocks with herds of cattle eyeing us suspiciously and moving away as our track intercepted their wanderings. We detoured to have a look at the Stokes Point light, took some photos and wondered why it had been built so far inland; probably more than 1km from the end of Stokes Point. The wind was blowing a bit too hard to be comfortable enough for us to have our salad roll at the end, so we walked back to a large pond with grassy slopes and rocks to lean against, where we ate our lunch. By this time it was about 1.30pm. The return walk was uneventful but, as is normal for us, it was a relief to see the vehicle once again.
After this we drove to Seal Rocks to see the magnificent coastal scenery, then to the Calcified Forest Picnic Area where we set up our tents in a delightful, sheltered area behind the picnic shelter. We had picnic tables, shelter, seats, toilet and fresh water. Perfect once again. Dinner was Harvest meat and vegetables, followed by hot chocolate, biscuits and King Island blue cheese. It was a very comfortable and peaceful stay.
Day 6 - Sunday 6/4/14 - Calcified Forest Picnic Area to Grassy
We enjoyed an extra hour of sleep on Saturday night as daylight saving time finished. We adjusted our watches so that we weren't totally out of touch with the real world. I wondered how my wife, Suzanne, would cope with all our clocks out by an hour because it had been my "duty" to do the honours during the past 47 years of our married life together. I expected she would manage.
We enjoyed our usual breakfast of a cup of tea, followed by porridge, then packed our gear ready for a leisurely drive to Grassy. Before we left we decided our trip wouldn't be complete without taking the 680m walk to see the calcified forest - an area of calcified tree roots dating from about 7,000 years ago. It was exposed by strong winds that removed layers of sand to reveal the phenomenon.
Before we reached Grassy we turned off at Grassy Port and found it to be a purely functional port - not really catering for tourists. The only concession to tourism was a sign about fairy penguins at the end of the seawall. The ship "Searoad Mersey" was in port, loading in preparation for an afternoon departure for Devonport.
On returning to the car we continued on to Grassy. We were surprised to see the large number of empty, apparently abandoned, derelict, cement-board sided houses. There were some houses, maybe the majority, that were well looked after, particularly those that had million dollar views out over Bass Strait to Black Pyramid and other islands and rocks. We found the open general store (OK, not that difficult) and bought a drink and a hot pie each. Matthew had a scallop pie and I had a steak and mushroom pie. I thought mine was probably the best meat pie I had ever eaten. We subsequently discovered that the lady who runs the store made the pies. What a treasure for Grassy! After our lunch we continued our tour of Grassy and couldn't help thinking if ever there was a town that desperately needed an injection of capital, then this was it.
We took the road out to City of Melbourne Bay, another delightful bay that was named after a ship that had run aground in 1852 in a gale. Fortunately, no lives were lost. The SS City of Melbourne was eventually successfully re-floated five months later.
Returning to Grassy, we drove down to the water's edge, walked along the foreshore then to the sailing club near the wharf. There, Matthew found John Brewster who in 1979, with another kayak paddler (Earle Bloomfield later changed to Earle de Blonville), were the first sea kayakers to paddle around Tasmania. He and Matthew reminisced about paddling exploits and we enjoyed a beer while they chatted. (Matthew has made three complete solo circuits of Tasmania by sea kayak. His reports are on his web site mwatton.blogspot com.au.)
We headed back up to Grassy to buy some Harvest braised steak and onions and bread rolls for dinner. Matthew had "borrowed" some butter portions from the Currie pub before we left. We found the Grassy public bus shelter/toilet block to be an excellent asset to the town. It was very well looked after and was a credit to the people of Grassy. We chose a quiet, sheltered spot near the footy oval to set up our tents before cooking our dinner in the bus shelter. From our vantage point near our tents we watched the assembling of over 40 wallabies on the oval and saw an interesting cloud formation at sunset before hopping into the ute for biscuits and cheese then into our tents for an early night (dark by 6.30pm).
Day 7 - Monday 7/4/14 - Grassy to Currie
I know it's getting boring, but another peaceful night with no interruptions from any wildlife. We packed up our gear while we waited for the schoolchildren to leave on their school bus to go to Currie (I presumed). Breakfast was a bit of a hurried affair because there was a fairly strong wind blowing through the shelter, making cooking a bit difficult. After breakfast we drove to Naracoopa, with the plan to stay there for the night if we could find a suitable place to set up camp. At Naracoopa we stopped off at the long jetty and walked out to near the end. We stopped about 20m short of the end so we didn't disturb the black-faced cormorants enjoying the breeze. We felt they had more right to be there than we did.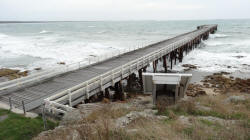 We took some photos and video clips of the surging swell and awesome breaking waves along the huge jetty. I must admit I was feeling slightly uncomfortable with all that power raging just a couple of metres beneath our feet. I had read about the damage caused to the jetty many years ago in storm conditions.
While looking out for a likely camping spot we saw some lovely grassed areas along the Esplanade but the wind was too strong from the east for us to seriously consider staying. So we continued on, north, and turned towards the coast to see the blowhole. However, nice as the beach was, low tide meant the blowhole wasn't working while we were there. We continued on to Sea Elephant River estuary, then across King Island back to Currie.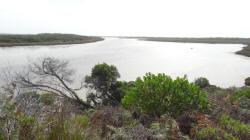 Decision time: having had the use of a vehicle that enabled us to see much more of King Island than if we had been walking, we decided to fly back to Wynyard on Wednesday, rather than on Thursday, if we could. Matthew rang Sharp Airlines and managed to rearrange our flight, at no additional cost. The weather forecast for Tuesday 8/4 was for rain so we decided to book into the pub for two nights and do a day trip during Tuesday before handing back Paul's ute in the afternoon. (We knew he had days off starting on Wednesday so we were keen to return his ute before that in case he needed it.)
Matthew filled the ute with diesel, we had a much-needed shower in the pub and bought salad rolls that we ate in the laundromat while our dirty clothes were washed and dried. Not very exciting, but some things just have to be done.
In the afternoon we walked to the Bell Hill Lookout, then to the Boathouse to see if there were any paintings we might be interested in buying. The paintings were very good but a bit too strong-coloured to suit either of our homes. We clambered up the hill to have a closer look at the Currie Light Tower then walked back to the town centre. Walking along the main road, Matthew saw Mick, the third of the King Island policemen. Matthew introduced me then soon after we saw Fiona, a policewoman and Steve's partner, whom we both knew from earlier swimming and surf lifesaving days.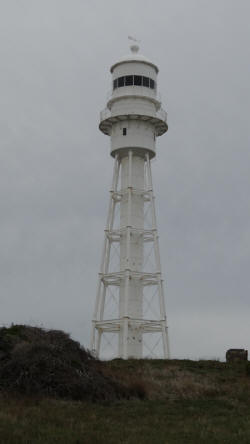 Dinner in the pub, then relaxing in the room, watching TV and writing notes.
Day 8 - Tuesday 8/4/14 - Currie to Yellow Rock Beach and Return
Early morning, looked out of the pub window, grey and drizzly but probably still a mild day. As this was the day we were due to return Paul's ute to him we decided to make a last short trip to an area we hadn't previously visited - Yellow Rock Beach.
Before we left we saw a loaded-up push bike parked near the IGA supermarket, but no bike rider nearby. We would have loved to have a chat with him (?) to learn how the logistics of getting bike and gear to and from King Island were managed. I'm sure it wasn't easy but it would have been very rewarding.
We drove out to the start of the walk where we parked the ute at the gate and took a few minutes to read the information signs that we have found so useful throughout the Island. As well as the signs we frequently saw, we made good use of the walks book and, for a historical perspective, Jean Edgecombe's "Discovering King Island Western Bass Strait".
It was an easy walk up over a couple of hilly areas before we reached the beach. The river did not flow to the sea, but was held back by a bank of sand. In times of heavy rain no doubt it would have been necessary to wade across the mouth of the river. We could see the boiler of the Shannon, a paddle steamer that was beached in 1906. The paddle steamer was returning from Launceston to Melbourne when it sprang a leak. No lives were lost.
Even though this beach faces roughly NW, a notoriously stormy part of the coast, the easterly weather had the effect of flattening out the sea to a great extent. Hence, no huge waves were breaking.
While walking along the beach towards an imposing dwelling just back from the beach we saw many hooded plovers and red-capped plovers as they ran at top speed hither and thither near the water's edge. With some difficulty we counted 25 of them. Another highlight was the privilege of seeing a majestic sea eagle soaring effortlessly directly overhead before it headed out towards Christmas Island and New Year Island. We turned before we had reached Coopers Bluff and retraced our steps to the car.
Once back in Currie we bought a drink and some sandwiches for lunch. As we took Paul's car back to him we gave him two bottles of wine as a small token of our appreciation of his kindness.
Matthew rang Ondrea, the person who does conducted tours of the Currie Light Tower and arranged for us to go up it on Wednesday afternoon, just before we hoped for a lift to the Currie air terminal.
In the afternoon we walked along to the Museum to get a taste of life on King Island as it used to be. What a fantastic resource! I was especially impressed with the contents of the Reading Room. I wondered how it would be possible to adequately do justice to the enormous amount of work that has been invested in the collection of documents. We found the volunteer (Don I think) to be a very knowledgeable man, keen to answer our questions and obviously very interested in the Island's history.
Instead of buying dinner at the pub we bought snacks from the bakery to eat in the room while watching TV and generally relaxing. We spent a quite evening sorting out our gear and writing notes.
Day 9 - Wednesday 9/4/14 - Currie to Midway Point/Lauderdale
At breakfast in the pub I had to ask for fresh milk as both the full-cream milk and the reduced fat milk were out of date. Staff appeared stressed - perhaps over-worked and under-resourced.
As I mentioned earlier, Matthew had changed our departure day from Thursday to Wednesday so we spent our last day in Currie. After carrying our packs over to the Police Station for temporary storage, and hopefully to await a lift to the air terminal later in the day, we wandered down to the harbour area and along the jetty to check out what fishing boats were tied up. We both wondered why so many were in port with what seemed to be perfectly calm sea conditions. I suppose the crews can't be out at sea all the time.
We noticed the Cultural Centre near the Lions Park and asked the lady in charge (later established as Sally) if the afternoon opening time was firm or maybe could be negotiable. She very obligingly offered to let us have a look around and asked us about our visit to King Island. When she learned that we were the two "walkers" she said that she had wanted to talk to us about our trip when she saw us earlier in our visit. She very kindly made us a cup of tea with biscuits while we chatted.
We ate our lunch at a picnic table near the Library. The policemen Steve and Mick stopped by and came over to us for a chat. Steve asked if we had managed to visit the King Island Dairy. When we said we hadn't, because we had planned to buy some cheese just before leaving but we had run out of time, he immediately offered to drive us out to the Dairy. Here we enjoyed tasting some of their delicious cheeses, some of which I hadn't previously been aware of, and bought some to take home. Around mid-afternoon we took two bottles of wine to thank Steve for his kindness in showing us around the Island and enjoyed a cup of coffee with him and Fiona.
At 3pm we walked along to the Currie Light Tower, where we waited for Ondrea to arrive after she had finished her work at the Library for the day. As we climbed I was trying to count the steps (I think 102 including the last steep section) but as Ondrea was asking me questions I lost count and had to estimate. A wonderful view from the top and a very informative description of the light's history.
On reaching the base again we were pleasantly surprised to see Steve waiting to take us out to the air terminal for our flight. We thanked him very much for his help. Another surprise was in store for us at the check-in counter. We weren't charged for our excess baggage. What a kind gesture from the check-in lady.
It was an uneventful (although cloudy) flight and an uneventful drive back to our respective homes including stopping for a snack at Deloraine on the way..
So ended a most enjoyable visit to King Island.
These notes wouldn't be complete without recognising the friendliness of the people of King Island who, just by being themselves, made this a memorable experience.
A special thank you to Steve and Paul but most of all to my son, Matthew. He makes all of our trips so much fun and is a terrific companion. Thanks Matthew.
Medical Issues
As with previous trips I had a permanent suprapubic catheter in place, following radiation treatment for prostate cancer that left my urethra damaged some years ago. I was very careful with hygiene at the site of the catheter, and made sure I changed the dressing every day, even though I was not able to shower as often as I would at home.