Back in December 2014 Matthew and I walked the first part of the Tasmanian Trail from Devonport to part way along Cluan Tiers Road. [Notes are at Walking the Tasmanian Trail - Dec 14]. It was a disappointment that we had to abandon the walk but commonsense dictated that it was the right decision at that time. We decided if we were going to complete the trek, as we are not horse riders, it would need to be by mountain bike, preferably without carrying all our gear. However, we did not have the luxury of vehicle escorts, as horse riders do, so we carried all our gear with us.
We allowed ourselves two weeks to do the complete trail, allowing for the fact that some sections were definitely not suited to bike riding but were designed primarily to keep horses away from roads as much as possible. So our interpretation of the Tasmanian Trail was an amended version, but still quite a challenging undertaking, bearing in mind we had no pack horses to carry our gear weighing in the order of 35kgs plus bike.
Matthew was riding his new Surly Ogre 29er with frame bag, handlebar bag and front and rear pannier racks. My bike was a 13-year-old Giant XTC2 with front and rear pannier racks and a home-made front tray. I carried my Garmin Edge 800 bike computer, Spot Tracker, Fly12 front camera/light and Fly6 Mk 2 rear camera/light.
We drove to Devonport during the afternoon and booked into the Abel Tasman Caravan Park in East Devonport. Overpriced accommodation with not much to recommend it. During the evening we compared our loads of gear we had packed, taking out duplicate unnecessary items. There was heavy rain and a severe electrical storm that night - a front had moved down from having caused problems in Victoria earlier. However, the storm petered out sometime during the night, much to our relief.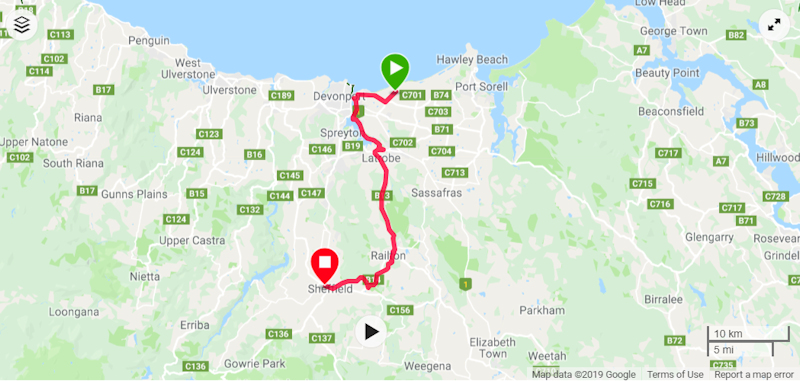 Breakfast consisted of half a banana roll each and a cup of tea before we packed and were ready to leave by 8.00am.
Matthew drove us to the Devonport Airport car park, where he intended leaving his car while we were away. This allowed us to set up our bikes with packed panniers etc with plenty of space around us. We were on the road by 8.30am and called past the terminal of the Spirit of Tasmania ferry, which was where the Tasmanian Trail actually commenced.
We made our way along River Road towards Latrobe, gradually becoming accustomed once again to the heavily weighted bikes that at this stage were a bit difficult to keep in a straight line.
Even though it was only about 8kms to Latrobe we stopped for a brief break at a takeaway shop before we continued on towards Railton.
Because several bridges over the Mersey River had been washed away in the June 2016 floods, we could not take the pleasant, quiet bush route of Old Deloraine Road but we were obliged to take the main road between Latrobe and Railton. Traffic was very heavy on this road. There were many large trucks, most of which did give us as much room as they could when they passed us. Obviously, there were exceptions, with a few that passed too close for comfort.
As we rode into Railton we saw Kevin Norris (Northern Tasmanian Trail Coordinator) sitting with a friend on his verandah. We called out "Hello" and he asked us where we were heading to. When I replied "Dover" he wanted to know more about our intentions.
We stopped for a chat and politely refused his invitation for a cup of tea as we still needed to get to Sheffield. He told us about the diversions as a result of previous flood events and mentioned that the rail trail from Railton to Sheffield was open, despite our belief that it was closed.
When we left and started on the rail trail we found there were many fallen branches, loose rocks and pot holes. It was not as pleasant a riding experience as my memory of my walk on it was when I walked part of it back in 2014 on our Railton rest day.
We detoured off the rail trail to have a look at the Sykes Memorial Reserve. Matthew hadn't seen the carved rock slabs before and he was no wiser after he had seen them. (Nor for that matter was I.)
We reached Sheffield in good time at 1.05pm after some tiring hill ascents. However, on the positive side, we enjoyed warm, sunny weather with just a gentle breeze.
At the first place we tried for accommodation - not wishing to camp on the recreation reserve as we had in 2014 - the person Matthew spoke to did not seem to know if they had vacant rooms or not but suggested a place next door that he thought might have rooms available. This was Pioneer Holiday Units.
Matthew eventually got a response to his phone calls and the lady he spoke to confirmed that she had a unit available and we could make ourselves at home, the door being open. We were totally amazed at the size of the "unit". It was actually a large house with four bedrooms, a huge lounge with couches and recliner chairs and well-appointed kitchen, bathroom and laundry.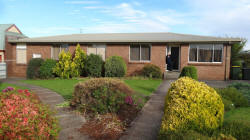 Our impression was it might have once been a group home but we later found out that the two identical houses were for teachers but the arrangements were never as successful as had been intended.
Just about from the start of this day's ride I experienced a clicking sensation at the right pedal, but the pedal was firm, with no play. I thought a bearing might be a bit suspect. However, it did not interfere with my riding. By the time we reached Sheffield the clicking was worse and the front chainring shifter did not work properly. I knew I had to somehow fix this problem. After unloading the bike I stood it upside down and was horrified to discover the whole crank and chainrings were loose.
I found my Park tool and was relieved that it contained an Allen key of the right size for the internal hex fitting. About 10 turns of the tool later the bottom bracket was tight once again. I hoped the problem had been fixed. Time proved this was correct.
We enjoyed a tinned meal with toast for dinner and watched some TV during the evening. Cost for this wonderful accommodation was $95. What a bargain!
Stats for the day:
| | |
| --- | --- |
| Elapsed Time | 4hrs 31mins |
| Moving Time | 3hrs 25mins |
| Distance | 43.9kms |
| Distance to Date | 43.9kms |
| Max Speed | 34.7kms/hr |
| Av Moving Speed | 12.9kms/hr |
Day 2 - Wednesday 23/11/16 - Sheffield to Mole Creek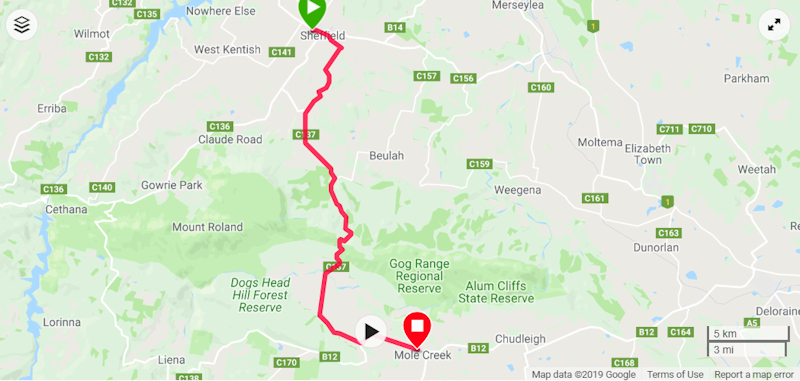 After a very comfortable night and a tea and toast breakfast, we set off at 8.15am, expecting some rain along the 30kms to Mole Creek. This day's ride was along the main road because the alternatives were unavailable as a result of damage to several bridges caused by the June 2016 floods.
It was rather a cool start to the ride - not particularly windy but temperature no higher than 11o or 12oC. We soon found ourselves battling an uphill slog and on several occasions we were forced to get off our bikes and push them up the hills. On the Garmin Edge 800 bike computer my walking speed was showing between 5 and 6kms/hr. This was approximately the speed I had been riding at just before we got off our bikes, so no real slowing in our rate of progress as a result. The downside was that it was still a major effort to push the bikes from an oblique angle, but using different muscles was a help.
On one particular downhill run towards a bridge a cow suddenly appeared at the side of the road. Matthew managed to get past it but, by the time I reached it, the cow was running along the middle of the road in front of me.
We (cow and I) kept moving at about the same speed and eventually the cow ran up into a driveway just before it would have needed to cross a bridge.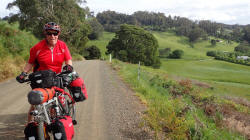 The ordeal of pushing our bikes up the steep gravel road was very tiring. However, the ascent of the Gog Range was through a very pleasant forest area.
It started to rain as we were travelling quickly down a hill following a tough climb up the Gog Range so we stopped to put on our rain jackets and shared a Kit Kat while we had stopped.
To compensate for the slow uphill sections on both bitumen roads and gravel tracks we enjoyed several long, winding descents that needed constant attention with the ever-present danger of sliding or skidding if we had let the speed get away from us. I kept my hand away from the front brake.
Despite our rather slow overall progress we reached Mole Creek at 11.40am and booked ourselves into the Mole Creek Hotel. We were able to use our room straight away - a bonus - and we made use of the shower to warm ourselves up and generally relax. We enjoyed a pleasant dinner at the hotel.
Stats for the day:
| | |
| --- | --- |
| Elapsed Time | 3hrs 35mins |
| Moving Time | 2hrs 26mins |
| Distance | 29.2kms |
| Distance to Date | 73.1kms |
| Max Speed | 55.6kms/hr |
| Av Moving Speed | 12.0kms/hr |
Day 3 - Thursday 24/11/16 - Mole Creek to Deloraine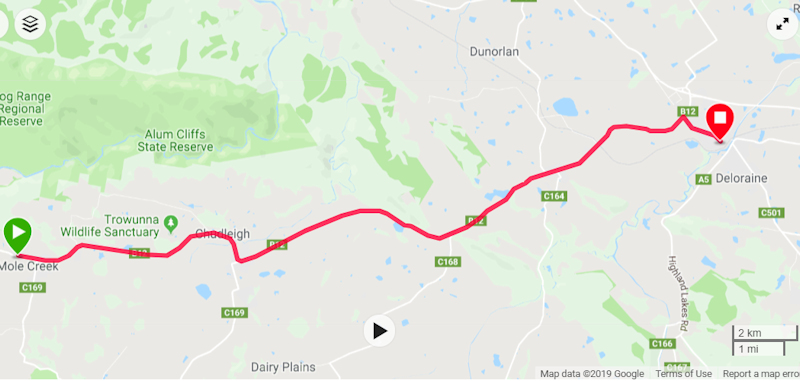 This was another short ride - 26kms on a bitumen road so we started later than we had on the previous two days. The hotel included a Continental breakfast in the tariff and this made for a very civilised start to the day.
The weather was perfect as we left Mole Creek at 9.00am, passing the honey factory to the right of us as we left.
There were some long hills to meet us as we made our way, but nothing so severe that we were forced to get off and push our bikes.
We arrived in Deloraine at 10.40am and headed straight for the bakery, where we enjoyed a drink and a snack. After about 30 minutes we called in at the Caravan Park caretaker's house to arrange a camping site for our tents (Macpac Minarets), next to the camp kitchen and picnic table.
Next item on the list after setting up the tents was to make use of the good showers in the toilet block then get a few supplies from the local supermarket for our evening meal and Friday's snacks and water supply.
The afternoon was spent watching a couple of caravan owners attempting to reverse their caravans into parking spaces while we sat in the camp kitchen at a picnic table enjoying the entertainment. On more than one occasion one of the drivers almost had the caravan in a perfect position, only to mess it up and then make another attempt. Dinner was a turkey salad roll with a cup of tea.
At around dusk we wandered on to the footbridge to see if we could spy any platypus that might happen to be frolicking in the Meander River. It wasn't long before we were rewarded with several surfacing animals. I was surprised at the size of them - probably almost a metre long. We took some videos of them but the results were not very satisfactory, considering the distance from the water and sun glare that complicated our efforts. I think Matthew achieved better results than I was able to.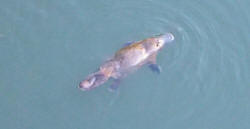 It was a comfortable night, even though it rained and three goods trains thundered past with horns blaring less than three metres from our tents during the night. Next morning Matthew said he heard only one train but I don't think I imagined the others. He must have slept well.
Stats for the day:
| | |
| --- | --- |
| Elapsed Time | 1hr 38mins |
| Moving Time | 1hr 31mins |
| Distance | 24.1kms |
| Distance to Date | 97.2kms |
| Max Speed | 52.6kms/hr |
| Av Moving Speed | 16.0kms/hr |
Day 4 - Friday 25/11/16 - Deloraine to Bracknell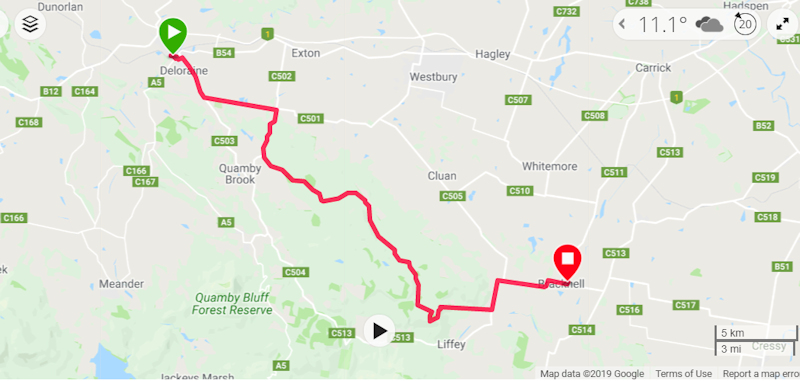 (loss of signal to GPS at about 30kms)
Despite the overnight rain our tents were dry when we woke at 6.00am. We had a cup of tea in the camp kitchen, where we packed our gear ready for a start away from Deloraine. We headed over the footbridge and before five minutes had elapsed we were pushing our bikes up the steep incline of East Church St. Things soon settled down to a leisurely ride towards Cluan Tiers Road, via Osmaston and Bogan Roads - all sealed roads.
Soon after we started on Cluan Tiers Road we saw our old 2014 camping spot we used when we were walking the Trail. We stopped to take a short video, including the rubbish heap we had gathered two years earlier (still there).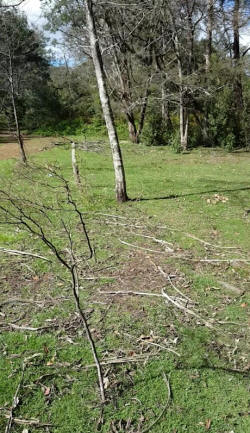 We continued in a mainly uphill direction, for about half the entire day's riding in fact, walking our bikes frequently on the steep, loose gravel surface.
When the top of the climb eventually occurred we needed to take extreme care descending the rocky road that was strewn with fallen dead branches and loose gravel.
Eventually the road changed to a narrower Forestry road and we began to wonder if we were still on the correct route. When we saw the infrequent Trail markers this was a reassurance for us that we were indeed headed in the correct direction.
The hairpin junction that marked the start of the Myrtle Creek Road brought a change from a wider road to a narrow bush track that quickly degenerated into a hair-raising descent over loose rock, tree branches and areas of bog.
Along this section of the track we encountered an area of a rock fall. I doubt whether a vehicle could have negotiated this obstruction. We got through it as quickly as we could in case another collapse of the rock wall was imminent. In my haste to get through the rocks I lost my footing and fell onto the rocks with my bike on top of me. A few scrapes on my left knee, but no serious damage.
Soon after the rock fall we crossed the remains of a wooden bridge that appeared to me to be part of an old wooden haulageway or bush tramway. As we were negotiating our way over a fallen tree just after the bridge Matthew lost one of his rear lights when a rogue tree branch dislodged it. We soon arrived at the sawmill where there was a substantial locked gate. We needed to manoeuvre our bikes over large boulders at the side of the gate. My bike fell over again, onto the same knee. This marked the end of the bush nightmare and we soon sped down to Bracknell Road, only 7.5kms to the township of Bracknell.
As there was no accommodation in Bracknell we set up our tents close to the Liffey River at a basic, free campsite. The site was already occupied by a number of campervans and 4WD/caravans but there was room for us without taking up too much space. There was a toilet and soft grass, two of the main requirements for a good campsite.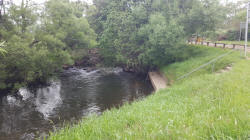 While we were unpacking our gear we thought about the day's riding and how difficult it would have been if we had continued our earlier walk of the Trail. It was likely to have been a three day walk with poor walking conditions, unreliable water supplies and no settlements from Bogan Road to the sawmill. A real endurance test.
We rode our unencumbered bikes to the local pub for a meal, then back to our tents for an early, peaceful night next to the river.
Stats for the day:
| | |
| --- | --- |
| Elapsed Time | 5hrs 36mins |
| Moving Time | 3hrs 34mins |
| Distance | 36.4kms |
| Distance to Date | 133.6kms |
| Max Speed | 67.5kms/hr |
| Av Moving Speed | 10.2kms/hr |
Day 5 - Saturday 26/11/16 - Bracknell to Poatina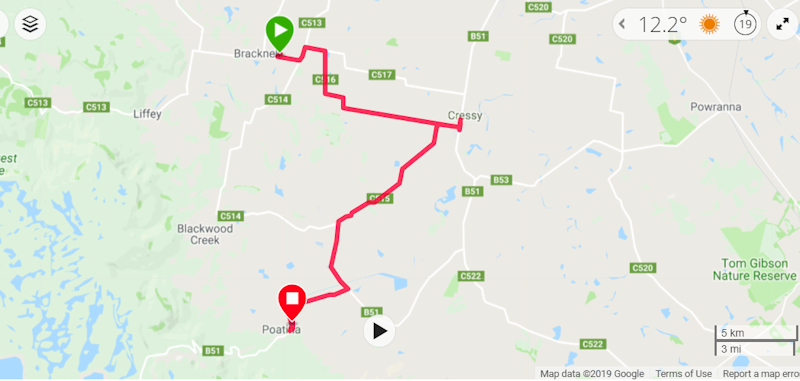 We slept for slightly longer than usual as we needed to ride only about 38kms to our next accommodation stop at Poatina.
We detoured away from the official Trail route as we wanted to call in at Cressy for a snack and a drink, having not had breakfast at Bracknell.
A large group of road bike cyclists passed us on the road to Cressy - no doubt out for a Saturday training ride. We then continued on our way, negotiating several hilly sections as we went. Fortunately, there were no gravel tracks, all being bitumen roads.
Poatina Village appeared when we were still about 10kms away, with the last 2kms gradually uphill right to the end of the day's ride. We enjoyed a comfortable stay in the Backpackers' section - only one other couple in the entire village it seemed. We had a very nice locally made pie and vegetable dinner (but no alcohol as this was a religious organisation) and then relaxed in the lounge area while we watched Day 3 of the 3rd test match against South Africa. Australia finally seemed to be making a match of it, having already lost the series.
Stats for the day:
| | |
| --- | --- |
| Elapsed Time | 3hrs 27mins |
| Moving Time | 2hrs 31mins |
| Distance | 37.4kms |
| Distance to Date | 171.0kms |
| Max Speed | 44.9kms/hr |
| Av Moving Speed | 14.9kms/hr |
Day 6 - Sunday 27/11/16 - Poatina to Miena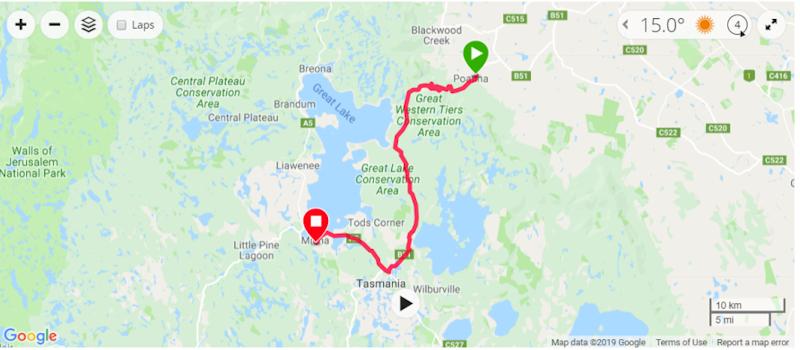 WOW - what a day! Can bike riding get any harder than this?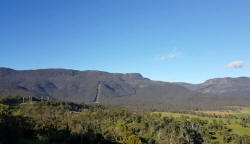 After our Continental breakfast we set off at 8.30am in perfect sunshine and with a cloudless sky on our ascent of the Great Western Tiers.
The official Trail guide would normally recommend using the Caves Track up to the plateau instead of the main Poatina Road. However, following heavy rain during Winter this track was considered to be impassable and therefore it was not recommended for bike riders. I thought walkers with heavy packs would also have had a very difficult time.
The first few kilometres were just a taster, gently up and down until we reached the climb proper. Then the fun began. We were constantly aware of the massive bulk of the tiers as they loomed ahead of us while we zigzagged our way upwards. Matthew had noted that there were 13 hairpin bends and progressively counted them down as we made our way labouriously to the plateau.
We needed many rest stops on the way. Matthew managed to ride between stops without walking his bike but I did need to walk mine on at least four different occasions for maybe 50 metres at a time. Epic achievement Matthew.
Being a Sunday, there were many motor-bike riders who were out on the road for a Sunday blast, both up and down the road. Several small groups of push-bike riders also passed us in both directions. One pair of cyclists went up and down twice - just because they enjoyed the experience! Added to the traffic were many trucks and fisherpeople (is that a word? It is now I've put it into my custom dictionary) with their 4WDs and boats. They were apparently returning from the highlands after a fishing competition or about to start their fishing holidays.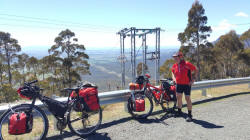 To say it was a relief to reach the plateau top was a monumental understatement, but there were still many undulations before we eventually reached the Arthurs Lake Roadhouse for a well-earned pie and a cold drink at 2.00pm. A decision then needed to be made whether we rode back the 2kms up a hill to the Arthurs Lake campground that we had passed in order to get our snacks, or to continue on for another 17kms to comfortable accommodation at Miena.
We had decided to stay on Poatina Road rather than taking the bush tracks near Arthurs Lake and Great Lake as lake levels had risen and the tracks were very rough. We also needed to consider the time taken if there was a chance of getting to Miena that day in daylight.
At 3.00pm we decided to push on, hoping we could reach Miena by about 5.00pm. Before we left Matthew phoned to book us into a room for the night. A few more rest stops on the way and we finally finished the day's riding at 4.45pm. At Miena we had a very cosy room with tea, coffee, biscuits, milk and a Continental breakfast waiting for us. A very nice meal capped off a successful day for us both. Also waiting for us was a flock (no, sorry, it was a murmuration) of starlings, that had entered the roof area at the corner of the eaves. They "entertained" us until they eventually stopped their scratching on the ceiling plaster and gave us some peace. Apart from that it was a very comfortable stay.
Stats for the day:
| | |
| --- | --- |
| Elapsed Time | 8hrs 16mins |
| Moving Time | 5hrs 1min |
| Distance | 53.1kms |
| Distance to Date | 224.1kms |
| Max Speed | 56.5kms/hr |
| Av Moving Speed | 10.6kms/hr |
Day 7 - Monday 28/11/16 - Miena to Bronte Park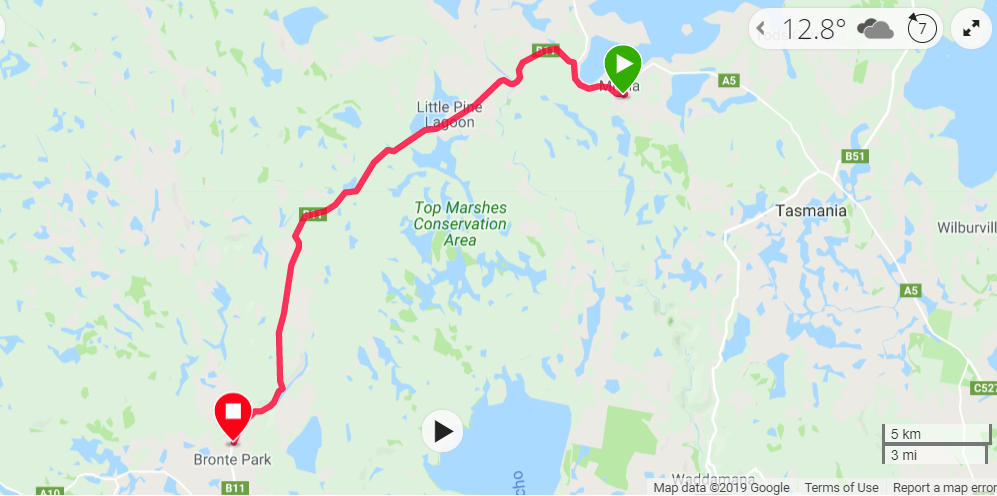 The plan for this day was to travel down the Marlborough Highway/Road to Bronte Park, get a snack there, then continue on to Victoria Valley and camp at a roadside campsite. The Trail guide recommended that bike riders should avoid the off-road bush tracks as they were not considered to be suitable for bike riders.
We started our ride at 8.15am with our rain jackets on as it was quite cold, despite being clear and sunny. The first hill out of Miena was quite a challenge. The road we then took turned left towards Little Pine Lagoon on hard packed gravel - easy riding even with the occasional fully-laden log truck that thundered past us, in the opposite direction. I made a point of always giving truck drivers a wave, just in the hope they might pass on information via their radios to other drivers in the area that there were two mad touring bike riders around.
The ride down to Bronte Park was a series of exhilarating descents, arriving at the local takeaway store at 10.45am. Contrary to our original plan we decided to make this our overnight accommodation, despite having been on the road for only 2hrs 15mins. As we were much too early to move into the Bronte Park Chalet (former Hydro-Electric Commission staff quarters) we treated ourselves to a toasted sandwich and a cold drink first. When we did get a room it also provided a sheltered outside area for our bikes.
At the takeaway shop the lady behind the counter showed us a baby wombat she was nursing in a blanket. She was a wildlife carer and had five other wombats and joeys at various stages of their development. All were rescued after their mothers had been killed on local roads. I wished people would take more care when driving in remote rural areas.
During the evening we discovered we had a visitor, but not as cute and cuddly as our previous animals. There was a large cavity above the ceiling that ran along the entire building. A possum was walking/running above our section of the ceiling. We hoped it would wander off to another part of the building.
Fish and chips from the takeaway shop for dinner. We also bought some bread and margarine and used our small jam and Vegemite portions to make sandwiches for the next day's travels.
Stats for the day:
| | |
| --- | --- |
| Elapsed Time | 2hrs 13mins |
| Moving Time | 1hr 56mins |
| Distance | 30.9kms |
| Distance to Date | 255.0kms |
| Max Speed | 49.8kms/hr |
| Av Moving Speed | 16.0kms/hr |
Day 8 - Tuesday 29/11/16 - Bronte Park to Ouse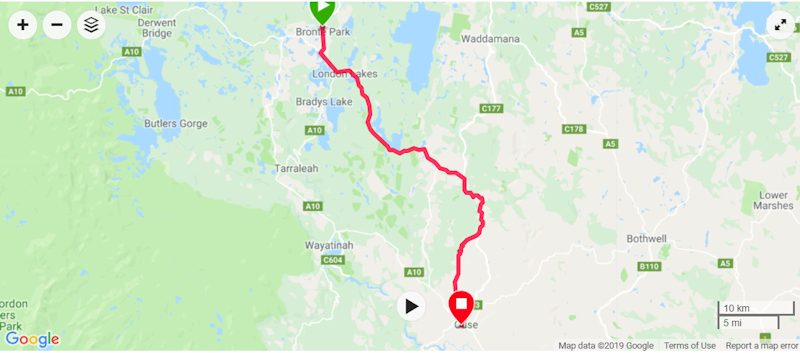 I suppose the possum settled down because we eventually got some sleep.
The sun was shining as we left the Chalet at 8.30am, without our jackets on. However, we soon realised we needed some protection from the cool breeze so we stopped after 4kms at the Lyell Highway junction to put them on.
After a couple of kilometres along the Highway we turned off onto Victoria Valley Road and immediately had a steep uphill road to contend with. Part way up I was forced to walk with my bike but Matthew persevered with riding. Well done Matthew.
We needed many stops on the way. On two occasions we were faced with oncoming fully laden log trucks that used up the entire road. Fortunately, there was enough warning of their approach and we were able to move off the road both to avoid the trucks and to protect ourselves from inhaling the clouds of dust that followed them.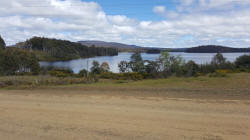 Matthew told me about a wedge-tail eagle that had been feeding at the side of the road. As he approached, the eagle took off and flew within a couple of metres across the road in front of him. Unfortunately, any video I had of this incident was subsequently overwritten.
We passed through the small shack settlement of Dee and past Dee Lagoon and eventually started the descent to Victoria Valley. This descent was the most exciting and frightening I have ever experienced. I dared not look at my bike computer to check the speed (later noted at 58kms/hr) as I was concentrating on choosing the best line through the bends, strewn with loose rocks and gravel. I deliberately avoided touching the front brake but I did use the back brake gently while standing on the pedals to lower the bike's centre of gravity. Matthew was much faster down the hills, but he is an experienced mountain bike rider with better bike-handling skills than I will ever possess.
We sped down through Victoria Valley before we realised it and ignored the camping area in Bashan Road, which we passed at considerable speed.
At Osterley, although there were no shops, we stopped at a grassy verge for a sandwich we had made at Bronte Park Chalet, before we continued on towards Ouse.
When we were about 5kms away from Osterley we turned off Victoria Valley Road onto Lanes Tier Road. A few kilometres along this stretch of gravel road we encountered a farmer herding a large mob of sheep towards us, with four or five dogs maintaining an impressive degree of order amongst the sheep. Matthew suggested we should get off the road so we moved our bikes (and ourselves) well out of the way, up a steep slope. As the farmer passed he said there was another mob of sheep coming and asked us if we would move our bikes into a driveway off the road, where we would be less visible. It was a pleasant break from riding.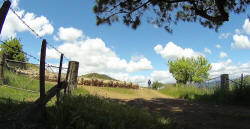 After about 25 minutes we continued on our way, arriving at Ouse around 2.00pm. We booked into the Lachlan Hotel and got the same room as we had on my bike trip when we passed through Ouse in November 2015. [Notes are at Tony's Tour de Tasmania 2015.] We also had the same dinner as we had previously, watched some TV and planned our next day's ride - to New Norfolk via Ellendale.
Stats for the day:
| | |
| --- | --- |
| Elapsed Time | 5hrs 9mins |
| Moving Time | 3hrs 54mins |
| Distance | 58.1kms |
| Distance to Date | 313.1kms |
| Max Speed | 57.7kms/hr |
| Av Moving Speed | 14.9kms/hr |
Day 9 - Wednesday 30/11/16 - Ouse to New Norfolk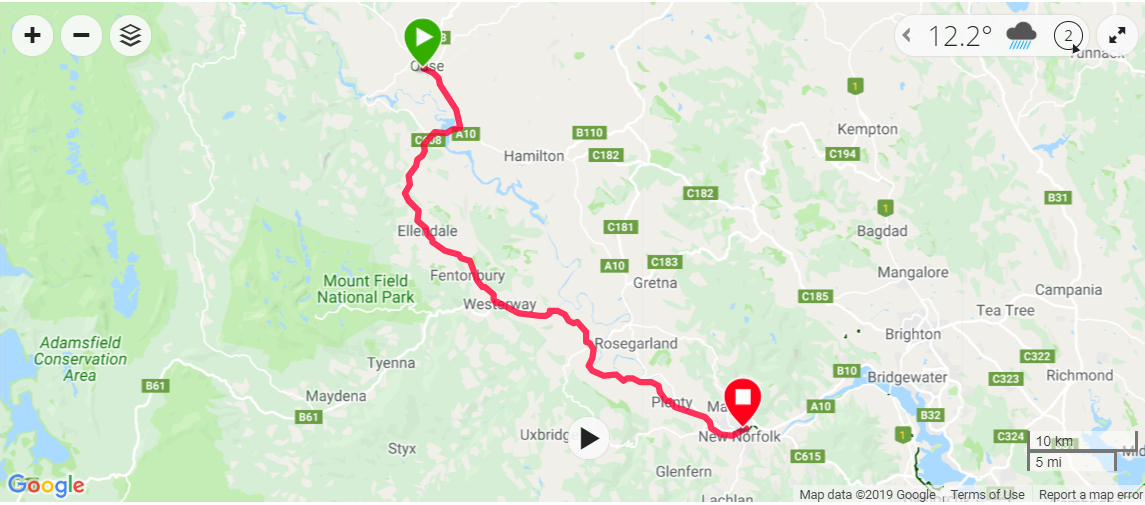 It rained overnight but, by morning, it was fine again - just like in Camelot, as the story goes.
We were on the road by 8.00am in warm, calm conditions. Although the actual Tasmanian Trail goes from Ouse to Jones River, to Bushy Park and on to New Norfolk, we decided that, with our heavily-laden bikes, we would ride south along the Lyell Highway until we reached Ellendale Road and then turn right to head across Meadowbank Lake bridge. If we had followed the Trail guide we would have needed to contact a farmer for permission to pass through his property. This would have entailed obtaining a key and returning it after having passed through the property. This would have been very inconvenient for bike riders but no problem for travellers with vehicle support.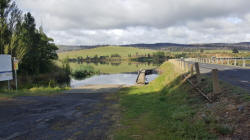 This route took us almost immediately up a cruel, long climb away from the lake. On checking a map later I think this was Rooneys Tiers. I had to push my bike part of the way on this hill. The compensation (although over far too quickly) was that we enjoyed a super-fast descent at the other side of the hill. There were a few more climbs, not as steep as the first one, then a wonderful screaming run down to Ellendale, passing an approaching log truck (safely) as we descended.
We enjoyed a very welcome toasted sandwich and a drink at the local shop before continuing on our way to Bushy Park, where we shared a sandwich and had another drink.
The last 20kms to New Norfolk were progressively easier to ride and we arrived at 2.30pm, expecting to hire a cabin at the Caravan Park near the Derwent. However, none was available so we booked in to the Junction Motel, near the lower roundabout.
A complication occurred for me when I was preparing to have my shower at the motel. As on previous trips, I have a permanent suprapubic catheter which became necessary following radiation therapy for prostate cancer in 2004 and which caused a urethral stricture that prevents urination. [Notes at Prostate Cancer Account.] The catheter came out of my body. In a state of shock I quickly pushed the catheter back through the hole in my abdomen into my bladder and securely taped it in position. Normally, the catheter is held inside my bladder by a small balloon that is inflated with 10cc of sterile water at a four-weekly catheter change.
I told Matthew of my predicament so we walked gingerly (at least I did) to the New Norfolk Hospital and Community Health Centre to find a nurse who would be able to do an urgent catheter change for me, using the spare catheter I had with me.
The staff could not have been more helpful, changed the catheter and provided me with some replacement spares in case of another emergency. It was found that the balloon at the end of the catheter had burst and the catheter was not held inside me as a result.
As we left the Community Centre I wondered what would happen if I had another emergency while travelling on Jefferys Track or other bush tracks to Dover.
Back at the motel it rained during the afternoon and into the evening. Normally, this would not bother us but we were concerned about how the rain might affect Jefferys Track and White Timber Trail, both of which we were due to tackle next day. On the best of days Jefferys Track is badly rutted and difficult to negotiate but after rain it would be a full-on nightmare.
Another complicating factor was that, if we arrived in Dover on Friday or Saturday, it would be Monday before bus transport would have been available to take us (presumably minus our bikes and gear) back to Hobart.
We looked up various trip reports by people who had travelled along this route previously. One stuck in my mind - "Tassie Rambler" did this route on a full-suspension mountain bike, carrying a small backpack. While he was on White Timber Trail he recorded this comment: "I did spare many a thought to a poor cyclist going through here with panniers or a trailer. I suspect they wouldn't be having anywhere near as much fun."
This, and other, comments, coupled with my catheter problems earlier in the day, prompted us to consider possible alternatives that might still enable us to reach Dover, and so complete an altered version of the Tasmanian Trail:
1. Avoid White Timber Trail and continue along Jefferys Track towards Crabtree and then on the highway to Dover.
2. Ride back to Hobart then through Kingston and onto the Huon Highway.
3. Ride back to Salmon Ponds and use a Forestry road (Southern Explorer/Plenty Link Road) to take us to Judbury.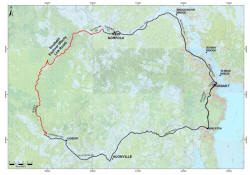 This was probably the most attractive alternative if we had thought about it more.
In the end we decided the most sensible thing to do would be to not continue at this time but to ride back home to Lauderdale and consider completing the Trail ride in a series of Summer day rides, with minimal packs on our bikes, using car shuffles.
We both felt much happier having made this decision.
Stats for the day:
| | |
| --- | --- |
| Elapsed Time | 6hrs 8mins |
| Moving Time | 4hrs 11mins |
| Distance | 60.5kms |
| Distance to Date | 373.6kms |
| Max Speed | 63.4kms/hr |
| Av Moving Speed | 14.5kms/hr |
Day 10 - Thursday 1/12/16 - New Norfolk to Lauderdale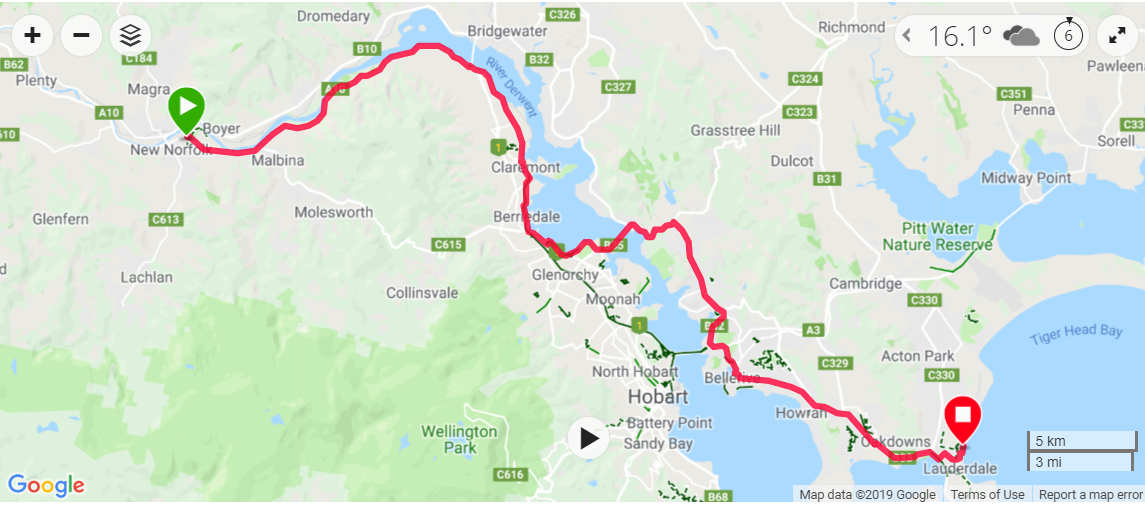 With our decision not to continue having been made, we took our time packing. The later start, at 9.15am, meant that we missed most of the heavy traffic heading towards Hobart, which was a bonus.
It was a beautiful day to be riding - not too hot and calm. Our first stop was at Granton in the park where an old steam engine once stood. From there we rode along the old main road and stopped for a snack and a drink at a service station in Claremont as we had only had a cup of tea for breakfast in New Norfolk.
We decided earlier to cross the Derwent via the Bowen Bridge as it would be easier to negotiate than the Tasman Bridge on the footpath with heavy, wide bikes. On the way we followed the Montrose Bay Foreshore Pathway as it meandered along until we eventually passed the Derwent Entertainment Centre and crossed the river.
Our ride continued without incident through Lindisfarne, Bellerive, Howrah and Rokeby before we finally arrived at my home just after 2.00pm.
Stats for the day:
| | |
| --- | --- |
| Elapsed Time | 4hrs 55mins |
| Moving Time | 3hrs 22mins |
| Distance | 54.9kms |
| Distance to Date | 428.5kms |
| Max Speed | 56.1kms/hr |
| Av Moving Speed | 16.3kms/hr |
Day 11 - Sunday 18/12/16 - New Norfolk to Judbury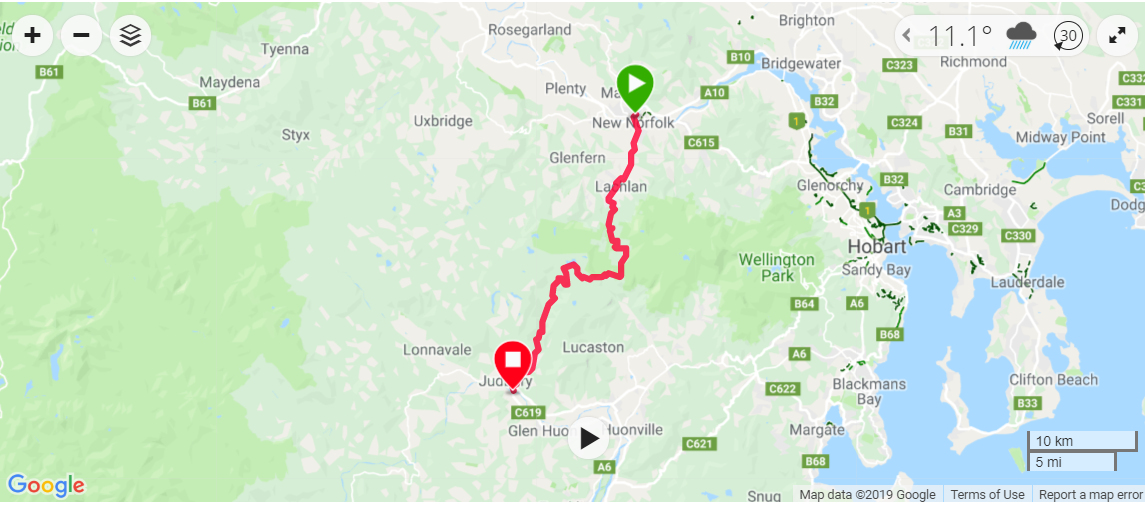 Well, our Tasmanian Trail adventure had not yet ended! It seemed that when we haven't finished a project, we just can't let it go.
With Matthew having a few rostered days off we decided it was an opportunity to tackle the next stage of the Tasmanian Trail. However, this time we would not be taking all our gear but our stripped-down bikes and backpacks.
The weather forecast was not good. Although it was cool and calm, there was a possibility of snow at levels above 800m. We planned to go to 854m on this route. It was also necessary to do a car shuffle so that we would have a car available at the end of the ride, which would delay our ride a bit.
After a 7.00am start, we bought some sandwiches and drinks before driving to Judbury, where we left my car next to the oval. Matthew then drove us back to New Norfolk via the Plenty Link Road, or Southern Explorer. We later discovered that this road was about 34kms shorter than the 84kms route through Kingston and Hobart. The downside was that it is of a much lower standard, being primarily a Forestry access road.
By the time all this had happened it was past 10.00am and we were finally ready to start the ride. I was very apprehensive as Jefferys Track has a reputation for being in extremely poor condition, suitable only for 4WD vehicles, trail bikes, ATVs and walkers.
Both Matthew and I had walked the majority of Jefferys Track some years previously but that knowledge was not a great deal of help on this venture.
While I was setting up my bike prior to leaving New Norfolk I realised I had forgotten to bring a securing bolt for my Cycliq Fly12 front camera/light. We both thought it was important to record our trip so we rode into town and managed to get a suitable bolt with nut from a general store.
As we left New Norfolk I began to realise how bike-unfit I had become in the two weeks since we finished the earlier sections of the Tasmanian Trail ride. When I mentioned this to Matthew he replied that this was just the tester - the real work was yet to come.
We had a brief rest stop at Lachlan then continued on to the start of Jefferys Track. Right from the start of the climb Matthew was faster on his 29er mountain bike with full suspension and younger legs than I was. It must have been very frustrating for him to wait for me on many occasions as we made our way up the track.
At most of the short plateau areas on the ascent there were deep mud holes, many filled with water. We made sure we avoided going into them. We wondered how we might have coped if we had made this trip two weeks earlier, after we had stopped overnight at New Norfolk. We agreed it would have been a total nightmare and would probably have had to be abandoned.
Despite not having a load on my bike, two hours into the ride I began to have serious doubts about my ability to keep going. At one of our rest stops I told Matthew about my concerns. My problems had been made worse by not having had breakfast and my lack of ride fitness for such a climb.
While Matthew waited patiently for me to decide what I wanted to do, I thought if I didn't keep going then I would never get back to complete the ride. As Matthew put it at the time: "On the ride up to the plateau from Poatina, you had no choice but to keep going whereas here we could roll back down the hill just about all the way to Lachlan". He was right. The more I thought about it, the more I wanted to keep going. I decided that was what I was going to do. We shared a Boost bar and had a drink before we continued.
At one of our rest stops Matthew, being in front, saw two feral goats up in the bush but they had gone by the time I tried to see them. Matthew saw another white goat on the track about 200m away. I did see that one. It reinforced our belief that this really was a goat track. [Almost invisible in the centre of this image]:-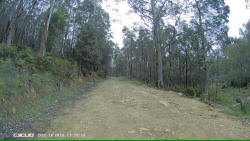 It was more of the same until we reached the turn-off to the White Timber Trail at about 2.20pm. On this track there were no deep water-filled ruts but at various points water did completely cover the track. At first we made our way carefully along the sides but, when we realised the pools were reasonably shallow, we rode through them. The rocky bases gave me some cause for concern and there was an element of luck whether we avoided hidden rocks or not.
At around 3.20pm the track surface changed from rock and mud to a blue metal surface with 50mm sized loose chunks of road material. This made riding very difficult because our wheels slipped frequently and maintaining good grip was not always easy. Many metres of walking followed.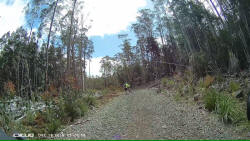 The ferns by the side of the track and the occasional Tasmanian waratah (telopea truncata) made the ride more pleasant than it would otherwise have been.
The track continued in a predominantly uphill direction until we eventually reached a height of 854m. This was where we turned left (south) with about 14kms to go, mainly downhill on Judds Creek Road. At this junction the Tasmanian Trail signs were very confusing. Two signs appeared to send us in two different directions, with an explanation of "Trail Alteration" but across the track an older Trail sign directed us down Judds Creek Road. Matthew confirmed on Memory Map which was the correct direction.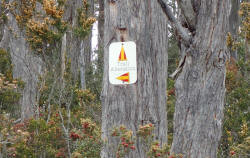 The descent from near the top of White Timber Mountain demanded intense concentration, because the loose, rocky surface was difficult to negotiate. I made much use of the rear brake, not allowing my speed to increase to the point where there was a likelihood of coming off my bike. The consequences would no doubt have been very serious.
Despite the fact that we were now reaping the rewards for the relentless previous uphill climbs, we still needed frequent rests to stretch our leg muscles after standing on the pedals during the descent and to allow our brake hands to recover.
It was a tremendous relief to finally reach a good quality gravel road that led us down into Judbury and eventually on a bitumen road back to my car, waiting patiently for our return. We took our time changing and loading the bikes onto the car before stopping at the Ranelagh Store for a drink and continuing to New Norfolk via Kingston and Hobart to Matthew's car.
I'm glad I persevered and completed this ride, thanks to Matthew's encouragement and patience with my slow progress.
Stats for the day:
| | |
| --- | --- |
| Elapsed Time | 6hrs 56mins |
| Moving Time | 4hrs 41mins |
| Distance | 40.5kms |
| Distance to Date | 469.0kms |
| Max Speed | 37.9kms/hr |
| Av Moving Speed | 8.7kms/hr |
Day 12 - Tuesday 27/12/16 - Judbury to Geeveston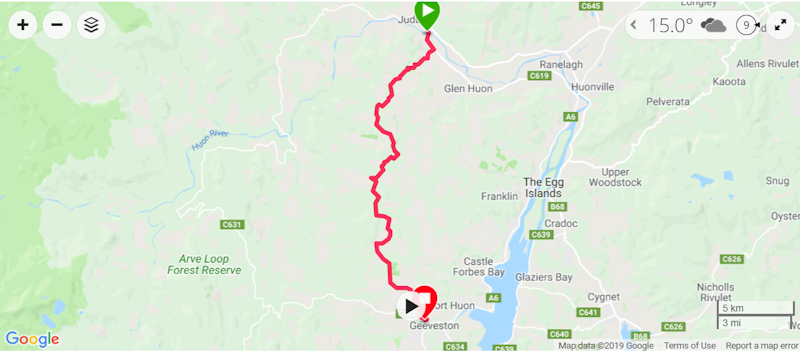 This day's ride followed the plan for the previous ride, in which we first both drove our cars to the end point, left mine there and drove back to start our ride.
After getting our bikes set up at the car park near the oval at Judbury we left at 9.40am in warm, calm conditions. Near the start Matthew took a video of the Huon River from the bridge as we stopped while riding across.
We didn't expect this part of the Tasmanian Trail to be as demanding as our previous leg from New Norfolk to Judbury, for several reasons:
1. The route was shorter;
2. The maximum height reached was lower;
3. The route was not as rough.
However, we still faced challenges, such as the first 10kms of Bermuda Road being uphill and several very rough, steep gravel tracks and roads.
The slow plod, both riding and pushing our bikes, began within the very first kilometre. We needed many rest stops on the way up. On the plus side, I was able to cope better on this road than I did on Jefferys Track, probably because I made sure I had eaten breakfast and also I had used my exercise bike in the intervening days.
We made sure we checked at road junctions for Tasmanian Trail markers and were pleased to see that they were present in places where they were needed.
At one particular point on Bermuda Road we were able to see into the far Western distance to what Matthew thought might have been Mt Anne, the highest peak in the South-West.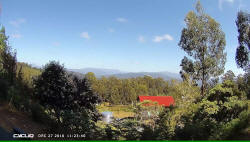 We noticed a marked drop in the quality of the gravel road as we passed the last signs of civilisation. The road became rougher and narrower, with more potholes and loose rocks. From there we turned left onto Old Bermuda Road. There was a sign informing drivers (mainly) that this was a Category 2 4WD track.
We needed to push our bikes for a considerable distance along this road as it climbed up to Burned Top, flattened out a bit and then climbed to Bald Top before descending to the four-way junction with the power line wayleave. We spend 15 or 20 minutes resting on Matthew's tarp in the middle of the 4WD track while we had a snack and a drink.
The 800m descent under the power lines was so steep that I had no intention of attempting to ride down the loose, blue metal track with chunks that were the size of tennis balls. Being more adventurous, Matthew decided he would try to ride down the hill but he stopped after he had ridden about 30m, with his bike's rear wheel having locked, in danger of sliding downhill out of control. He did, however, manage to ride down the last 300m or so of the track. When I eventually caught up with him, after having ridden the last 100m he said he was nearly out of control during his ride.
Once we turned right to head south on Fourfoot Road we found it was much easier travelling as the road was wide and relatively free from large, loose obstacles.
[Matthew later noted that if we had turned off Bermuda Road on to Bermuda 1, before we had reached the start of Old Bermuda Road, we would have joined Fourfoot Road at the bottom of the power line hill, so saving all the hassles that we had just endured. However, we had wanted to stick to the Tasmanian Trail where we could but, at the same time, doubted that a horse rider would want to subject a horse to the exceedingly rough track over which we had passed.]
Fourfoot Road was mainly downhill with some enjoyable fast sections. I wasn't confident enough to let my bike run without braking but I still managed to enjoy this part of the journey. The road into Geeveston was a pleasure to ride on. First, the good quality gravel then, when it changed to a bitumen surface, it allowed us to finally use our highest gear range right into Geeveston.
We finished the ride at 1.40pm, feeling very pleased with our efforts for the day. From there we loaded the bikes onto my car, changed out of our riding gear and drove back to Judbury. Back at Matthew's car, we enjoyed a lunch snack while relaxing in the park area near the Huon River. All that remained then was to drive back to our homes.
So ended another successful day out on the Tasmanian Trail, with only one leg remaining - from Geeveston to Dover.
Stats for the day:
| | |
| --- | --- |
| Elapsed Time | 4hrs 2mins |
| Moving Time | 2hrs 49mins |
| Distance | 26.1kms |
| Distance to Date | 495.1kms |
| Max Speed | 55.6kms/hr |
| Av Moving Speed | 9.3kms/hr |
Day 13 - Saturday 31/12/16 - Geeveston to Dover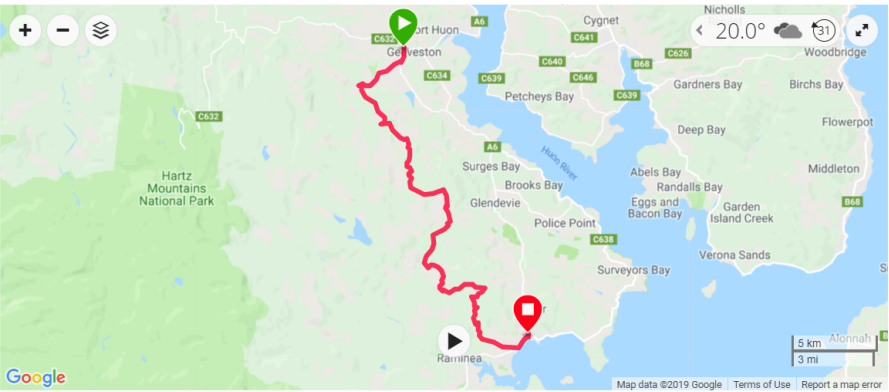 The day had finally arrived! This was when Matthew and I planned to ride the last leg of the Tasmanian Trail, from Geeveston to Dover.
We intended to ride without panniers, as we had on the previous two sections, from New Norfolk to Judbury and from Judbury to Geeveston.
Even so, the rides were not without their challenges and on this day's ride we wondered how a rider with a fully-laden bike would cope on some of the steep, rough Forestry roads.
Our car shuffle this time involved us in first driving both cars to Dover, leaving mine at the car park, then driving Matthew's car back to Geeveston, where we started our ride. The day was overcast and humid, with a forecast high temperature of 25oC and patches of sunshine.
We decided to start the ride a bit later than our normal departure time, so at 10.00am we began an easy, level ride from Geeveston on the bitumen road. Just after 1km we turned off the Huon Highway to join Kermandie River Road for 3kms.
When we then turned south-east on to Haulage Road we started to push our bikes. This continued with some opportunities to actually ride for the next 4kms over a good gravel road until we reached Blue Gum Saddle. At this junction we needed to check carefully the next road to be followed. There was a temptation to continue up Harmons Road, being the main road, but the Tasmanian Trail notes indicated we should: "... turn immediately left and proceed down Harmons Road." So we did.
A short, fast descent led us to a right turn into Boney Road, a rough 4WD track, lined with ferns. Quite delightful. The road climbed steeply, with much bike pushing until we reached a more level area. This section consisted of rock slabs alternating with areas of soft sand with some boggy patches. Matthew commented that he would have liked the entire Tasmanian Trail to be just like this. I wasn't so sure, but I understood his need for some technical riding, rather than simply bowling along a made road for kilometre after kilometre.
The road descended to cross Rileys Creek - a bit damp and boggy - then continued to climb steadily across Swearing Bobs Plain. This was buttongrass that Matthew remarked we would normally be plodding through, up to our knees and higher, in bog.
Just before we turned right where a road joined from the left we decided to stop for a snack and a drink at about 12.15pm at a grassy patch. As we relaxed I mentioned to Matthew that it looked as though we were sitting on a midden, with thousands of shell pieces around us. Matthew thought a more likely explanation was that it was a modern-day midden - a shell dumping ground. [Later, at home, Matthew confirmed that on the 1:25,000 map it had once been the site of a refuse tip for Dover.]
We left after about 20 minutes and soon headed down to the right turn into Hopetoun Road. As I arrived at where Matthew was waiting, he asked if I would check his right eye as he thought there was an insect in his eye. Just as I was about to check his eye, Matthew said: "There's a jack jumper on your leg", and he brushed it away with his gloved fingers. He took off his sunglasses and, as he did, I saw a jack jumper on his face, very close to his eye. I made a frantic movement to get it away from his eye, which quite surprised him, as he had not expected that sort of reaction from me.
What had apparently happened was that, as Matthew brushed the jack jumper from my leg it remained attached to his glove and he transferred it to his face as he removed his sunglasses. A close call for Matthew. It had probably climbed on board my leg as we sat relaxing on the shell dump a few minutes earlier.
We enjoyed a fast descent on Hopetoun Road until we turned up into Stubbs Link Road - a rough uphill climb of about 4kms. It was on this climb that Matthew, being in front, saw a large echidna at the right hand side of the road, foraging for (he hoped) jack jumpers. I managed to manoeuvre my bike so that the front camera recorded its efforts. We passed quietly, without disturbing the delightful animal.
At the top of the climb, there were still 9kms to go to the end, fortunately mostly downhill. This was the final reward for all the undulations of the previous 23kms.
We joined Stormhill Road just after the descent started, then rejoined Hopetoun Road after a further 2kms. This road took us down to the sealed section of Hopetoun Road and eventually to the Huon Highway. We knew from previous experience that there would be a final climb up to the car park and I was determined not to get off my bike to push it, regardless of the effort required. This is where we turned left to negotiate the final 900m up to the car park and the large Tasmanian Trail sign that, for us at least, brought our 13-day trek to a conclusion.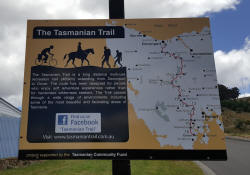 Stats for the day:
| | |
| --- | --- |
| Elapsed Time | 4hrs 31mins |
| Moving Time | 3hrs 1mins |
| Distance | 32.3kms |
| Total Distance | 527.4kms |
| Max Speed | 48.1kms/hr |
| Av Moving Speed | 10.2kms/hr |
Conclusion
Seen from the viewpoint of our experiences during the earlier nine days from Devonport to New Norfolk and the last three days with light bikes, it is clear to both of us that it is not a practical proposition to ride the Tasmanian Trail as we initially tried to do it. A bike rider needs to be able to ride without the burden of 35kgs+ of gear and to have vehicle support at the end of each day's riding, which was how we tackled the final three stages.
My heartfelt thanks to my son, Matthew, for his patience with my slow progress and medical issues and for waiting for me at the tops of climbs (and on the climbs).