BIKE TRIP TO COCKLE CREEK, TASMANIA©
TONY & MATTHEW WATTON
24/10/11 to 29/10/11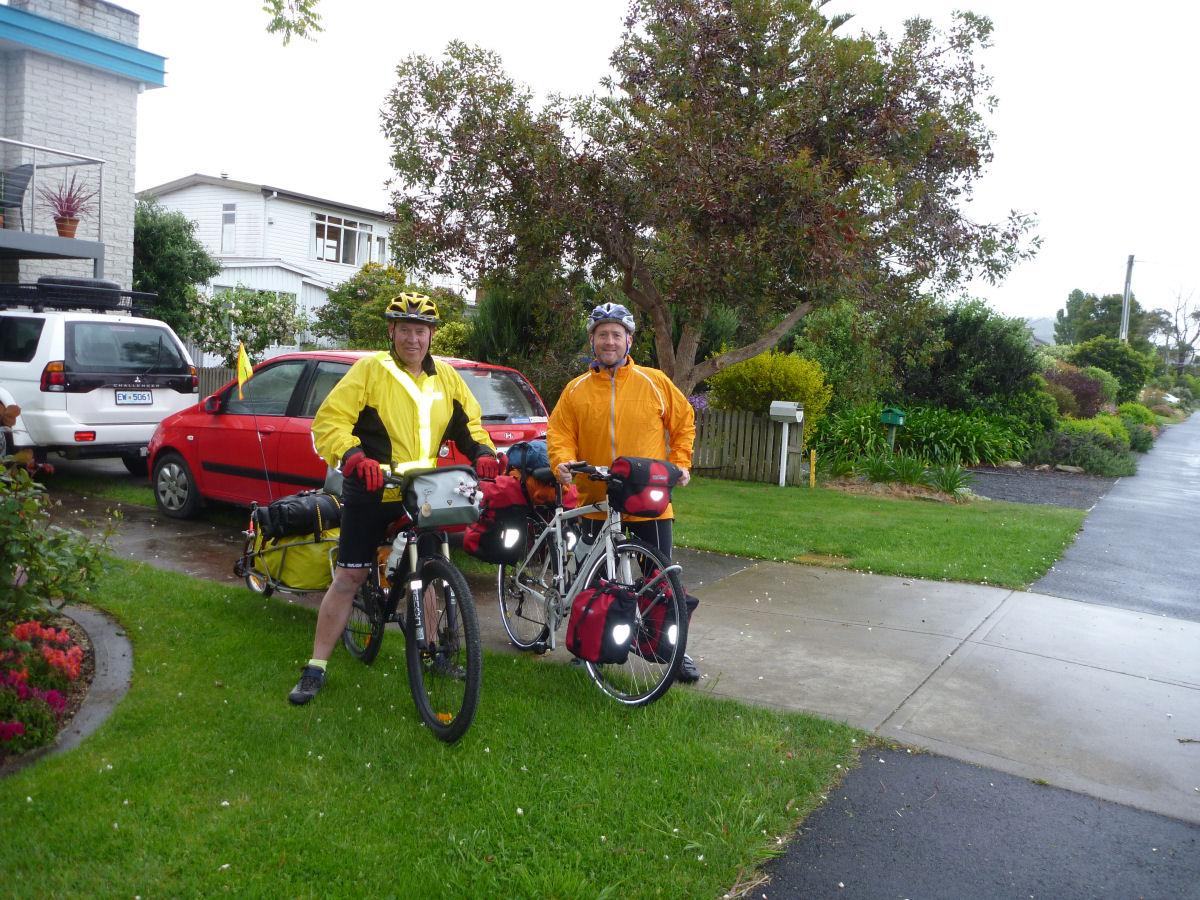 For quite a few years I had been talking to my wife, Suzanne and son, Matthew about wanting to do a ride down to Cockle Creek but, for various reasons, it had not happened. That is, until Matthew mentioned to me that, with five weeks holiday available to him, he intended to ride around Tasmania - starting with a six-day ride down to Cockle Creek and back. And did I want to go with him? Well, the answer was definitely a big YES but the only problem was my lack of preparation for such an arduous ride. In fact, during the past six months or so I had only ridden my bike over to Midway Point from Lauderdale and back once (40kms) and to Brighton Bakery and back once (76kms), climbed the internal stairs at home during the day and walked our dog 4 - 5kms most days. Hardly a resounding recommendation for the ride. "Not to worry", Matthew said - "You'll get fitter as you go". I felt I would be able to cope with the ride so we made our preparations.
Day 1 - Monday 24/10/11 - Lauderdale to Franklin (65kms, 8hrs 20mins)
We set out on our ride at 8am, Matthew having ridden from Midway Point the previous day and stayed with us on Sunday night.
Matthew was riding a Merida hybrid bike with a lower range gear set than standard. He carried front and rear panniers and a front pack. His tent (2-person Macpac Minaret) and sleeping bag were in dry bags strapped on top of the rear rack.
I was riding a Giant XTC2 mountain bike with a low range gear set - in fact the smallest chainring was smaller than the largest sprocket so that in the lowest gear my cadence was faster than the wheels were rotating! I was pulling a BoB Ibex gear trailer and had a front and a rear pack with my tent (also a 2-person Macpac Minaret) and sleeping bag in dry bags, strapped on top of the gear bag.
The plan for the day was to ride from Lauderdale to Franklin. However, there are at least three ways of getting there after riding to Hobart:
1. Through Sandy Bay and Taroona, past the Shot Tower, Bonnet Hill to Kingston then along the Huon Highway to Huonville and Franklin.
2. Up the Southern Outlet, down towards Kingston then along the Huon Highway as in 1.
3. Up the old Huon Road through Fern Tree, Longley, Lower Longley then joining the Huon Highway at Vinces Saddle to Huonville as above.
All three routes involved long, arduous climbs at low speed.
We chose the third option because it was a quieter road, even though it climbed over the lower slopes of Mount Wellington.
I knew the trailer I was towing, which weighed 8kgs, was going to be a problem as it was carrying close to its capacity of 32kgs (over 28kgs) and seemed to have a mind of its own. It was like the proverbial tail wagging the dog and caused the front wheel to feel very light because nearly all the weight was on the back wheel.
Matthew seemed able to cope much better with his pannier arrangement and I was beginning to wish I had not changed from panniers to the trailer as I had sold my old Specialized bike a few years ago.
After a slow plod up Huon Road with a few stops for a stretch and a breather we reached the Fern Tree shop. There was no way we were not going to have a break here so we enjoyed a mug of hot chocolate and a toasted sandwich before setting out on the next leg of the trip, past the Longley Pub and on through Lower Longley to the Huon Highway.
Matthew, being much quicker on his bike, waited for me at the peaks of hills on the way. It must have been frustrating for him but he didn't complain. Fortunately, I was able to stay on the bike and did not need to get off to push it but I was in "plod gear" for most of the ride to Vinces Saddle, with many stops on the way.
We coasted down the long hill to Grove. I think Matthew reached speeds close to 70km/h but I was very much aware of the warnings on the trailer about not exceeding 40km/h and consequently used the brakes more than I would have liked. It was a steady pace along to Huonville for a break at about 3.15pm then on our way to Franklin and our proposed camp site down near the Huon River, with fresh water, picnic shelter and toilets not far away. Franklin was reached at 4.20pm. We set up our tents, changed into non-riding clothes and walked along to a local café for a very tasty fish and chip meal.
A family of black swans and their five cygnets entertained us for a while - delightful as they grazed on the lush grass of the picnic area. The adult birds never allowed their young to stray from them.
Back to our tents by 6.15pm and a very early night as it was too cold and windy where we were, close by to the river
Day 2 - Tuesday 25/10/11 - Franklin to Southport (54kms, 5hrs 30mins)
A very cold start to the day (3oC in Hobart). I woke at 5.40am for a quick toilet break and was very surprised to find ice on the tent as I emerged. I suppose the wind-chill factor was operating and brought the air temperature down to freezing point. It was almost that cold inside the tent. I decided to get back into my sleeping bag for a while and eventually climbed out close to 8am, by which time the sun was shining.
We made ourselves a cup of tea, then porridge with sultanas for our breakfast.
Although we had planned to be on the road by about 8am, because of my sleep-in it was 9.45am before we had packed and were ready to leave.
The road undulated without any major concerns until we reached the end of Scotts Road, the Geeveston bypass road, where I had to get off the bike and push it up to the junction with the Huon Highway. This was a bit disappointing for me but a realisation that there were going to be occasions where there simply was no option. There were two more instances where I had to push the bike uphill, the next near to Glendevie and then at Glendevie itself. Even with his higher gearing, Matthew made it up all the hills staying on his bike. Well done, Matthew.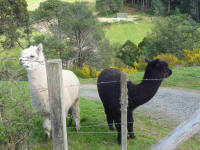 Dover was our next stop at about 1pm, where we bought our lunch and a drink to have in the park opposite the shop and chicken salad rolls (the best I had tasted when we had them for our evening meal) so we would not need to cook.
After our lunch I wandered along to the supermarket to buy a toothbrush, having forgotten to pack mine before leaving home.
When we left Dover just after 2pm we soon discovered that the road climbed steadily for quite a few kilometres before it peaked prior to the exhilarating run down to the Southport turnoff and then to the Camping Grounds/Caravan Park by 3.15pm. I thought $24 for a powered site was a bit steep but we were both able to pitch our tents on the one grassy site so, at $12 each, it wasn't too bad a deal. [We needed a powered site so that we could charge our phones and my GPS/bike computer.] There was a comfortable camp kitchen, hot showers and hardly any other visitors, so what more could we ask?
Rather belatedly, we "discovered" an electric jug and a toaster in a cupboard in the camp kitchen so we were able to save some fuel as we heated water for our hot drinks.
About one hour after we had reached Southport a Danish couple, probably in their 50s, arrived on bikes they had bought in Hobart. They had used a bus for some of their trip but I'm not sure where this occurred. Apparently, they had sailed their yacht from Denmark and had berthed at Sandy Bay before deciding on a bike tour of Tasmania. They had minimal gear with them and I wondered how they would cope on the West Coast when they got there. I supposed they sorted it out somehow.
Another early night - about 8pm into our tents - and I at least was soon fast asleep.
Day 3 - Wednesday 26/10/11 - Southport to Cockle Creek (30kms, 3hrs)
A much warmer night than at Franklin and I was up and about just after 6am. I woke Matthew at about 6.30 with a cup of tea, followed by porridge and sultanas for breakfast. As we were only travelling 30kms this day we did a leisurely pack and left Southport at 9.15am to begin the third leg of this trip, down to Cockle Creek.
It rained steadily. The road was sealed for the first 8kms to the Ida Bay Railway, then gravel for the remaining 22kms.
Even though the road undulated, the hills were fairly short so I had no trouble coping on this section. However, I did need to take extra care on the loose gravel as I did not want the trailer to jack-knife as I had read sometimes happens when braking hard on a bend, for instance. The front wheel of my bike, being lighter, wanted to skid off to a side whenever it hit a rock or even a stone. Intense concentration was needed to avoid a fall.
There were a few log trucks and gravel trucks using this road while were travelling. We found the drivers to be as considerate as their rigs allowed, slowing down when passing, in an attempt to minimise the dust-storms created as they bowled along.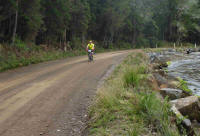 We arrived at Cockle Creek at 12.15pm - very relieved to have made it this far with no mishaps. We set up our tents just behind the beach on a grassy knoll - no other visitors except for a gang of currawongs who were intent on attacking our gear at every opportunity. One pecked into Matthew's bar of soap but that did not deter it from further incursions as the chances occurred.
Although I had no injury concerns, Matthew had a sore Achilles tendon area on his right ankle, probably from the extra stresses while riding uphill and putting in hard efforts. He reckoned rest would be needed to enable a speedy recovery but that did not seem to be on the agenda any time soon. So he put up with it. As Matthew rested I walked the few hundred metres to the whale sculpture in an effort to get some exercise that was not riding. A bit later we wandered slowly along to the bridge over the creek in the warm sunshine.
We felt very happy to be at Cockle Creek on a peaceful, warm, quiet afternoon. This was different from every other occasion when we had been at Cockle Creek, either about to start a long walk or finishing a long walk or, in Matthew's case, a kayak adventure. Dinner was Continental pasta with an added salmon sachet to enhance the experience, followed by another early night - in our tents by 8.30pm. I was asleep very soon after.
During the night we heard guttural grunting noises; apparently brush-tailed possums according to Matthew.
Day 4 - Thursday 27/10/11 - Cockle Creek to Southport (30kms, 3hrs 25mins)
No rain overnight and a sunny start to the day. We had our (by now) normal breakfast of a cup of tea followed by porridge and sultanas.
I was a bit slow packing up my gear so it was 9.50am before we were ready to leave Cockle Creek after a very pleasant, if short, stay.
A few more log trucks, some unladen and some with full loads after we had left the Catamaran area. Once again, the drivers were as obliging as they were previously. A wave "Hi" seemed to go a long way to fostering good relations. Besides, we were just a mite vulnerable.
It was quite a relief to reach Ida Bay at about 12 noon. We, well Matthew, treated ourselves to lunch at the railway café and we were then on our way for the final 10kms of this day's travel back to Southport.
The 2 or 3kms before the turn-off to Southport consisted of a very nasty climb. Fortunately, I did not need to get off my bike to push it, but it certainly was a struggle. By 1.15pm we were back at the Southport Caravan Park to set up our tents on a pleasant flat, grassy area. We both enjoyed a hot shower using 2 x $1 coins for a total of 8 minutes to wash off the accumulated grime and generally recover from the day's ride. A counter meal was planned for this evening's meal then the hills to Franklin beckoned for the next day's ride.
Late in the afternoon about 20 Winnebago campervans arrived in a series of convoys. It seemed most were members of the Winnebago RV Club, having attended a rally for campervans at Sorell a few days earlier. All the remaining powered sites were occupied as a result.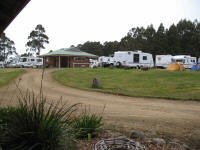 Plague of campervans at Southport Caravan Park
Our meal at the Southport Tavern (flathead, chips, salad for me and chicken parmigiana for Matthew) proved to be too big for Matthew so, in order to avoid waste and to provide ingredients for the next day's sandwiches, I got some large snap-lock bags from my tent and we salvaged chicken and salad to go in the bread I had bought at the store for the next day's lunch. I also bought butter and peanut butter so we could have a change for breakfast in the morning.
The peace of the night was broken by very strong winds that I hoped would have disappeared by the time we were on the road to Franklin. The hills were bad enough, without Mother Nature hindering us further.
Day 5 - Friday 28/10/11 - Southport to Franklin (54kms, 5hrs 15mins)
I woke at 5.30am and was pleased to find the wind had died to a gentle breeze. I immediately started to pack away my gear as I invariably took a lot longer than Matthew did to pack.
Our breakfast was tea and toast, courtesy of the camp kitchen amenities that included a toaster and electric jug.
On the road by 8.30am, with a series of steep climbs to negotiate before the flat section from Geeveston to Franklin. The first trial was the hill from the Southport turn-off that seemed to go on for ever. I struggled to the peak - not needing to get off and push the bike. That pleased me a bit. Once again, we found that almost all the drivers were very considerate, slowing down behind us and moving over when passing.
At the Scotts Road junction we decided to continue straight on so we could stop at Geeveston for a lunch break, even though it was raining gently. Almost miraculously, the drizzle stopped as we coasted into Geeveston and we spent a pleasant half an hour or so across the road from the Geeveston Heritage Centre eating our lunch of sandwiches we had made before we left Southport.
The last leg for the day was from Geeveston to Franklin - an easy ride that saw us arrive at the camp site at about 1.45pm. A good day's ride with no mishaps or dramas.
The only disappointing point was that we were apparently intending to camp in a No Camping zone (but no sign to indicate it) so had to pack up and move all our gear about 100m to a different site. It was still a very pleasant spot to camp. Well, we thought it was a pleasant spot to camp until we were hassled incessantly by a bloke from a nearby almost-derelict caravan who harangued us with his ultra-right wing philosophy of life. He only backed off to his caravan, still bleating to himself about his perceived issues, when I told him that we were only trying to enjoy ourselves on a bike trip. We did not want to engage in conversation with him at all. He seemed to be totally unpredictable - to the point where we felt compelled to consider moving our camp site to a safer area.
We took our opportunity when he went to the pub, packed up our gear and moved to a spot directly beneath a huge willow tree, about 400m away. A peaceful night, even though it rained continuously.
Day 6 - Saturday 29/10/11 - Franklin to Lauderdale (65kms, 8hrs 30mins)
I suppose the rain woke us early - 5.30am - but we also knew we had a very tough day's ride ahead of us. We packed up inside our tents - no breakfast - and were ready to roll by 7.30am.
We planned to stop (and did) at Banjo's in Huonville for a hot chocolate, then tackled the formidable, long haul up to Vinces Saddle.
Matthew, once again, was considerate in waiting for me at various convenient stopping places on the ascent but we eventually made it and turned off the highway towards Longley. By this time it was raining, windy and very cold.
The road to the Longley Pub wound down, around and up and we were a bit disappointed to see the pub appeared to be closed. For a while we stood shivering in the "bus shelter" opposite the pub, trying to warm up, but to little avail.
When we saw a cleaner come out of the pub we asked if the pub was open. "Not for beer" was the reply. That suited us. I bought a coffee, Matthew had a Coke and a fire was lit to help warm us up. We enjoyed a very pleasant 45 minutes before eventually deciding we had to make a move and start the ride up to Fern Tree, 12kms uphill away!
As Matthew is a much stronger cyclist, we decided that he would press on as far as he wanted to, rather than wait for me to catch up, as he had in the past. As it happened, Matthew was able to reach the Grand Chancellor in Hobart before I had reached the Fern Tree shop in truly atrocious conditions. I sat outside the shop for a few minutes to phone him and recover from the cold. I didn't.
On the way down into Hobart I became even colder; fingers like claws and feet extremely cold and wet. Brakes applied the whole time to prevent overspeed occurring with the fully-laden trailer.
I was pleased to see Matthew still waiting at the Regatta Grounds. He must have been waiting there for at least 30 minutes but he did not complain. We set off together along the bike track to the Tasman Bridge. Our problems were not yet over. The bridge itself presented a most unpleasant obstacle. Matthew went on ahead, powering up the narrow down-river side path, fighting hard against the gale-force SE cross winds.
For me, I found it totally impossible to control the bike and trailer when I attempted to ride so I pushed up to the top of the bridge and tried to coast down the eastern side. However, the strong cross wind did not even allow me to do this, so I walked down the entire way. [When we were at my home later, Matthew told me that he had tried to avoid hitting one of the gantry rails on the way down, his left front pannier then caught on the road guard rail and he was thrown off his bike, injuring his right leg and landing under the bike. I was ignorant of this at the time, preoccupied as I was with my own predicament.]
The remainder of the ride back to Lauderdale was relatively uneventful, apart from the endless stream of traffic on the too-narrow road between Rokeby and Lauderdale. It was a huge relief to be back home by about 4pm.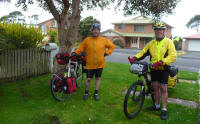 Back home at the end of the ride
In Retrospect
Total distance travelled was 295kms in 6 days. In bare numbers, this does not seem like much of an achievement. However, bearing in mind the hills and gravel roads, I am more than happy with the distances we achieved each day.
Looking back on this trip, I am convinced I made a huge mistake in changing from a bike with panniers to a bike and trailer arrangement. The trailer, although well made and with no mechanical problems, behaved like a bad-tempered child when on any surface that was not a smooth, level or down-sloping bitumen road. In particular, gravel surfaces were very difficult to negotiate as the front wheel was very light, all the weight being at the back of the bike. I resolved to attempt to fit good quality racks (Tubus stainless steel) and panniers (Ortlieb waterproof) to my bike for any future trips I may make. Not easy with front suspension and disc brakes apparently. [I have since fitted the pannier racks - see photos at 1 Day Bike Ride to Dunalley but have yet (as at 1/4/12) to use them on the road.]
Overall, this was a tremendous experience and a trip that I was glad to have made, especially with Matthew who, as always, was considerate with my slower progress. Thank you Matthew.
Medical Issues
As with my recent bushwalking experiences, I considered that I coped reasonably well with my suprapubic catheter, being able to clean around the insertion site and change the dressing in relative comfort each day. All the gory details are at my account Trip Down the Prostate Cancer Highway. However, because of the continuous movement of my legs, the end of the catheter that was inside my bladder caused dark blood to occur in my urine during the first two days. I assumed the catheter was irritating the lining of my bladder. This did not occur after these first two days, so I assumed all was well after that. Time will tell. However, I experienced frequent bladder spasms, even though I was taking Ditropan tablets to help to control these spasms.