DAY RIDE LAUDERDALE TO DUNALLEY©
TONY WATTON
19 MARCH 2012
Background
My bike (Giant XTC2) had sat idle in the garage, gathering dust, for far too long! After the 6-day trip to Cockle Creek with my son, Matthew, back in October 2011 ( Ride to Cockle Creek ) the only other ride was about a week later from Lauderdale to Brighton, a distance of about 65kms. Then nothing.
Matthew and I recently walked from Melaleuca to South-West Cape and return ( Walk to South-West Cape ) and I wanted to use the additional fitness I had acquired to undertake a longer day ride.
Having been dissatisfied with the performance and handling of the BOB trailer that I owned, and having subsequently sold it on Gumtree, I had purchased Tubus front and rear pannier racks and Ortlieb waterproof panniers. I had also constructed a front platform for the rack to help with gear carrying for extended unsupported trips, yet to be done. Not for this trip, however.
My plan was to ride from home in Lauderdale to Dodges Ferry then, if I was still feeling OK, on to Dunalley via Carlton River Road and Connelly's Marsh, and return.
The Ride to Dunalley
I packed a few essentials in a 10 litre Sea Line Dry Bag, strapped it to the rear pannier platform, filled two bottles with water and I was on my way at 9.55am. I had my Garmin Edge 800 bike computer, with heart rate and cadence monitors, and it was keeping track of all elements of the trip for me. Details at the end.
The bike and I both felt good. My first stop for a mug of coffee was at Dodges Ferry, where I decided I felt good enough to continue on to Dunalley.
I was somewhat relieved that the road was sealed, at least until I reached the bridge over Carlton River, just near the turn-off to Primrose Sands - then gravel on Fulham Road for the next 11kms.
There were no dramas as I took care on the loose, dry surface avoiding, as much as possible, deeper areas of fine dust and the inevitable corrugations.
The Wallaby
I had a sad encounter with a wallaby on the uphill area just west of Connelly's Marsh. I was plodding along in granny gear - 1 of 27 - at about 5km/hr when I noticed a faint heartbeat as I passed close by to the wallaby.
Whilst I had no means of looking after the animal, or knowing how badly injured it was just then, I felt I should at least check if there was a pouch with a joey inside. I parked the bike, walked back and was relieved to find that it was a male. However, the sad fact was that the wallaby was badly injured - smashed face and leg bones protruding through its skin.
I reluctantly decided I couldn't leave it there to suffer any more so carefully carried it to the side of the road, lay it in the ditch, found a rock and struck its head, putting it out of its misery. I felt very sad at what I had done and said, "Sorry, mate" as I did the deed. What other option did I have? I was also wondering just what a driver thinks after having hit an animal while driving. Not a great deal about the animal, I suppose.
The Ride Continues
I took a deep breath and got back on my bike to continue my ride. By the time I reached Dunalley it was 2.00pm. I was surprised that the 54kms had taken me that long but I did have a couple of diversions en route.
At Dunalley I rang home to let my wife know I was safe and would start back in about 30 minutes.
I bought a salad roll and a milk drink at the local takeaway shop and wandered over to a seat next to the Denison Canal to relax and enjoy my lunch.
The Return Trip to Lauderdale
By 2.30pm I was feeling rested and ready to tackle the journey home. The gravel road was uneventful but by the time I reached the Dodges Ferry Bistro (pub) I was ready for another break and a drink. I bought a couple of cans of Solo, put one in a drink bottle and relaxed drinking the other one.
Just about to head off on the next leg and discovered the front tyre was down a bit. I pumped it up and hoped it would last the remaining 25kms or so back home. No such luck. After another 5kms I was pumping the tyre up again and hoping for the best.
Just before I reached Sorell the inevitable happened. Totally flat. I pushed the bike the short distance along the Arthur Highway to a driveway, where there was a shady spot for me to change the tube. I rang my wife again, just to let her know I'd be a bit later than I intended. No spikes in the tyre, which is not what I expected. After about 20 minutes I was back on the road and quickly realised how tired I was feeling, wondering if I needed another break before home. [When I checked the tube the next day I found four tiny holes. It would have been very depressing to stop to repair each one separately on the road. Mistake was buying ultra-thin tubes, even though I had a tyre liner in place. Probably small pieces of gravel had worn through.]
By 7.00pm I was at Seven Mile Beach and glad to find the service station still open, just. Bought a Powerade drink, drank most of it then headed off again.
I had no front light with me but only a flashing back light. It was getting dark by 7.45pm and the last 15 minutes to home I was riding in the dark. I received a couple of phone calls but ignored them due to being within 300m of home by that time.
Very relieved to get home in one piece - totally exhausted. Overall distance for the day was 108kms. Elapsed time 10hrs. Riding time about 7hrs 30mins. Can't wait for the next ride!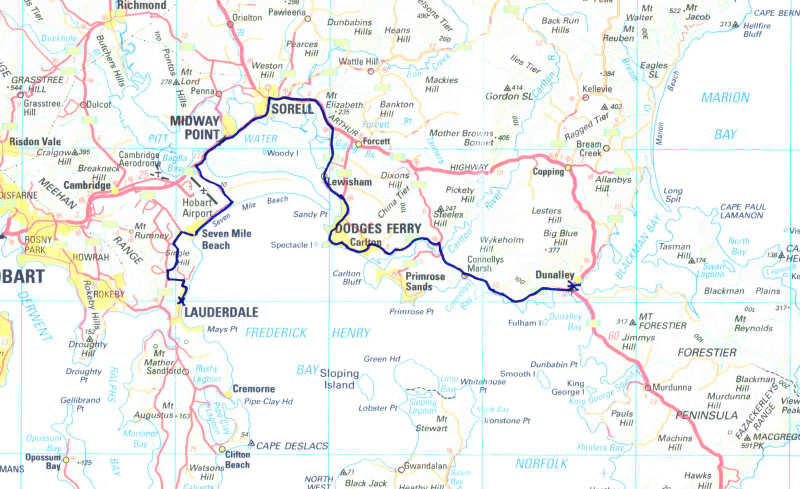 Map of the Route from Lauderdale to Dunalley
(10kms squares - Courtesy Tasmap)
Data from Garmin Edge 800
Speed during the Trip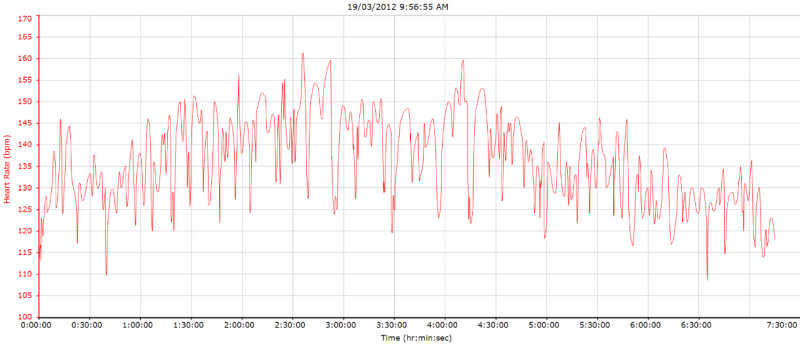 Heart Rate during the Trip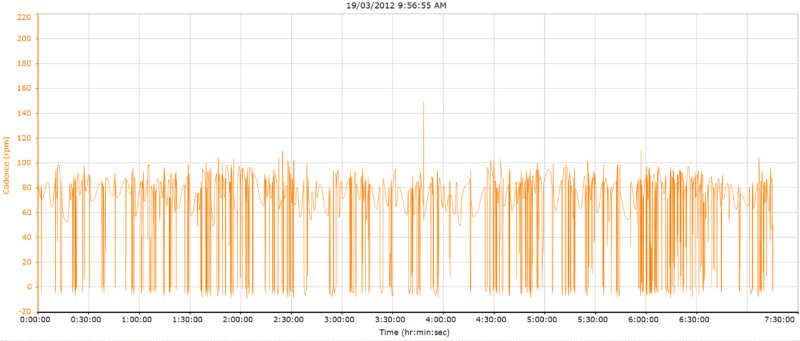 Cadence during the Trip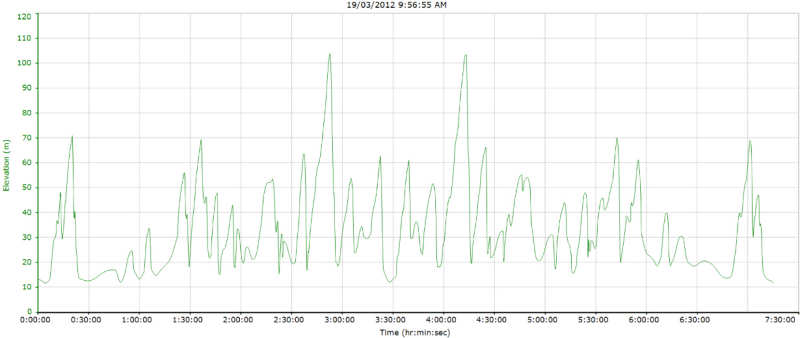 Elevation during the Trip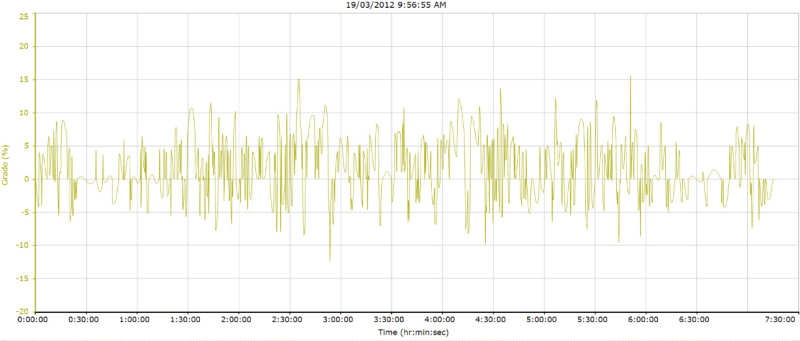 Grade of the Trip
Medical Issues
I knew from past experience that my suprapubic catheter (necessary following prostate cancer radiation treatment in 2004) was going to be a nuisance, as it has been on other bike rides. The problem is that the end of the catheter that sits inside my bladder seems to cause some irritation as my legs move. Consequently, when I need to pee there is blood in my urine. I just accept that's the way it is. The urine eventually clears, as it did during the second day of the ride to Cockle Creek, but it is still a bit disconcerting when it happens. Apart from that, no other issues to worry about. For anybody who is interested, my prostate cancer experiences are detailed at Trip Down the Prostate Cancer Highway.