COCKLE CREEK TO PRECIPITOUS BLUFF©
TONY & MATTHEW WATTON
8/1/10 to 17/1/10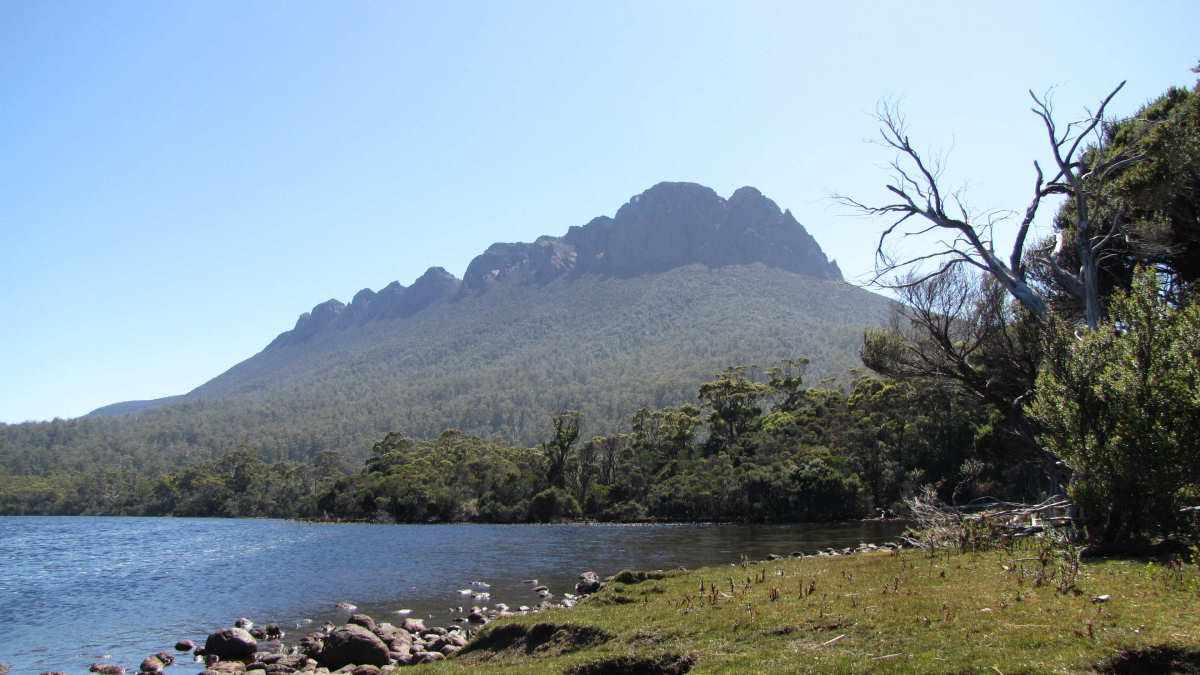 Precipitous Bluff (1,145m) from New River Lagoon
The Plan
The plan for this trip was:
Day 1 Cockle Creek to South Cape Rivulet.
Day 2 South Cape Rivulet to Granite Beach.
Day 3 Granite Beach to Prion Beach.
Day 4 Prion Beach to Cavern Camp.
Day 5 Cavern Camp to Precipitous Bluff Summit.
Day 6 Precipitous Bluff Summit to Cavern Camp.
Day 7 Cavern Camp to Prion Beach.
Day 8 Prion Beach to Granite Beach.
Day 9 Granite Beach to South Cape Rivulet.
Day 10 South Cape Rivulet to Cockle Creek.
Day 1 - Friday 8/1/10 - Cockle Creek to South Cape Rivulet (10kms, 4hrs)
After an uneventful drive down from Hobart we left Cockle Creek at about 9.20am on a beautiful Friday morning.
Even though showers had been forecast for the following three days the track down to the coast had not seen rain during the past two weeks or so and therefore was dry and very comfortable to walk on.
As we approached the coast we talked about whether we would scramble along the foreshore, past Lion Rock, but neither of us could remember what the walking conditions were likely to be. In the interests of safety and because we were carrying full packs we decided to go via the inland route, across Coal Bluff, to the next small beach. We had done the scramble once previously, but with day packs.
There was a bit of mud but nothing that even remotely compared with the conditions we encountered on our most recent walk along the Port Davey Track - December 2009.
We arrived at the campsite at about 1.30pm and found a most acceptable spot to pitch the 2-person Macpac Minaret tent. We left our gear and walked across the shallow South Cape Rivulet (low tide and little rainfall) to check out what the condition was of alternative campsites on the western side. There were some and they would have been quite acceptable but as there was a toilet on the eastern side we opted to stay there, even though our next morning crossing would probably be in deeper water as the tide would have come in.
Back at the tent we set up Matthew's large (3m x 3m) fly sheet and enjoyed a hot drink, some cashews and a couple of Vita Wheat biscuits with cheese and Vegemite.
As we sat on the sandy beach with our drinks we were horrified to see two people emerge from the trees on the western side with two dogs. And this is a National Park!!
Matthew had previously read in a bushwalking forum about two women who were walking from Lune River to Precipitous Bluff then on to Cockle Creek with two dogs. We don't know if these were the same people but if I hadn't seen it I would have had trouble believing it really happened.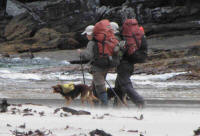 Fortunately, they did not stop at South Cape Rivulet campsite but kept walking. I hope the Parks & Wildlife Service (P & WS) staff were waiting for them to arrive at Cockle Creek on Friday evening.
We are eating more luxuriously on this trip as Matthew bought Back Country freeze-dried meals rather than our normal Continental pasta meals. These are a great improvement, but obviously come at a much higher cost. We had an early night as Saturday promised to be a big day over the South Cape Range to Granite Beach. Let's hope the weather stays kind to us so that we are able to enjoy the experience.
Day 2 - Saturday 9/1/10 - South Cape Rivulet to Granite Beach (8hrs 20mins)
We did not enjoy the experience! Despite perfect weather conditions and the fact that the track was drier than normal, the tangle of tree roots, cutting grass, deep ruts and steepness ensured that this would be a section of the track we would not forget in a hurry. I was thinking as I trudged up the Range, "How the hell am I going to climb Precipitous Bluff if this is giving me such grief?" It was not all bad, however, as P & WS have constructed new boardwalks across a buttongrass area that previously would have been very hard going. It made a real difference to our progress at that particular time.
We passed several groups of walkers - all heading in the opposite direction - except one lone person who seemed to be in a great hurry to reach his next destination, probably Surprise Bay.
At the top of South Cape Range we paused at Track Cutters Camp for one of our many brief breaks. This clearing would provide an ideal campsite for our return, as long as we get water from a creek on the way up, from the western side.
We arrived at the Granite Beach campsite at about 4.30pm and found a good spot for the tent, maybe a bit of a slope but nothing too dramatic. Also at this campsite was a group of 10 walkers (including two guides) from Tas Expeditions. We estimated the guides would have needed to carry upwards of 30kg each, judging by the size of their packs. They did seem to be very fit.
We had an appetiser of cashew nuts, biscuits, cheese and Vegemite then Matthew cooked up a very tasty beef stroganoff with extra vegies (another Back Country meal). After a cup of hot chocolate we felt we had had a very pleasant meal.
A comfortable night, with only an open sleeping bag, as it was quite warm.
Day 3 - Sunday 10/1/10 - Granite Beach to Prion Beach (12kms, 9hrs)
We are making hot breakfasts on this walk to help to give us the energy required for each day's exertions. Today was a cup of tea and instant porridge with sultanas. Very nice.
After a leisurely pack we left at 8am. Our walk today had a bit of everything - rock beach, sandy beach, bog, boards, forest and buttongrass plain.
We had a very pleasant break at Surprise Bay campsite at about 10am, with a welcome snack of biscuits, cheese and Vegemite. This would be a good place to stop on our return trip, but would mean revising our plans for other campsites if we did. We found our breaks tended to get longer and more frequent as the day progressed and we become more tired but we tried to resist the temptation to rest for too long.
Things were going according to plan until we came to the Milford Creek crossing and climb on the other side. The creek crossing itself was OK but the climb away from the creek was more difficult than it needed to be because the lower wooden steps that had been provided to make the climb easier were buried in sand and halfway up the steep slope they were totally destroyed. More work for P &WS one day.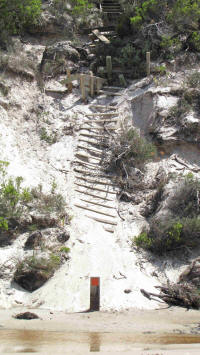 The final leg of this day's travels took us inland, behind Prion Beach. This was a most unpleasant part of the walk with much changing directions, the track twisting and turning, head high bracken and cutting grass to trip the unwary. It was quite a surprise to arrive finally at the campsite. We were lucky and found a level area, close to the beach, toilet and drinkable water - although we did boil the water here as a precaution.
Matthew listened to his radio for weather forecasts for Tuesday, our planned ascent day, and we were disappointed that a westerly front was expected with poor weather conditions. We did not want to climb Precipitous Bluff on Tuesday if we were not going to be able to get reasonable views.
After setting up the tent we made our now standard biscuits, cheese and Vegemite, with cashew nuts and Tang drink to follow.
As I rested, Matthew took off on a walk along Prion Beach to see if it would be possible to avoid the inland track that we disliked so much on our return. When he arrived back he said he had to swim a bit near Milford Creek. That meant that the possible shortcut for the return would not really be an option, especially with full packs.
We spent a very comfortable night, with the occasional rustling of a camp-dwelling pademelon and joey we had seen earlier.
Day 4 - Monday 11/1/10 - Prion Beach to Cavern Camp (7kms, 3hrs 15mins)
Up at about 6am for breakfast that consisted of honey porridge with sultanas and a cup of tea. We packed slowly and were on our way at about 8.10am. Cavern Camp is situated near the bank of New River Lagoon, about three quarters of the way along its eastern edge. To reach it we needed to wade up the lagoon, close to the bank as there is no track through the undergrowth bordering the water. At times of heavy rain the depth can be to one's waist or deeper but we were fortunate that the water was rarely over knee depth, more often ankle to mid-calf. There were occasional stretches of stones and even some grassy banks on the way.
At one of the larger creek mouths, rather than attempt to wade (or swim) across what could have been very deep water, we walked up along the bank to a log crossing and then another log crossing before rejoining the lagoon to continue to the campsite.
After setting up camp (no other walkers at this site) we set off with water bottles, headtorches and cameras for the 20 minute walk to have a look at the large cave at the base of the climb to Precipitous Bluff. As we approached we could tell we were close because the temperature suddenly dropped from the high 20s to less than 10oC within a few metres.
Although I was a bit reluctant to go into the cave (no experience, no adequate clothing, no hard hat etc) the recent dry spell indicated that the risk of a sudden increase in the height of Damper Creek, as it exited the cave, was not great. With cameras at the ready we walked about 50m into the cave and were both amazed at the stalactites and other formations all around us. This was quite an unexpected experience for me, and one I won't forget.
A bonus from this side trip was that we were able to fill our water bottles with crystal clear, cold mountain water.
Our evening meal was Continental curried chicken and pasta, to which we added a few sultanas to bulk it up a bit. Very tasty indeed. We also enjoyed a cup of hot "white chocolate" drink and talked a bit more about what we would do on Tuesday.
In the end, after Matthew had called the Bureau of Meteorology on his satellite phone and obtained an up-to-date personal forecast for the South West from one of the duty weather forecasters we decided not to walk on Tuesday (bad weather expected) but to treat it as an R & R day.
Tuesday's forecast: W to NW winds 15-25kts, rain.
Wednesday's forecast: W to SW winds 15-25kts, scattered showers.
Thursday's forecast: W to SW winds 15-25kts, mainly fine.
Day 5 - Tuesday 12/1/10 - Rest Day
As we were not planning to walk today we had a leisurely start, with a cup of tea at about 7.30am. Prior to this I had walked out about 50m into the lagoon to have a look at Precipitous Bluff over the tree tops. It was clear at that time but clouds above the top indicated that it may not be clear for very long.
The fly sheet that we had put up to shield us from rain appeared to be keeping out too much light so we rearranged it over a more open area. We also repositioned Matthew's lightweight poncho/fly sheet so that it was more directly over the tent and could give us a bit of added shelter if heavy rain fell.
This accomplished, we set out for the upper section of Damper Creek to fill our water bottles with fresh mountain water and for me to be able to clean out my overnight catheter bag. Sounds a bit gross but it had to be done from time to time in an attempt at basic cleanliness. [See my account Trip Down the Prostate Cancer Highway about the reasons for having a catheter. In brief, this is because the radiation therapy I had in 2004 following a diagnosis of prostate cancer has left me with a urethral stricture, preventing me from urinating normally.]
After the water bottle filling trip we had the second phase of our breakfast (no need to hurry this day) - berry instant porridge with sultanas.
The main problem for us in fine weather in the South West is from the ever-present and highly persistent march flies. For example, as I wrote this note, we were sitting near the lagoon with a north west wind blowing in, but helping to keep the flies at bay. During the evening mosquitoes continued the tag-team battle as the march flies found something better to do than antagonise us.
Lunch today was our standard biscuits, cheese and Vegemite, washed down with a cup of tea.
Our decision not to tackle Precipitous Bluff today was justified because, during the afternoon, a hideous westerly wind sprang up, bringing with it rain that was almost horizontal. We quickly rearranged the fly sheet downwards on the westerly side to give us a bit more protection. After about two hours the rain passed but the wind remained, with a corresponding drop in temperature to possibly the low teens.
The evening meal was curried Thai chicken - very tasty - followed by a cup of hot Tang. When we had finished our meal and washed the dishes we decided what we would be taking with us up Precipitous Bluff on Wednesday, bearing in mind we intended to camp on the plateau about 1,100m above sea level. The remainder of our gear would be packed into dry bags and our pack side modules (removed from our main packs), under the fly sheet, to await our return.
Day 6 - Wednesday 13/1/10 - Cavern Camp to Precipitous Bluff Summit (2.4kms, 9hrs 10mins)
We intended to wake at 5am, but my watch alarm decided not to cooperate and was silent. So, when we eventually woke at 6.45am we were in somewhat of a hurry to pack what we needed for the climb to the summit and camp up there.
We left the large fly sheet set up and hung our not-needed gear from a line beneath it. At 7.20am we were ready to go with reduced loads in our packs although Matthew still insisted on taking more than his fair share in order to make things a bit easier for me. However, I did make the mistake of packing all the breakfast meals instead of just one.
After about 20 minutes we stopped at the cave entrance to fill all our water bottles (2 x 1 litres each) and then we started the climb.
For me this was a really tough climb up through the forest ridge but Matthew, being younger and fitter, went on ahead a short distance, making sure tapes were where they needed to be so that our descent would be a bit easier. At times huge fallen trees had obliterated traces of previous tapes and detours around them were necessary before rejoining the track proper. Matthew had previously climbed Precipitous Bluff twice from the lagoon (Report March 2005 and Report January 2008) and so was familiar with parts of the climbing track as we progressed.
During this ascent I saw a rat-like creature that ran across the track in front of me before it disappeared from view beneath a rock. Its body was grey, about 150mm long, with a short tail, about 50mm long. [This was probably either a swamp rat or a broad-toothed rat.] Matthew also pointed out what he has since identified as a Bassian Thrush, jumping along in front of us before flying off a short distance away.
After 4hr 40min we reached the base of the cliffs and then proceeded along the northerly route with much up (mostly) and down under and over tree roots and branches.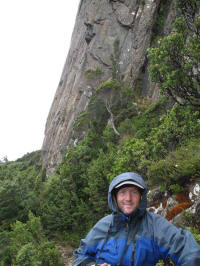 We eventually reached a rocky ascent up a steep gully. Here there were some difficult rock scrambles on exposed terrain where Matthew provided assistance or advice on the best approach for me to take. It was a tremendous relief to reach the upper level of Precipitous Bluff, where Plateau Camp is situated. Luck was with us at this time and we were spared the high winds and rain that we expected, even though there was some of both on the way up.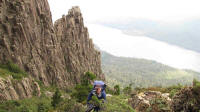 We reached the campsite at about 4.30pm and immediately set up the tent and Matthew's poncho/fly sheet in one of the more protected areas in case of bad weather.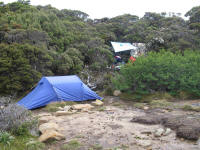 By 5pm we were ready to walk up the remaining few hundred metres to the actual summit of Precipitous Bluff. What a wonderful feeling! I was almost overcome with emotion with what we had achieved. Views were spectacular, with the exception that Pindars Peak was in cloud. We both wrote in the Summit Diary and Matthew checked his previous entry for 2008 in this book.
The only thing that could have been improved today was that we could have remembered to bring the kettle! So, no hot meal (would have been spaghetti bolognaise) and no hot drinks. Anyway, there was no use getting upset about it and we made do with biscuits, cheese and Vegemite, cold Tang and cashew nuts. We took some photos of the views. At 8pm we were tucked up in the tent, warm and cosy. We were expecting not to have a calm night.
During the night there were squally winds and some rain, but not enough to cause us any problems. Tent pegs stayed in the ground and the tent was unscathed.
Day 7 - Thursday 14/1/10 - Plateau Camp to Cavern Camp (2.8kms, 7hrs)
We were both awake at around 5.15am and, as we had opted to bring a minimum of spare equipment we got into our stinking day walking clothes and boots as soon as we left the tent. One of the most unpleasant things about multi-day bushwalking is to get out of a warm sleeping bag and straight into cold, wet, smelly clothes right at the start of the day. Anyway, nobody made us do it!
Breakfast consisted of a brunch bar and cold Tang. When we had packed everything away we started back down from the plateau at 7.15am. Almost immediately we were starting the long, steep descent, first through a boulder field, then along the base of the cliffs, then down the ridge through forest. We had frequent stops but not as many as we did on the way up. At this time gravity was helping, rather than hindering our progress. At around 10.30am we reached the forest descent and by 2.15pm we were back at Cavern Camp, somewhat relieved to see that the fly sheet was still in position and all our suspended gear was intact.
The past two days especially were an absolute highlight of my life and I owe Matthew a great debt of gratitude for his patience and encouragement to me when things looked difficult.
At 5.15 in the afternoon we were enjoying life back at sea level and looking forward to having a hot chocolate drink before our evening meal, Continental curried chicken and pasta, with some peanuts thrown in for good measure. We felt we had earned them.
6pm - surprise - two kayakers have just arrived at Cavern Camp. Matt Brain (wilderness photographer) and John from Launceston with inflatable kayaks and a mountain of gear. They apparently walked in to Pindars Peak from Lune River, then to Leaning Tea Tree Saddle, Mount Victoria Cross and then paddled/bush-bashed via an unnamed creek to Salisbury River - to visit the spectacular and remote Vanishing Falls - and eventually to New River. A combination of kayaking, portaging and bush-bashing. What legends!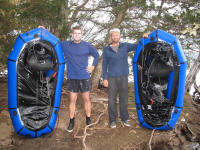 Day 8 - Friday 15/1/10 - Cavern Camp to Osmiridium Beach (Plan B) (13kms, 7hrs 40mins)
Up before 6am today - instant porridge and tea for breakfast. We had packed up by 7.30am and said cheerio to the two paddlers, who headed off down New River Lagoon as we splashed our way along to Prion Beach.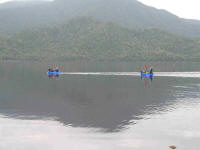 The walk along the banks of the lagoon was uneventful, with no mishaps thank goodness. About 3hr 15min later we arrived at the Prion Beach campsite, emptied out our boots and wrung out our socks as best we could. We made ourselves a snack of biscuits, cheese and Vegemite, drink of Tang and were on our way 30mins later to Osmiridium Beach. We had decided to do this as it was a good day for walking and it would have been a shame to set up camp at around 11.00am when we could have been making significant progress back to the car.
At the end of Prion Beach there is a steep set of steps, some of which have been destroyed about 3m from ground level. This made for an interesting and difficult haul of packs across the missing section and very likely would have been difficult for lone walkers. Fortunately, with two of us we were able to manage without too much of a drama. As mentioned earlier, on the way west, there is another set of steps near Milford Creek, some of which have been destroyed about half way down a steep, 30m sandy slope. Consequently, we were forced to step down the side, pushing the soft sand in front of us as we went. We did not feel good about damaging a dune area like this but there really was no alternative.
We were lucky that the buttongrass plain was still dry, despite some previous rain and was no trouble for us. It would have been a different matter, however, following a period of heavy rain. We arrived at Osmiridium Beach at 2pm, satisfied with our day's efforts, especially after the previous two hard days.
A nice campsite with only two other groups staying there. Dinner was spaghetti bolognaise and "white" hot chocolate drink, with a cup of tea later on. Another early night, ready for the next day's walk, probably to Granite Beach.
Day 9 - Saturday 16/1/10 - Osmiridium Beach to South Cape Range Campsite at 435m (16kms, 8hrs 30mins)
At 8am we left Osmiridium Beach after our now normal porridge breakfast and hot drink, intending to walk to Granite Beach. This would leave our final day a long walk from Granite Beach to Cockle Creek. [We had on a previous walk achieved that distance but that was in November 2002 - South Coast Track - Melaleuca to Cockle Creek.]
There was a stiff climb up from Osmiridium Beach, then down to the beach at Surprise Bay. We had our "lunch" at Surprise Bay at about 10.30am and discussed what we would do when we arrived at Granite Beach. This occurred earlier than we had expected, at 12.30pm. When we reached the boulders at Granite Beach I forgot to clear the sand from the soles of my boots and slipped the moment I stepped onto the boulders, going down face first in a semi-controlled swallow dive with my chin finishing on a large egg-shaped granite boulder. No injuries but I felt stupid for my lack of forethought and concentration.
We stopped at the creek above the waterfall to have a snack and to refill our water bottles before deciding that 12.30pm was too early to call it a day for walking.
To try to make Sunday's walk a bit more palatable we decided not to stop at Granite Beach but to continue on, climb up on to the South Cape Range and camp at a small campsite in the forest just below the highest point in the Range (439m). As we approached the campsite, probably still 15min away, there was a huge clap of thunder, heralding a change in the weather. This spurred us on, to the extent that climbing a steep, rutted track would allow. We set up camp in a small, emergency area just in time to avoid being caught out in bad weather while still walking. We were soon very comfortable in our almost level tent after a tasty honey soy chicken meal and cup of tea, with high wind blowing all around us and intermittent showers.
Because we were in the tent early, before 8pm, we soon fell asleep with the wind howling, the occasional thunder and lightning and showers. By 11pm I was awake and had a great deal of trouble getting back to sleep. However, the night did eventually pass and we were up and about just before 6am on Sunday.
Day 10 - Sunday 17/1/10 - South Cape Range Campsite at 435m to Cockle Creek (18kms, 9hrs)
Our campsite was very cramped and although we had planned to have at least a hot drink to start what was to be a long day walking, we decided the best option would be to actually start walking and to have a hot drink at Track Cutters Camp. This was a much larger, open and flat area about 30min further along the track. Also, not quite at the same elevation.
By 7.30am we were on the move and instantly felt we had made the right decision the previous day to climb up onto the South Cape Range. Despite the overnight rain, conditions in the boggy areas were not really any cause for concern so we were able to pretty much walk along the centre of the track most of the time. This is not always possible because in some areas the bog can be up to 1m deep.
During this section of the walk we met several groups of walkers who had left South Cape Rivulet earlier in the morning. We swapped comments about what each might expect further on. We enjoyed the new boards across the buttongrass plain and thanked P & WS loudly for their efforts. We were soon negotiating the two hills before dropping down to South Cape Rivulet, arriving at the coast at 12 noon. Here we enjoyed a cold drink, some cashews and the last of our biscuits, cheese and Vegemite.
There was no intention to visit the campsite here so we pressed on along the beach, over a small headland, another small beach and then over Coal Bluff - a most unwelcome climb so late in our trip.
Once back on the beach past Lion Rock we began to see more tourist people who had walked to the coast for a day out in the sun. We (at least I) felt very scruffy and dirty in comparison.
We have previously found that the last two hour walk from the coast to Cockle Creek seems to be never-ending and this was no exception. However, by 4.30pm we arrived back at the car, mightily relieved to find it intact, with all four wheels and still able to be started! We were just as relieved that our bodies had stood up well to the rigours of the 10-day walk.
For me, this has been a wonderful experience and I was very happy to have been able to share it with my son, Matthew. He undoubtedly made things easier for me for taking what I consider to be an unfairly heavy pack, leaving me to carry only about 21kg. His must have weighed closer to 30kg, but he did not tell me. Thank you Matthew. What you did means a great deal to me.
Another successful and enjoyable trip.
Matthew produced a video slideshow of his photos of our trip. This can be viewed at http://www.youtube.com/watch?v=FQhb3Lg8KHk.
Medical Issues (optional and might not be worth bothering with)
As was the situation on the Port Davey Track - December 2009, I think I coped reasonably well with my suprapubic catheter and Bard flip/flow valve to control my urination. As mentioned briefly above, the catheter is necessary because the radiation treatment I had in 2004 has left me with a urethral stricture, which means that I cannot urinate normally and so have had a catheter inserted through my lower abdomen, directly into my bladder, to get rid of urine. One of the issues that did cause me some concern was that I needed to take Ditropan tablets three times daily to help alleviate the effects of bladder spasms. These often caused me to bend double to reduce the 10 to 20 seconds of pain they caused. I needed many, many brief stops on this walk to relieve myself as my bladder capacity is now only about 60-80ml and I was drinking water frequently. At night I used an overnight urine collection bag and changed to a new bag on Day 6, half way through the trip.
I also needed to clean the catheter insertion site daily and to change the dressing. I was a bit concerned about being in the bush with no sterile conditions for 10 days, without access to any medical facilities, but really I had no serious problems and I consider that I can now cope with just about any situation I am likely to encounter.